The Daily Shot: 30-Apr-20
• The United States
• Canada
• The Eurozone
• Asia – Pacific
• China
• Emerging Markets
• Cryptocurrency
• Energy
• Equities
• Global Developments
• Food for Thought
---
---
The United States
1. The first-quarter GDP contracted by 4.8% (annualized), the biggest decline since 2008.




• Here are the components of the GDP changes.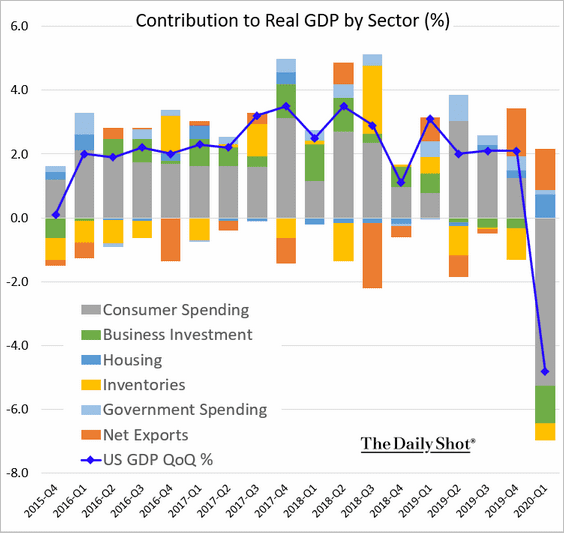 • As expected, consumption was the key driver of the GDP decline.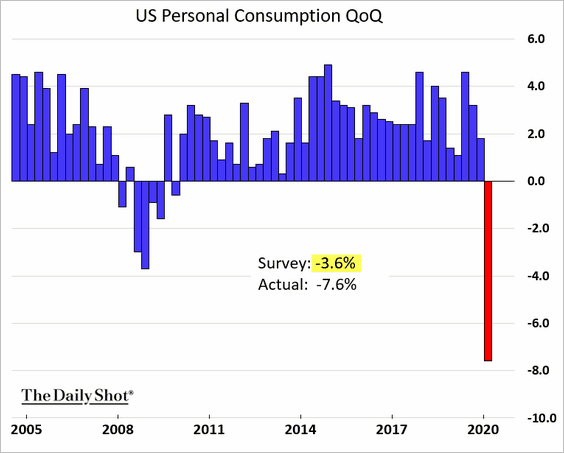 – The slump in services consumption was the worst since WW-II.


Source: @LizAnnSonders

– This chart illustrates the trend in food consumption.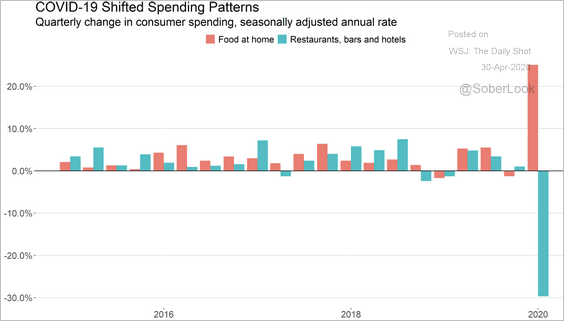 Source: @bencasselman

The increase in spending on groceries was the highest in recent history.


h/t Vince Golle

• Business investment has been a drag on the GDP growth in each of the past four quarters.




• Imports contracted more than exports, creating an increase in "net exports."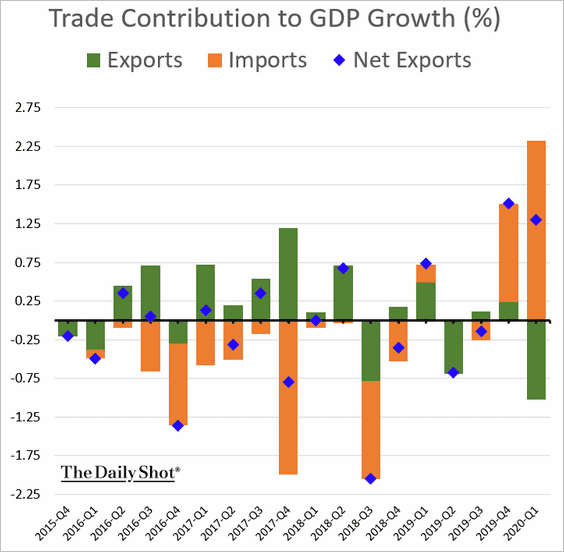 This contraction in the GDP was just a taste for what's to come in Q2. Here is a forecast from Oxford Economics.


Source: Oxford Economics
——————–

2. Mortgage applications to purchase a house are rebounding, …




… as mortgage rates hit record lows.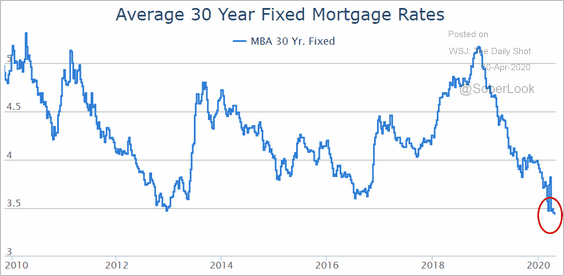 Source: MortgageNewsDaily.com

And yet, mortgage rates have not declined at the same pace as Treasury yields. The caption in the chart below points to the servicing of loans as the cause of the divergence. There are, however, other reasons.

• Elevated volatility in rates made the mortgage prepayment option more valuable.

• Agency (Fannie Mae, Freddie Mac) credit spreads widened during the crisis, although the Fed has been helping with that.

• Lenders that pool mortgages before selling them to Fannie and Freddie had trouble hedging their portfolios (making them reluctant to lend).

• There has been a supply constraint. With staff working from home, lenders' bandwidth for processing mortgage applications became limited.


Source: @WSJ Read full article
——————–

3. Last month's pending home sales dropped by 14.5% relative to March 2019. Sales were running at levels last seen in 2011 (during this time of the year).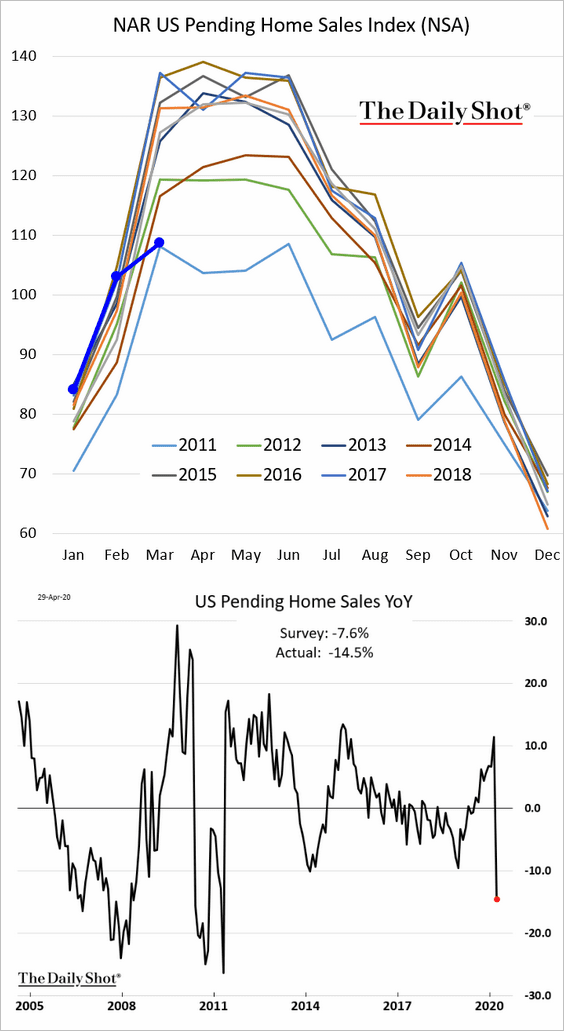 4. Online search activity suggests that initial jobless claims are slowing. Nonetheless, economists estimate that another 3.5 million Americans filed for unemployment last week.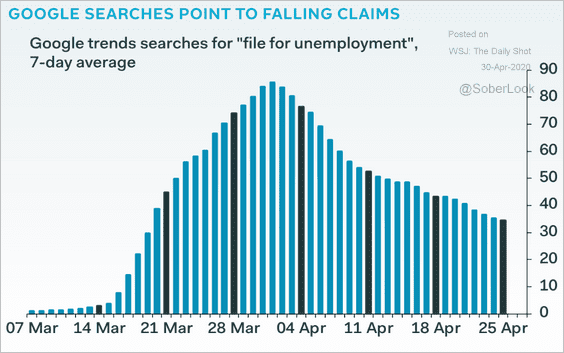 Source: Pantheon Macroeconomics

5. Are the enhanced unemployment benefits incentivizing companies to lay off workers?


Source: The Heritage Foundation Read full article

6. High-frequency indicators continue to point to a gradual rebound in US consumer sentiment (2 charts). Will the situation change when the extra unemployment payments stop this summer? Will Congress extend them?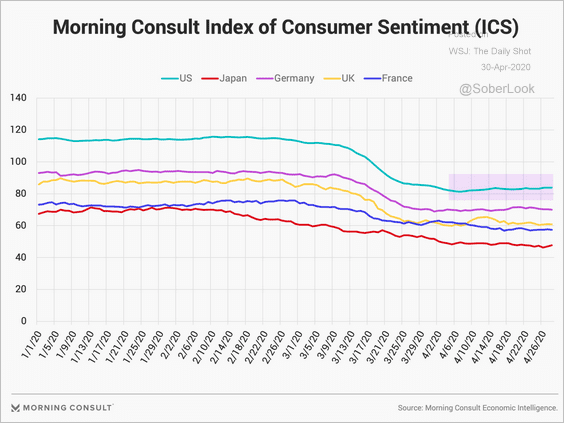 Source: Morning Consult Read full article

Source: @CivicScience, @HPSInsight
——————–

7. How will small businesses use their PPP funds?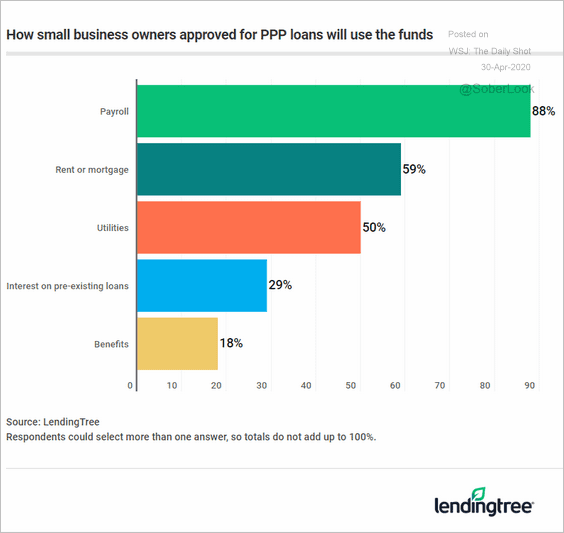 Source: LendingTree

8. The US Treasury continues to issue debt at a faster pace than it is spending it. The federal government's cash holdings at the Fed exceeded $1 trillion this week.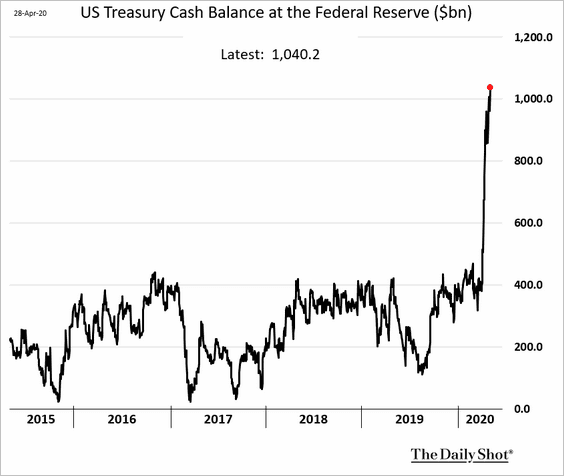 ---
Canada
1. Small business sentiment is rebounding.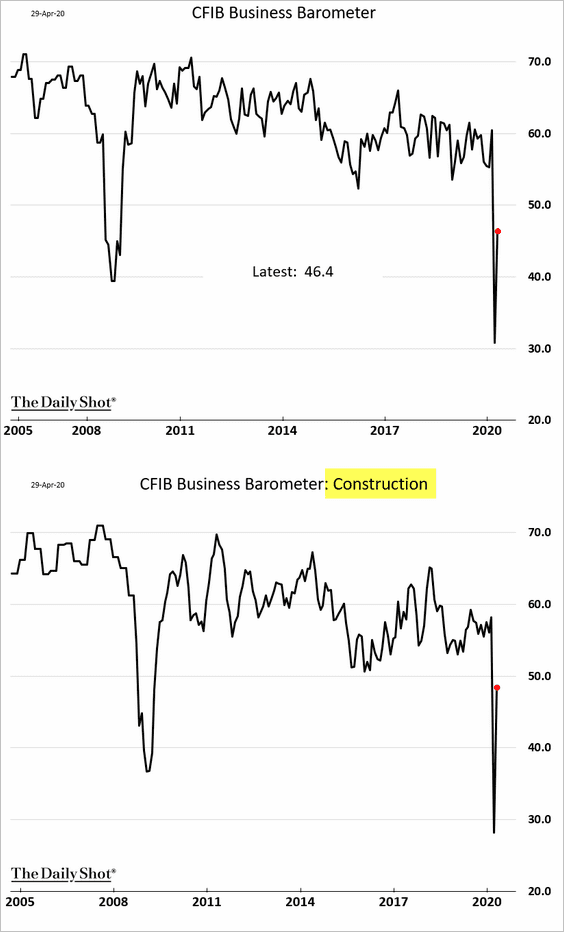 2. Consumer confidence appears to have bottomed.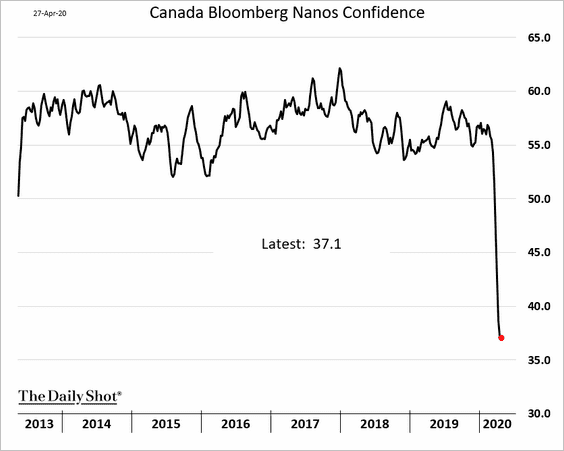 3. The 5yr bond yield hit a new low.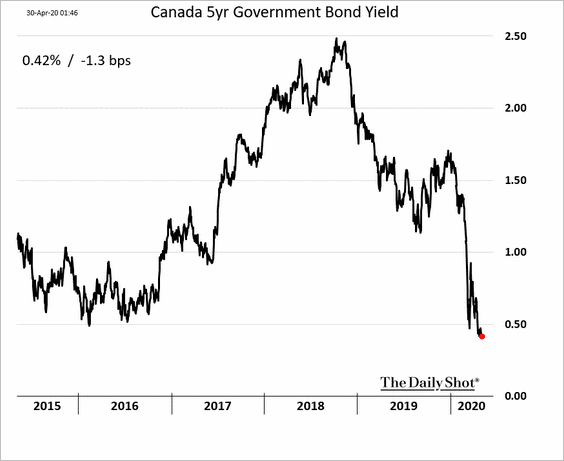 ---
The Eurozone
1. Business confidence plummetted in April, with services sentiment hitting a record low.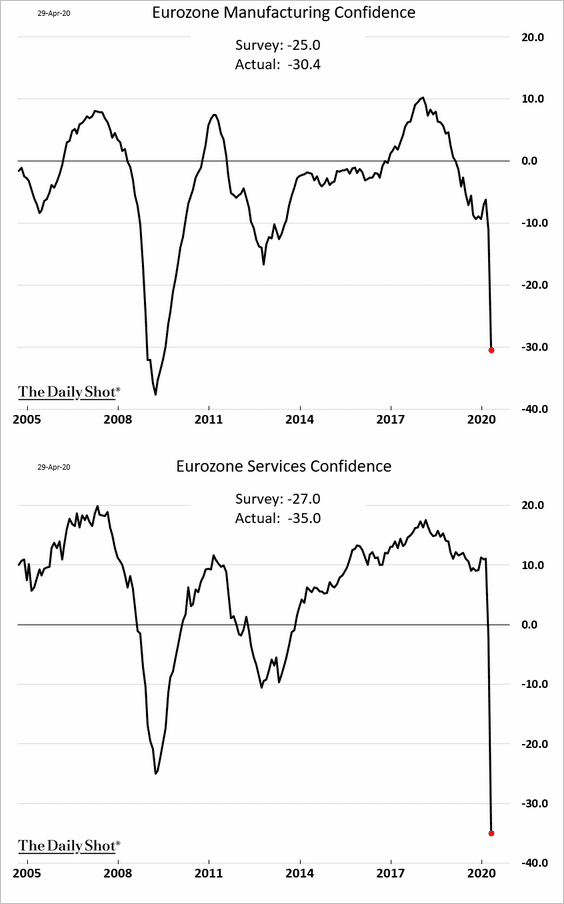 Here is the overall economic sentiment index.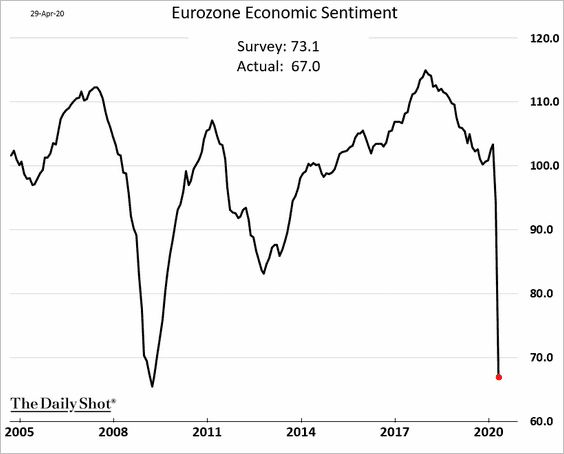 ——————–

2. Other economic data across the Eurozone have been dreadful.

• Belgian Q1 GDP: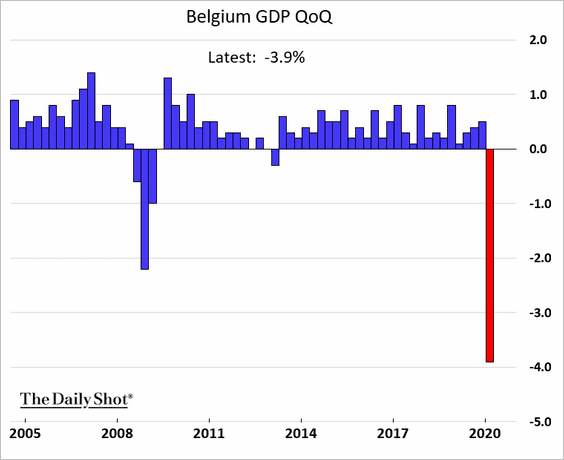 • Slovakia's business and consumer confidence: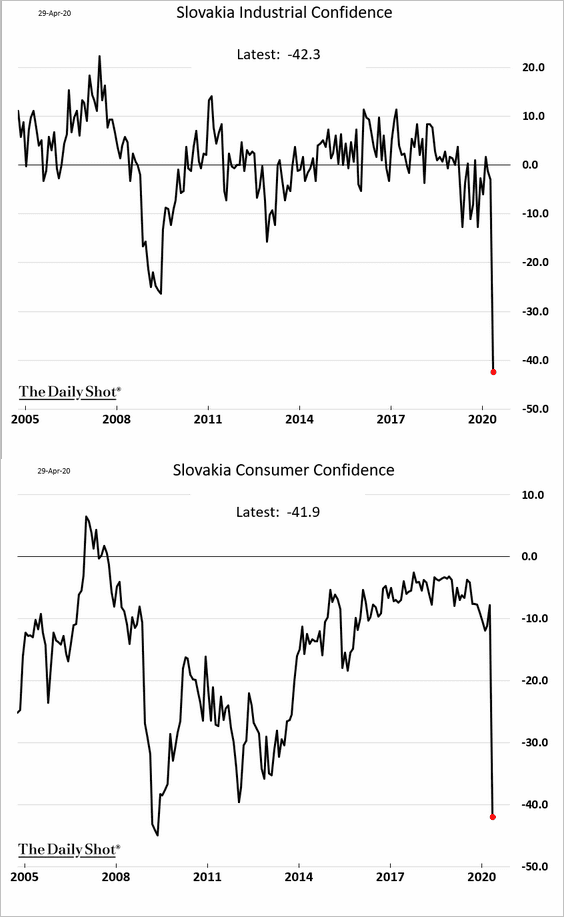 • Spain's retail sales (March):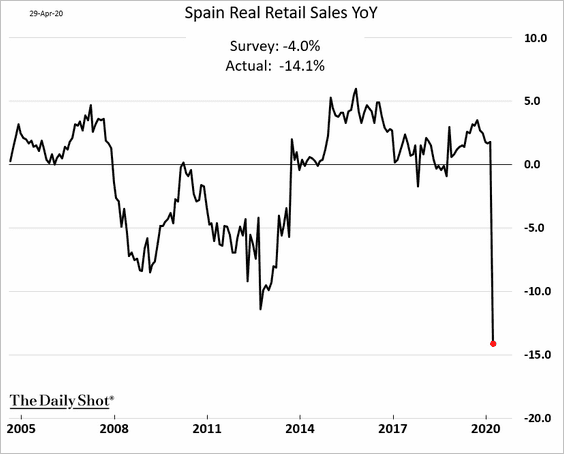 • Portugal's retail sales (March):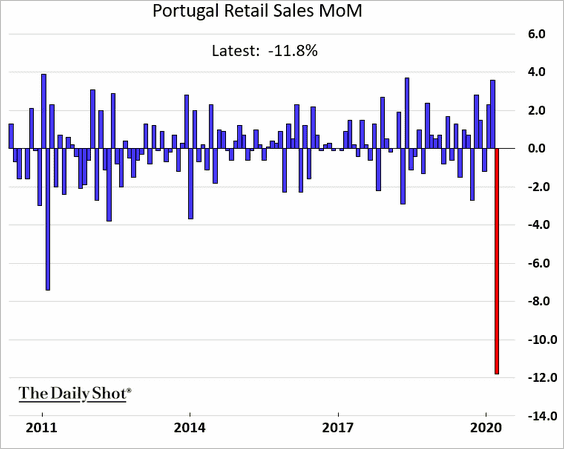 ——————–

3. The Citi Economic Surprise Index hit a record low.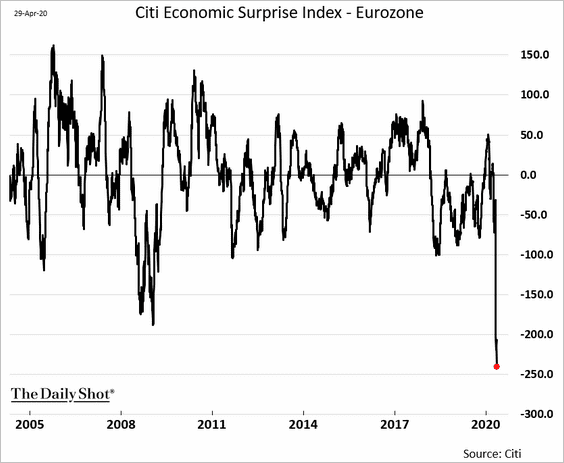 4. The March broad money supply (M3) growth surprised to the upside.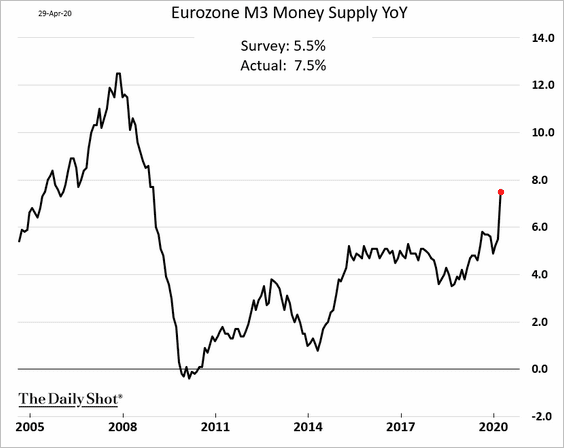 The M3 acceleration was partially driven by a sharp increase in business loans as companies scramble for liquidity.

• Year-over-year:




• Month-over-month:


Source: Pantheon Macroeconomics
——————–

5. Germany's CPI was stronger than expected in April.




Import prices continue to fall.


——————–

6. This chart shows electricity usage in Italy, Spain, and France.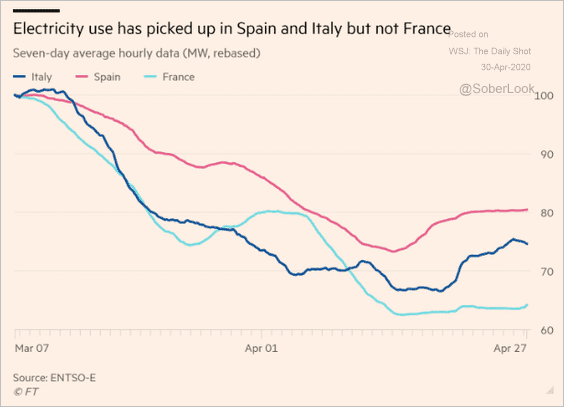 Source: @financialtimes Read full article
---
Asia – Pacific
1. Japan's industrial production didn't decline as much as economists were expecting.




2. The Taiwan dollar is ripping higher.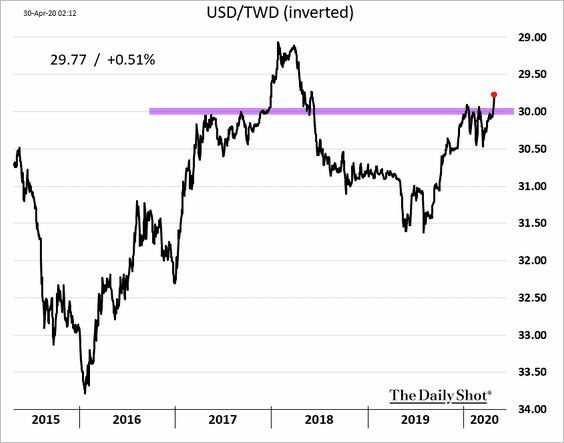 3. New Zealand's business confidence deteriorated further.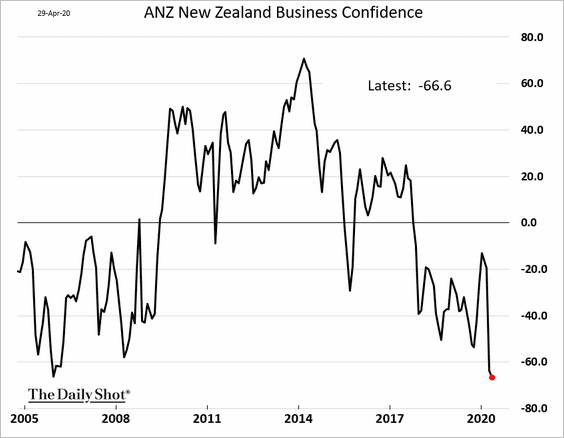 4. Australia's private-sector credit growth is rebounding, driven by business borrowing (companies seeking liquidity). Consumer credit continues to shrink (second chart below).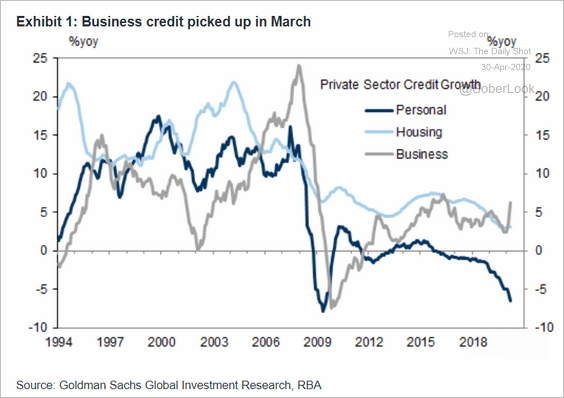 Source: Goldman Sachs
---
China
1. PMI indicators point to stable business activity in April.

• Official manufacturing and non-manufacturing PMI:




• Markit PMI:




Much of the demand strength has been domestic. The decline in export orders has accelerated.


Source: @DavidInglesTV
——————–

2. Banks are trading below book value. With delinquencies on the rise, the market doesn't trust the reported book value.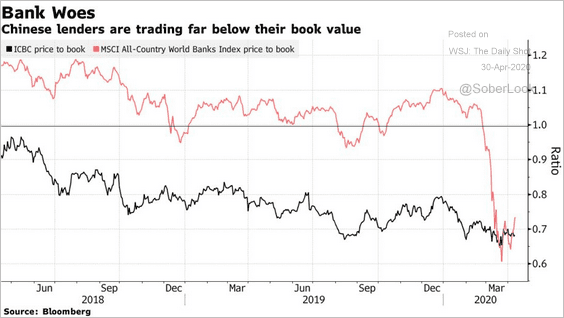 Source: @markets Read full article

3. China is exporting less food staples to the US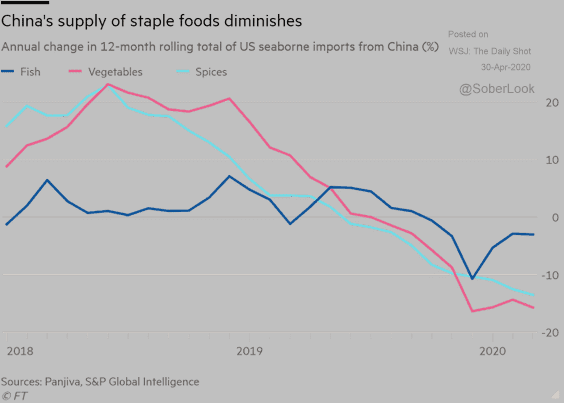 Source: @financialtimes Read full article

4. China's pig population has declined sharply over the past year. African swine fever remains a persistent problem.


Source: @WSJ Read full article

5. Hong Kong appears to have stopped the coronavirus epidemic.


Source: @DavidInglesTV

6. The Macau hotel occupancy rate bounced from record lows.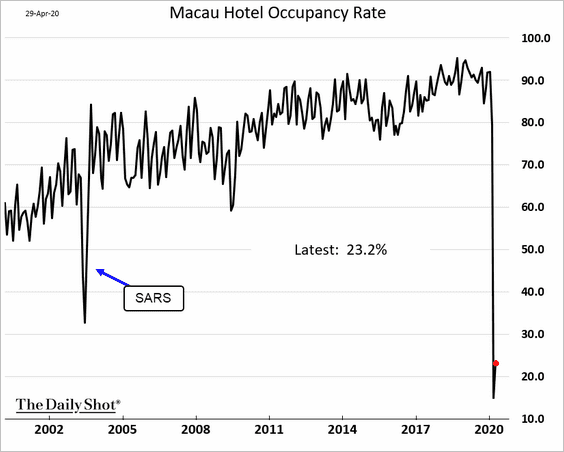 ---
Emerging Markets
1. EM currencies appear to have bottomed as risk appetite returns.

• The Indian rupee:




• The Brazilian real: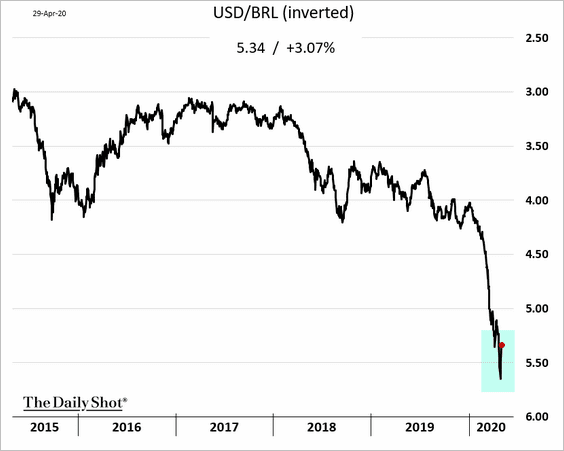 ——————–

2. Brazil's massive currency depreciation has not ignited inflation.


Source: Cantor Fitzgerald Market Strategy Team

3. The decline in oil prices could lead to a deflationary shock, according to TS Lombard.


Source: TS Lombard

4. Turkey's economic confidence hit a record low.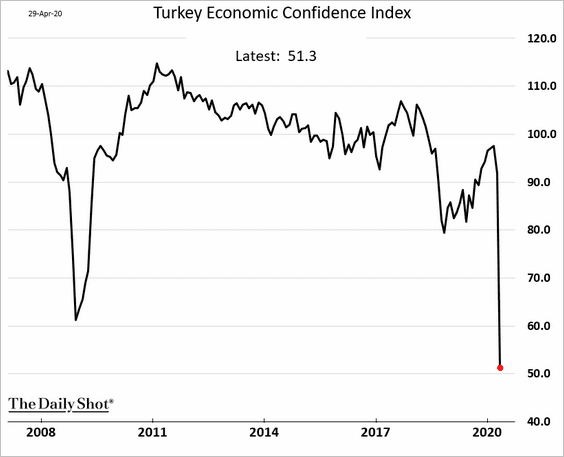 ---
Cryptocurrency
Cryptos are rallying with stocks.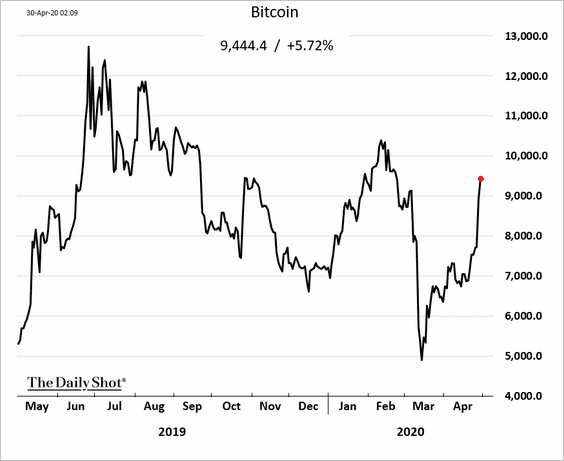 Here is the year-to-date relative performance.


---
Energy
1. Crude oil is rebounding on production cuts and hopes for the global economy "reopening" soon. Stabilization in US gasoline demand also helped.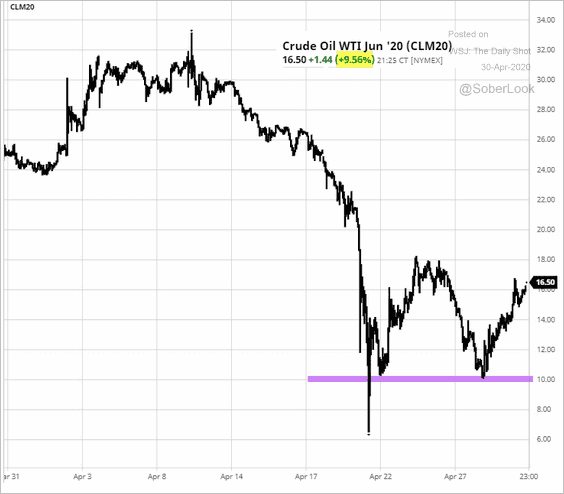 Source: barchart.com

Norway announced oil production cuts that will contribute to "faster stabilization of the oil market," according to the country's Minister of Petroleum.



Source: @JavierBlas Read full article
——————–

2. US gasoline demand is recovering after the worst decline on record.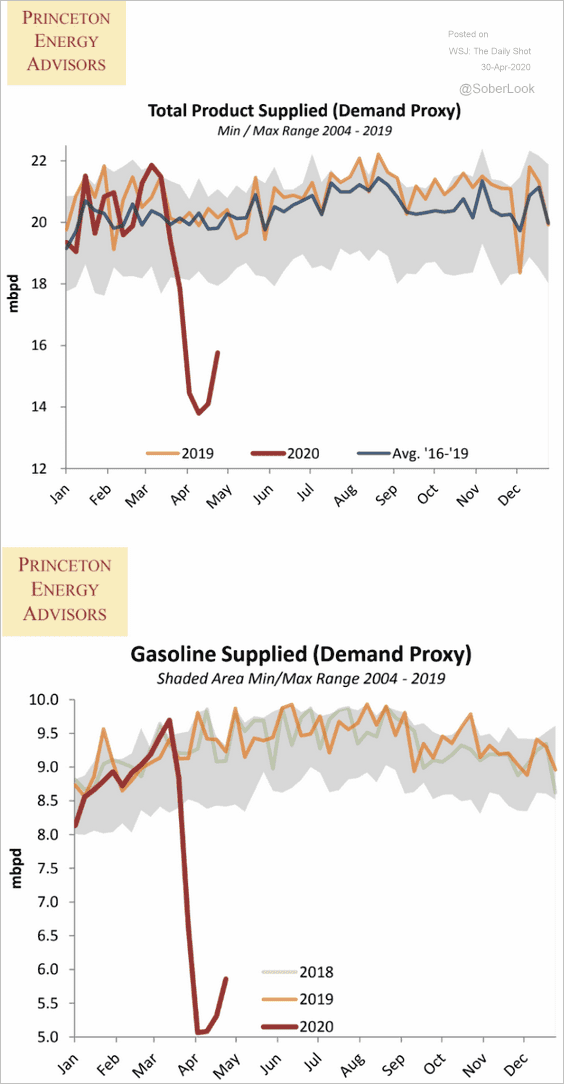 Source: Princeton Energy Advisors

Refinery inputs appear to have bottomed.


Source: Princeton Energy Advisors

3. US gasoline inventories seem to have peaked.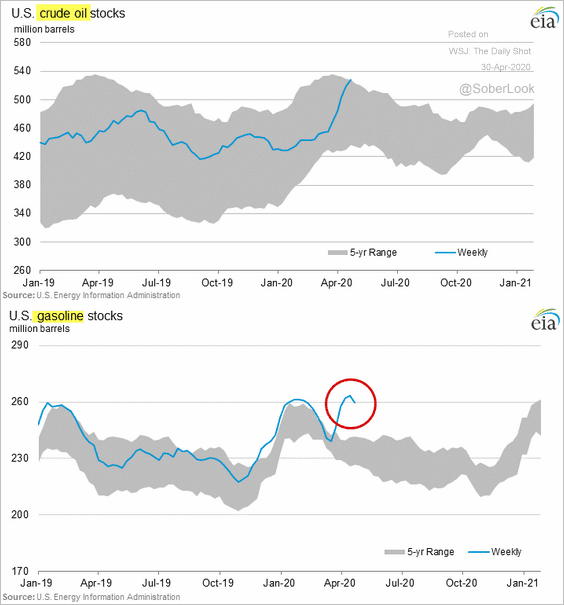 4. US oil production is still not declining quickly enough.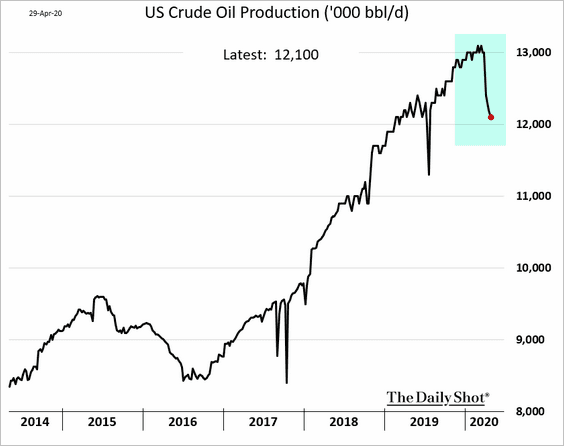 ---
Equities
1. Smaller firms have been outperforming in recent days.

• Russell 2000 (small caps):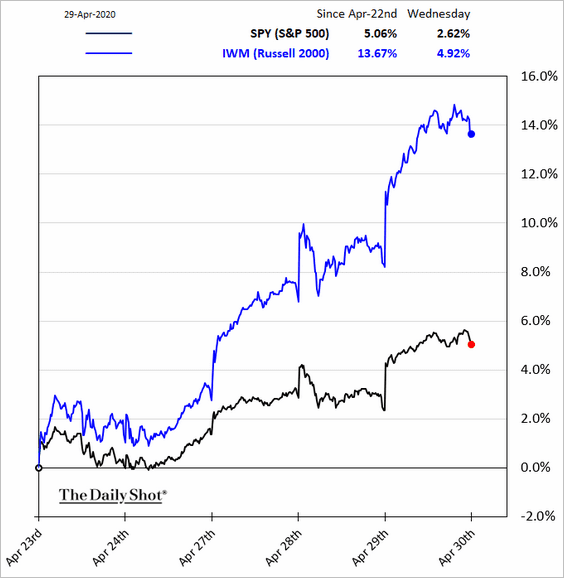 • Equal-weight S&P 500: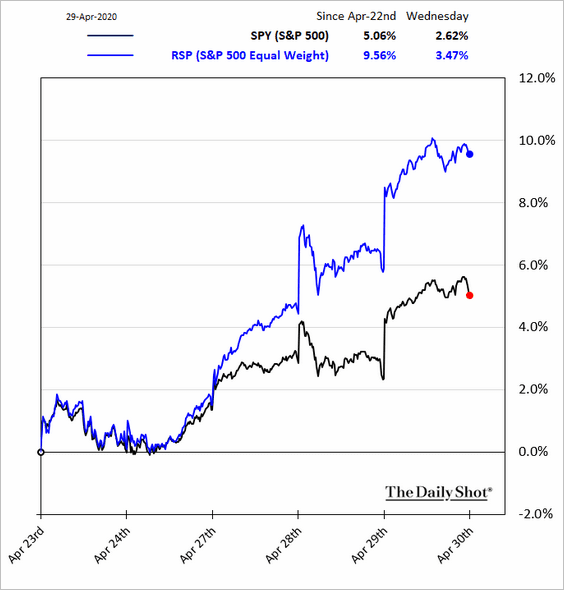 2. The bets on tech mega-caps during the crisis have been paying off as Facebook's and Alphabet's results surprise to the upside.


Source: Google

3. The Nasdaq Composite is now nearly flat year-to-date.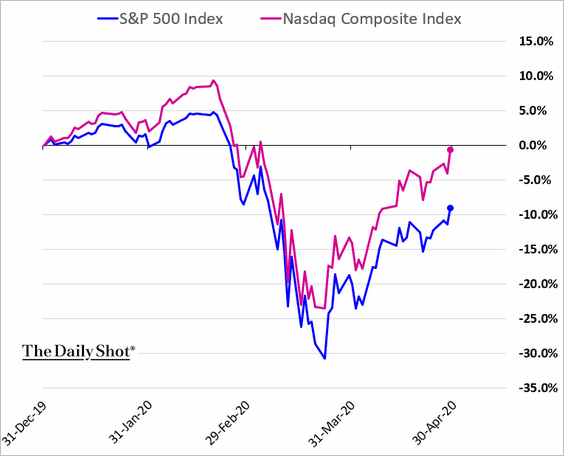 4. Many analysts are warning that the market rebound is overextended.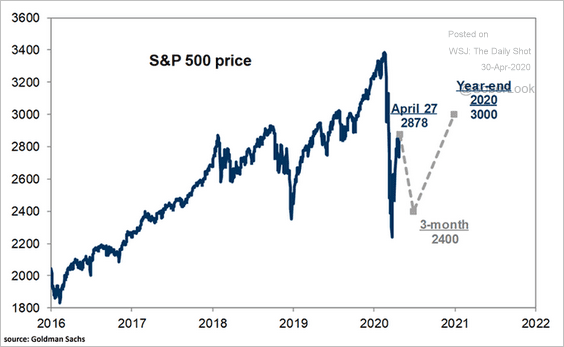 Source: @ISABELNET_SA, @GoldmanSachs

5. The buy/sell ratio ("buy" vs. "sell" recommendations) is at an extreme.


Source: @WallStJesus

6. Put options have done a consistent job of protecting portfolios containing 60% equities and 40% fixed income from short, sharp crashes. But their ability to add value diminishes over longer horizons, according to AQR.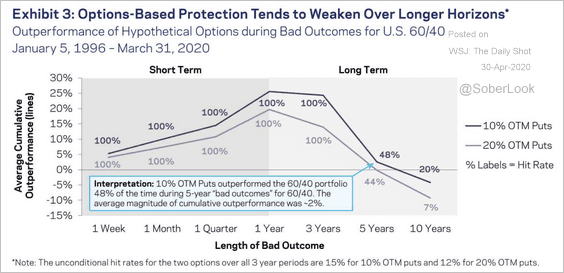 Source: AQR Capital Management

7. Next, we have some sector performance charts, which point to increased risk appetite.

• Cyclical sectors:

– Retail: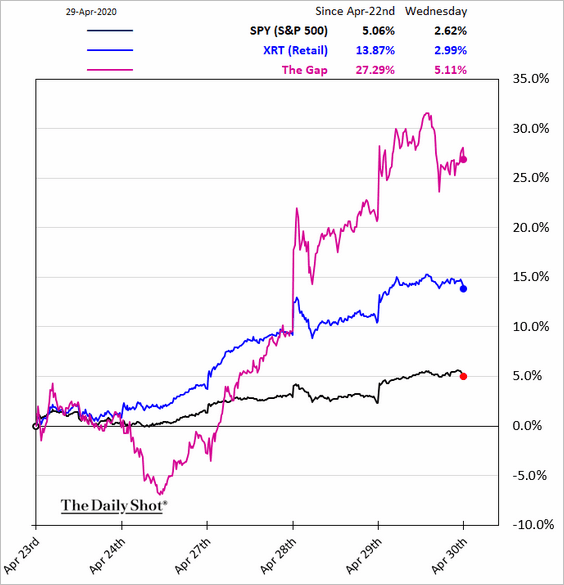 – Banks: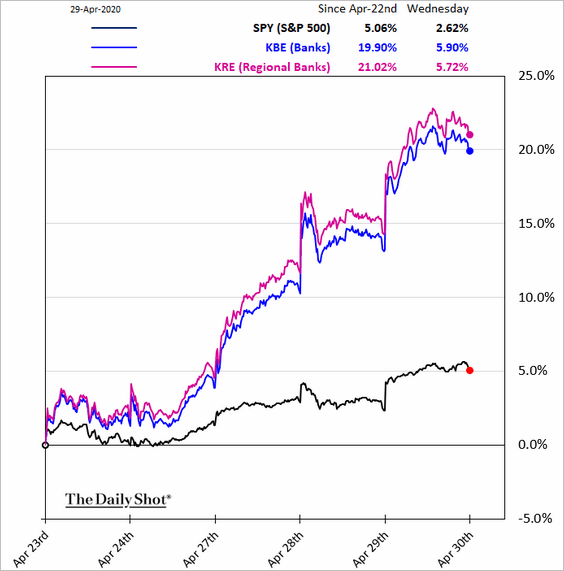 – Homebuilders:




– Energy: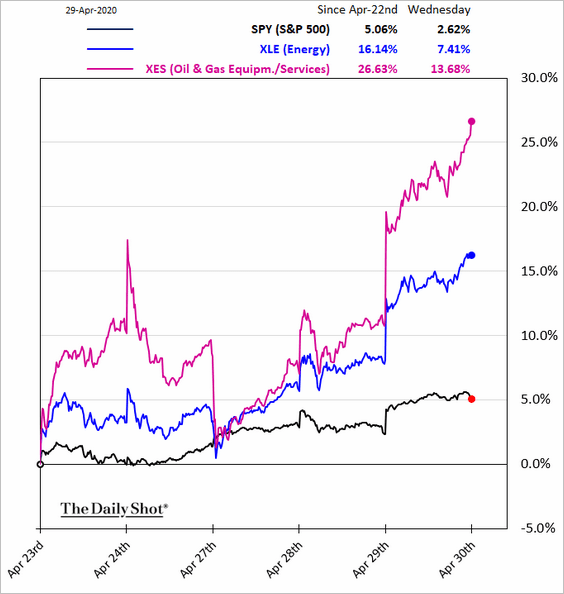 – Metals & mining:




– Semiconductors:




– Industrials: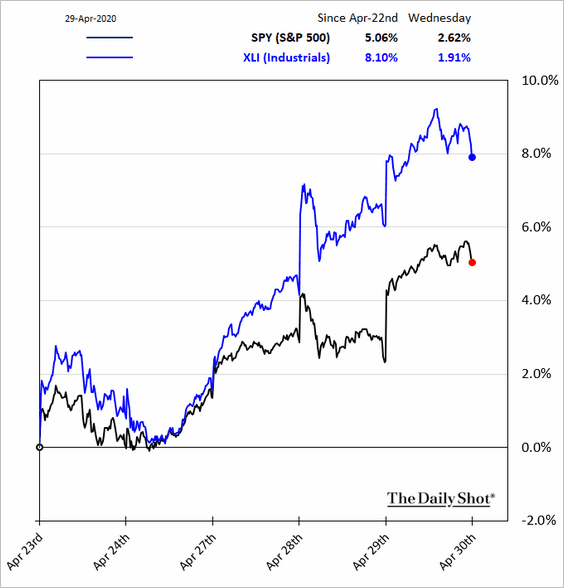 – Transportation (2 charts):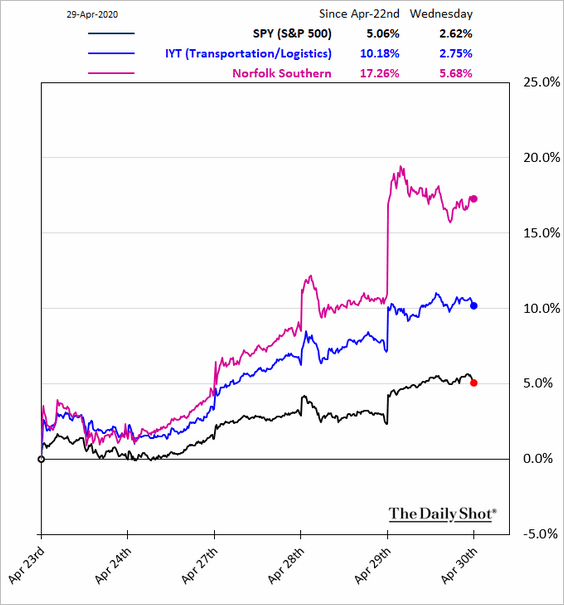 ——————–

• Defensive sectors:

– Consumer staples:




– Utilities: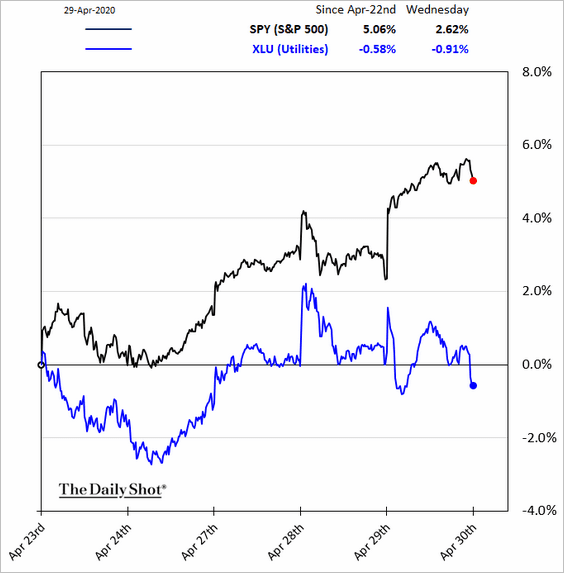 ---
Global Developments
1. European banks set aside lower loan loss provisions than US lenders.


Source: @technology Read full article

2. Here is the G4 central banks' total balance sheet.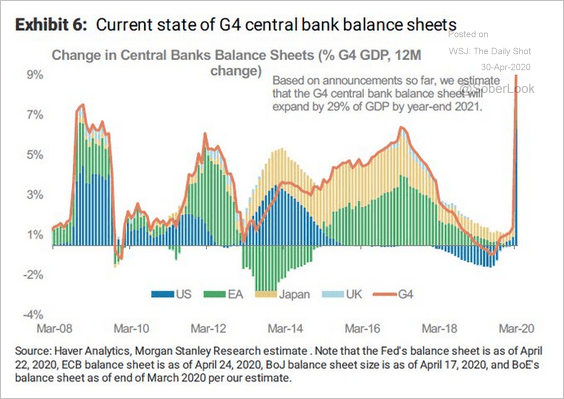 Source: Morgan Stanley Research, @Scutty

3. Finally, we have the updated fiscal stimulus response to the crisis (from Goldman).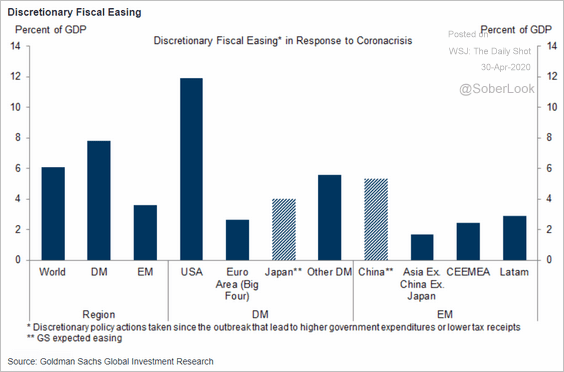 Source: Goldman Sachs
---
——————–
Food for Thought
1. The gap between CEO and worker pay: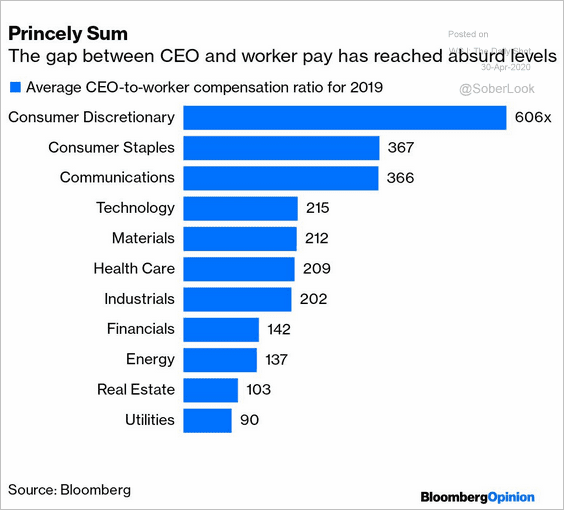 Source: @bopinion Read full article

2. The number of US companies going out of business each year:


Source: Deutsche Bank Research

3. Gig workers by industry: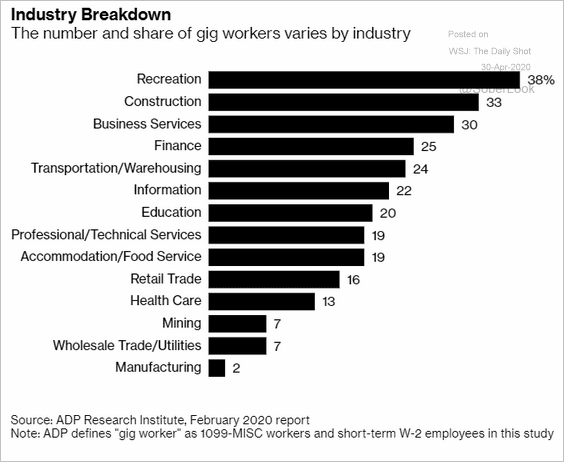 Source: @business Read full article

4. CNN, Fox News, and MSNBC viewership: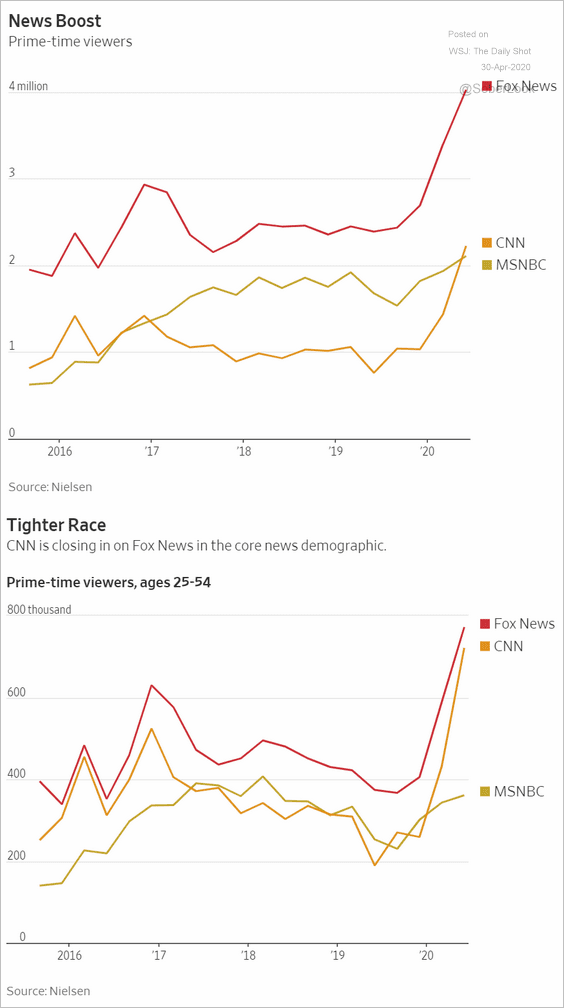 Source: @WSJ Read full article

5. What should happen in the aftermath of the pandemic?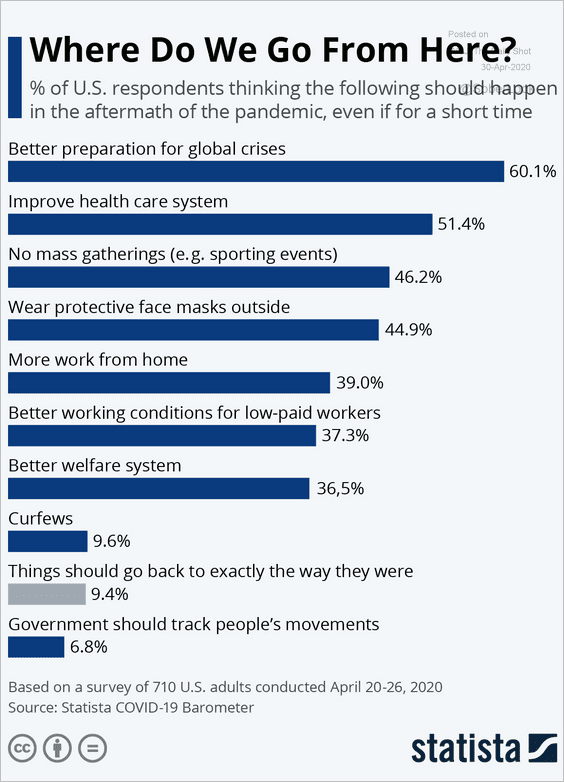 Source: Statista

6. Flu vaccine effectiveness: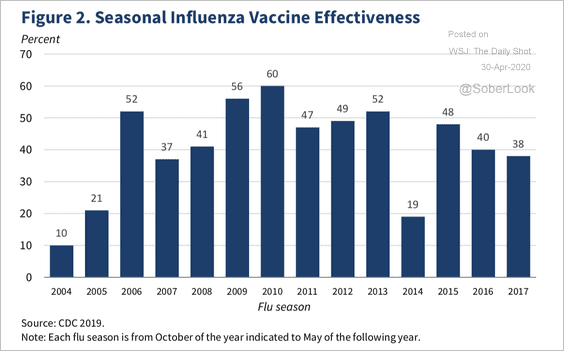 Source: The Council of Economic Advisers Read full article

7. Modeled lockdowns necessary to prevent ICU overload:


Source: TS Lombard

8. US Supreme Court cases:


Source: @WSJ Read full article

9. Ice cream consumption by country:


Source: Visually
——————–
---
---