The Daily Shot: 29-Oct-20
• Equities
• Energy
• Commodities
• Cryptocurrency
• Emerging Markets
• China
• Asia – Pacific
• The Eurozone
• Canada
• The United States
• Food for Thought
---
---
Equities
1. Stocks sold off sharply on Wednesday, with the S&P 500 giving up some 3.5%. Once we broke below 3400, the selloff intensified.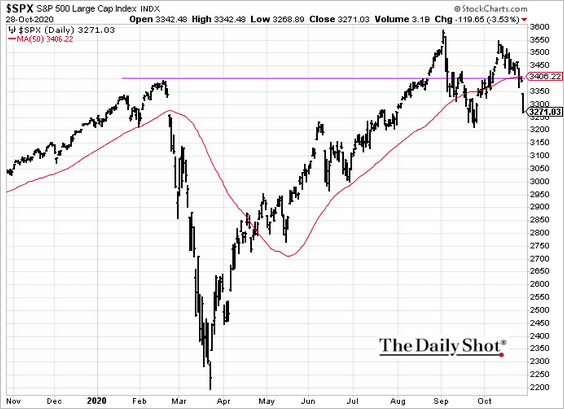 However, stock futures are signaling stabilization.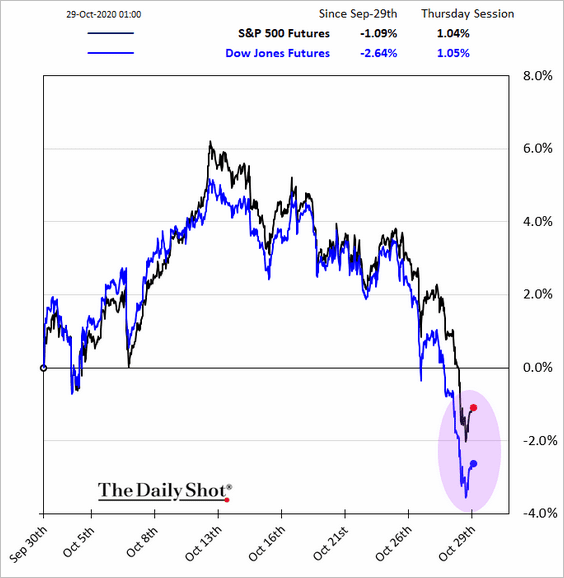 ——————–

2. Traditional risk mitigation/hedging strategies weren't very effective on Wednesday for US investors.

• Treasuries didn't budge.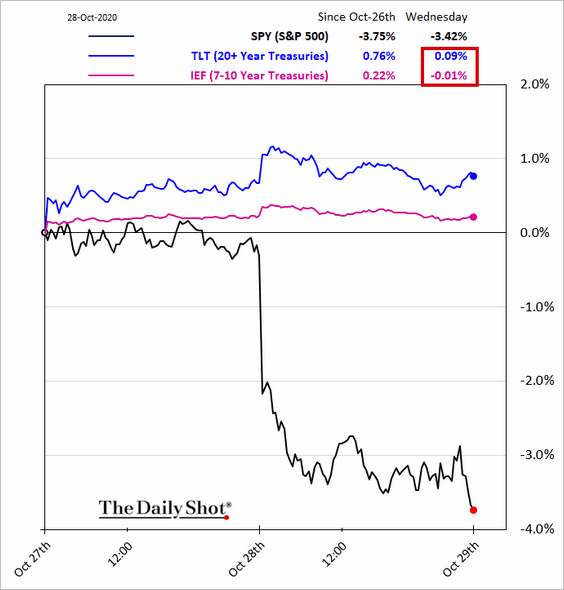 • Neither did the Japanese yen.




• Gold sold off.




• Utilities lost almost as much as the broader market.




• Global diversification was helpful at the margin, but the dollar's rise diminished the effect of international markets' outperformance.


——————–

3. Here are some sector performance charts.

• Healthcare: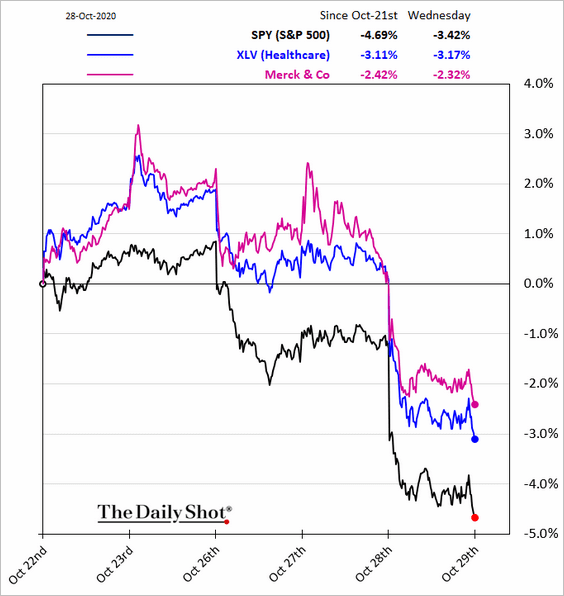 • Retail:




• Telecoms:




• Metals & Mining:




• Transportation:




• Tech and semiconductors:


Source: @WSJ Read full article
——————–

4. Below are some equity factors.

• Small caps: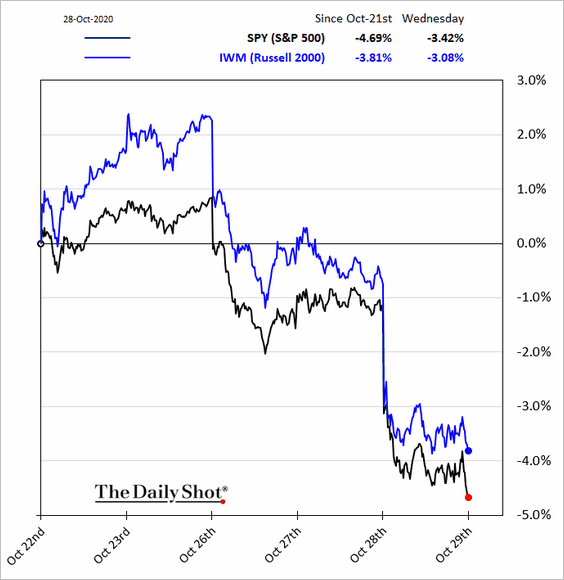 • Momentum:




• Quality:


——————–

5. Small caps' sector weights have been a drag on performance recently. The S&P 600 index is overweight in industrials and financials and underweight in tech (note that Communication Services includes Alphabet, Twitter, Facebook, and Netflix).


Source: S&P Global Market Intelligence

Here is the relative performance since 1994.


Source: S&P Global Market Intelligence
——————–

6. The Nasdaq 100 VIX-equivalent has been declining relative to VIX.


---
Energy
1. The January Brent contract is trading below $40/bbl.


Source: barchart.com

2. This chart shows US gasoline inventories and implied demand (second chart) relative to last year.




3. OPEC's oil export revenues are the lowest in years.


Source: EIA
---
Commodities
1. Technicals suggest that gold is overbought.


Source: Longview Economics

2. Commodity currencies (see definition below) are starting to fall, which suggests that industrial metals are overbought.


Source: BCA Research
---
Cryptocurrency
Bitcoin failed to break resistance (just below $14k).


---
Emerging Markets
1. Turkey's sentiment indicators continue to recover.




2. South Africa's inflation remains subdued.




3. How did net exports contribute to the Q2 GDP growth?


Source: @RobinBrooksIIF
---
China
1. Short-term rates are up sharply.




2. Most new COVID cases in China have been imported (assuming we can trust the data).


Source: Gavekal

But the pandemic left an economic scar on Hubei.


Source: @markets Read full article
——————–

3. Retail sales have been recovering slower than in other countries.


Source: Barclays Research

4. Hong Kong's central bank is buying record amounts of US dollars ahead of the massive Ant Group IPO (to defend the peg vs. USD).


Further reading

---
Asia – Pacific
1. Japan's retail sales remain depressed, although the data is distorted by the tax hike base effect.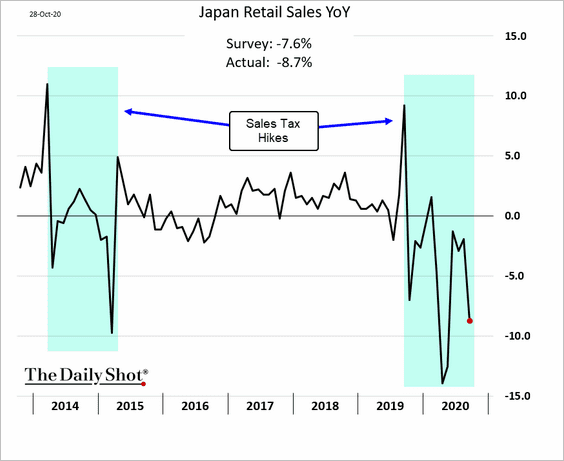 2. South Korea's business sentiment continues to improve, but services are lagging somewhat.




3. It's been a rough 112 days for Melbourne.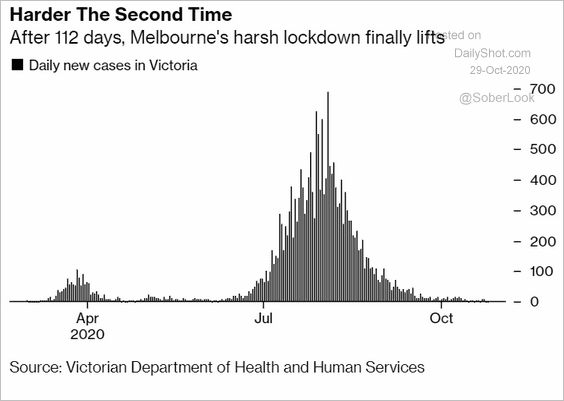 Source: @bpolitics Read full article
---
The Eurozone
1. What should we expect from the ECB today, and how will it impact the euro?


Source: ING

2. Euro short-term implied volatility is up ahead of the US election.




3. The COVID situation has been worsening as lockdowns return (4 charts).


Source: Pantheon Macroeconomics


Source: Goldman Sachs


Source: @bpolitics Read full article


Source: Goldman Sachs
——————–

4. French consumer confidence remains relatively stable.




5. Spain's retail sales improved further in September. That's unlikely to be repeated this month.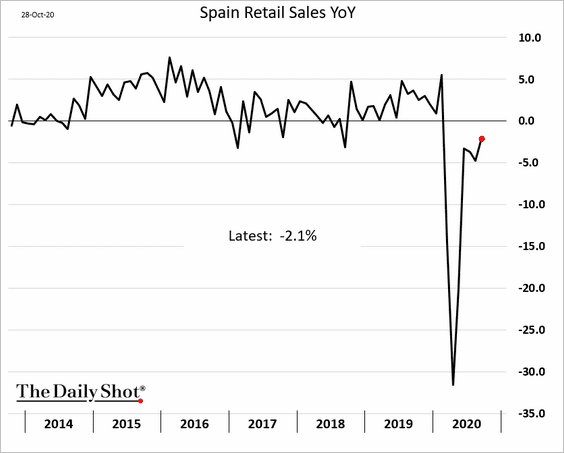 ---
Canada
1. It appears that the BoC may be reducing its securities purchases, focusing instead on longer-dated bonds (perhaps keeping duration-weighted QE unchanged). Government securities availability has become an issue.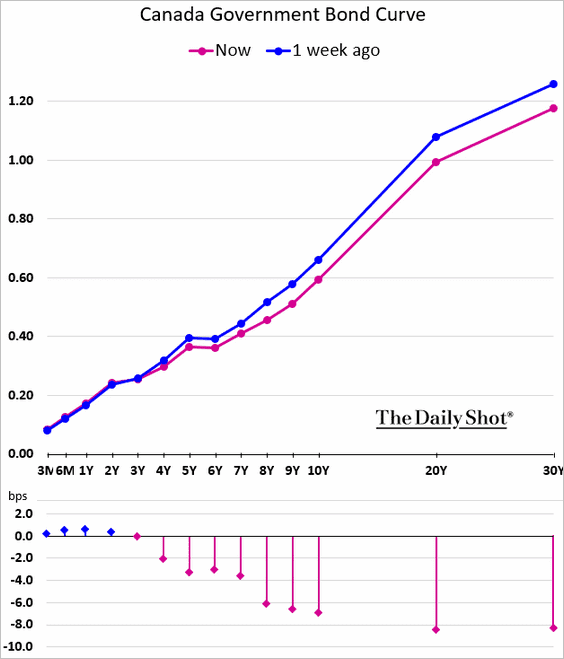 2. Here is the Oxford Economics recovery tracker.


Source: Oxford Economics

3. Canada's and the Eurozone's consumer confidence indicators have been highly correlated – and both are down.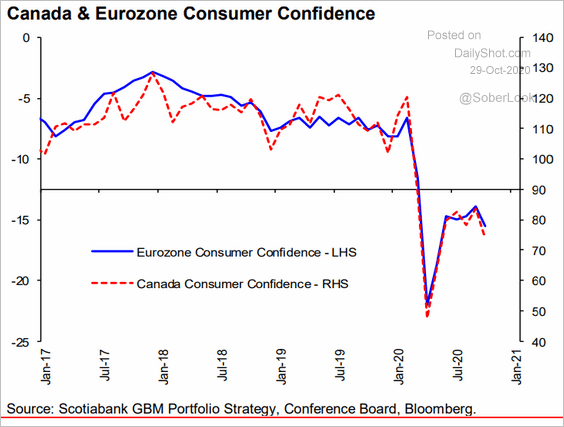 Source: Hugo Ste-Marie, Portfolio & Quantitative Strategy Global Equity Research, Scotia Capital
---
The United States
1. What should we expect from the Q3 GDP report?

• The Atlanta Fed's GDPNow model shows a 37% increase.


Source: @AtlantaFed Read full article

• Morgan Stanley's forecast is also at 37%.


Source: Morgan Stanley Research

• The rebound does not reverse the Q1 and Q2 losses, according to Pantheon Macroeconomics.


Source: Pantheon Macroeconomics

• Here is how government policy (stimulus, tariffs, immigration) will impact the recovery trajectory, according to Oxford Economics.


Source: @GregDaco Read full article
——————–

2. Wholesale inventories unexpectedly declined in September.




3. The recovery in US core goods exports has been lagging imports.


Source: Pantheon Macroeconomics

4. Over the past few months, manufacturing has been getting a boost from housing and automobile demand (helping many of the supporting industries).


Source: @WSJ Read full article

For example, Ford's Q3 results topped analysts' expectations.


Source: @markets Read full article
——————–

5. Market-based inflation expectations have leveled off.


Source: @markets Read full article

6. Mortgage applications to purchase a house remain robust.




7. This chart shows the recovery in job postings on Indeed by wage tier.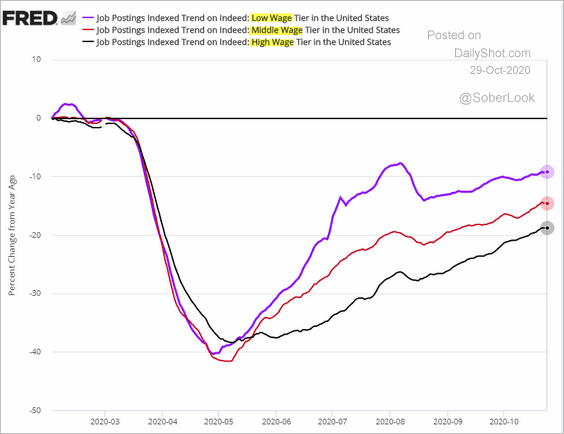 ---
——————–
Food for Thought
1. COVID-19 symptoms vs. cold and flu:



Source: The Guardian Read full article

2. Search activity for COVID symptoms in the US (by region):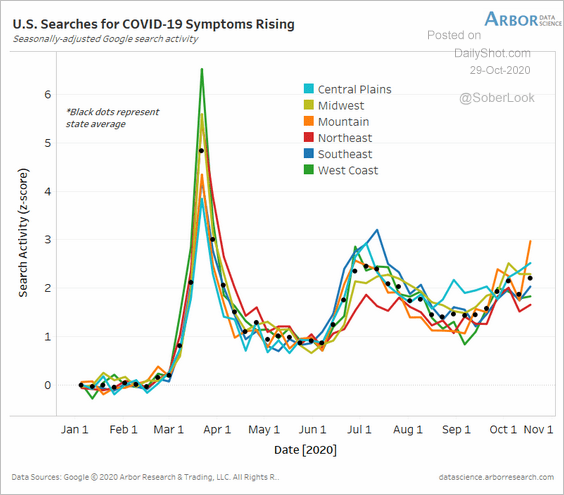 Source: Arbor Research & Trading

3. Countries that were most impacted by the pandemic earlier in the year got hit the hardest in the latest wave of invections.


Source: @MaxCRoser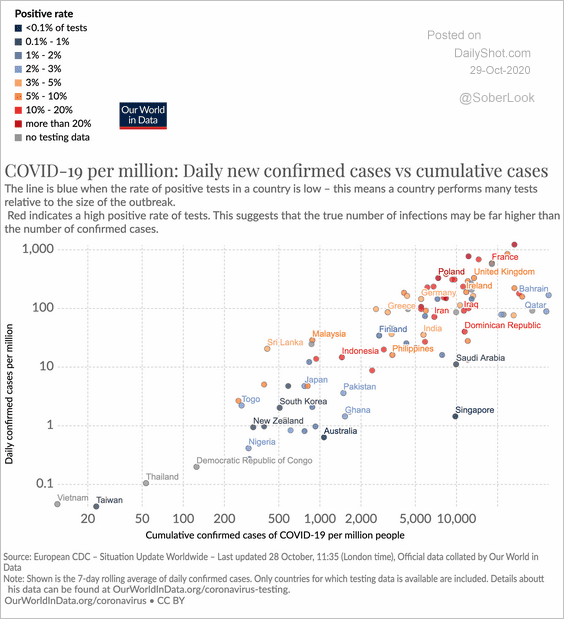 Source: @MaxCRoser
——————–

4. Terrorist threats to the homeland: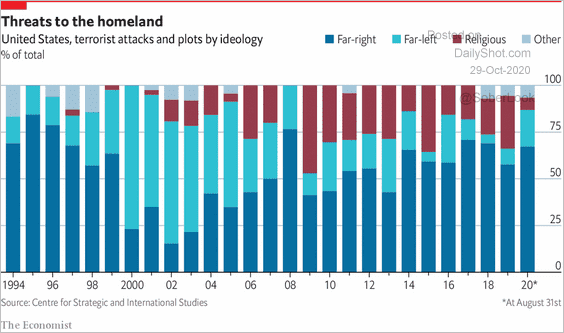 Source: The Economist Read full article

5. US arms sales:


Source: TS Lombard

6. US prison death rates (before COVID):


Source: Reuters Read full article

7. The pivotal role of Pennsylvania in the presidential election: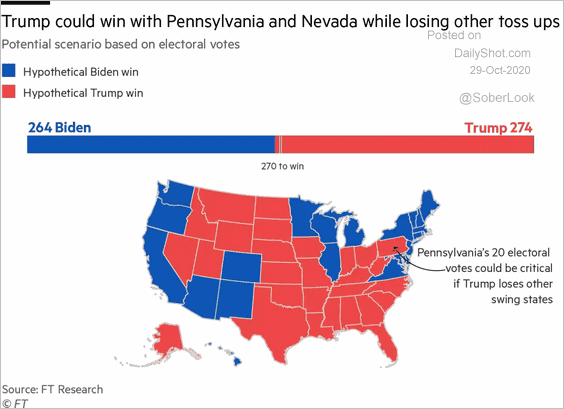 Source: @financialtimes Read full article

Betting market odds: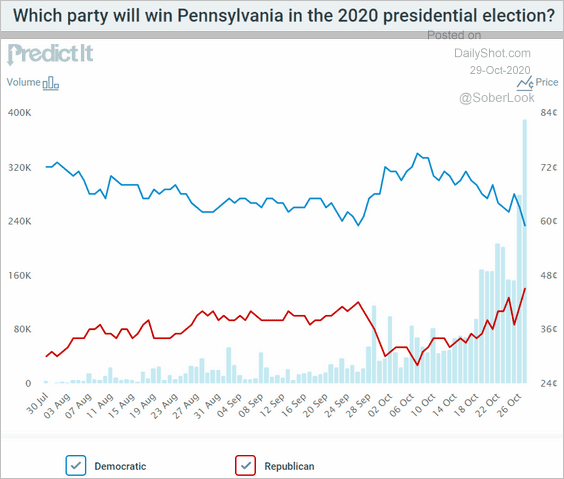 Source: @PredictIt
——————–

8. The search engine market: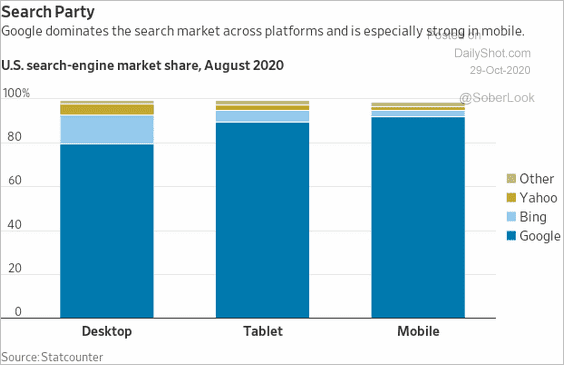 Source: @WSJ Read full article

9. Preferred playing cards in European countries: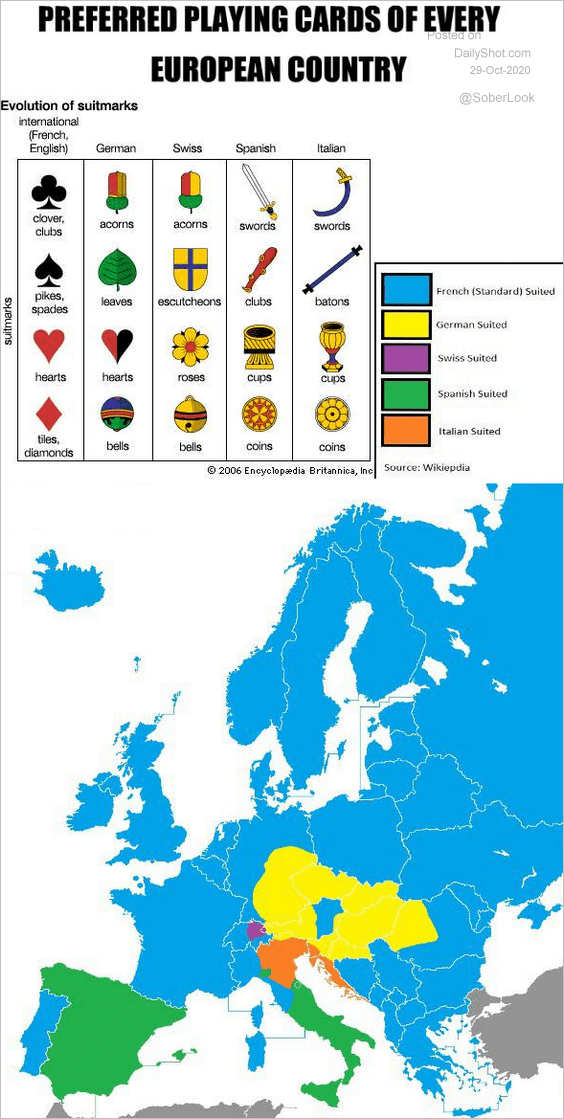 Source: @simongerman600 Further reading
——————–
---
---