The Daily Shot: 11-Nov-20
• The United States
• The United Kingdom
• The Eurozone
• Europe
• Japan
• Asia – Pacific
• China
• Emerging Markets
• Commodities
• Energy
• Equities
• Rates
• Food for Thought
---
---
The United States
1. The September job openings report was roughly in line with market consensus.




• The quit rate (voluntary resignations) ticked higher while layoffs continued to decline.




• Openings in retail and construction sectors declined, …




• … while vacancies in transportation/warehousing and business service sectors climbed further.




• The Beveridge Curve trajectory was quite different this year vs. what we saw after 2008.


Source: BLS
——————–

2. The NFIB Small Business Optimism Index held steady last month (as expected).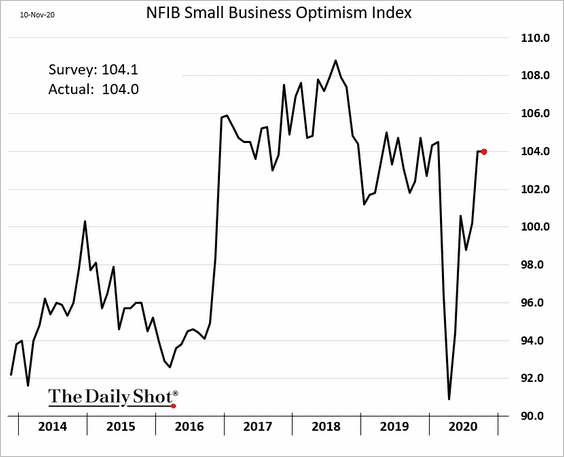 The hiring plans index declined.




Small firms are increasingly reporting elevated business uncertainty.




The NFIB index is likely to weaken in November. Many small firms are increasingly unsure whether they will survive.


Source: Goldman Sachs
——————–

3. S&P expects slower retail sales this holiday season (which contradicts some other forecasts).


Source: S&P Global Market Intelligence

Here is a list of retailer holiday hiring plans. Delivery drivers are in high demand.


Source: S&P Global Market Intelligence
——————–

4. The election outcome put some pressure on consumer sentiment.


Source: Morning Consult Read full article

5. With more employees working from home, companies are increasingly trying to sublease office space (flooding the market). Despite the rally in office REITs (see chart), this sector will continue to struggle.


Source: @WSJ Read full article

6. While inflation indicators will rise next year due to base effects, Goldman sees the core PCE inflation ending 2021 at 1.65%.


Source: Goldman Sachs

Here is Nomura's estimate for the October core CPI (monthly change).


Source: Nomura Securities
——————–

7. US COVID-related hospitalizations hit a record high.


Source: CovidTracking.com
---
The United Kingdom
1. The employment report was relatively strong, with the claimant count declining last month.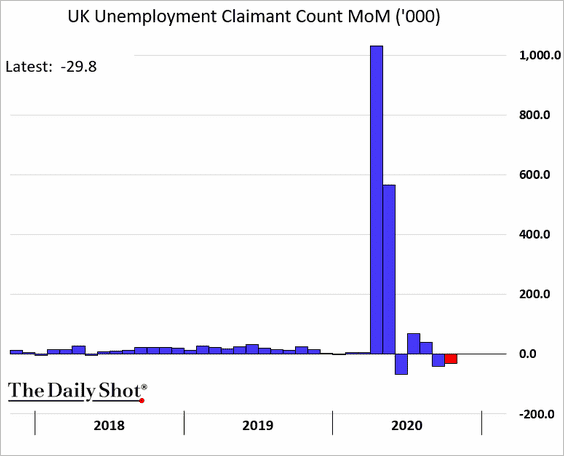 The unemployment rate keeps rising, but the new job retention scheme should curtail further increases.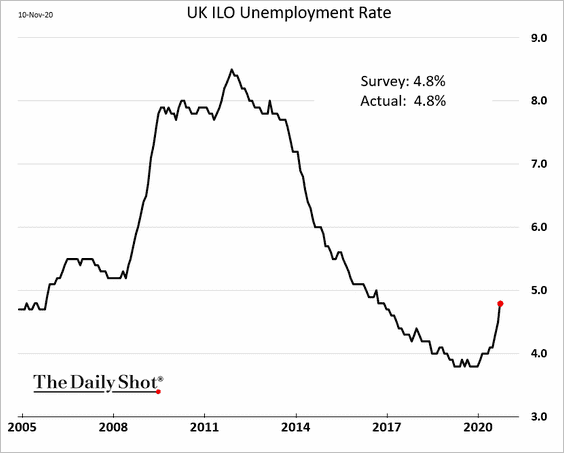 ——————–

2. The Bank of England will have to ease policy further, according to Alpine Macro.


Source: Alpine Macro

3. EUR/GBP is overvalued relative to its purchasing power parity.


Source: Alpine Macro

4. The UK public sector generated this year's spike in the M4 (broad) money supply.


Source: Economic Perspectives

5. More cardiac patients shun care, ending up in the emergency room.


Source: @financialtimes Read full article
---
The Eurozone
1. Germany's ZEW indicator declined further as the second wave takes a toll.




Here is the same index at the Eurozone level.


——————–

2. French unemployment increased more than expected last quarter.




3. As we saw with Germany (here), September industrial production has been below market expectations.

• France:




• Italy:




• Finland:


——————–

4. Greek short-term bond yields have moved into negative territory.


Source: @WSJ Read full article

5. This table shows TLTRO usage relative to allowances by country.


Source: Deutsche Bank Research

6. While winter lockdowns will cause activity to contract in Q4, BlackRock still expects economic growth to return to pre-pandemic trends.


Source: BlackRock

7. Finally, this chart shows total pension fund assets by country.


Source: ECB Read full article
---
Europe
1. EUR/CHF has sharply diverged from EUR/USD this year (driven by weak US dollar).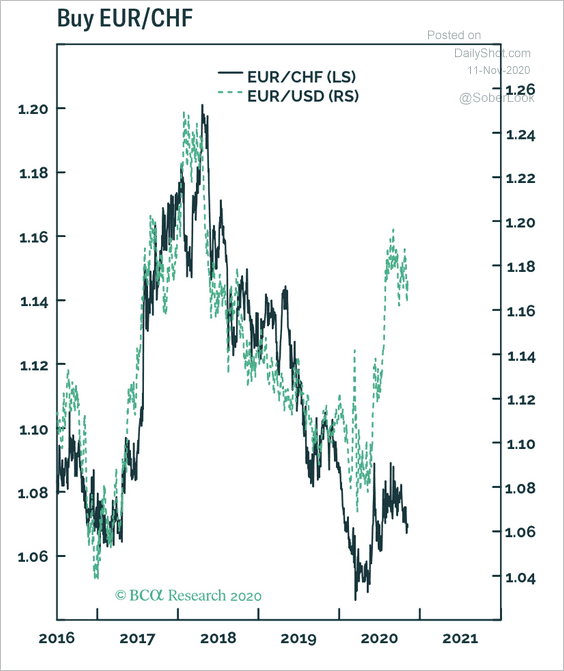 Source: BCA Research

EUR/CHF continues to hold support above 1.05.


Source: @DantesOutlook
——————–

2. The Swedish krona keeps climbing.




Sweden's household consumption recovery has stalled.


---
Japan
1. The Economy Watchers Survey expectations index is at pre-COVID levels.




2. The Invesco Japanese Yen ETF (FXY) is holding long-term support.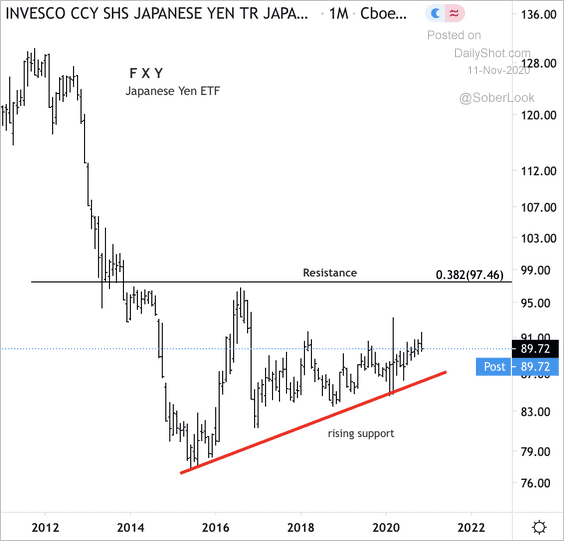 Source: @DantesOutlook

3. The yen remains a "safe-haven" asset based on its correlation with VIX.


Source: BCA Research

4. Will we see a breakout in the Topix 500 index?


Source: @DantesOutlook
---
Asia – Pacific
1. Asian currencies continue to rally vs. USD.




Here is the South Korean won.


——————–

2. South Korea's unemployment rate unexpectedly rose above 4%. The index has been volatile over the past couple of years.




3. The RBNZ increased stimulus with the new Funding for Lending Program (which has similarities to the ECB's LTRO).


Source: @markets Read full article

But the central bank was more upbeat on the economy than expected. Traders unwound their bets on negative rates. Bond yields and the Kiwi dollar jumped.


——————–

4. The Westpac indicator suggests that Australia's consumer confidence is the highest in years.


---
China
1. The renminbi continues to rally.




2. There has been a gradual increase in yuan-denominated settlement volume over the past decade. This points to the yuan's rising share of international payments over time, according to Fitch.


Source: Fitch Ratings

3. China's tech shares have reversed the recent rally as Beijing tries to rein in the industry.


Source: Yahoo Finance Read full article


---
Emerging Markets
1. South Africa's factory output is recovering faster than expected.




2. Israel's consumer confidence remains depressed.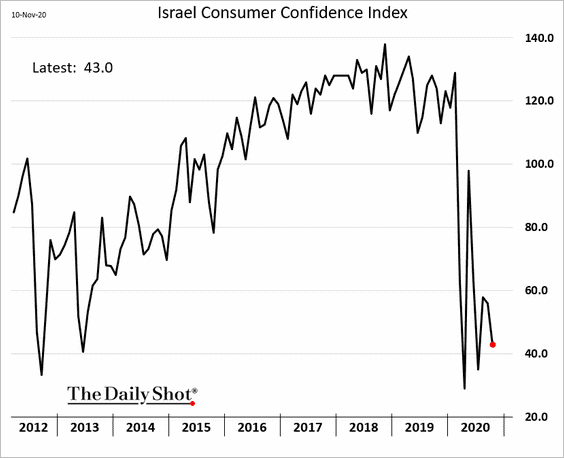 3. Elevated food inflation in Latin America dampened central banks' willingness to ease further.


Source: @markets Read full article

4. This chart shows consensus earnings estimates for EM Asia, Europe, and LatAm.


Source: @markets Read full article

5. Finally, we have a ranking of how well countries provide transparency and direct communication between investors and government authorities, according to IIF.


Source: IIF
---
Commodities
1. Iron ore continues to rally (Singapore futures shown below).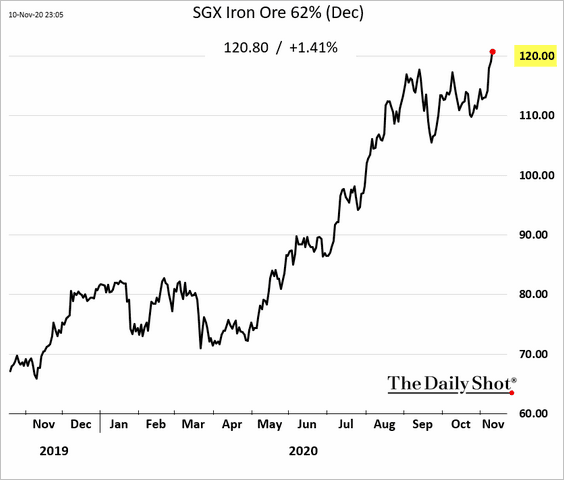 2. This chart shows aluminum futures traded in Shanghai.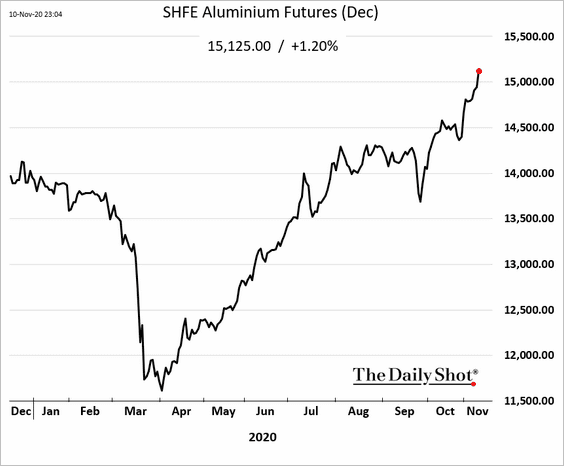 3. US corn stockpiles are declining rapidly.


Source: @kannbwx

Corn futures continue to climb.




Soybean futures are up sharply as well.


---
Energy
1. The Pfizer vaccine announcement has been good for crude oil.


Source: barchart.com

2. "Clean" energy stocks continue to outperform, as renewables become a larger component of power generation in the US and globally.


Source: @WSJ Read full article


Source: @EIAgov Read full article
---
Equities
1. The MSCI World Index hit a record high.




2. The Pfizer vaccine news changed the market dynamics.

• As we saw yesterday, shares that lagged this year are outperforming.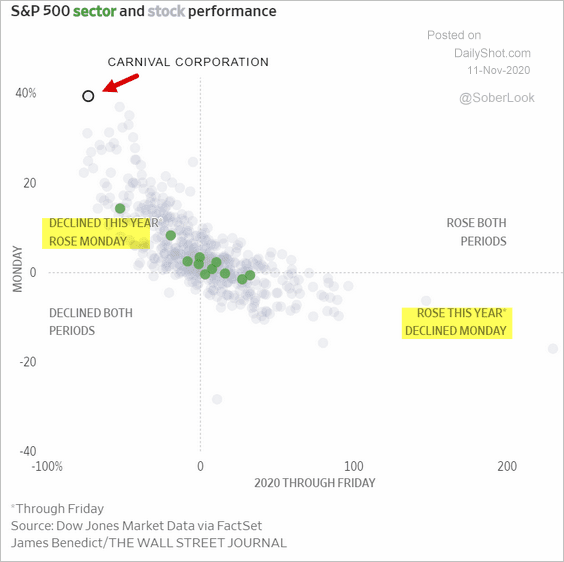 Source: @WSJ Read full article

• Cyclical stocks are now leading.


Source: @WSJ Read full article

• The rotation into cyclicals caused a massive dispersion among the S&P 500 stocks.


Source: S&P Global Market Intelligence

• Many cyclical shares have weak balance sheets.




• Some cyclical shares are also bets on higher inflation. Here is the spread between the Citi inflation long and inflation short baskets.




• Momentum shares have underperformed sharply.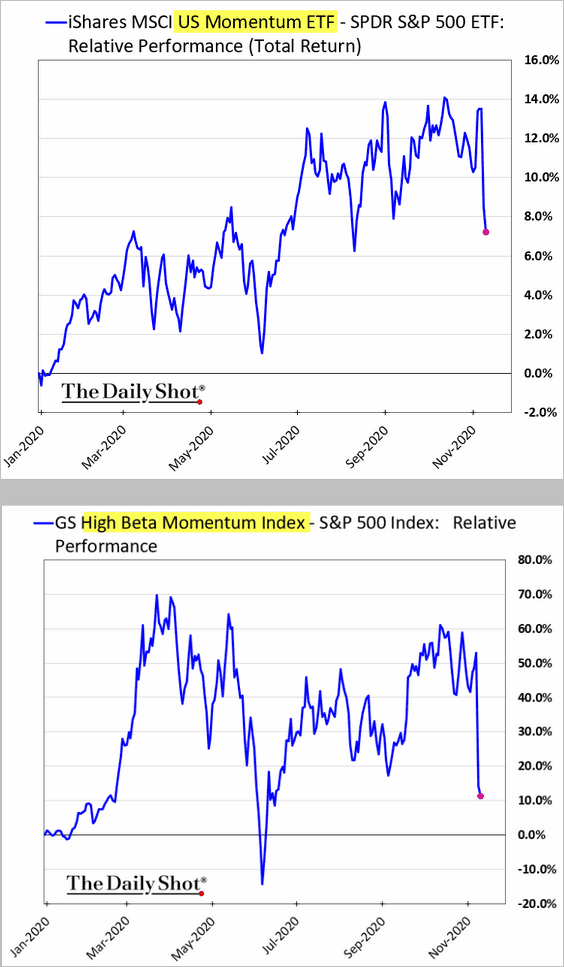 • Day traders are in love with airline shares again.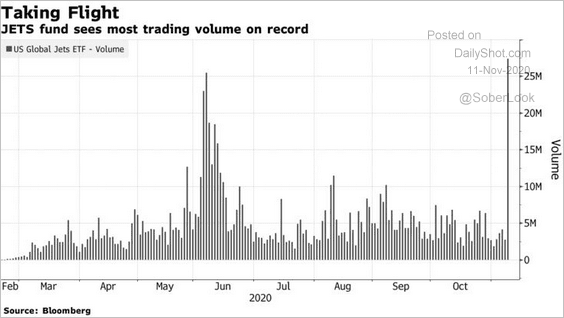 Source: @markets Read full article
——————–

3. Bloomberg's measure of the S&P 500 earnings yield hit a new low.




4. A double-top for the Nasdaq Composite?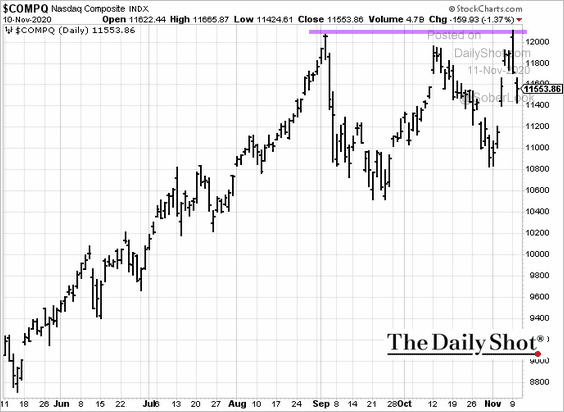 h/t Nancy Moran

5. The gap between growth and value stock valuations has been near extremes.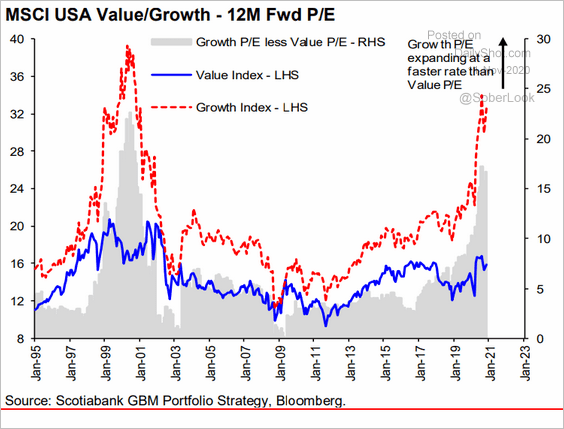 Source: Hugo Ste-Marie, Portfolio & Quantitative Strategy Global Equity Research, Scotia Capital

6. Interest rates tend to be a key driver of equity valuations.


Source: Jack Ablin, Cresset Wealth Advisors
---
Rates
1. The Treasury curve steepening trend has resumed.




2. After the vaccine announcement, the markets are starting to doubt the Fed's patience in holding rates near zero for a long period. Here is the change in the market-implied fed funds rate trajectory.




3. On the other hand, Deutsche Bank's models show that current market inflation expectations (breakevens) are too high.


Source: Deutsche Bank Research

The disinflation probability remains elevated, which may signal lower breakevens, according to Deutsche Bank.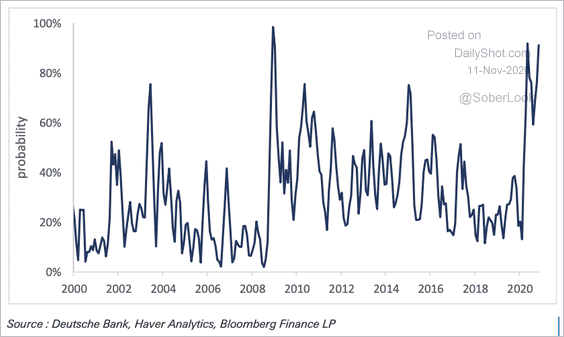 Source: Deutsche Bank Research
——————–

4. Speculative short positions in Treasury bond futures are at an extreme.


Source: Alpine Macro

5. The 10-year Treasury term premium tends to fall an average of 20 basis points over the 50 trading days following elections since 1970, according to Arbor Data Science.


Source: Arbor Research & Trading
---
——————–
Food for Thought
1. US coin production:


Source: Statista

2. Antibiotic resistance timeline:


Source: Incisive Health Read full article

3. Potential sources of novel infectious diseases: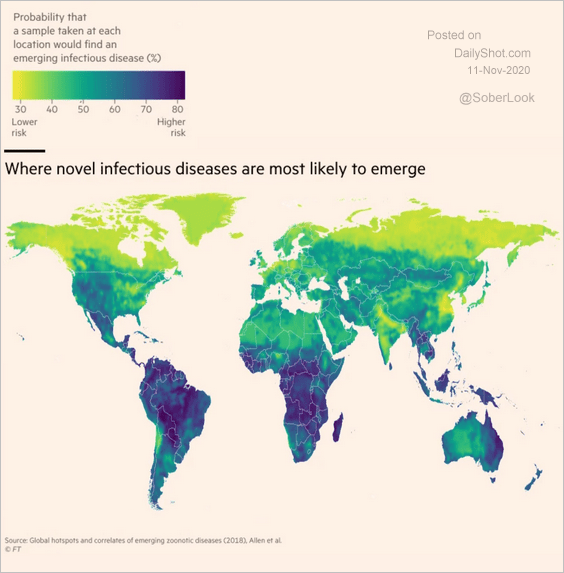 Source: @adam_tooze, @lesliehook Read full article

4. The risk of homelessness among US veterans: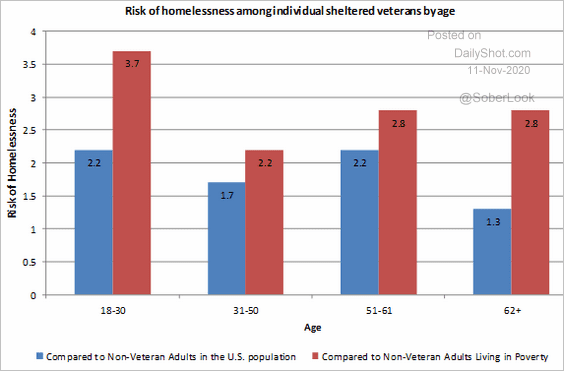 Source: APA

5. Atlantic storms (new record):


Source: @bbgvisualdata Read full article

6. Switches in the US legislative chamber: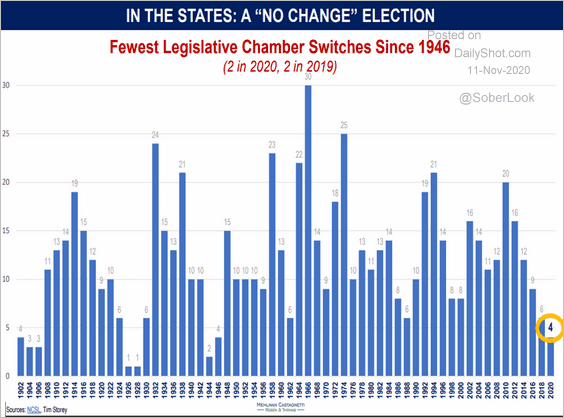 Source: Mehlman Castagnetti Rosen & Thomas

7. 2020 vs. 2016 voting in majority-white counties:


Source: @bbgvisualdata Read full article

8. Most popular apps in the US: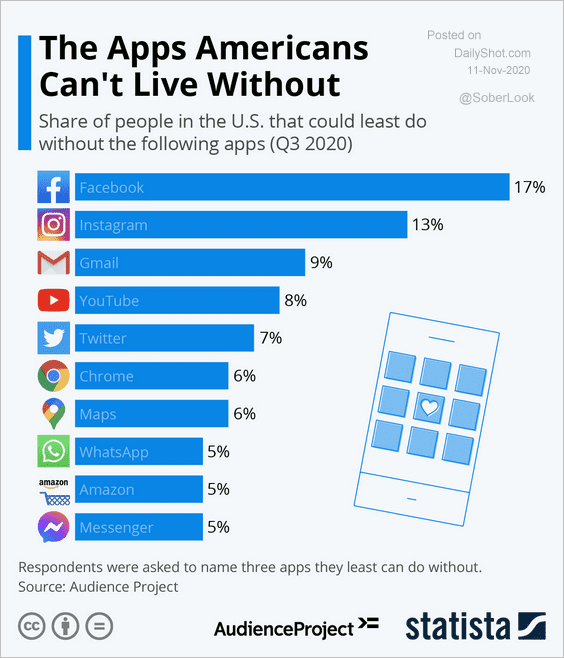 Source: Statista

9. Top US online retailers:


Source: Visual Capitalist Read full article

10. The relative size of particles: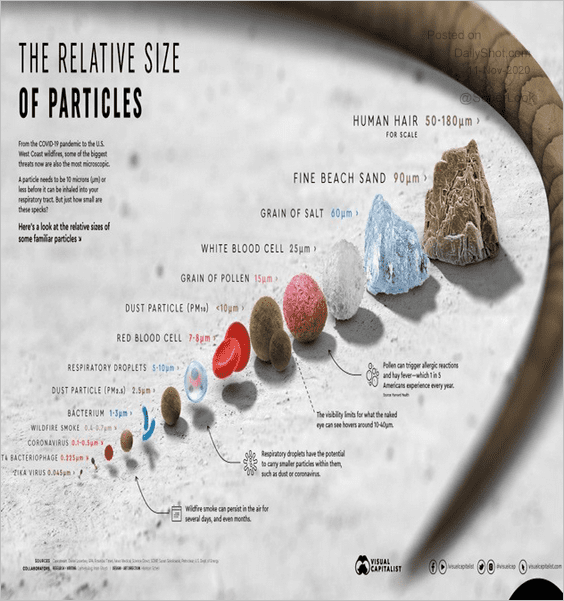 Source: Visual Capitalist Further reading
——————–

We would like to thank US veterans for their service.
---
---