1. Cigarette smuggling vs. cigarette excise tax rates:


Source: Tax Foundation

2. US tax revenues as a share of the GDP:


Source: @RichardRubinDC

3. Electric vehicle companies' market value and valuations:


Source: @business, Craig Trudell Read full article

4. Working longer hours from home:


Source: The Economist Read full article

5. Democratic vote share vs. population density: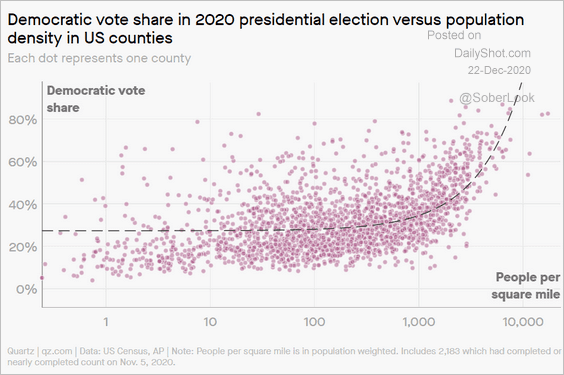 Source: QZ Read full article

6. Greenhouse gas emissions by sector:


Source: Our World In Data Read full article

7. "Die Hard" is a Christmas movie.


Source: @chartrdaily

8. Wrapping presents:


Source: @YouGovAmerica Read full article

9. Opening presents:


Source: @YouGovAmerica

10. The worst Christmas presents:


Source: Deutsche Bank Research
——————–

As a reminder, The Daily Shot and Food for Thought will not be published from Thursday, December 24th through Friday, January 1st.
---