The Daily Shot: 16-Mar-21
• The United States
• Canada
• The United Kingdom
• The Eurozone
• Europe
• Asia – Pacific
• China
• Emerging Markets
• Cryptocurrency
• Energy
• Equities
• Alternatives.
• Credit
• Rates
• Global Developments
• Food for Thought
---
---
The United States
1. The NY Fed's manufacturing report (Empire) showed robust regional factory activity this month.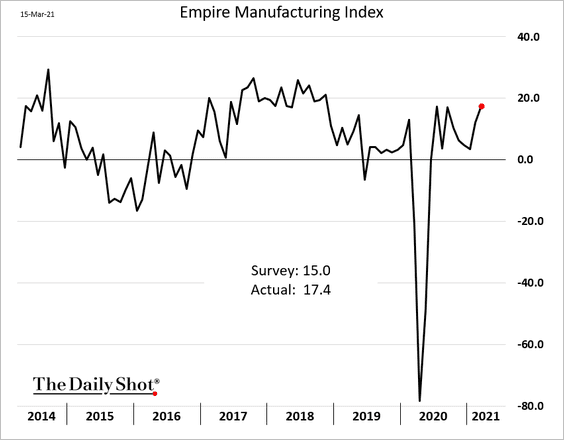 • Hiring expectations hit the highest level in years.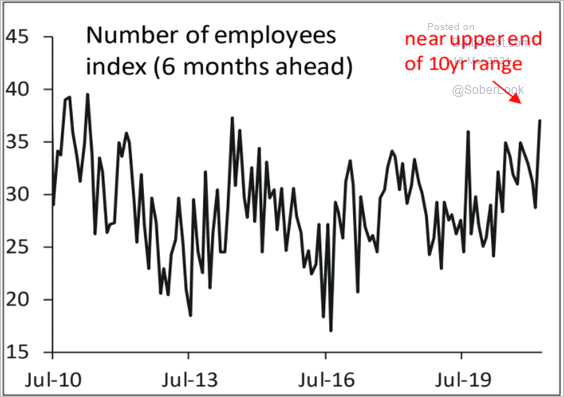 Source: Piper Sandler 

More factories are planning to boost workers' hours.




• Input price gains have accelerated, …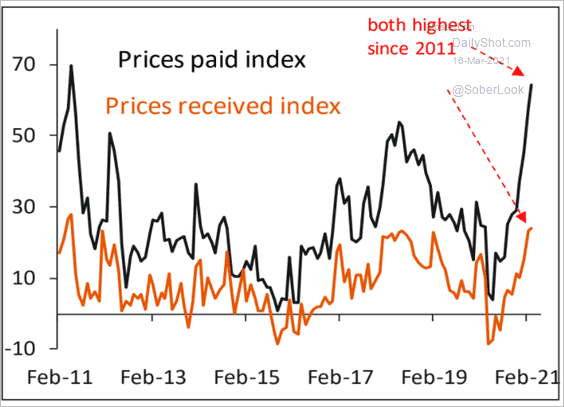 Source: Piper Sandler 

… pointing to stronger PPI growth ahead.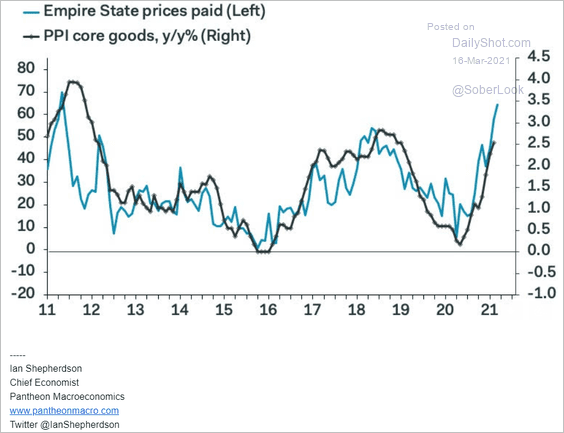 Source: Pantheon Macroeconomics
——————–

2. When it comes to the recent spike in factory input costs (like the one above), the US stands out against other economies.


Source: BofA Global Research, @WallStJesus

3. The ratio of household liquid assets to liabilities is now the highest in decades.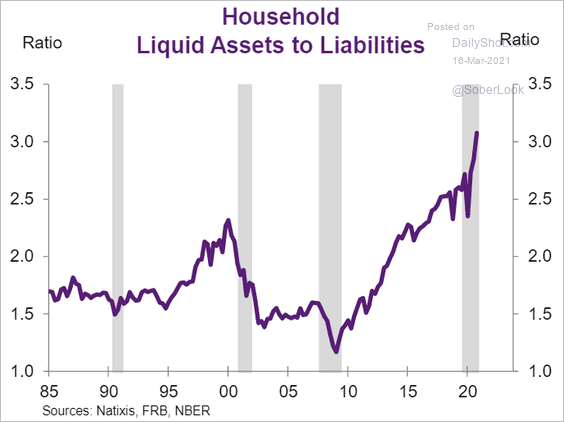 Source: Natixis

And it is expected to climb further as households plan to save a substantial portion of government money.


Source: BofA Global Research
——————–

4. Retail sales (yellow) have diverged from credit card spending data (white).


Source: @DiMartinoBooth, @TheBondFreak

5. Job postings on Indeed continue to rise amid signs of labor shortages in some sectors.


Source: @JedKolko, @indeed Read full article

6. Older Americans are more concerned about inflation.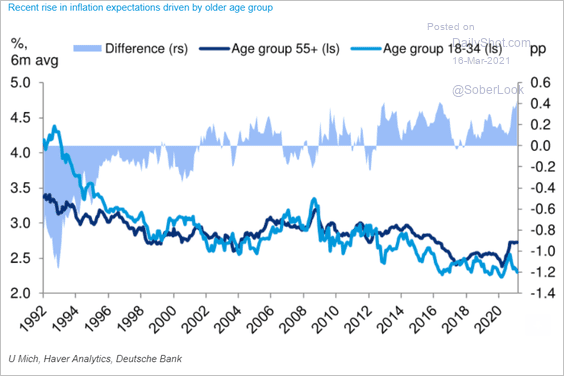 Source: Deutsche Bank Research

7. Slowing labor force growth will increasingly become a drag on economic expansion. That's why a smart immigration policy is critical.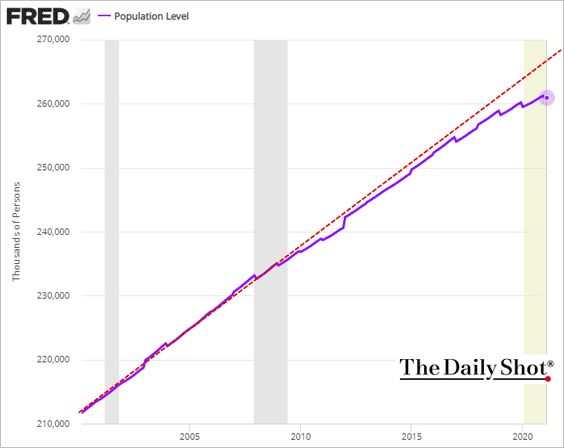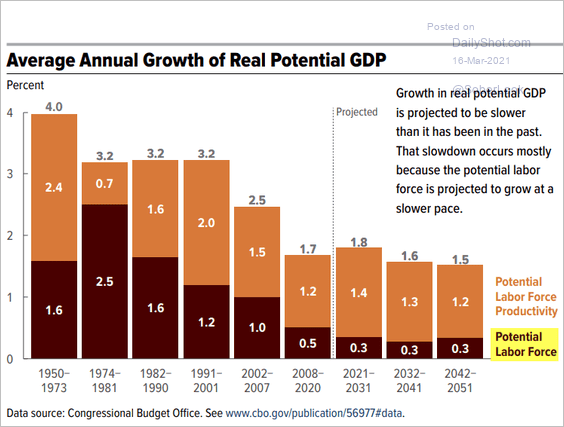 Source: CBO
---
Back to Index
Canada
1. Residential construction remains robust.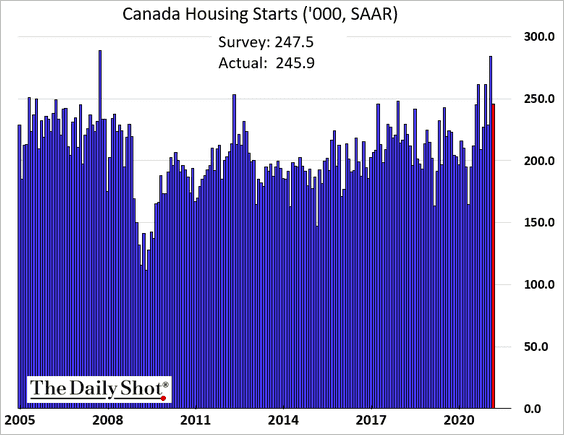 2. Existing home sales jumped 6.6% last month.




3. January factory sales topped expectations (2 charts).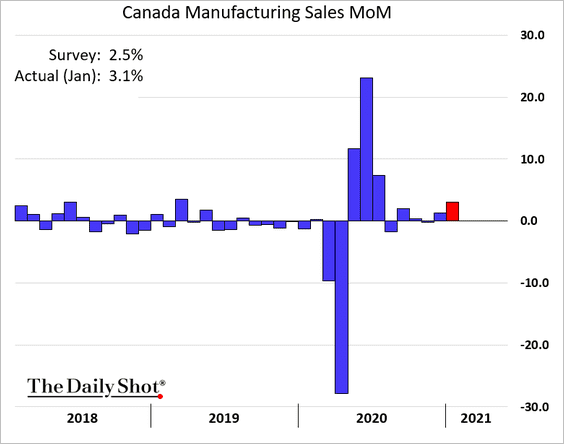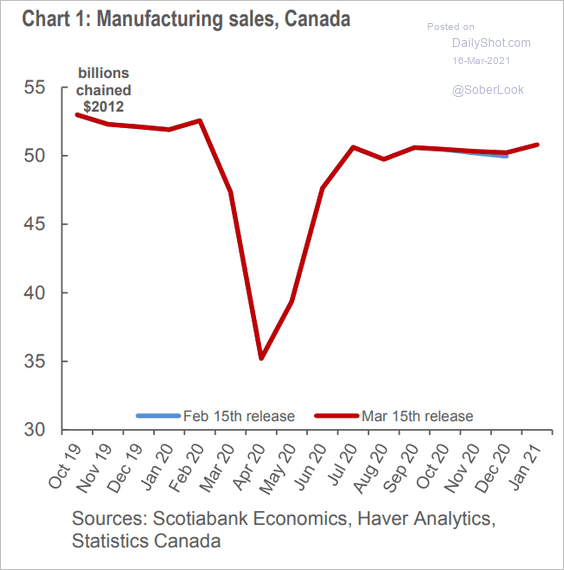 Source: Scotiabank Economics
——————–

4. Consumer confidence hit a multi-year high.


---
Back to Index
The United Kingdom
1. Market-based inflation expectations have been climbing.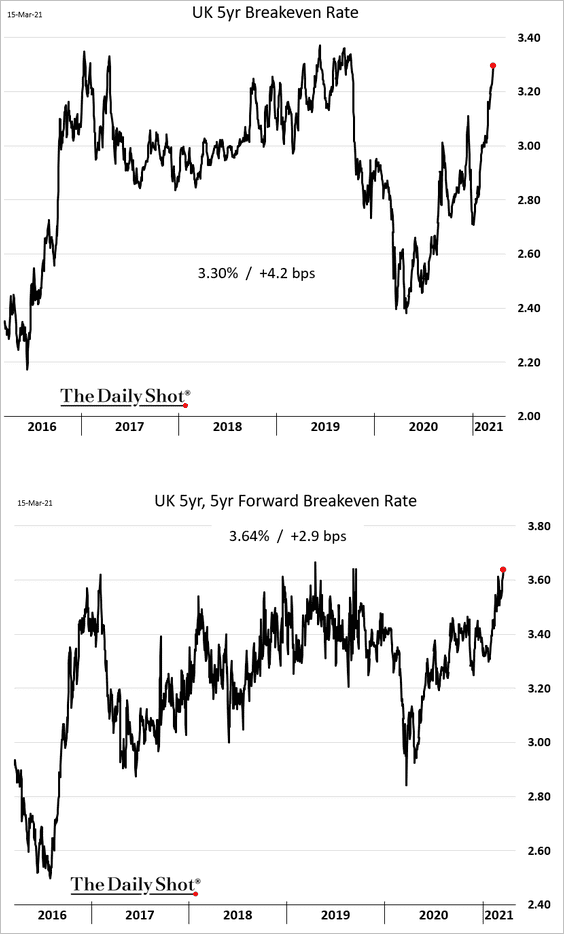 2. The market is now pricing in a rate hike within a couple of years.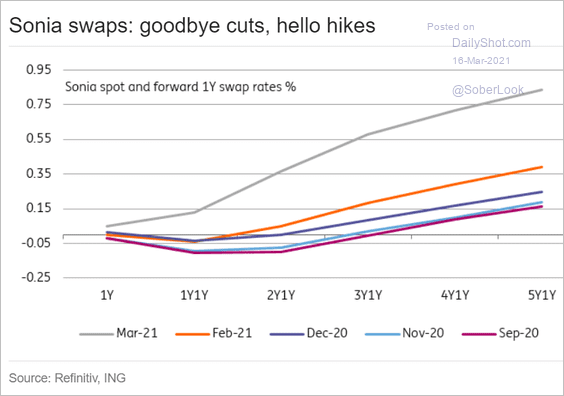 Source: ING

3. Housing market asking prices pulled back this year.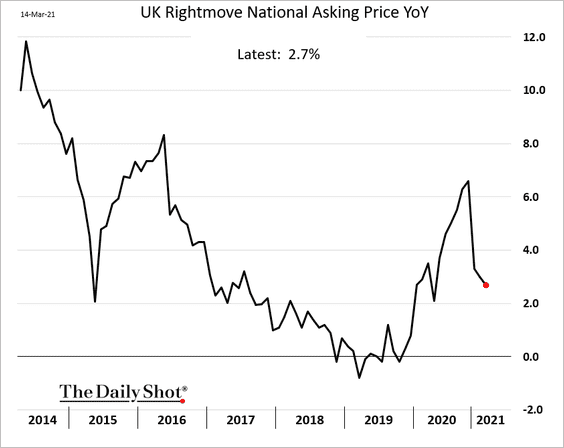 4. This chart shows the trajectories of consumer spending by category.


Source: The Economist Read full article

5. Port activity has rebounded.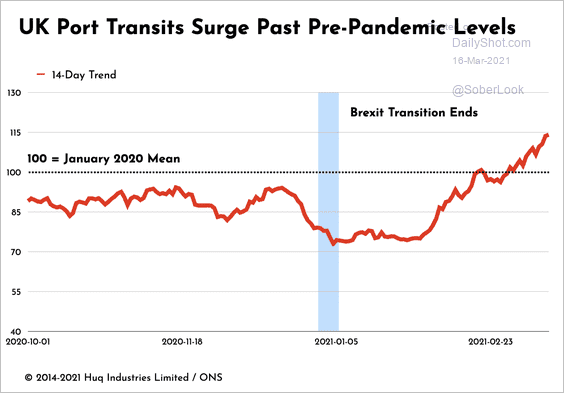 Source: Huq

6. What proportion of UK employees are trade union members?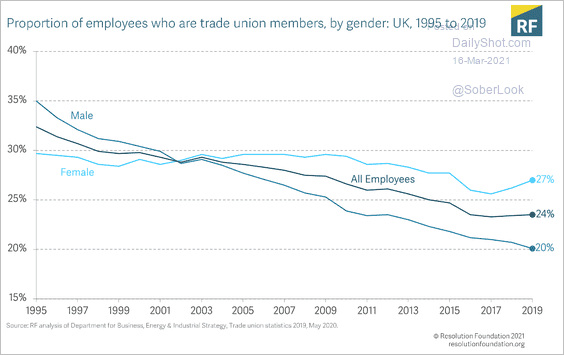 Source: The Resolution Foundation Read full article
---
Back to Index
The Eurozone
1. EUR 10-year rates have followed the initial USD move until the ECB kicked off verbal "intervention" last month. Since then, the 10-year real rates have declined.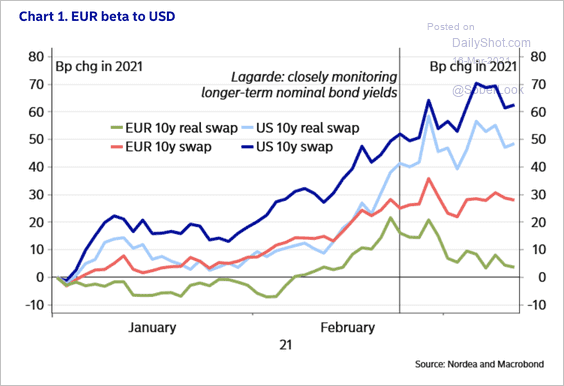 Source: Nordea Markets

2. Energy will boost inflation in the months ahead (partially due to base effects).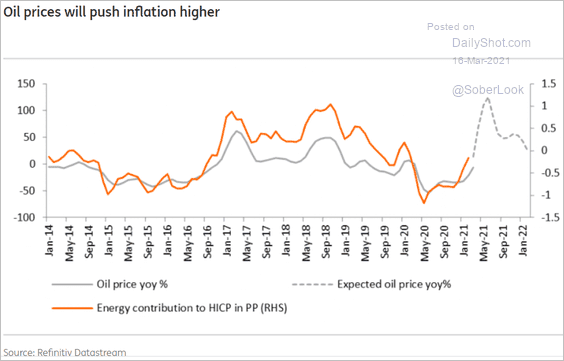 Source: ING

3. German wholesale prices are rebounding.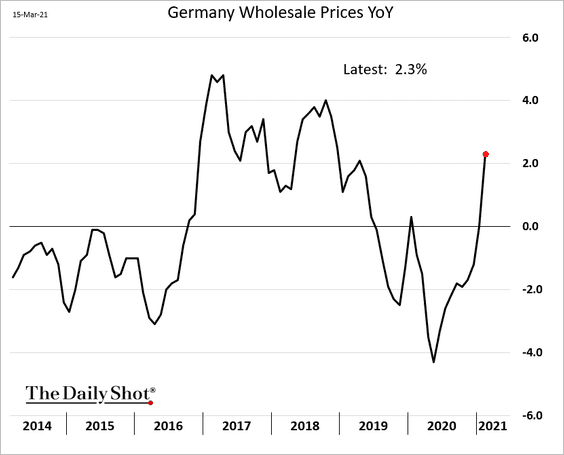 4. The US and Eurozone GDP growth expectations have diverged.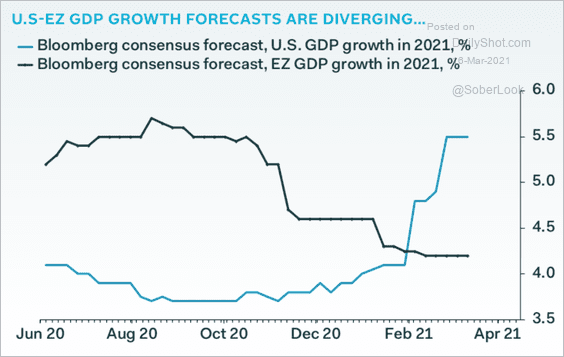 Source: Pantheon Macroeconomics

5. Vaccinations of healthcare workers in France have been lagging.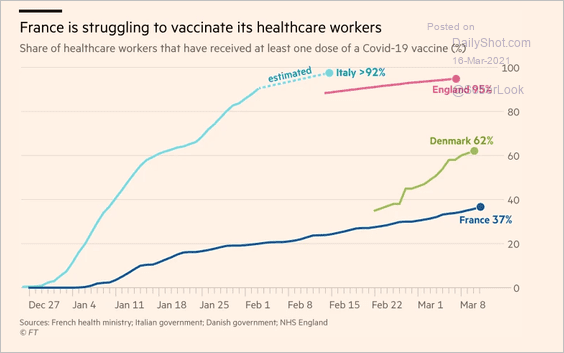 Source: @financialtimes Read full article
---
Back to Index
Europe
1. Sweden's unemployment rate continues to moderate.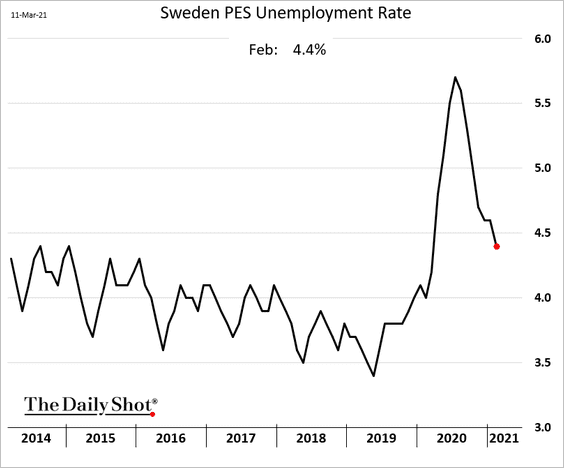 Inflation unexpectedly dropped last month.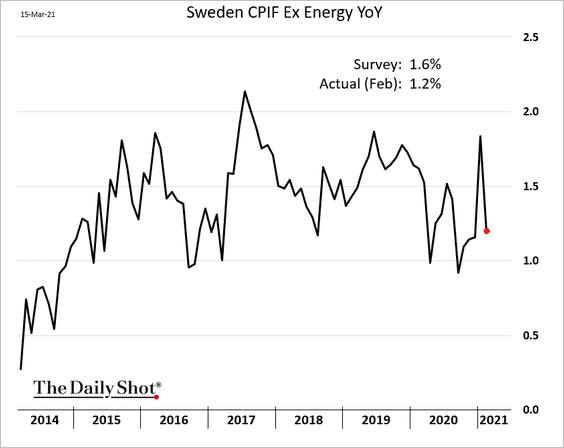 ——————–

2. Czech retail sales tumbled in January amid lockdowns.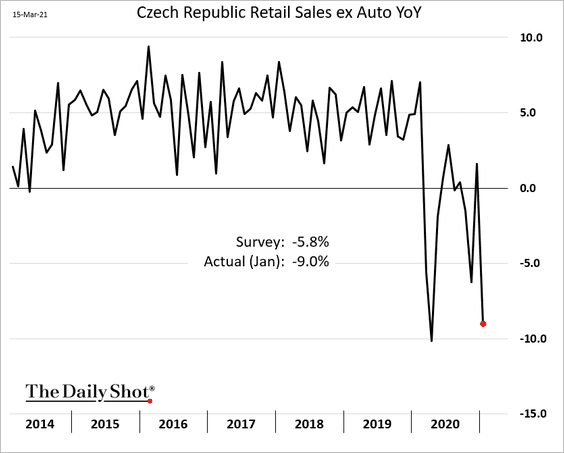 3. Next, we have the number of new COVID cases in select countries.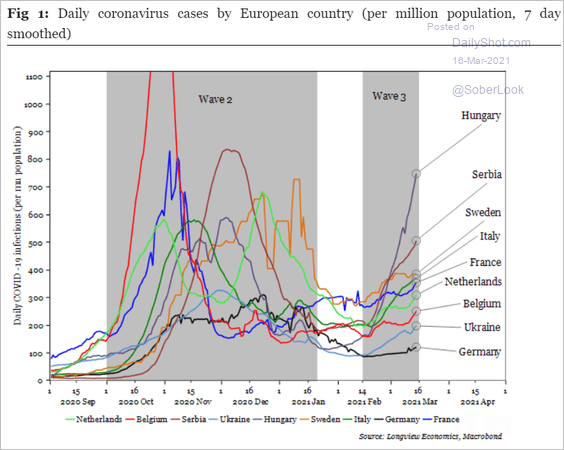 Source: Longview Economics

4. And here is the lockdown situation.


Source: Statista

5. This chart shows the January changes in industrial production across the EU.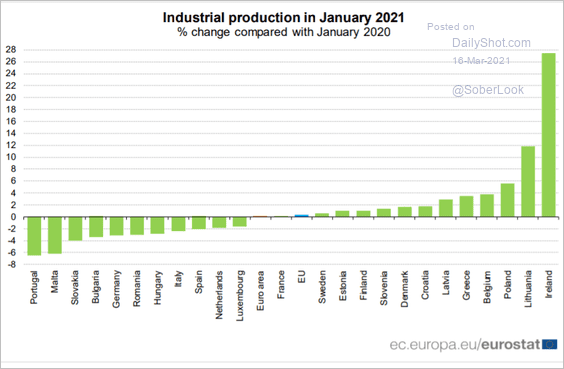 Source: Eurostat Read full article

6. Finally, we have annual earnings data for different types of households.


Source: Eurostat Read full article
---
Back to Index
Asia – Pacific
1. Tokyo office vacancies keep climbing.




2. After a prolonged decline, South Korea's export price index is now positive on a year-over-year basis.




3. The NZD/USD selloff is not supported by a decline in the rate spread.


Source: TS Lombard
---
Back to Index
China
1. Chinese stocks will need to see profit growth to sustain an upward trend.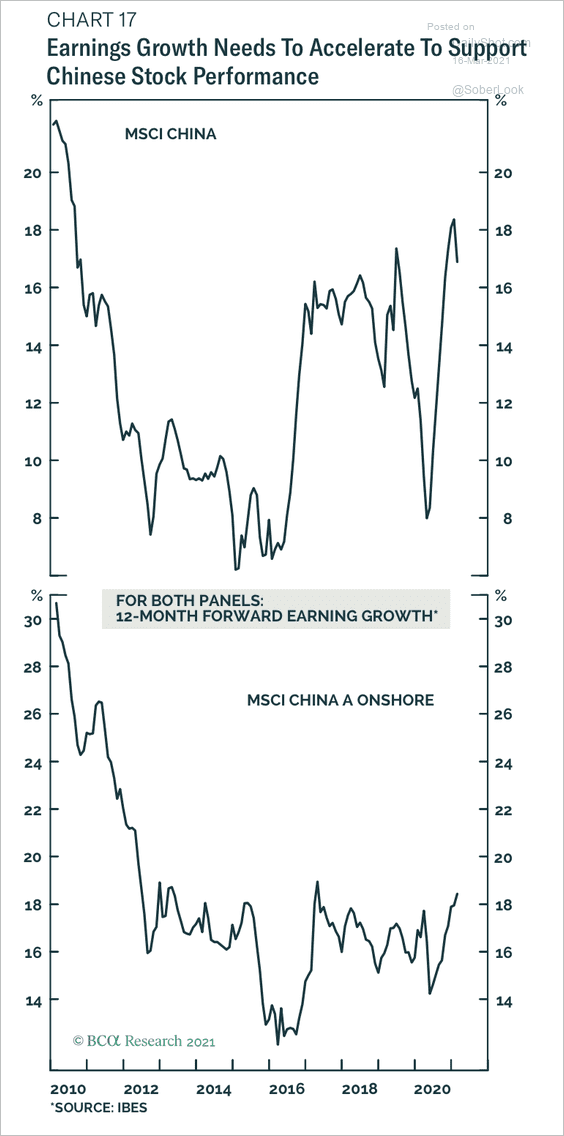 Source: BCA Research

2. The growth in imports and money supply bodes well for corporate earnings.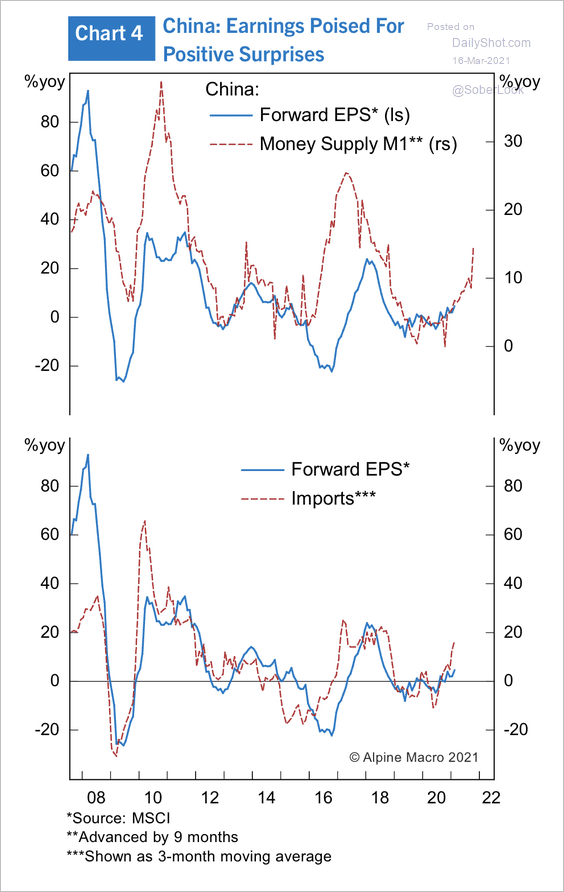 Source: Alpine Macro

3. Below is the month-to-date stock market performance by sector.


Source: S&P Global Market Intelligence

4. Here is a summary of economic targets from the People's Congress.


Source: Alpine Macro

5. Although China's economy is strengthening, it is far from overheating, according to BCA Research.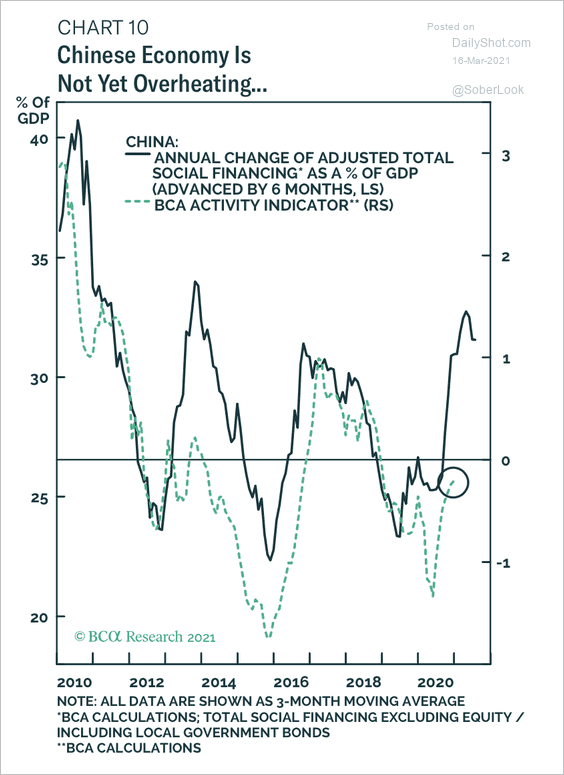 Source: BCA Research
---
Back to Index
Emerging Markets
1. Brazil's economy held up better than expected in January.




The market is pricing in rate hikes ahead.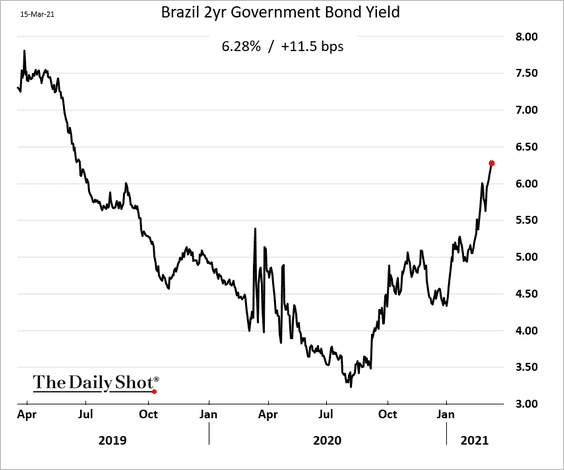 ——————–

2. Colombia's economic activity slowed in January.




3. This chart shows GDP growth forecasts for LatAm economies (plus Canada and the US).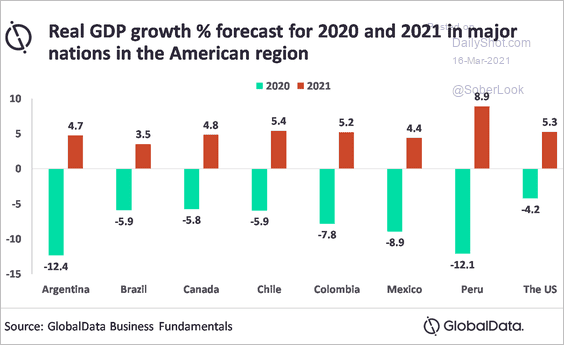 Source: GlobalData

4. India's wholesale prices rose more than expected last month.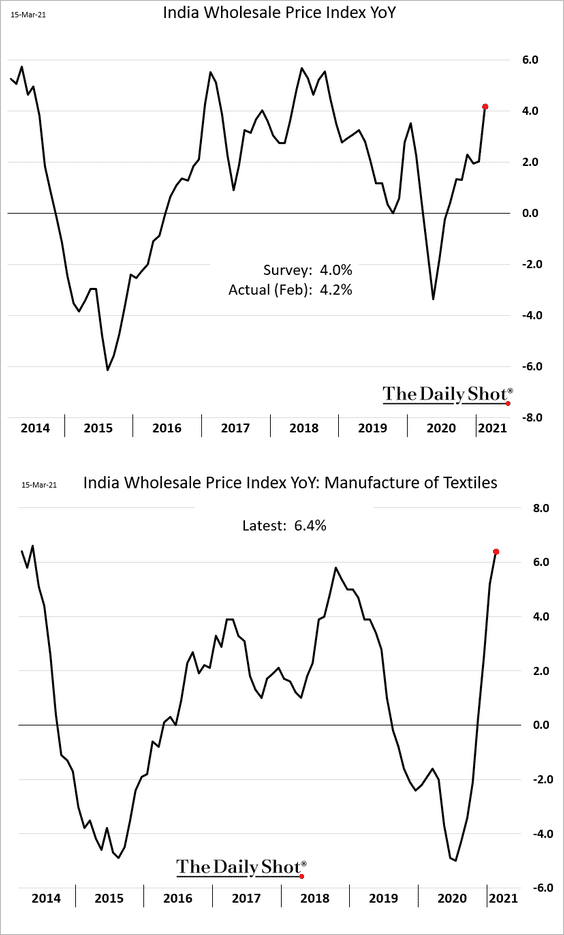 5. Local currency bond markets have grown substantially over the past decade (as % GDP).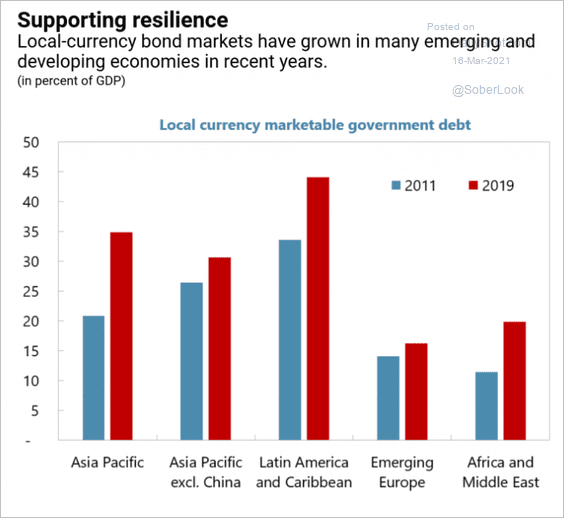 Source: IMF Read full article

6. The y-axis is the 10yr sovereign bond yield (or yield change). The x-axis is the macro policy risk (or change in risk).


Source: GeoQuant

7. Manufacturing exports have risen sharply across EM.


Source: @SergiLanauIIF

8. EM growth stocks have been underperforming.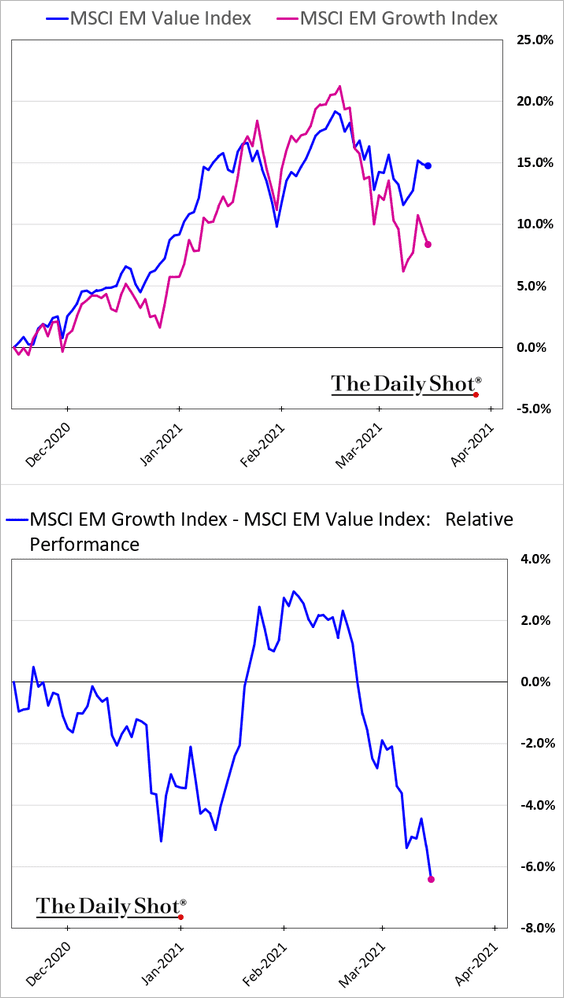 h/t @SriniSivabalan
---
Back to Index
Cryptocurrency
Cryptos pulled back from the highs, but Bitcoin is still near $55k.


---
Back to Index
Energy
1. Brent remains at resistance near $70/bbl.




2. The Brent curve has moved into deep backwardation, back to January 2020 levels.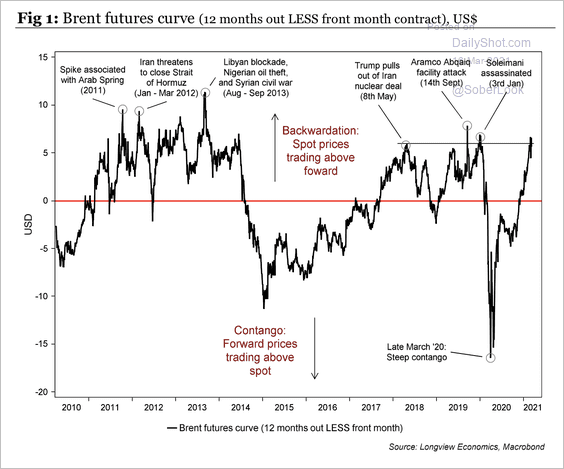 Source: Longview Economics

3. US frac spreads have rebounded from the Texas deep freeze.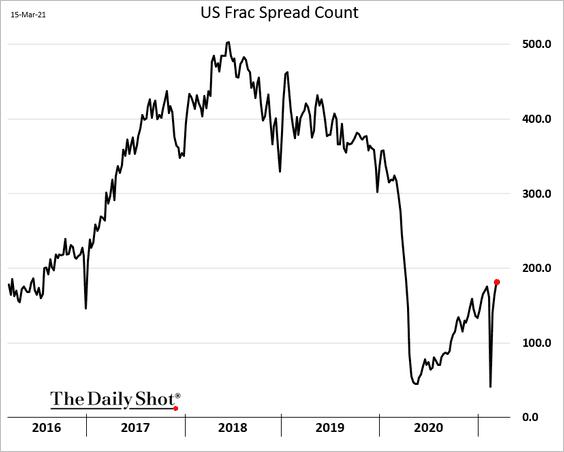 4. There is no shortage of oil. Spare production capacity within OPEC is close to record levels.


Source: Longview Economics
---
Back to Index
Equities
1. The "end of the pandemic" trade has gained momentum.

• Airlines: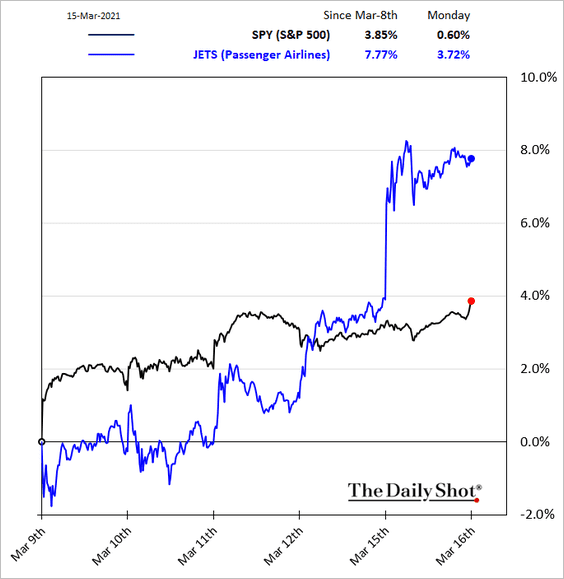 • Cruise lines:




• Movie theaters:




• Office property REITS: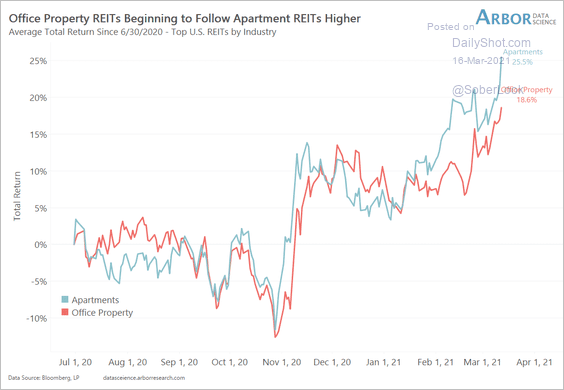 Source: Arbor Research & Trading
——————–

2. Tech stocks have rebounded in recent days.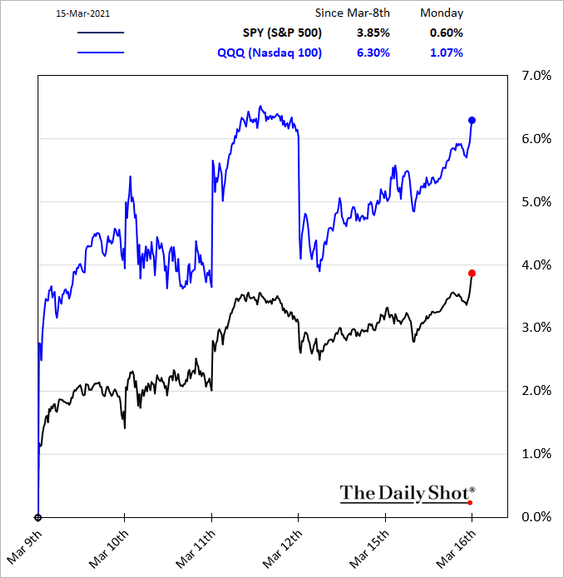 3. Retail investors are pressing their bets.

• Cannabis: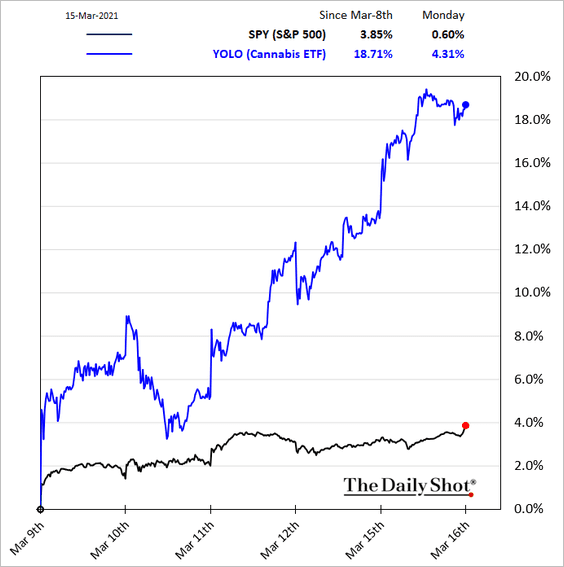 • Millennials thematic ETF: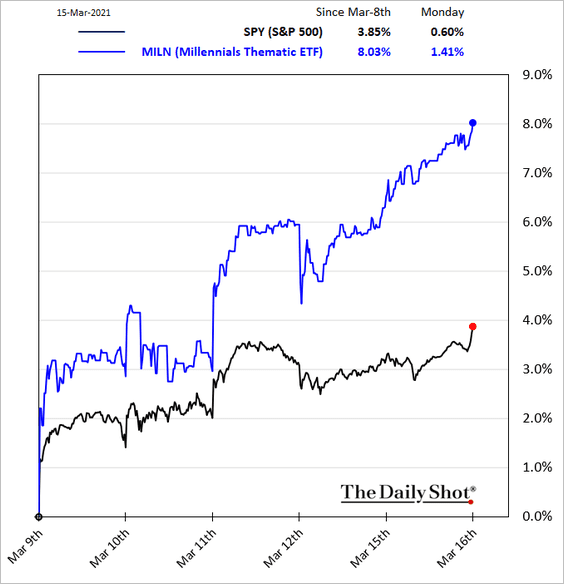 • Goldman's retail favorites index:


——————–

4. Here is an anecdote from Chen Zhao (Alpine Macro) that perfectly describes the attitudes of young retail investors (very similar to the late 1990s).
Joe is a grocery delivery boy from my neighborhood store, and he loves trading stocks. Joe told me last week that he would soon be quitting his delivery job outright to become a day trader. He told me something to the effect that "I am through delivering bags of groceries to rich people's homes. I can make a lot more money trading stocks without driving around all day and getting a sore back. I want a big house too, with some college dummies delivering my groceries and shoveling snow from my driveway."

I asked if he was concerned about a market decline. "Look," he said "it's really a simple game: You buy on dips and it has always worked. How can you lose money if you buy low and sell high? Let the baby boomers and professionals be paranoid. They said GameStop was on a death spiral last month. Look what has happened – it's flying again! The government is sending checks my way soon and I will use it to buy more stocks."

I wanted to warn Joe of risks, but on second thought, who am I to be snooty? He has been right, but will he be right in a year or two?
4. Households' equity allocations are at record highs.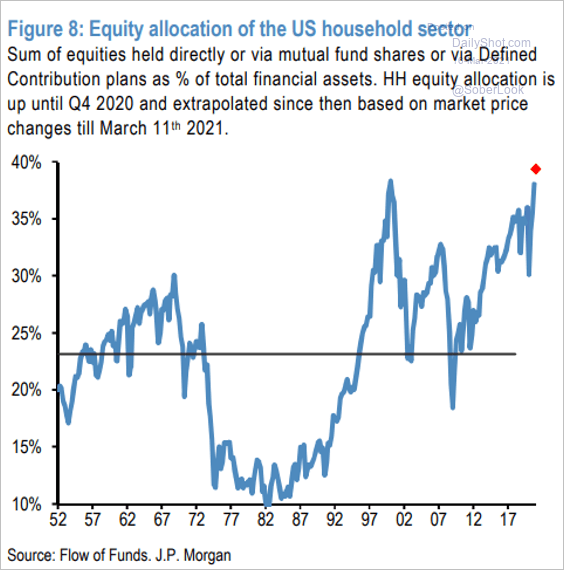 Source: JP Morgan, @daniburgz

5. The market cap of defensive sectors relative to the S&P 500 is nearing the dot-com bubble lows.


Source: BofA Global Research, @VKMacro, @MacroOps

6. VIX is back at 20. Will support hold?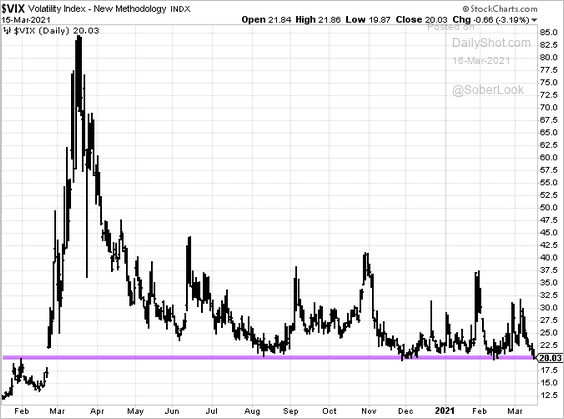 7. The ratio of VXN (Nasdaq 100 VIX-equivalent) to VIX has been elevated (high demand for Nasdaq 100 options).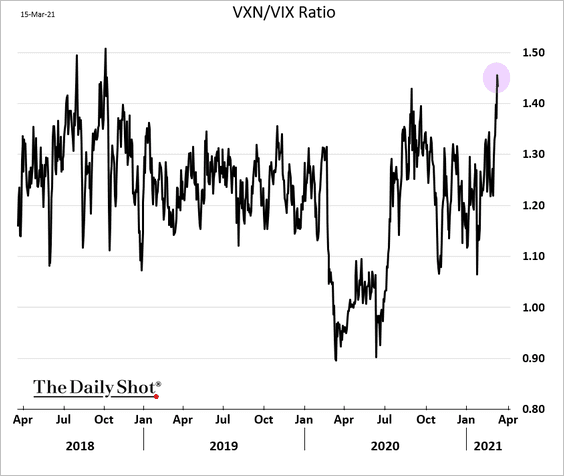 ---
Back to Index
Alternatives.
1. Private equity activity had a sharp rebound during the second half of 2020.


Source: Bain & Company

2. Despite a lower deal count last year, the jump in the average deal size boosted global buyout values.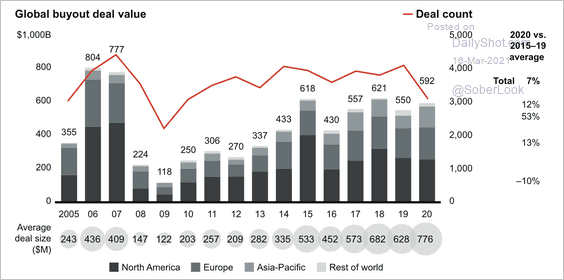 Source: Bain & Company

3. More than two-thirds of all US buyout deals were priced above 11x EBITDA (reflecting rich public valuations). High deal multiples are putting added pressure on general partners to produce growth, according to Bain. 


Source: Bain & Company

4. Next, we have gender and racial diversity data for private equity.


Source: McKinsey & Company Read full article

5. This chart shows the growth in dry powder (uncalled capital) across alternative asset classes.


Source: Bain & Company

6. Hedge funds have been cutting back on their equity exposure.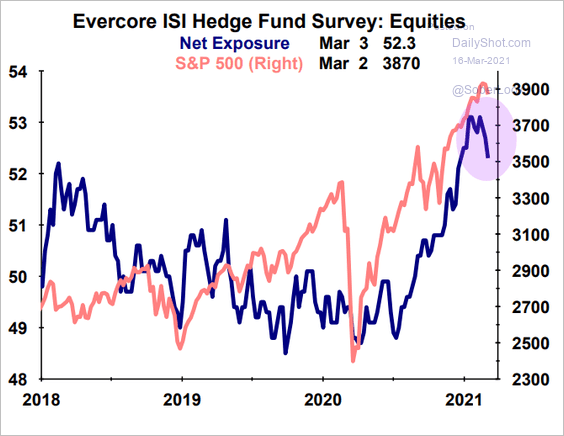 Source: Evercore ISI

7. Finally, we show asset allocation for public pensions over time.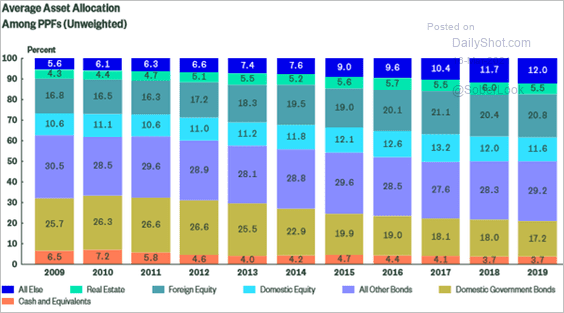 Source: State Street Global Advisors, @hentove
---
Back to Index
Credit
1. While corporate debt outstanding spiked last year, stocks rose much faster. Here is the ratio of total debt to equity (market value).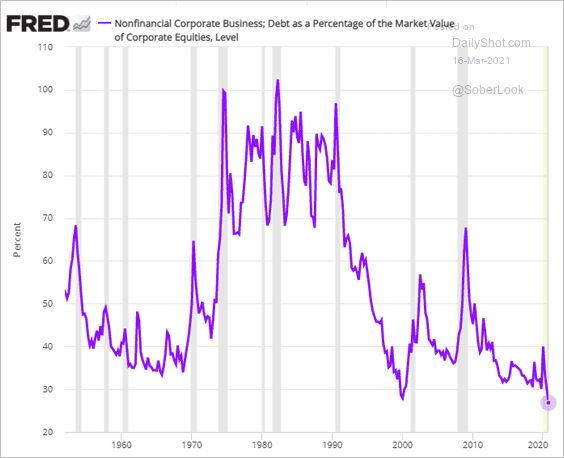 2. AAA CLO spreads have tightened substantially, making projected CLO equity returns more attractive. This means more deals and higher demand for leveraged loans.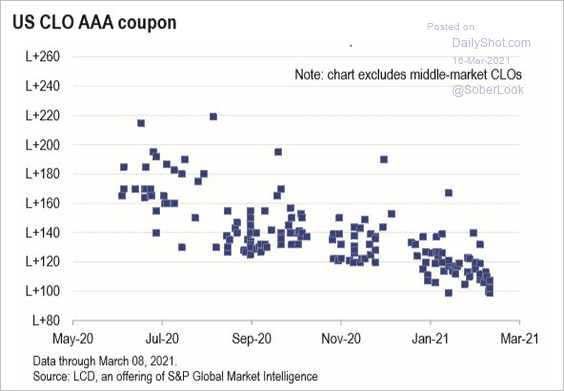 Source: @lcdnews
---
Back to Index
Rates
1. Demand for Treasury puts has been elevated (bets on higher yields).


Source: @markets Read full article

2. TS Lombard projects a decline in year-ahead growth expectations, which could cap the rise in yields.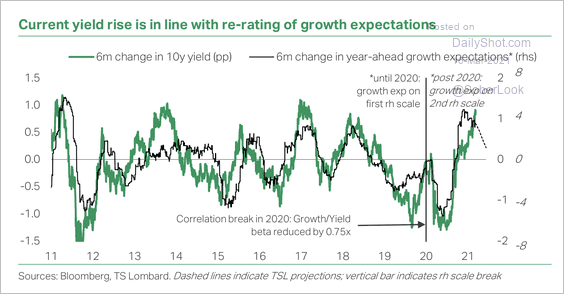 Source: TS Lombard

3. On the other hand, Oxford Economics' positive growth outlook suggests further upside in real yields.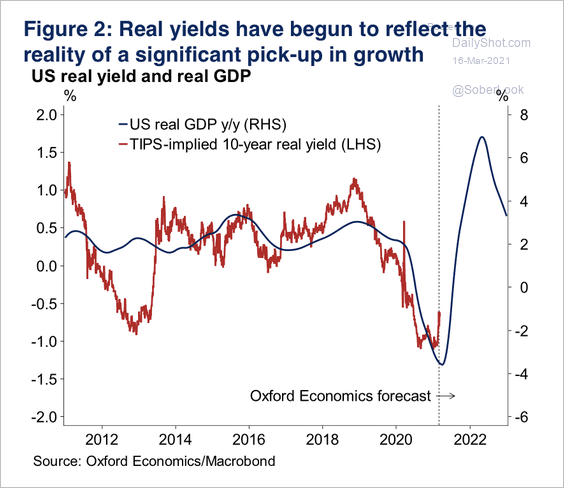 Source: Oxford Economics

4. The breakeven curve is becoming more inverted (similar to the inflation swap curve shown previously). The market expects the headline inflation to moderate over the long run after the upcoming increase.




5. The Fed's official communications remain extremely dovish.


Source: Arbor Research & Trading
---
Back to Index
Global Developments
1. Fund managers now see inflation as the biggest tail risk.


Source: BofA Global Research, @Callum_Thomas

2. Supply-chain bottlenecks have become acute.


Source: @WSJ Read full article

3. Here is the distribution of global semiconductor manufacturing capacity.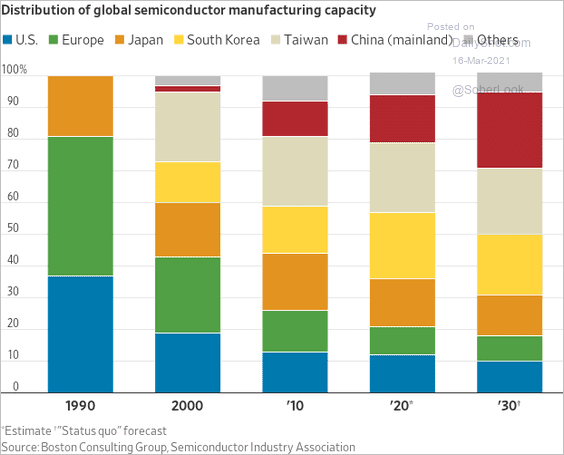 Source: @jeffsparshott

4. Who has the highest electricity costs?


Source: IEA Read full article
---
——————–
Food for Thought
1. Casino gaming legal status across the US: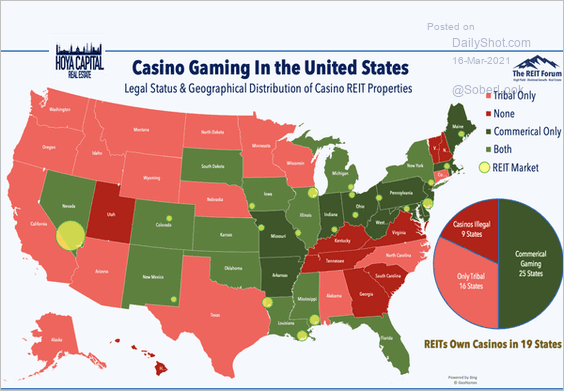 Source: Hoya Capital Real Estate

2. Transitioning from print media: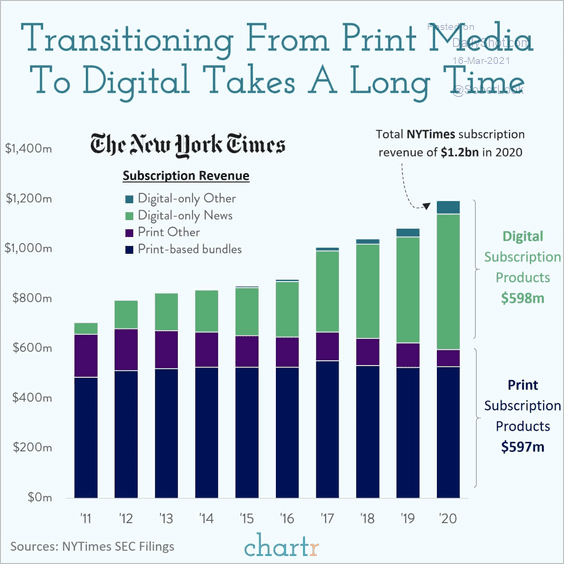 Source: @chartrdaily

3. Rent declines in major US cities (year-over-year):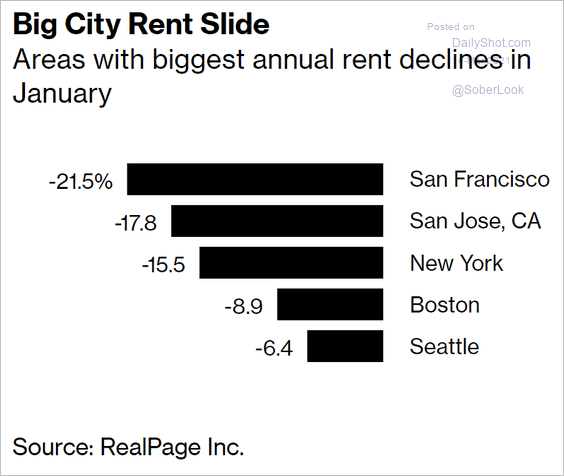 Source: @markets Read full article

4. Short-term rental demand (e.g., Airbnb):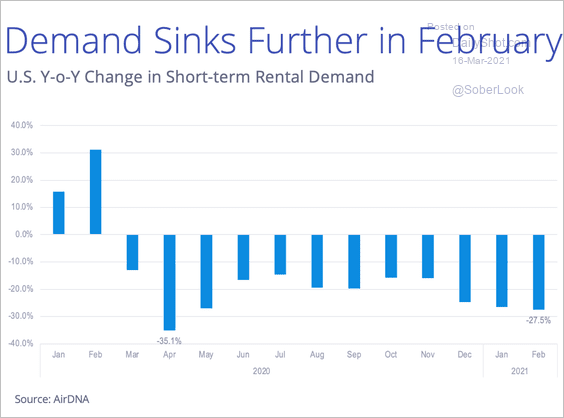 Source: AirDNA Read full article

5. How soon would you be comfortable with the following activities?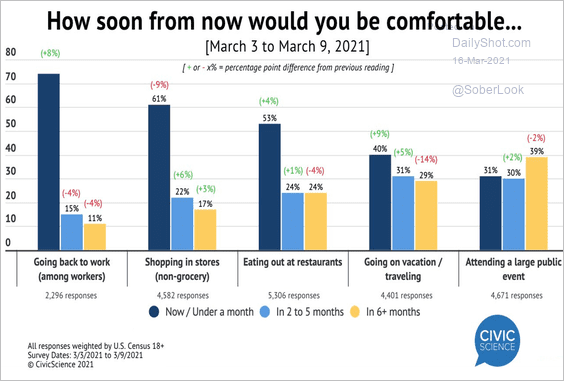 Source: @CivicScience Read full article

6. State tax revenue deterioration:


Source: @axios Read full article

7. The minimum wage by state: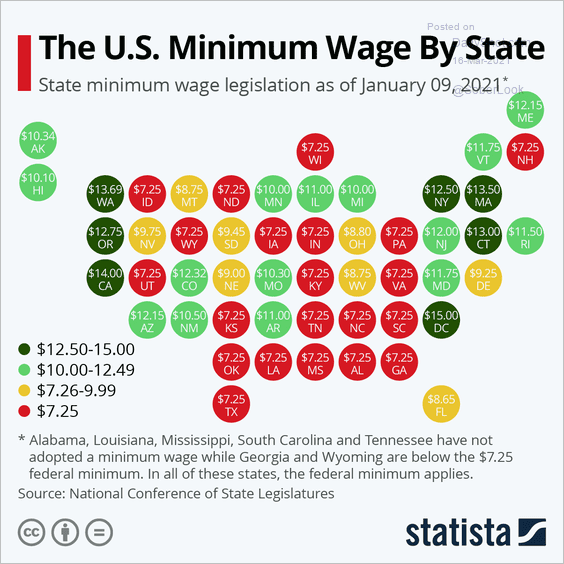 Source: Statista Read full article

8. Support for Biden's executive actions: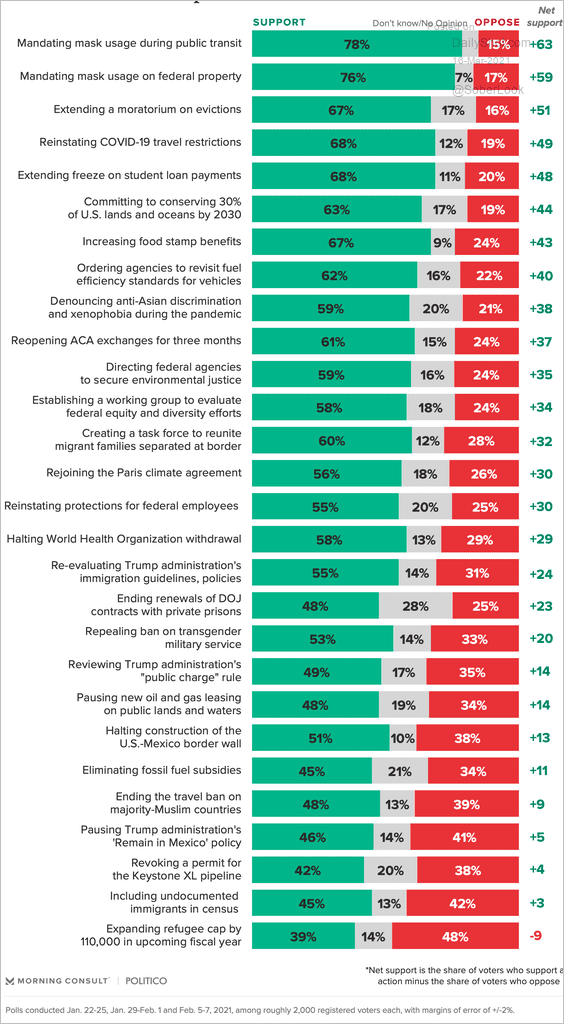 Source: Morning Consult Read full article

9. The US government's COVID-related expenses in perspective: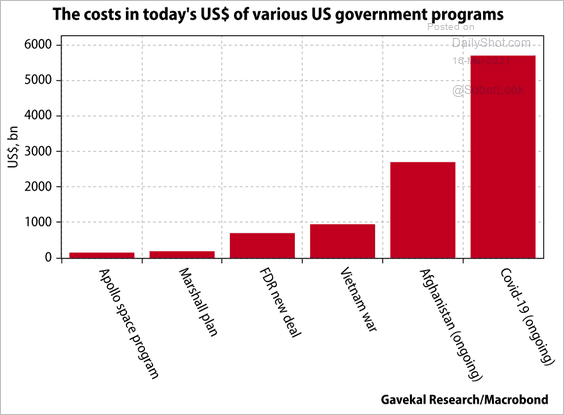 Source: Gavekal Research

10. Street signs indicating "pedestrians" in Europe: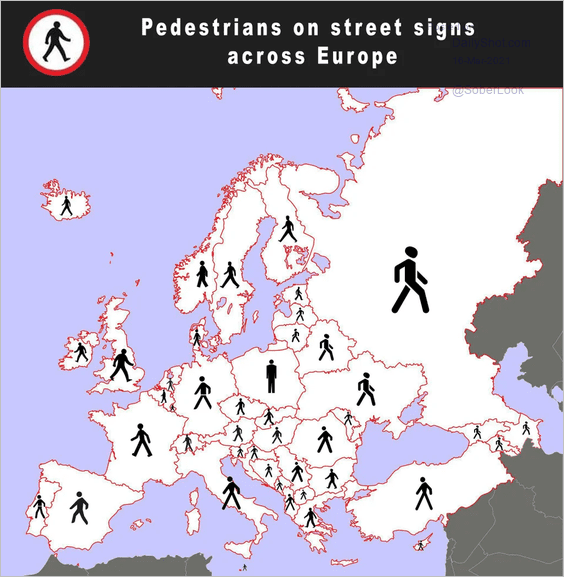 Source: Reddit
——————–
---
Back to Index
---