The Daily Shot: 14-Jul-21
• The United States
• Asia – Pacific
• China
• Emerging Markets
• Cryptocurrency
• Commodities
• Equities
• Rates
• Global Developments
• Food for Thought
---
---
The United States
1. The CPI report surprised to the upside – again. Both the headline and the core inflation measures easily topped forecasts.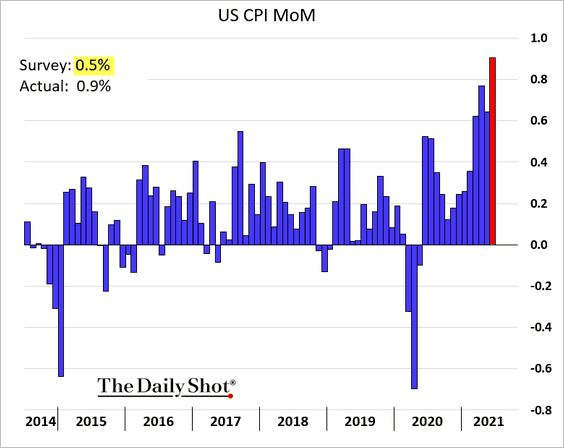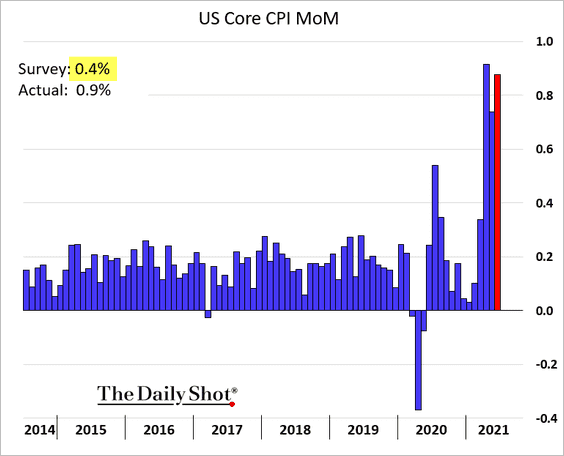 We are now well above the pre-COVID trend.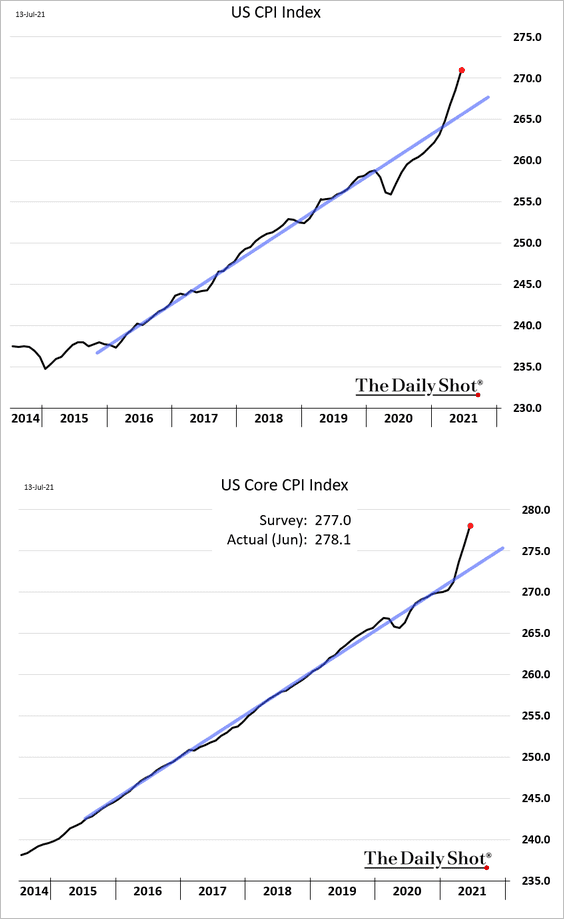 However, the Fed's "transitory" thesis still holds. The "reopening" and chip-shortage components of the CPI continue to dominate.

– Year-over-year:


Source: @RickRieder

– Month-over-month:


Source: @StanChart, @tracyalloway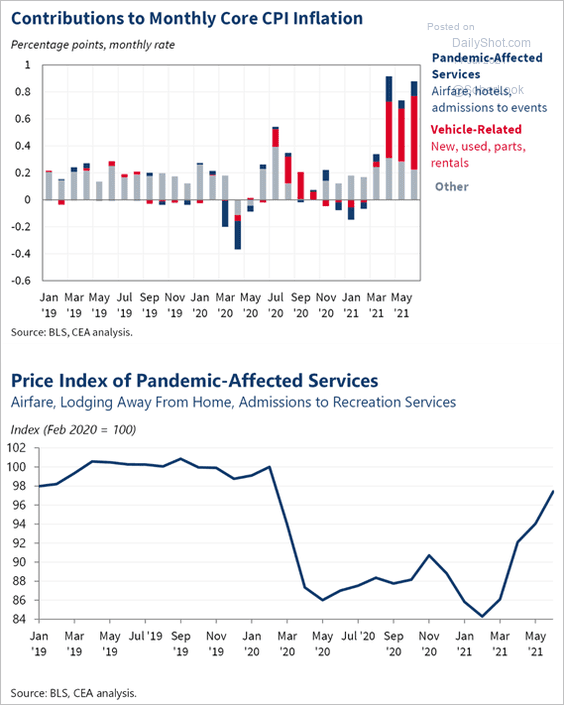 Source: @WhiteHouseCEA

• Gains in automobile prices have been unusually sharp.




But it's not just about shortages. The used-car industry's price gouging is hitting extreme levels.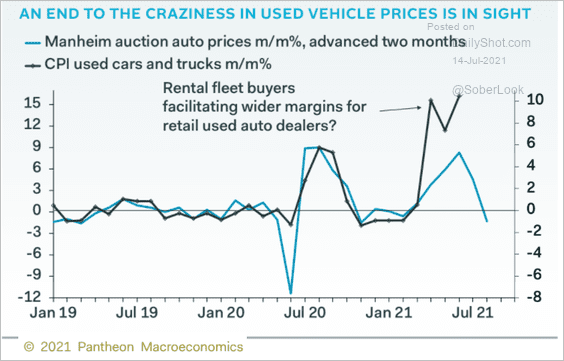 Source: Pantheon Macroeconomics

We will have more updates on the CPI report tomorrow.
——————–

2. The market's response to the CPI surprise was relatively modest.

• The dollar and Treasury yields rose.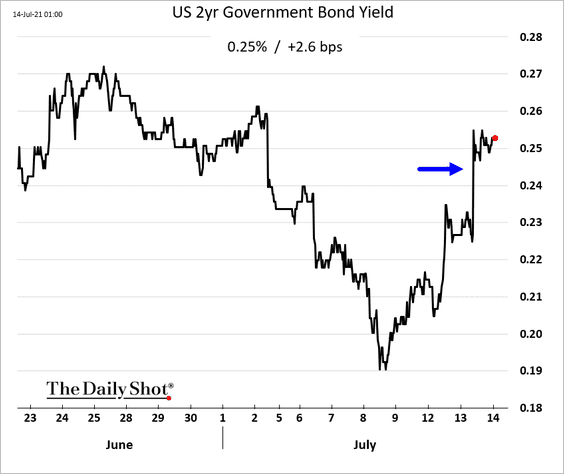 • Inflation expectations climbed.




• The first fully priced-in rate hike is now back in 2022.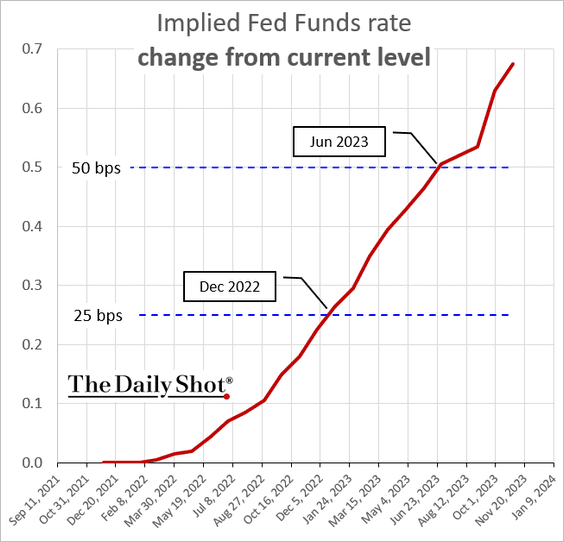 ——————–

3. The June NFIB Small Business Optimism Index topped expectations.




• The net percent of owners raising selling prices hit a multi-decade high.




The "price plans" index rose further.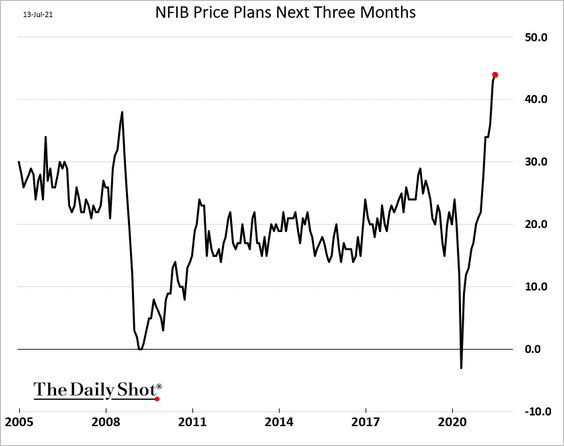 • Businesses increasingly view current inventory levels as "too low."




• The "job openings hard to fill" indicator is off the highs. It suggests that more workers are re-entering the labor force …




… as businesses boost compensation.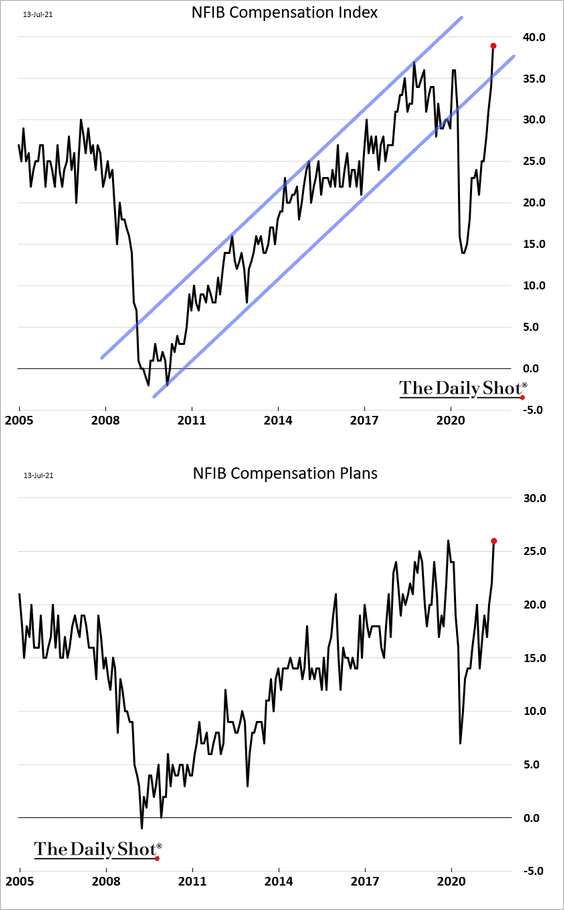 • Hiring plans continue to surge.




• But CapEx plans are trending down.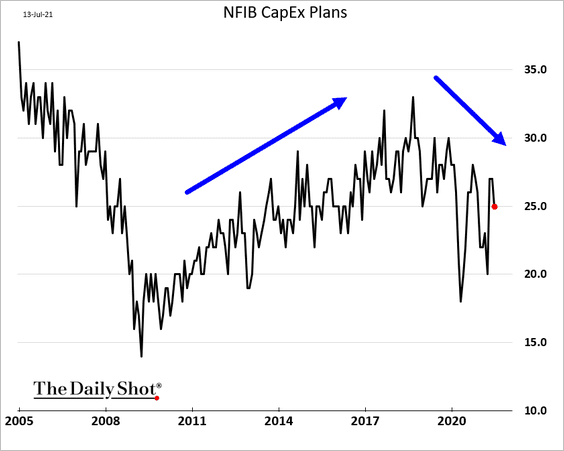 • What is the single most important problem for small businesses?


Source: Chart and data provided by Macrobond

Quality of labor is number one.




Inflation is number three but rising quickly.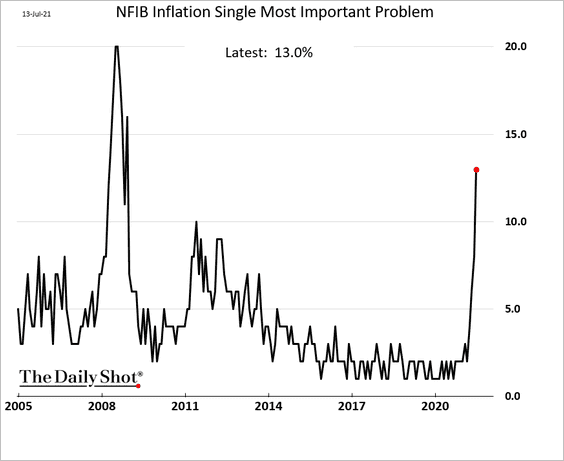 ——————–

4. The budget deficit has been increasing slower than expected, …




… as federal receipts surge.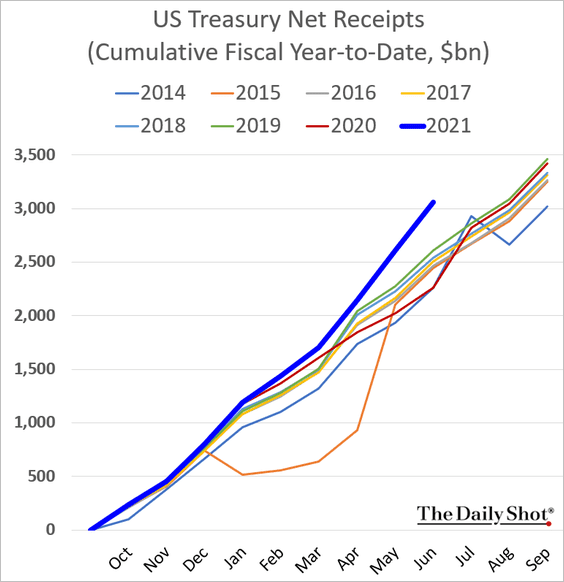 ---
Back to Index
Asia – Pacific
1. New Zealand's central bank left rates unchanged but struck a hawkish tone. Asset purchases are ending shortly, and changes in the RBNZ's language put an August hike into play. The market is now pricing in a 65% probability of such an outcome.




The Kiwi dollar and bond yields surged.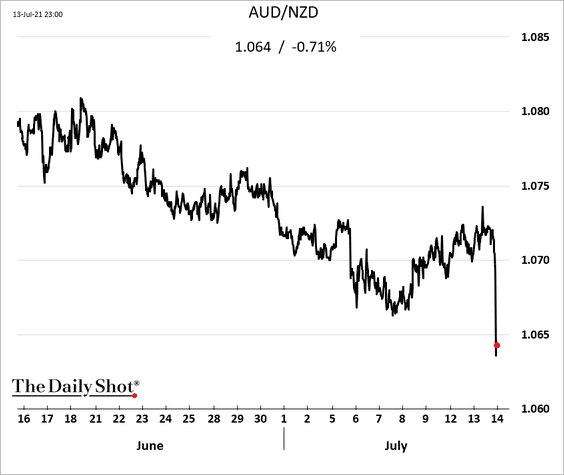 ——————–

2. Singapore's GDP contracted in Q2.




3. South Korea's unemployment rate continues to moderate.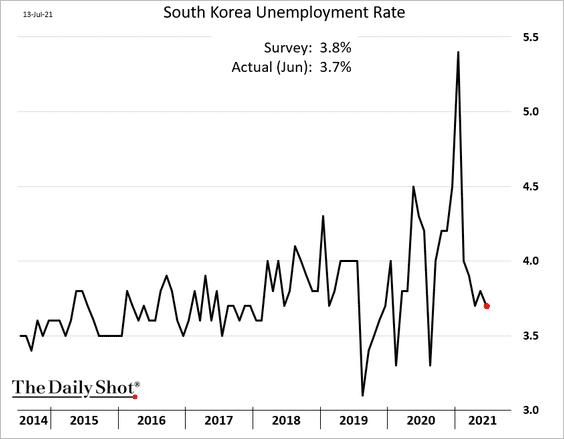 ---
Back to Index
China
1. Bond yields are still drifting lower in response to the PBoC's RRR cut.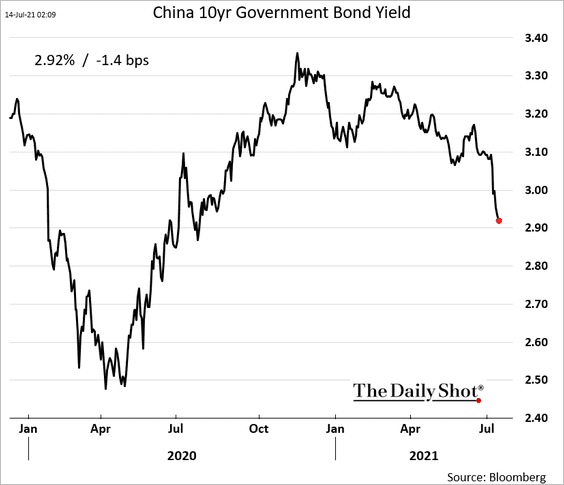 2. Foreign direct investment (FDI) has been surging this year.




3. Thermal coal futures are soaring again. Will Beijing take further steps to contain prices.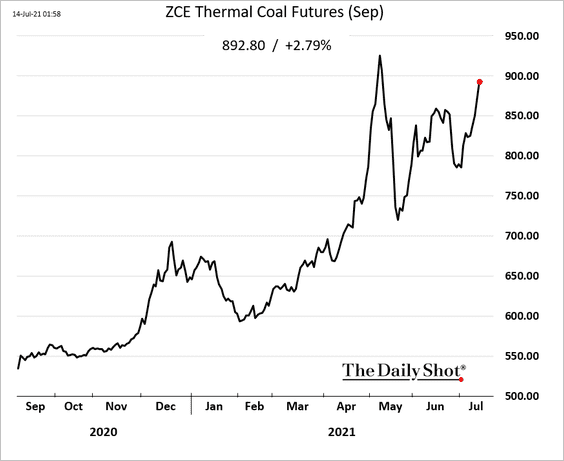 ---
Back to Index
Emerging Markets
1. South Africa's violent protests are putting some pressure on the rand.



Source: Reuters Read full article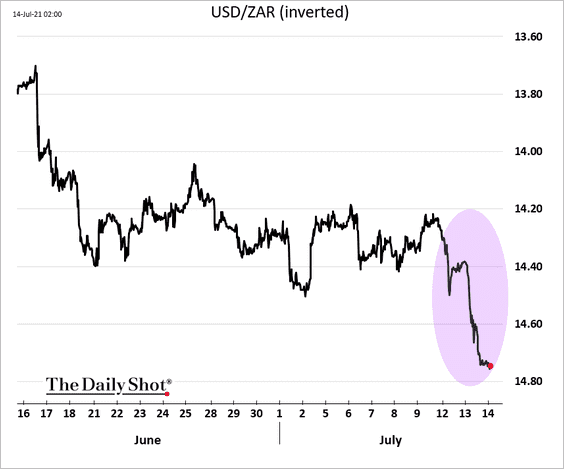 Separately, mining output declined in May but remained within the post-2008 range.


——————–

2. Turkey's industrial production continues to hit new highs.




3. Israel's trade deficit accelerated since the start of the pandemic.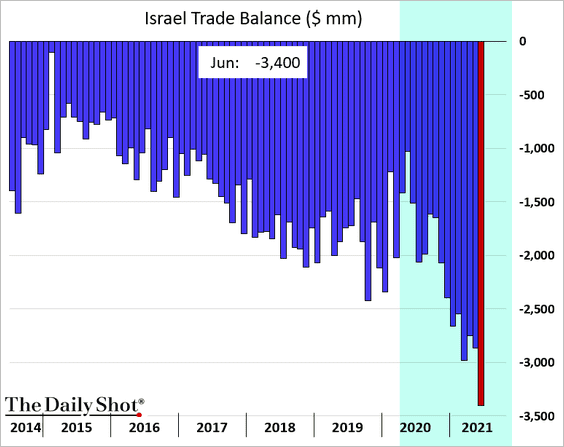 4. The Philippine peso continues to slump as Fitch revises debt outlook to negative.



Source: Fitch Ratings Read full article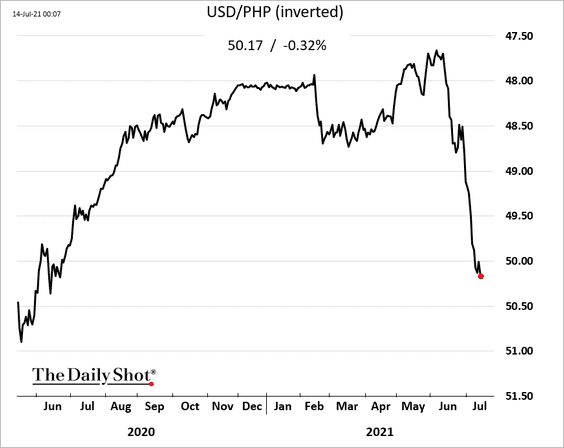 ---
Back to Index
Cryptocurrency
It's been a tough couple of days for crypto markets.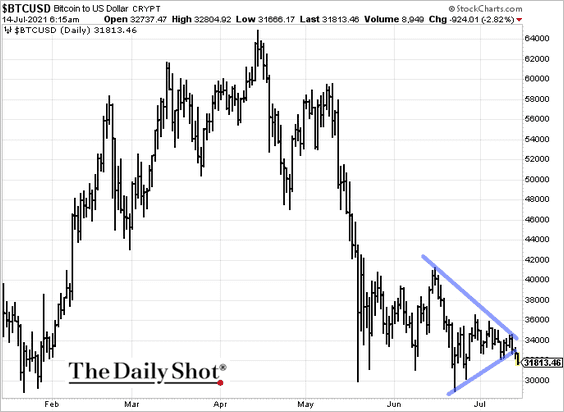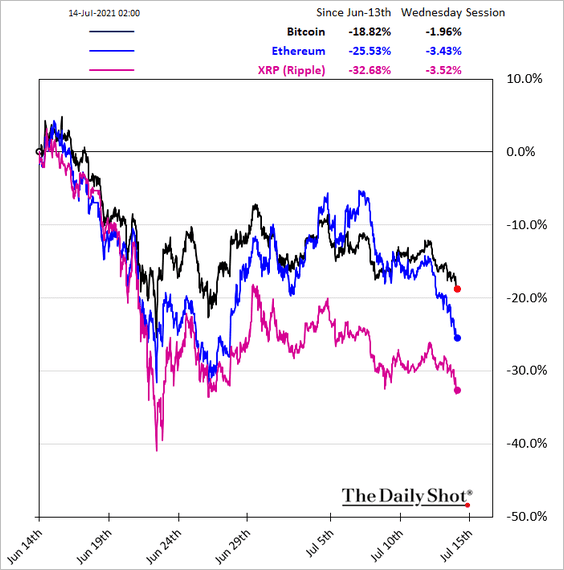 Dogecoin is approaching support.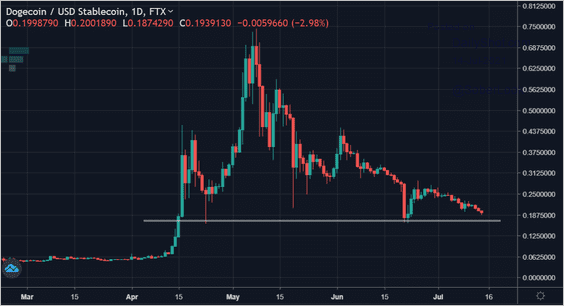 Source: FTX
---
Back to Index
Commodities
1. COMEX aluminum futures' average daily volume has risen sharply in recent months.
 

Source: CME Group

2. COMEX copper options volume reached an all-time high in Q2.


Source: CME Group

3. Fees to process copper ore in China are rebounding, pointing to increased copper ore supplies.


h/t Charlie Zhu
---
Back to Index
Equities
1. The Russell 2000 continues to underperform, …


Source: @markets Read full article

… as fund managers sour on small caps.


Source: BofA Global Research; @MylesUdland
——————–

2. Retail flows into US equities surged in June.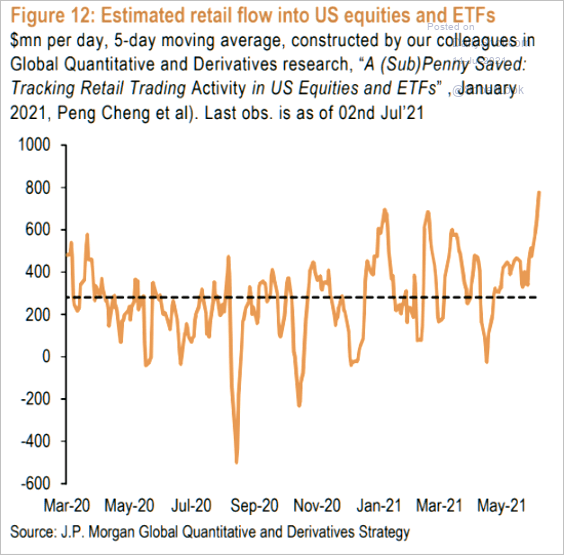 Source: JP Morgan; @themarketear

But meme stocks are now struggling (and there doesn't appear to be a rotation into crypto).


——————–

3. Financials held resistance at the 50-day moving average.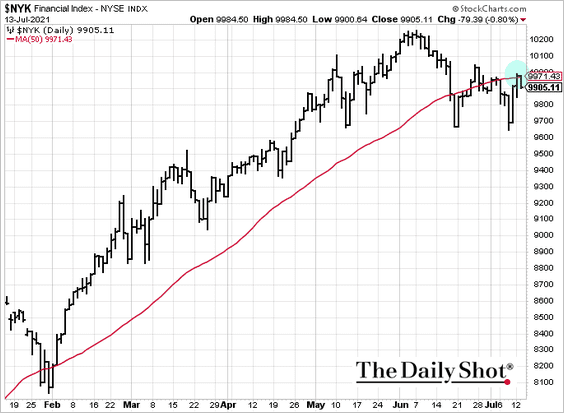 4. Activity levels for the bulk of the S&P 500 are well above trend.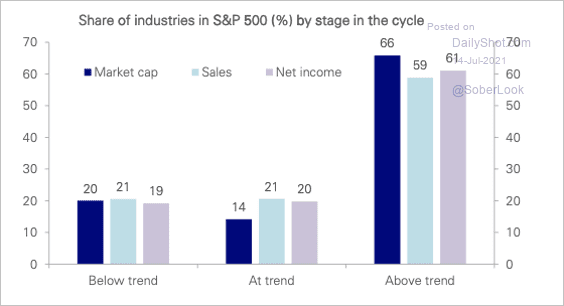 Source: Deutsche Bank Research

5. Fund managers put more money into tech recently.


Source: BofA Global Research; @AvidCommentator

But they remain positioned for reflation.


Source: BofA Global Research; @MikeZaccardi
——————–

6. Global ex-US earnings typically outperform when world trade is strong.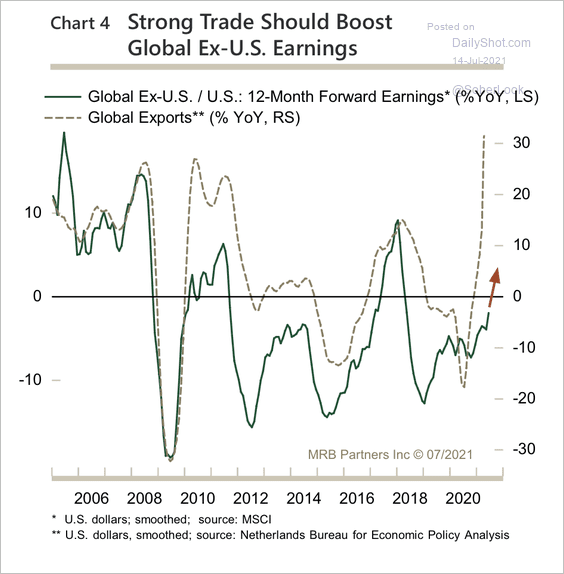 Source: MRB Partners

7. The US accounts for about 60% of global market capitalization, based on the MSCI ACWI benchmark.


Source: MRB Partners

8. What does Peter Lynch's "Rule of 20" tell us about stock valuations? There are significant "base effects" in this measure, but the level is still impressive.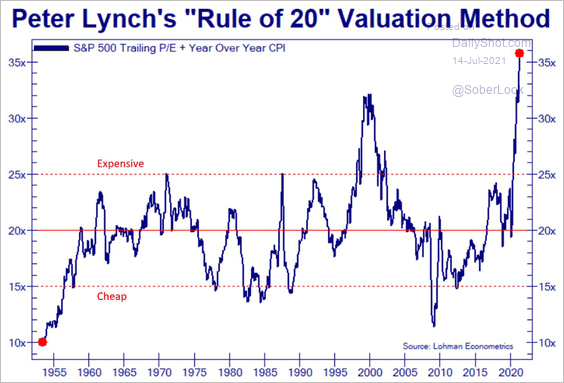 Source: @Not_Jim_Cramer

9. Most US active equity managers underperformed their respective benchmark in Q2, although small-cap growth managers showed improvement from Q1.


Source: SPDR Americas Research, @mattbartolini
---
Back to Index
Rates
1. This chart shows the Fed's ownership of the Treasury market.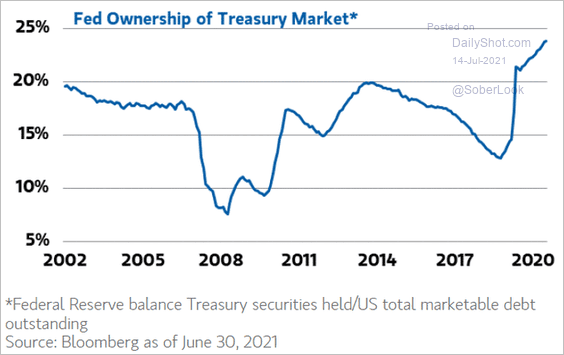 Source: @ISABELNET_SA, @MorganStanley

2. Expectations for a steeper yield curve have peaked, according to BofA's fund manager survey.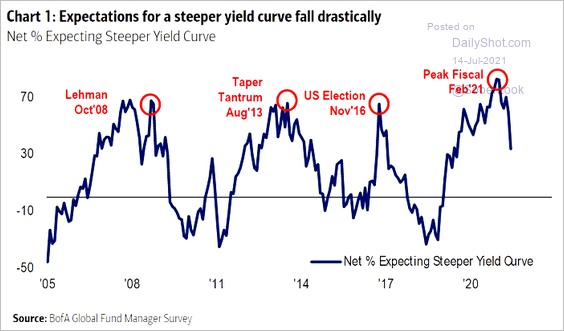 Source: @ISABELNET_SA, @BofAML
---
Back to Index
Global Developments
1. Implied volatility across markets has fallen below the 3-year median.


Source: SPDR Americas Research, @mattbartolini

3. Economic surprise indices across the globe have been weakening.


Source: Hugo Ste-Marie, Portfolio & Quantitative Strategy Global Equity Research, Scotia Capital

3. Inflation/taper tantrum remains the largest tail risk, according to BofA's fund manager survey.


Source: @MaceNewsMacro

4. State Street's Global Allocation ETF reduced its overweight to equities and high yield bonds, citing investor complacency and potential for greater downside risk.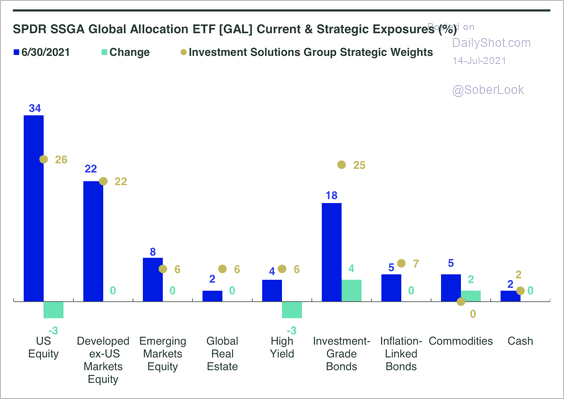 Source: SPDR Americas Research, @mattbartolini
---
——————–
Food for Thought
1. Changes in working-age population across the G20 economies: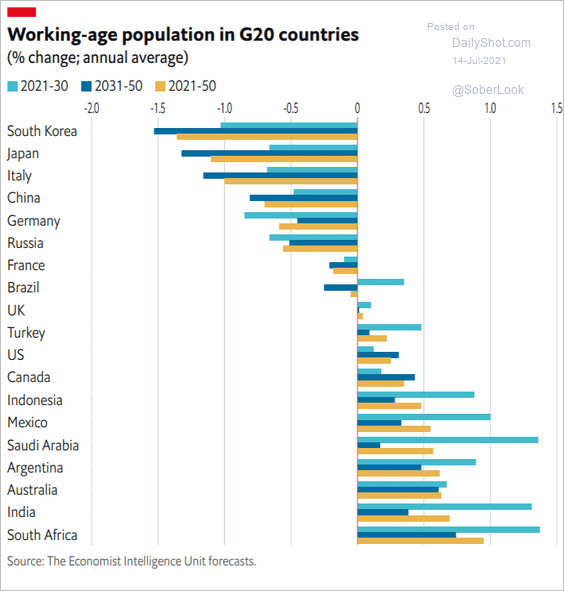 Source: The Economist Read full article

• Deteriorating demographics in OECD: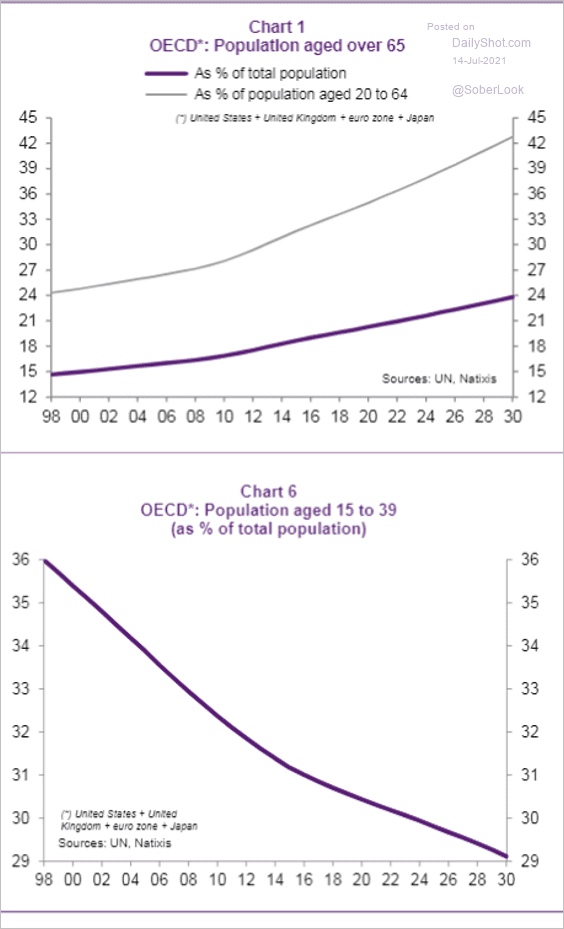 Source: Natixis

2. Income, wealth, and debt by generation: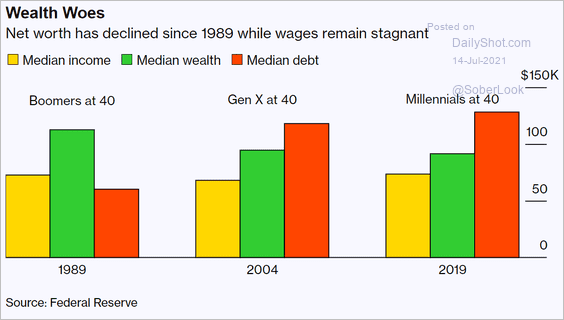 Source: Bloomberg Read full article

3. Out-earning parents: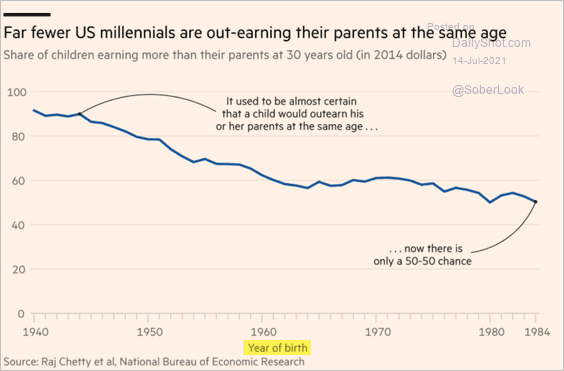 Source: @financialtimes Read full article

4. Population growth in US cities: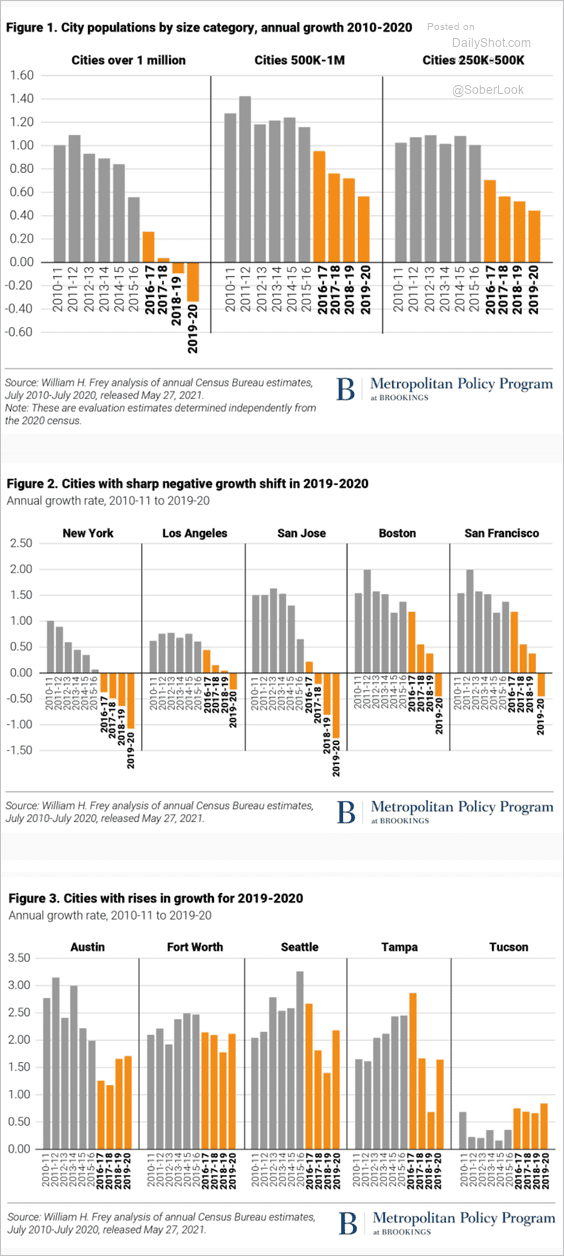 Source: The Brookings Institution Read full article

5. 529 plans (education-savings funds):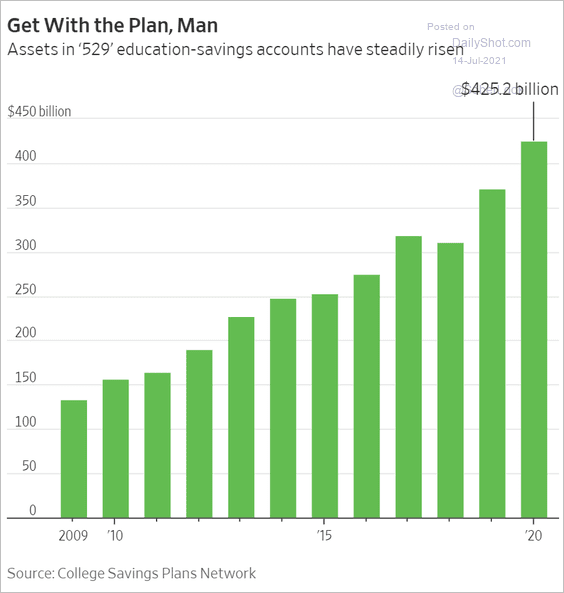 Source: @WSJ Read full article

6. Foreign vs. domestic students by country: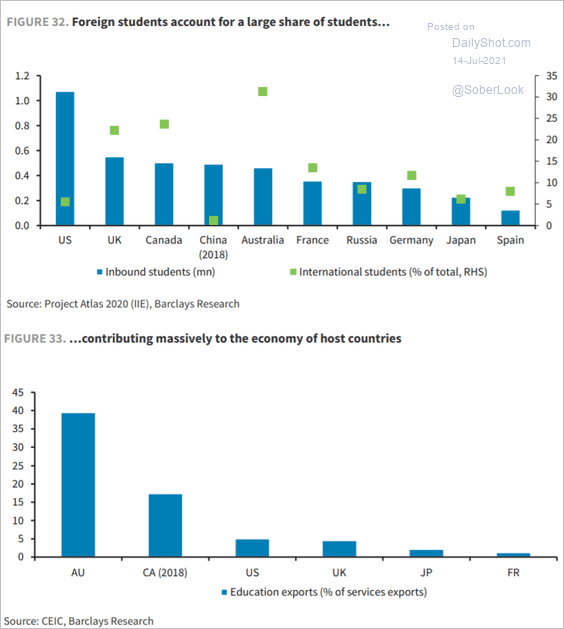 Source: Barclays Research

7. Industries and jobs women MBA candidates plan to pursue:


Source: Graduate Management Admission Council Read full article

8. Student test scores, by parents' income: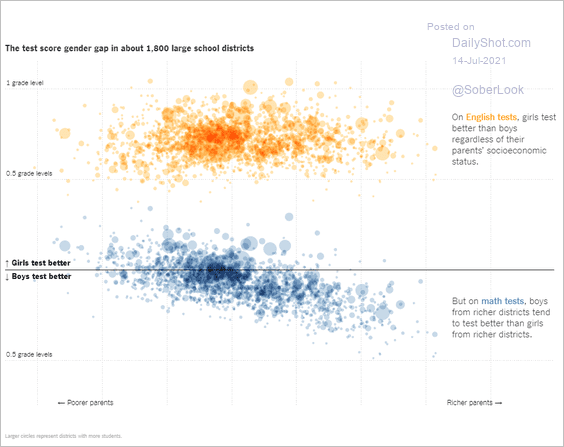 Source: The New York Times Read full article

9. Champagne exports: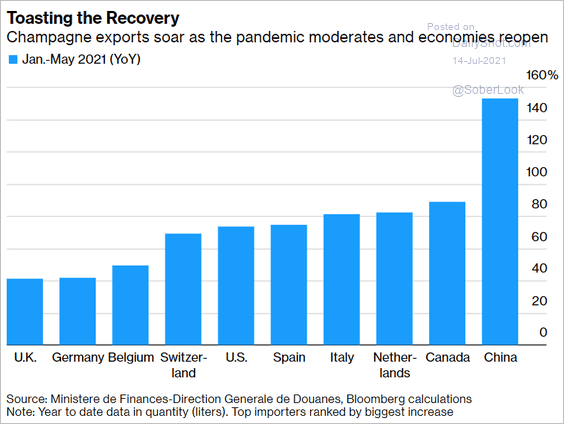 Source: @luxury Read full article
——————–
---
Back to Index
---