The Daily Shot: 23-Dec-21
• The United States
• Canada
• The United Kingdom
• The Eurozone
• Europe
• Asia – Pacific
• China
• Emerging Markets
• Cryptocurrency
• Energy
• Equities
• Rates
• Global Developments
• Food for Thought
---
---
The United States
1. The Conference Board's consumer confidence indicator ticked higher despite the omicron concerns.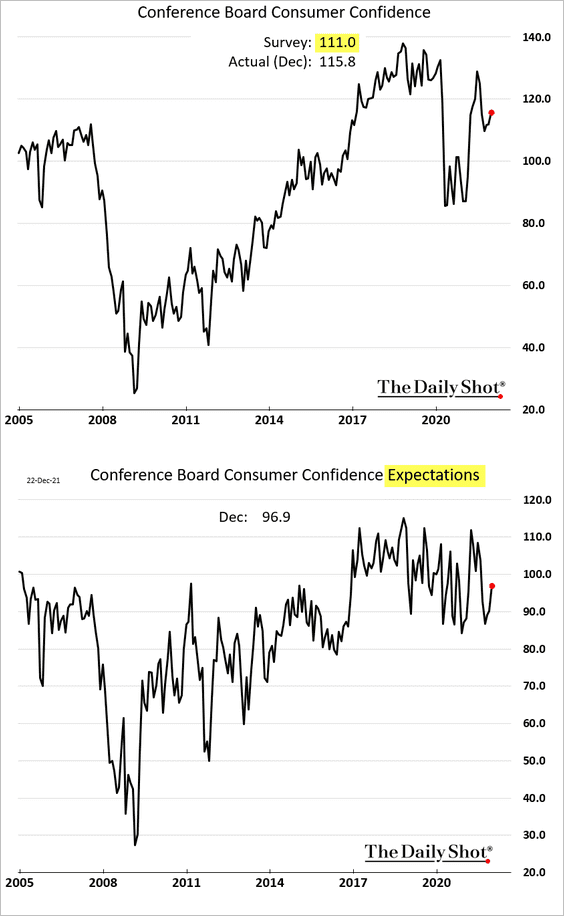 • The labor market's strength remains a tailwind for household sentiment.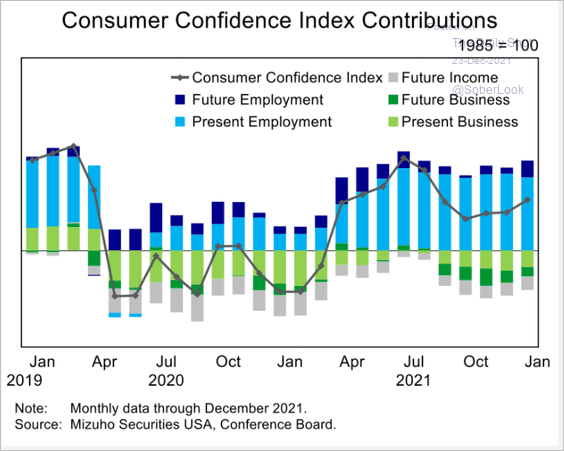 Source: Mizuho Securities USA

Here is the labor differential ("jobs plentiful" less "jobs hard to get").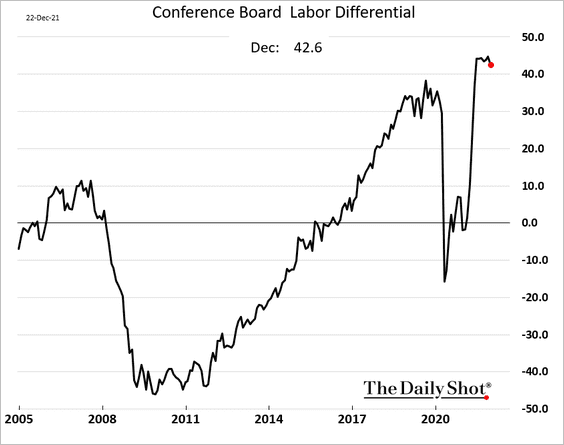 • Buying conditions indicators appear to have bottomed.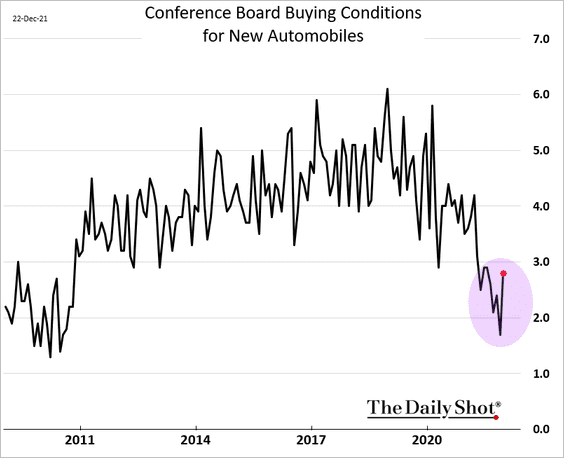 • A separate report from Hamilton Place Strategies and CivicScience also showed an uptick in sentiment this month.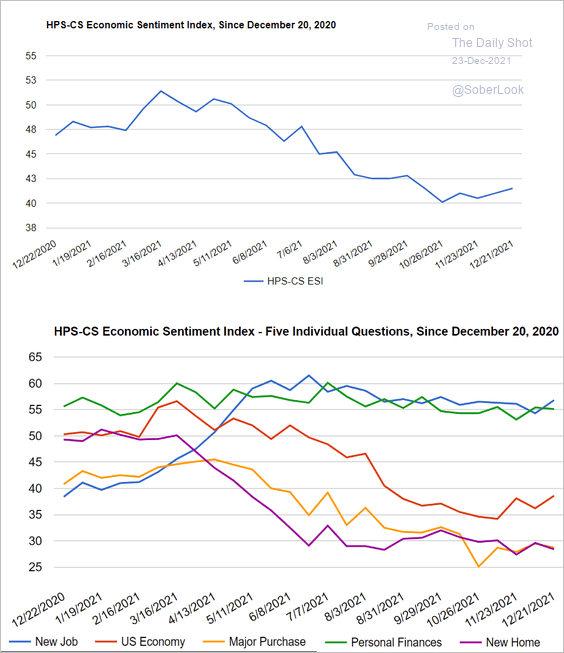 Source: @HPS_CS
——————–

2. Next, we have some updates on the housing market.

• Existing home sales were strong in November, well above 2019 levels.




Here are the seasonally-adjusted trends by region.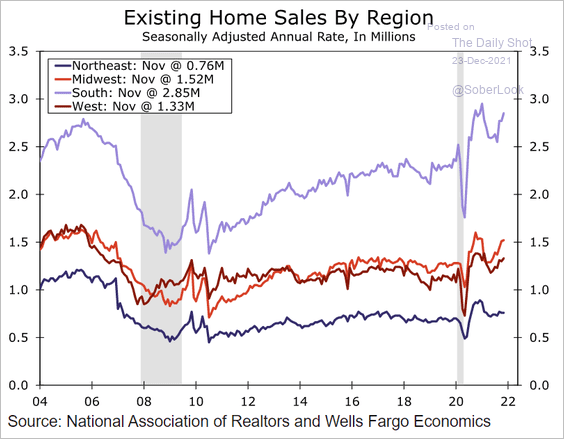 Source: Wells Fargo Securities

• Inventories remain exceptionally tight.

– NAR: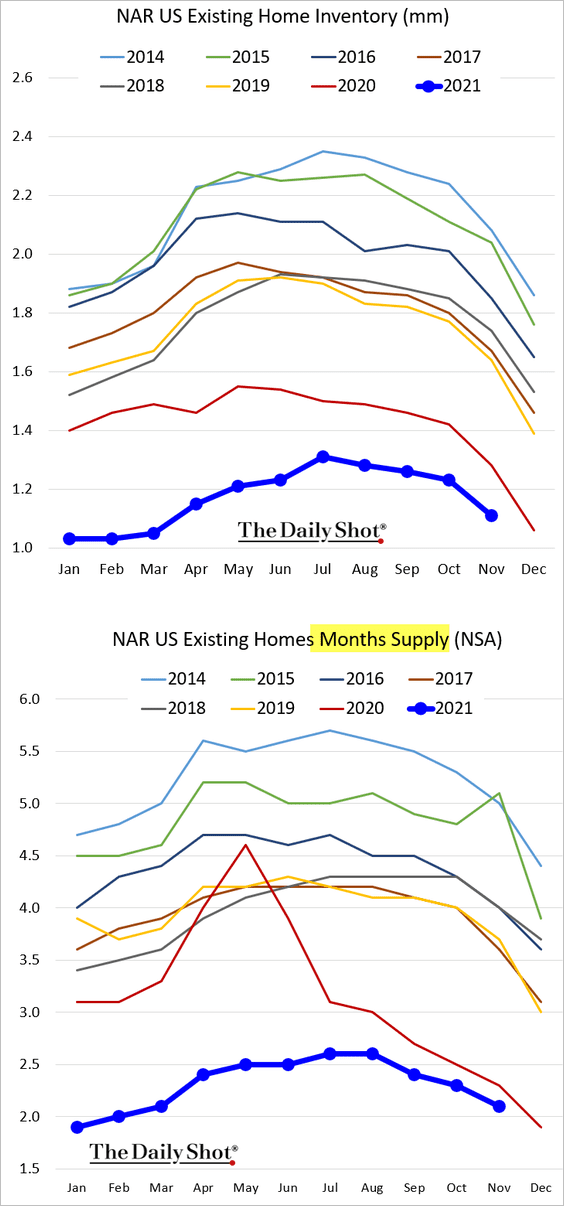 – Realtor.com:




– Redfin (through December):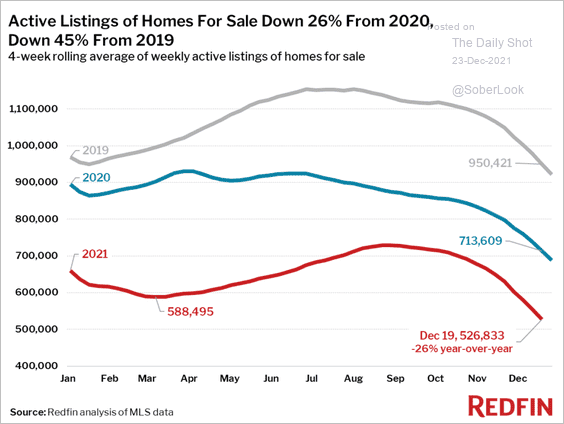 Source: Redfin

• Homebuyer demand is holding above last year's levels.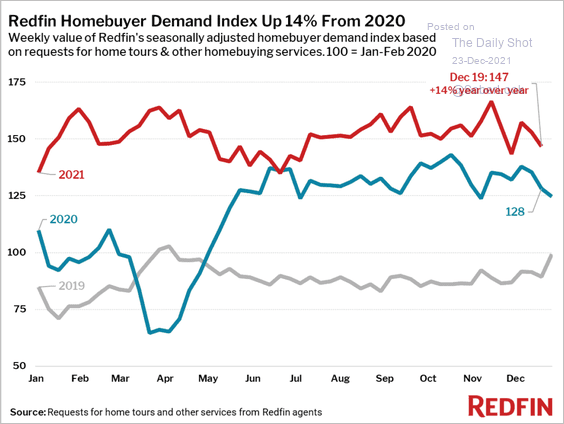 Source: Redfin

• Homes are selling quickly.


Source: Redfin

• Mortgage applications remain strong for this time of the year.




• Homebuilder leverage continues to moderate.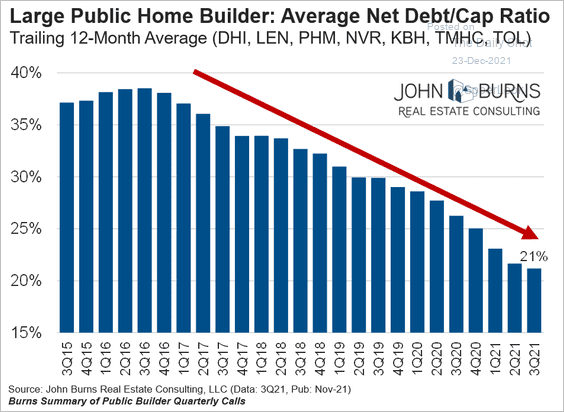 Source: @RickPalaciosJr

• Here is the number of residential housing projects that have been authorized but not started.


Source: Wells Fargo Securities
——————–

3. Capital Economics does not see the Fed slowing rate hikes in 2023. This forecast diverges from market expectations.


Source: Capital Economics

4. The economy is in a mid-cycle phase of the business cycle.


Source: KKR Global Institute 

This mid-cycle phase has been much faster/stronger than previous cycles.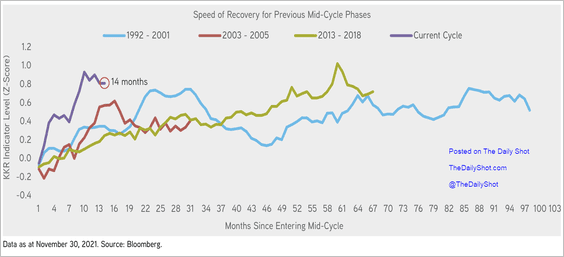 Source: KKR Global Institute 
——————–

5. This chart shows how various sectors in the service industry performed in the third quarter.


Source: @OrenKlachkin

6. US population growth dropped to a record low this year. A lesson from Japan is that it's challenging to maintain economic expansion when your population growth stalls.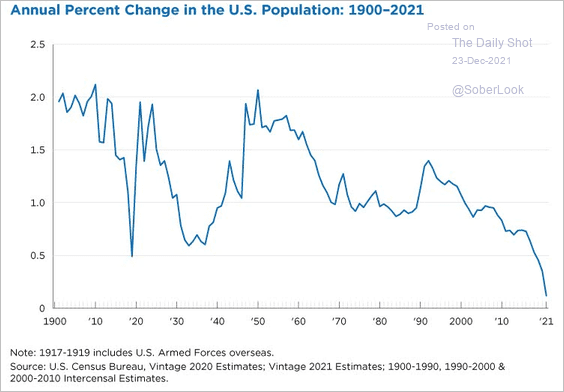 Source: U.S. Census Bureau

And it will be especially difficult as the US working-age population declines.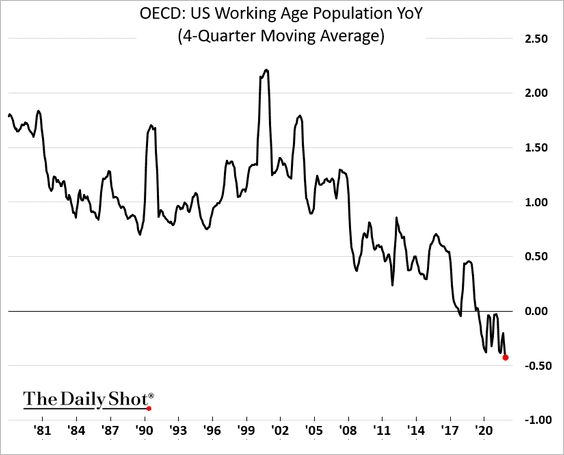 ---
Back to Index
Canada
The CFIB small/medium-size business index ticked higher this month.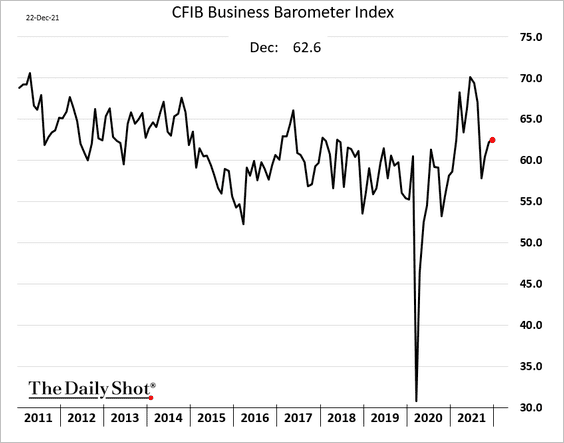 The recovery has been uneven,

• Retail: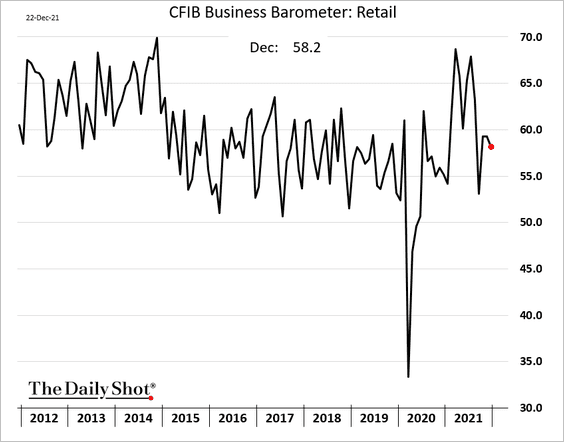 • Business services: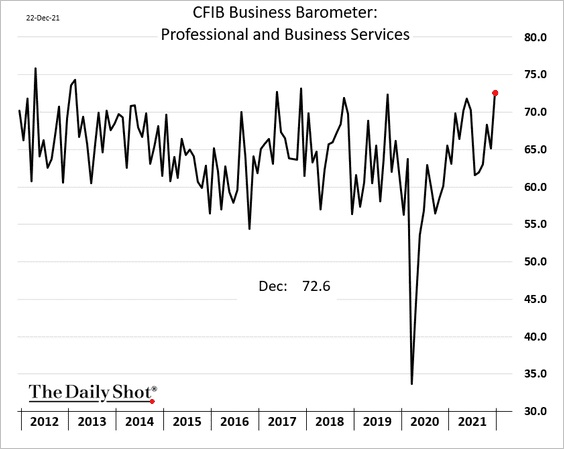 ---
Back to Index
The United Kingdom
1. The updated GDP report showed soft business investment in Q3. Exports remained depressed.




2. UK hospitalization data suggest that omicron may be less dangerous than previous COVID variants.



Source: Scotiabank Economics

3. The BoE now sees inflation peaking by the middle of 2022.


Source: Wells Fargo Securities
---
Back to Index
The Eurozone
1. Producer prices continued to surge in November.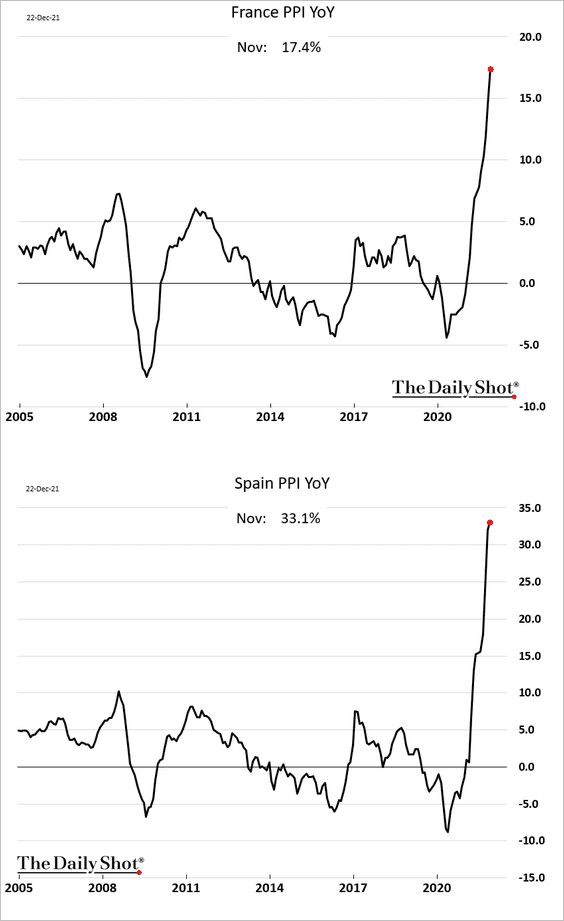 2. Deutsche Bank expects consumer inflation to settle around the 2% target within the next two years.


Source: Deutsche Bank Research

Here is the ECB's forecast.


Source: Wells Fargo Securities
——————–

3. Germany's retail-sector supply challenges are acute.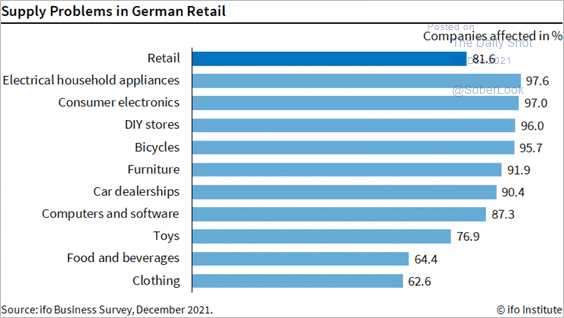 Source: @KlausWohlrabe, @ifo_institut
---
Back to Index
Europe
1. Sweden's producer price gains hit a new high.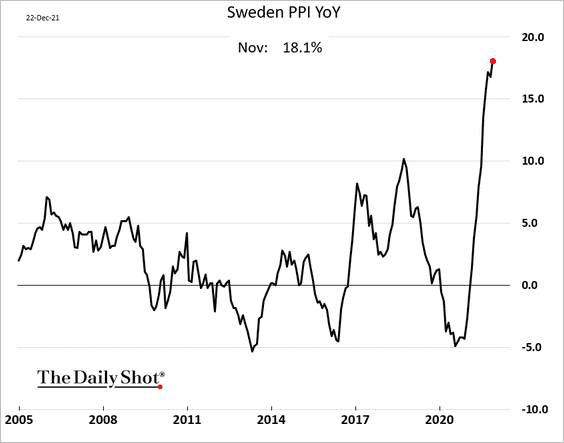 Retail sales remain well above the pre-COVID trend.


——————–

2. The Czech central bank hiked rates by 100 bps (the market expected 75bps).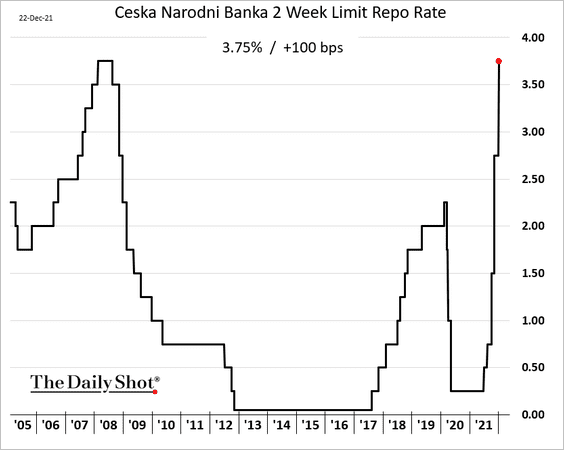 • The Czech koruna jumped.




• Bond yields continue to hit multi-year highs.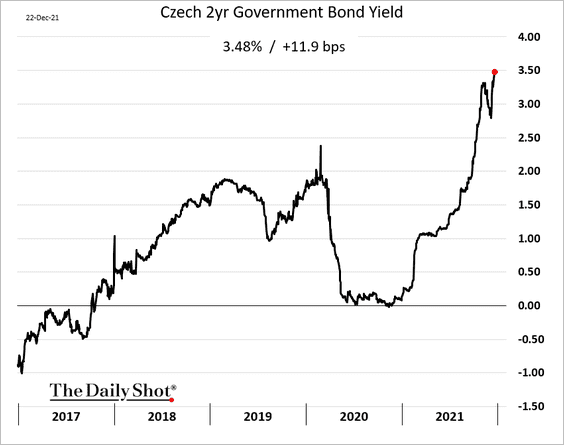 • The market sees the central bank's aggressive inflation-fighting posture as a policy mistake. The yield curve has inverted sharply, indicating a substantial economic slowdown ahead.


——————–

3. The environmental economy (see definition below) has outpaced the overall European economy for some years now.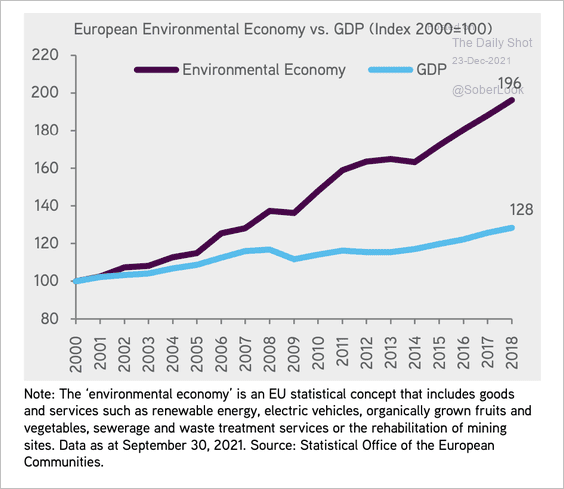 Source: KKR
---
Back to Index
Asia – Pacific
1. Japan's department store sales are recovering but remain below 2019 levels.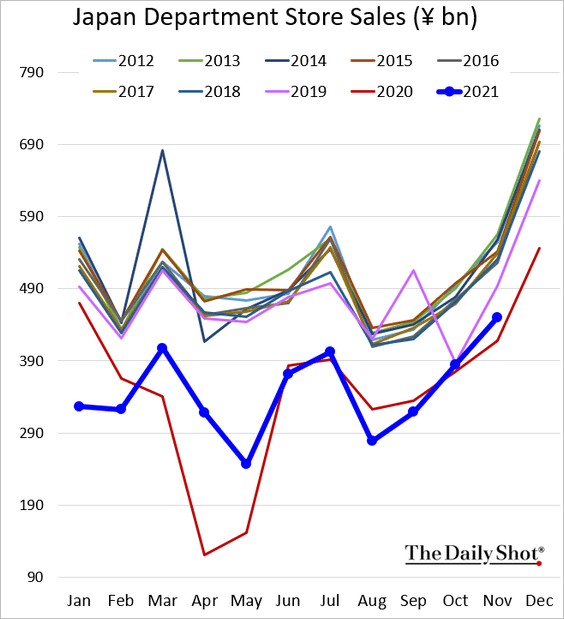 2. Taiwan's unemployment rate is back at the 3.7% "floor."


---
Back to Index
China
1. As of last week, container freight rates out of Shanghai continued to climb.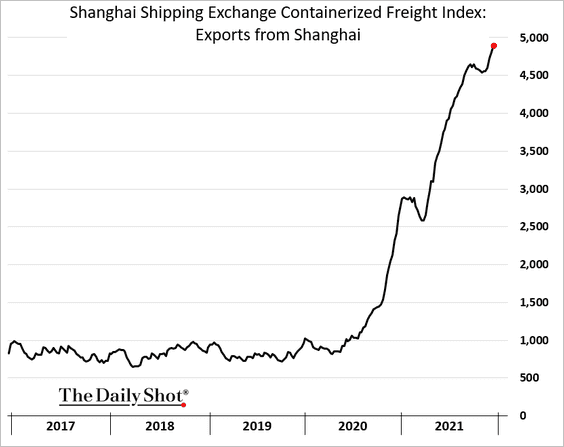 2. The renminbi has been boosted by portfolio inflows, but easier monetary policy points to China's currency weakening over the next couple of years (chart shows USD strengthening against CNY).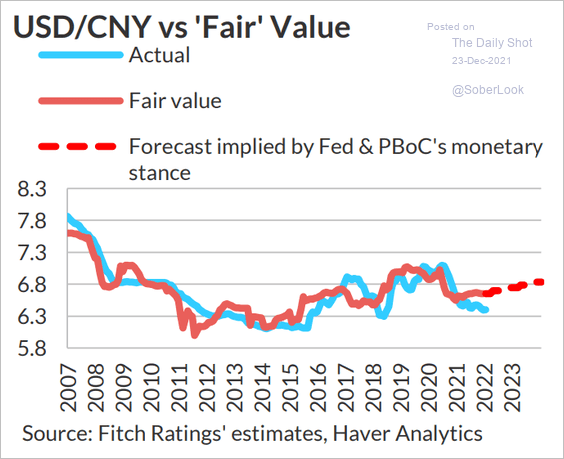 Source: Fitch Ratings

3. China has captured the vast majority of the post-pandemic increase in global trade.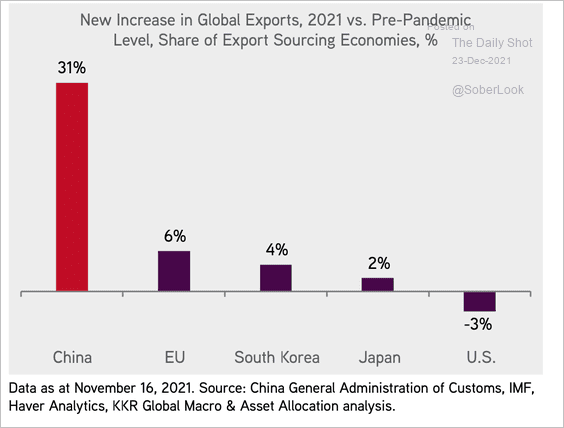 Source: KKR
---
Back to Index
Emerging Markets
1. Brazil's consumer confidence ticked up but remains depressed.




2. Mexico's retail sales continued to grind higher in October.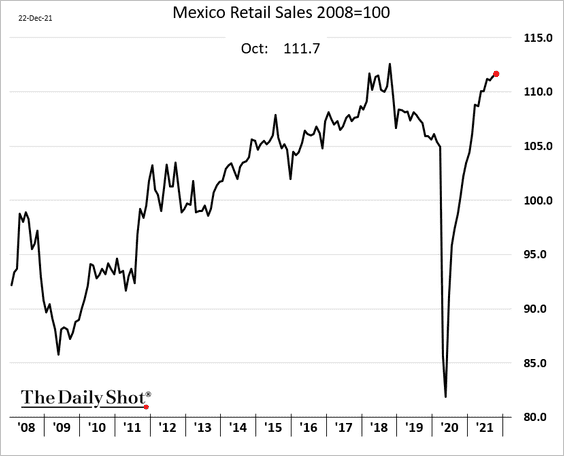 3. Next, we have sovereign spreads vs. ratings across EM economies. Colombia's bonds look attractive on a relative basis.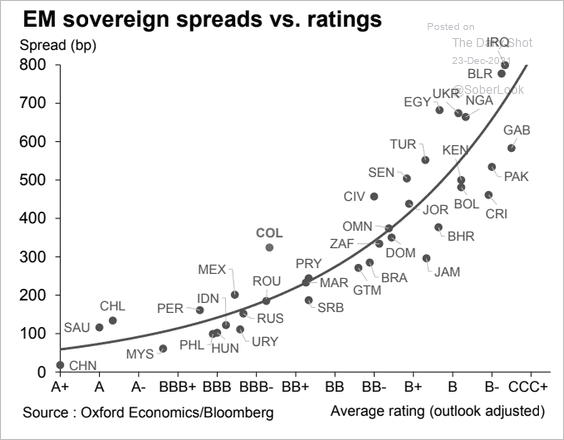 Source: Oxford Economics

4. Russia's industrial production has been strong for this time of the year.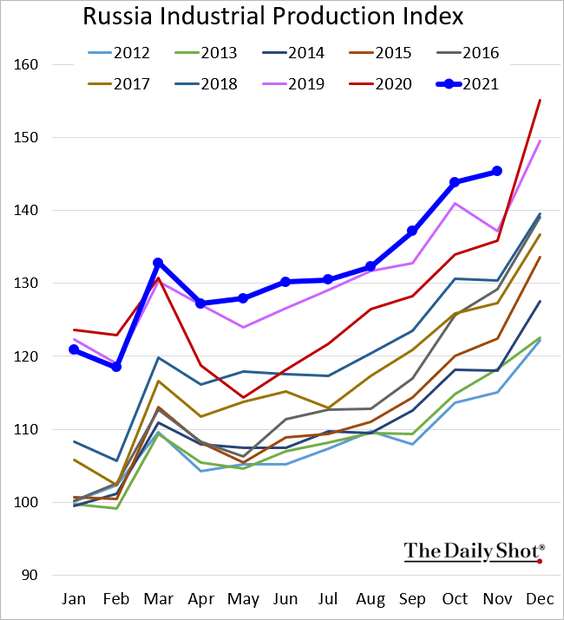 But consumer confidence deteriorated this quarter.


——————–

4. The Turkish lira continues to rebound. Guaranteed principal on a juicy carry trade brings in quite a few takers.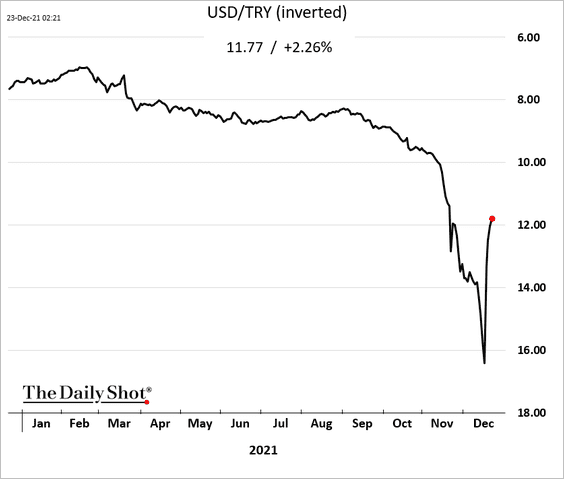 ---
Back to Index
Cryptocurrency
1. Tether's market share continues to decline.



Source: Fitch Ratings

Here are the top five stablecoins by market value.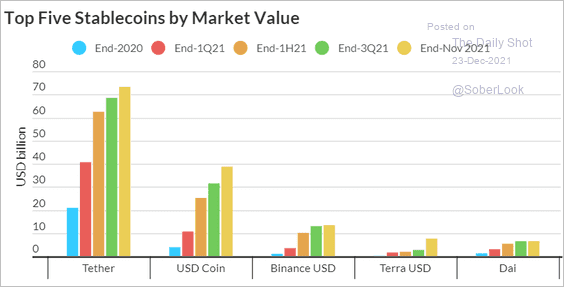 Source: Fitch Ratings
——————–

2. This graphic illustrates the changes in market capitalization rankings by year (see this link if you are not familiar with crypto symbols).


Source: @gaborgurbacs

3. There have been some sizeable NFT transactions recently.


Source: @acemaxx, @FT Read full article
---
Back to Index
Energy
1. US crude stockpiles declined sharply last week as firms draw down inventories going into the year-end to reduce their royalty taxes.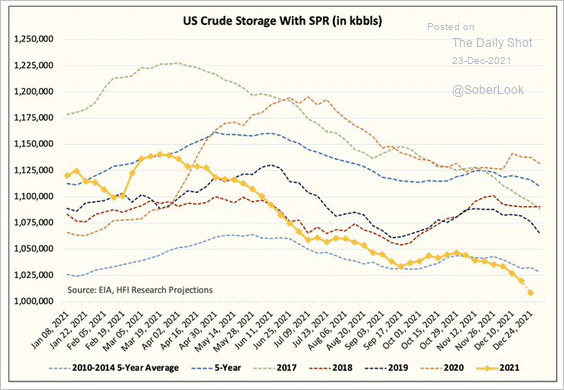 Source: @HFI_Research

Product inventories climbed more than expected (2 charts).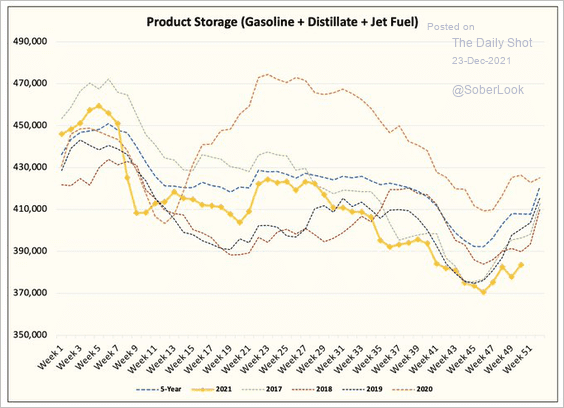 Source: @HFI_Research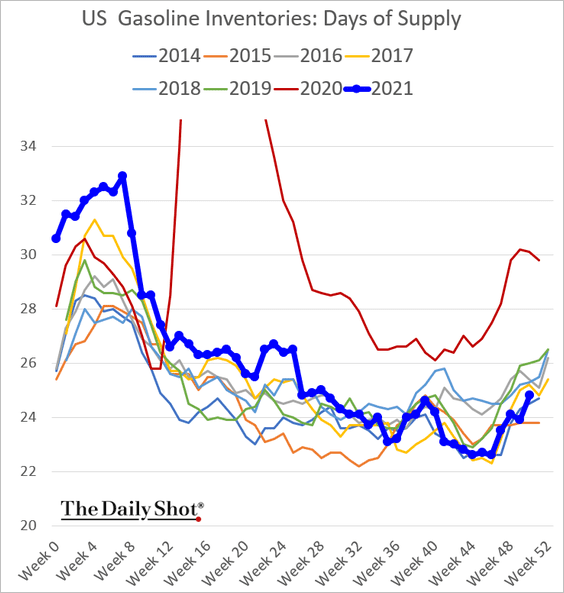 And gasoline demand dropped, suggesting that omicron concerns are impacting mobility.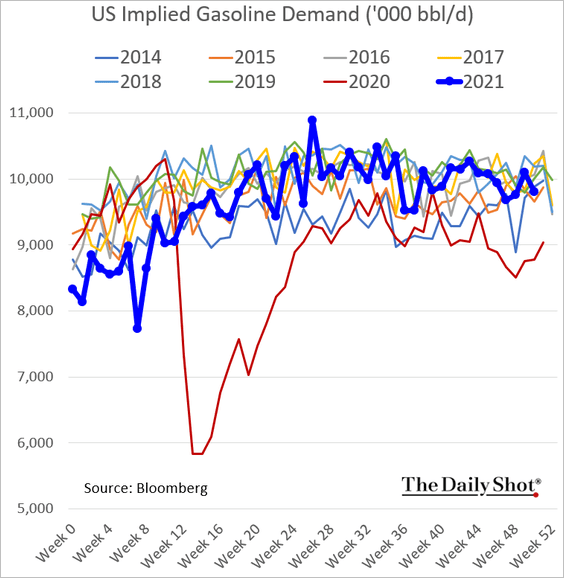 ——————–

2. Global refinery margins remain strong.


Source: ANZ Research

3. Crude oil is attractive relative to other commodities.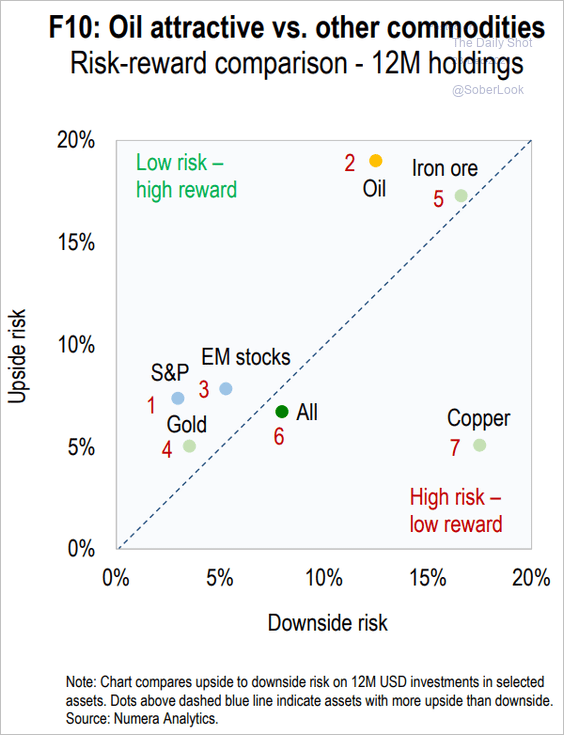 Source: Numera Analytics
---
Back to Index
Equities
1. The market rebound has been rapid, with the S&P 500 approaching resistance.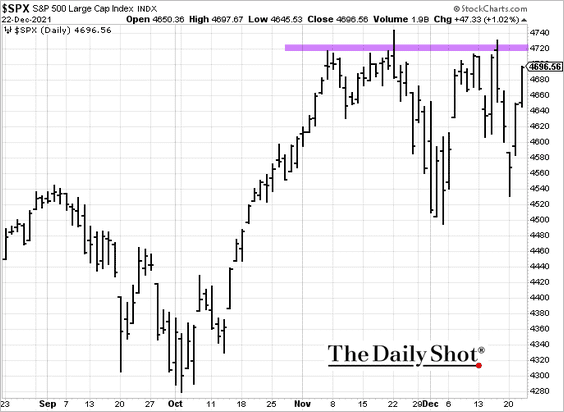 2. Most-shorted shares have been underperforming this month as the Reddit crowd pulls back.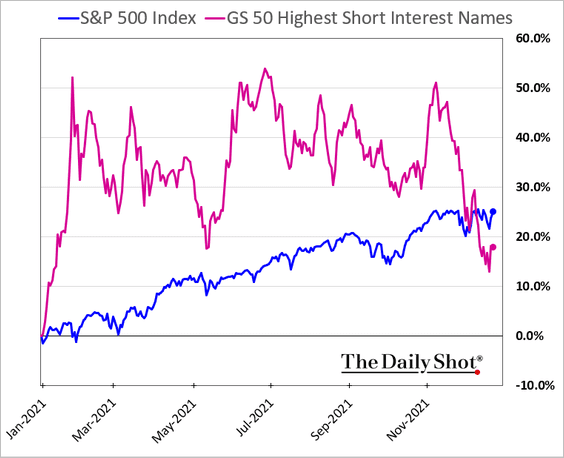 • We can see the retail investor retreat from the underperformance of stocks with the highest options volumes.




• Short interest across the US stock market continues to drop (Russell 3000 = broad market index).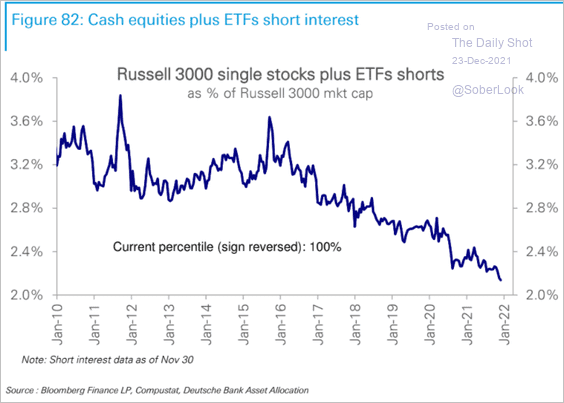 Source: Deutsche Bank Research
——————–

3. The S&P 500 equal-weight index is underperforming.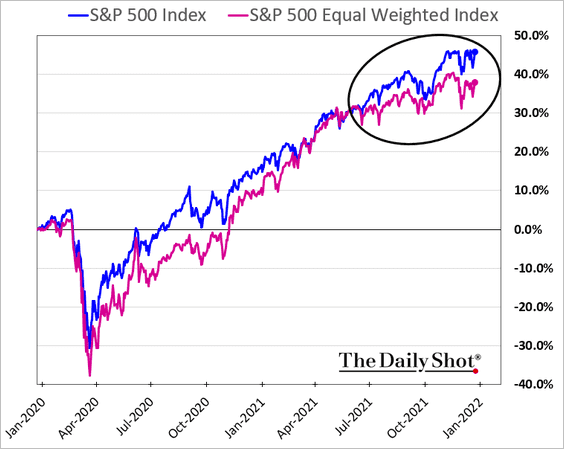 Further reading

We see a similar trend in the Value Line index.


——————–

4. The market has been rewarding companies focused on buybacks and dividends rather than CapEx.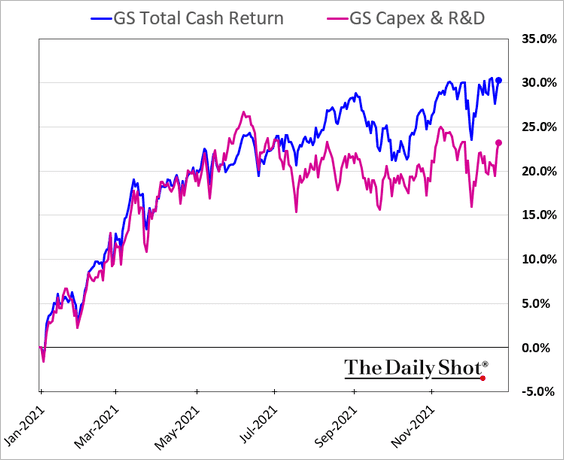 5. A mid-cycle economic expansion is consistent with above-average equity market performance over the next 12 months. During this phase, returns are driven by earnings growth rather than multiple expansion.


Source: KKR Global Institute 
---
Back to Index
Rates
1. While the recent flattening of the 2s10s Treasury curve is a concern, there is typically a 12-18 month gap between inversions and recessions.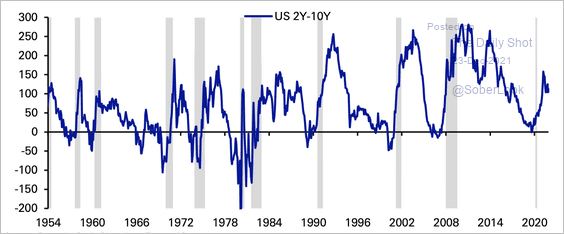 Source: Deutsche Bank Research

2. BCA Research expects short-term inflation expectations to fall next year.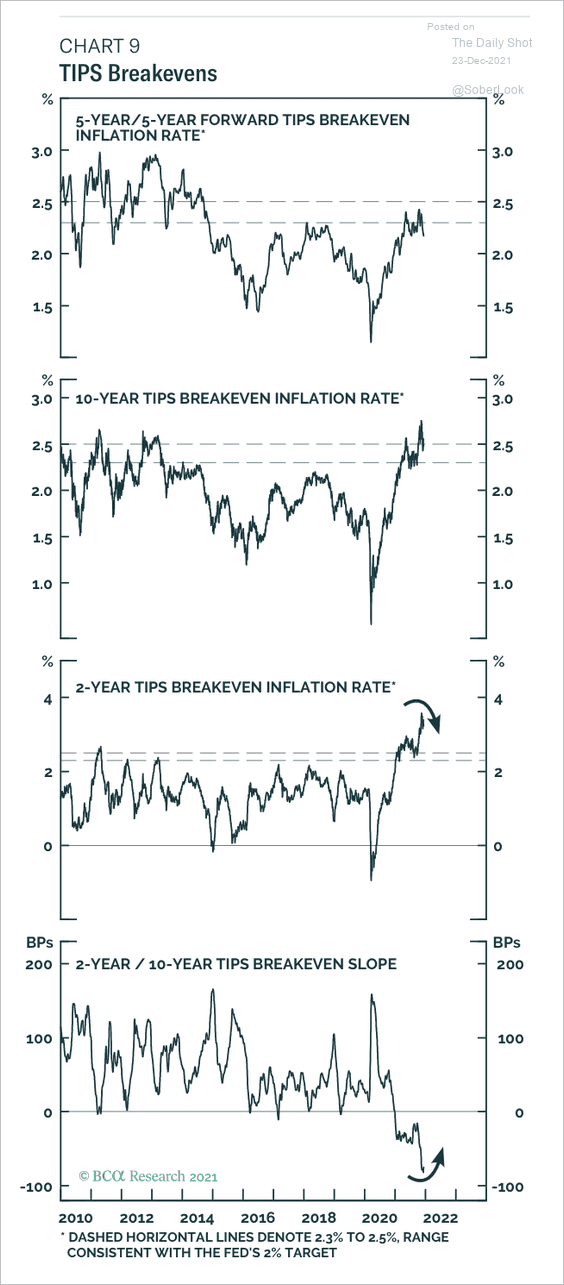 Source: BCA Research

This chart shows US market-based inflation expectations vs. the CPI over the past couple of decades.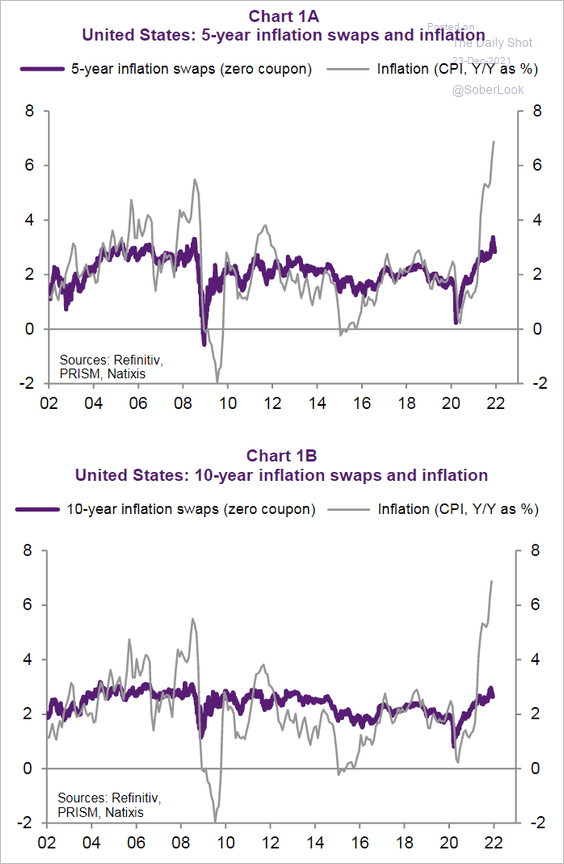 Source: Natixis
---
Back to Index
Global Developments
1. Demand for corporate borrowing is picking up.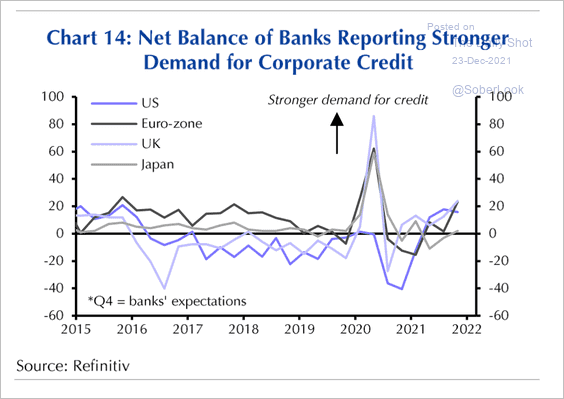 Source: Capital Economics

2. Profit margins are well above historical averages in almost every region.


Source: PGM Global

But PGM Global expects difficulties ahead for US and global equity markets as corporate margins and valuations contract.



Source: PGM Global
——————–

3. What makes up the world's real assets?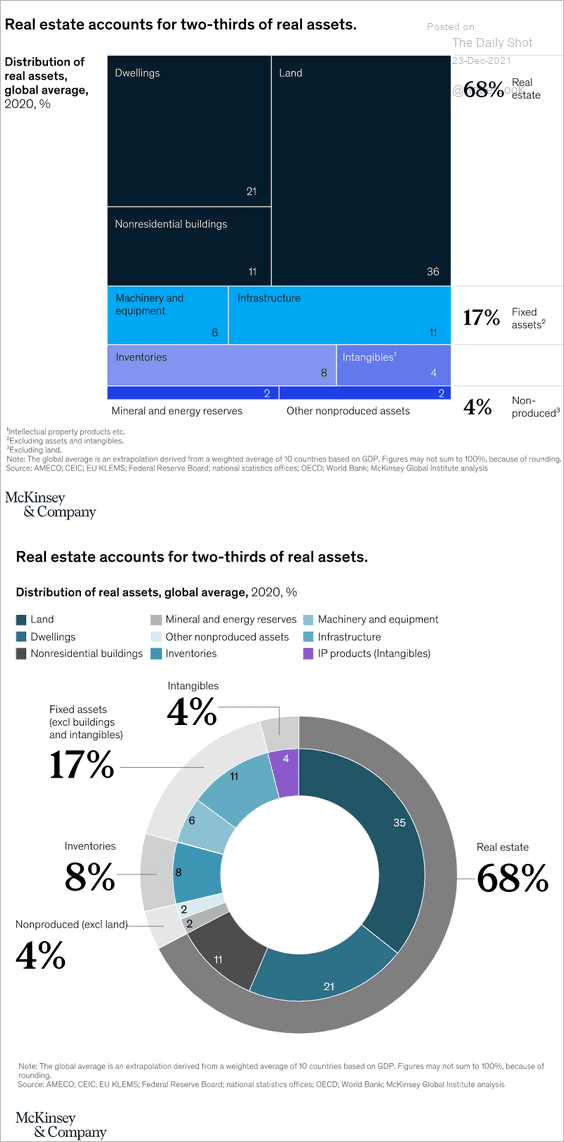 Source: McKinsey Read full article
---
——————–
Food for Thought
1. Tax revenue as a share of GDP:


Source: @WSJ Read full article

2. More than 90% of e-commerce firms in the US have revenues less than $1 million.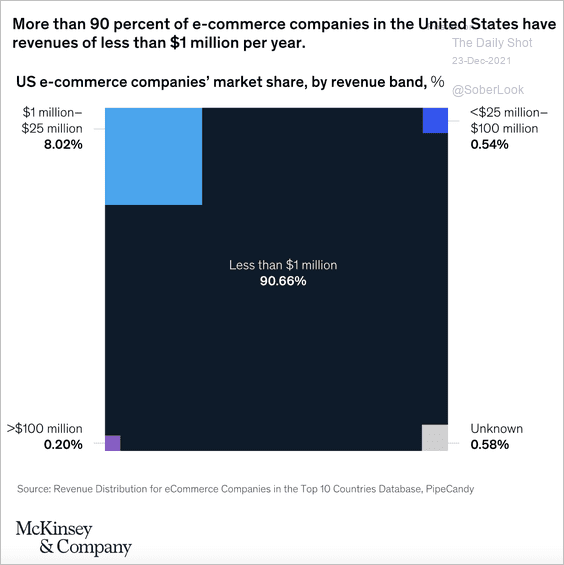 Source: McKinsey

3. Largest social media platforms, based on active global users: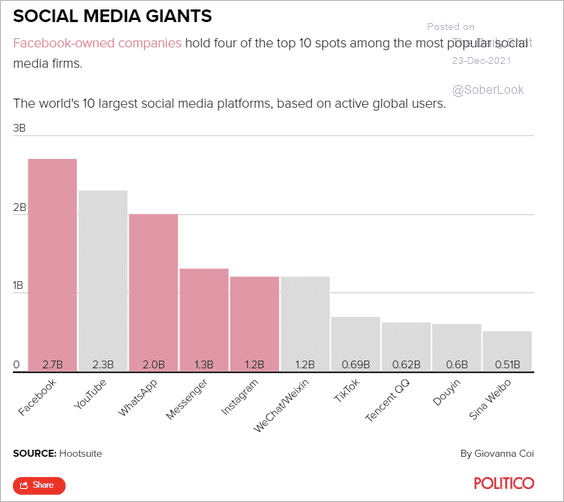 Source: Politico Read full article

4. Cyberthreat: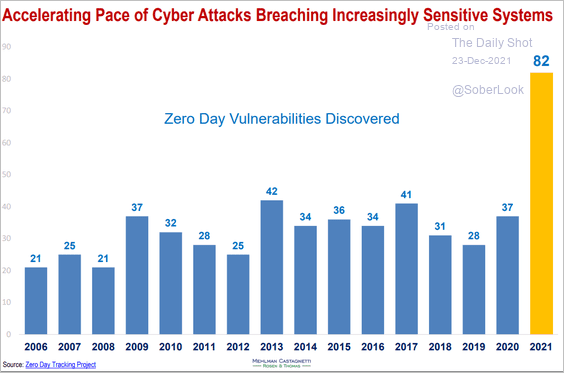 Source: Mehlman Castagnetti Rosen & Thomas Read full article

5. Amazon fulfillment facilities:


Source: @WSJ Read full article

6. Using mobile apps for healthcare: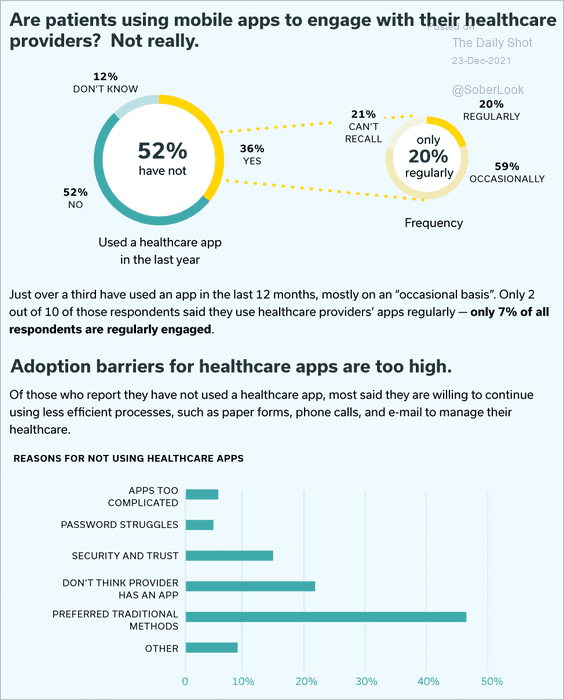 Source: Lifelink Systems

7. Growing divisions around the world:


Source: @OECD_Stat Read full article

8. Carbon offset issuance:


Source: Quartz Read full article

9. Public external debt of low-income countries: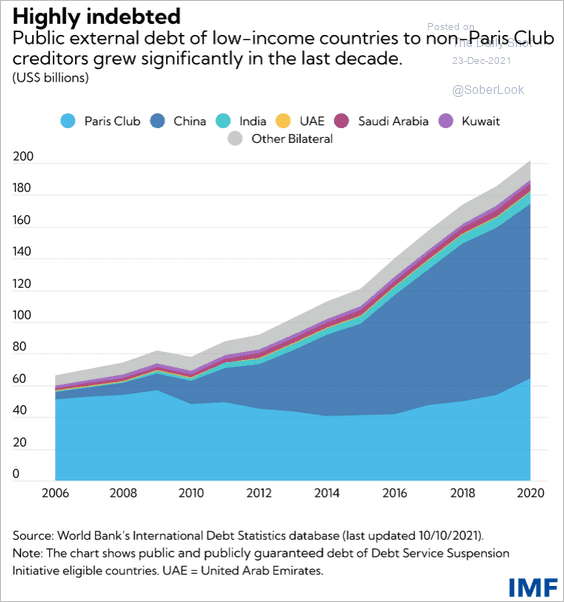 Source: IMF Read full article

10. Most popular Christmas movies:


Source: YouGov
——————–
---
Back to Index
---