The Daily Shot: 04-Feb-22
• The Eurozone
• Europe
• The United Kingdom
• The United States
• Asia – Pacific
• China
• Emerging Markets
• Cryptocurrency
• Energy
• Equities
• Credit
• Global Developments
• Food for Thought
---
---
The Eurozone
1. Faced with an unprecedented surge in prices, the ECB is changing direction. Christine Lagarde acknowledged that "inflation is likely to remain elevated for longer than previously expected …"

For months now, the central bank has been surprised by the strength of euro-area inflation reports.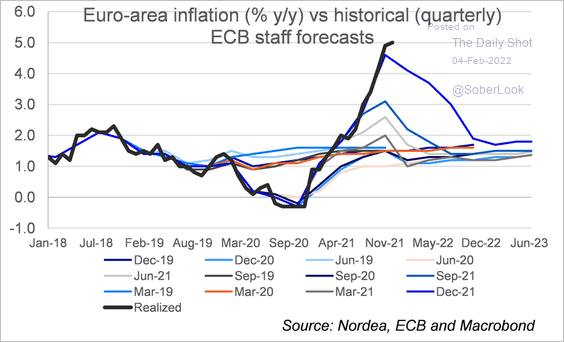 Source: @JanVonGerich, Nordea Markets
Compared with our expectations in December, risks to the inflation outlook are tilted to the upside, particularly in the near term …  The situation has indeed changed.
These comments open the door for rate hikes later this year. The euro rose sharply in response.




Short-term yields surged after Lagarde's comments.

• Bunds: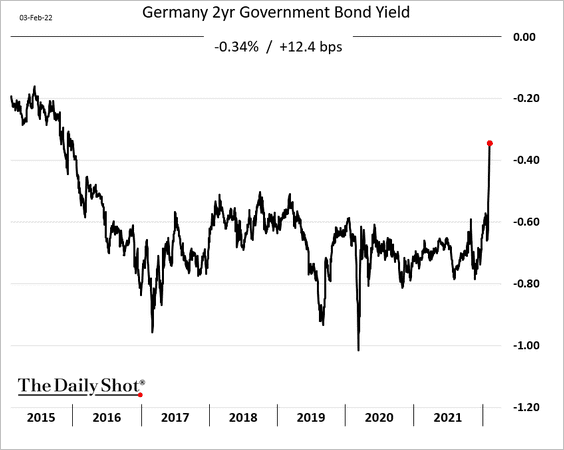 • Swap rates: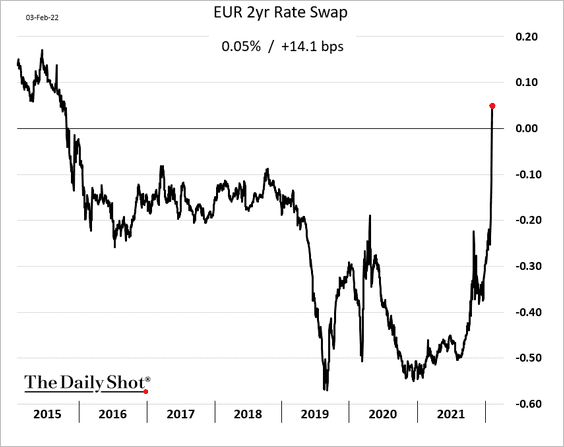 • This chart shows market expectations of short-term rates one-year out.




• The Bund curve steepened in the front end but flattened at the longer end (similar to other markets where central banks are raising rares).




Here is the 20yr – 5yr Bund spread.


——————–

2. The Eurozone PPI climbed above 26% in December.




3. German home price appreciation has accelerated recently (with gains broadening).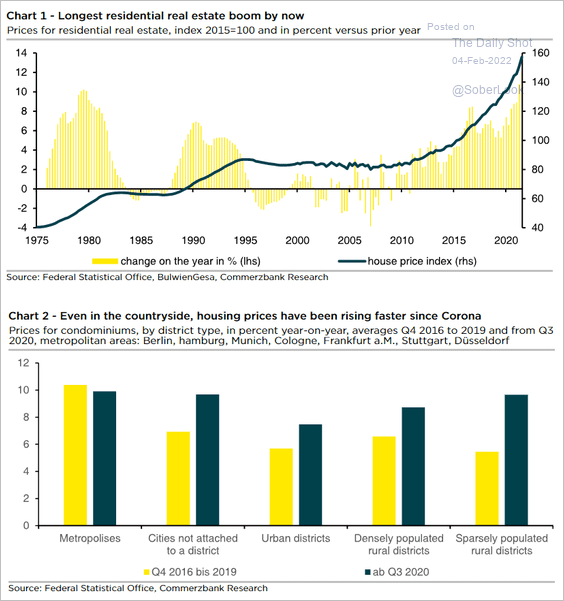 Source: Commerzbank Research

4. Omicron took a toll on the Italian and Spanish service sectors, both of which contracted last month.




At the Eurozone level, the PMI report showed modest growth.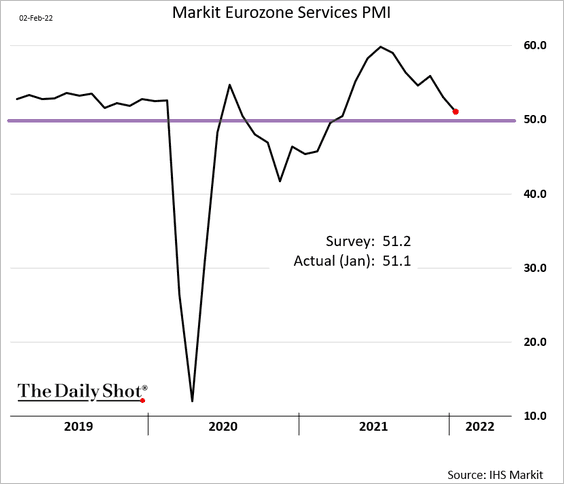 ——————–

5. Most models suggest that Emmanuel Macron will win the upcoming election.


Source: The Economist Read full article

The betting markets agree.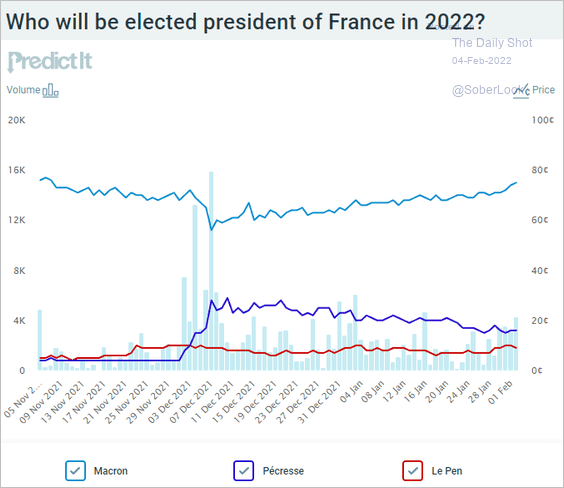 Source: @PredictIt
---
Back to Index
Europe
1. Sweden's service sector growth remains remarkably resilient.




2. The Czech central bank hiked rates again.




The yield curve is massively inverted as markets see the economy slowing sharply.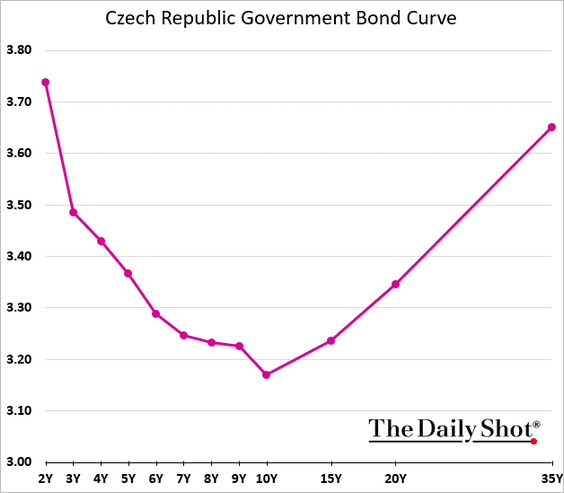 ——————–

3. Due to Switzerland's low inflation rate, the purchasing power parity (PPP) value of EUR/CHF has fallen sharply, and the cross rate is now overvalued, according to Alpine Macro.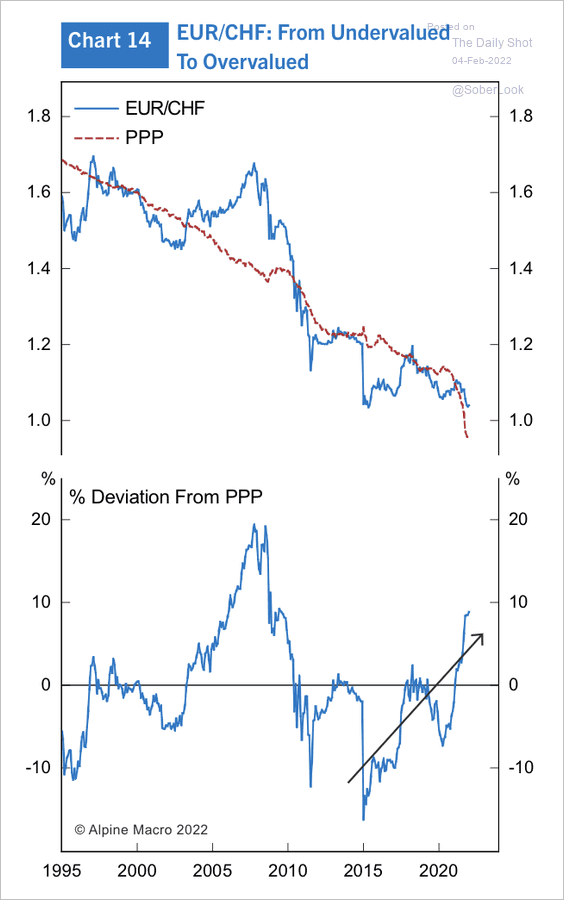 Source: Alpine Macro

4. Job postings for truck drivers are moderating in Europe. Is it an indication of easing supply strains?


Source: Oxford Economics

5. Finally, this table shows the public's willingness to help other countries in a crisis.


Source: @YouGov Read full article
---
Back to Index
The United Kingdom
1. The BoE hiked its benchmark rate as expected.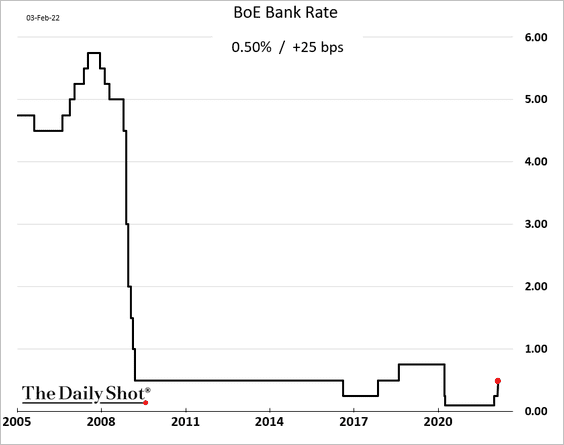 The MPC didn't have any disagreements about raising rates, but four out of five members wanted to hike by 50 bps rather than 25.


Source: Investing.com

Here is the BoE's inflation forecast under two different rate scenarios.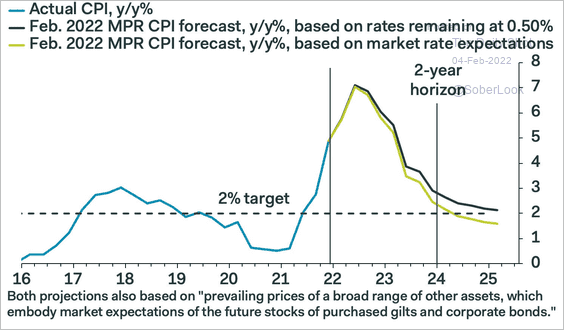 Source: Pantheon Macroeconomics
——————–

2. This chart shows worker flows from unemployment to employment.


Source: @sarahoconnor_
---
Back to Index
The United States
1. With the BoE raising rates and the ECB snapping out of its dovish mode, traders are betting that the Fed will be aggressive in fighting inflation. The market is now pricing one-in-four odds of a 50 bps rate hike in March rather than 25 bps.




Here is the 2yr Treasury yield.


——————–

2. Next, we have some updates on the labor market.

• Initial jobless claims remain low – now at 2019 levels for this time of the year.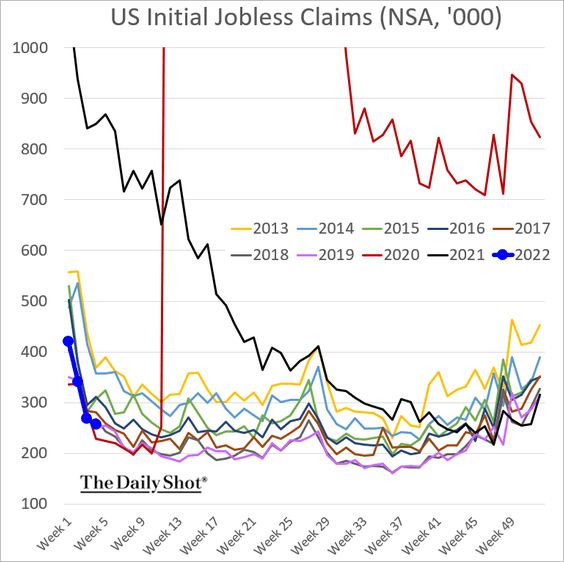 Continuing claims are also very low.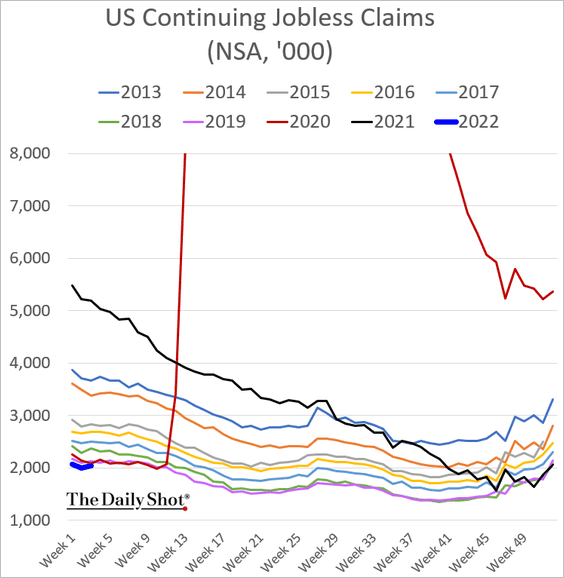 • Small business data point to a weak payrolls report today (the chart below is not seasonally adjusted).


Source: Pantheon Macroeconomics

Due to omicron, millions of people were absent from work during the employment survey week.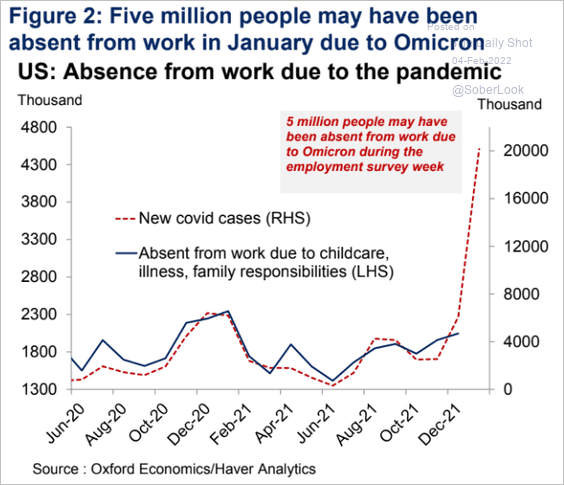 Source: Oxford Economics

As a result, a number of economists have been predicting a decline in payrolls in January. We already saw the estimate from Pantheon Macroeconomics (here). Below are two more.

• Oxford Economics:


Source: Oxford Economics

• Morgan Stanley: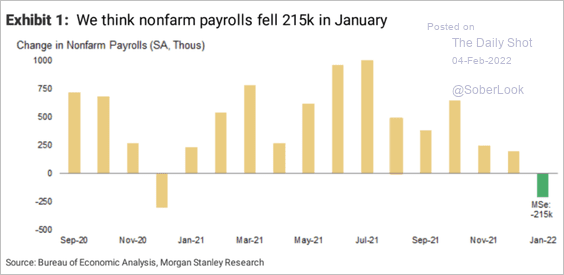 Source: Morgan Stanley Research
——————–

• A record percentage of companies are boosting employee compensation.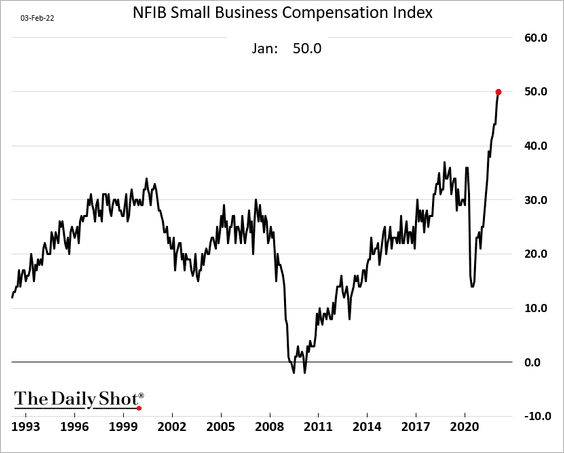 ——————–

3. Fourth-quarter labor productivity growth surprised to the upside.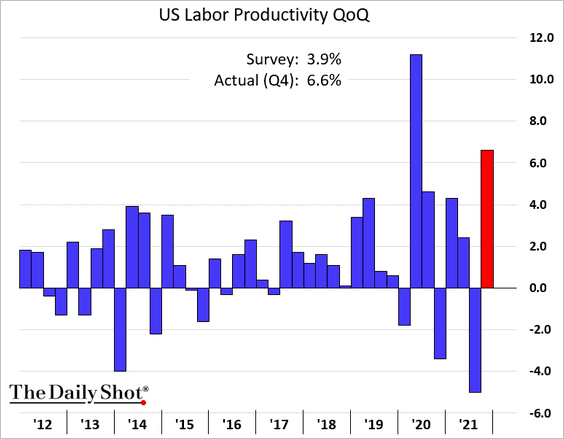 4. The service-sector ISM PMI index softened last month, in line with expectations.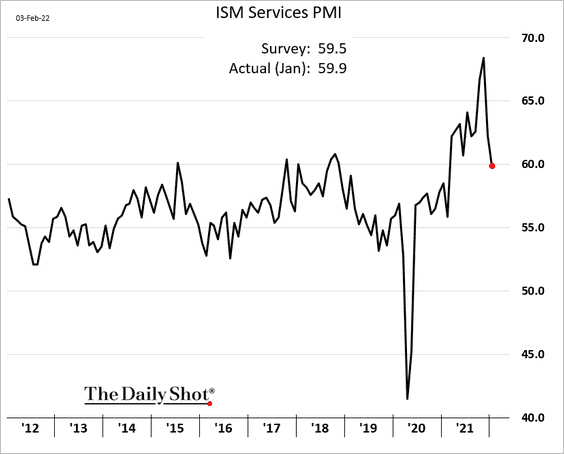 • Here are the components.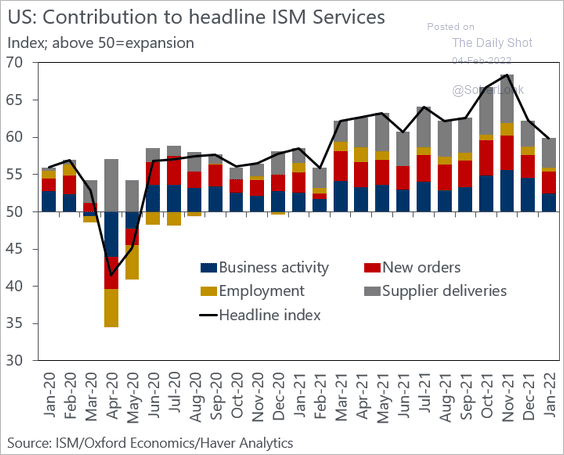 Source: @OrenKlachkin

• Supply pressures are starting to ease.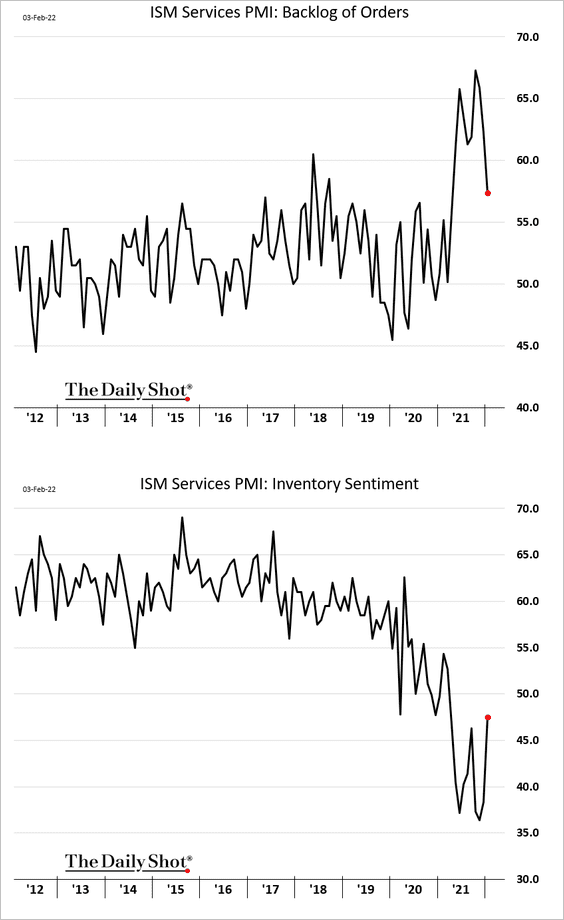 ——————–

5. Wholesale used car prices climbed again last month, but the increase was much smaller this time.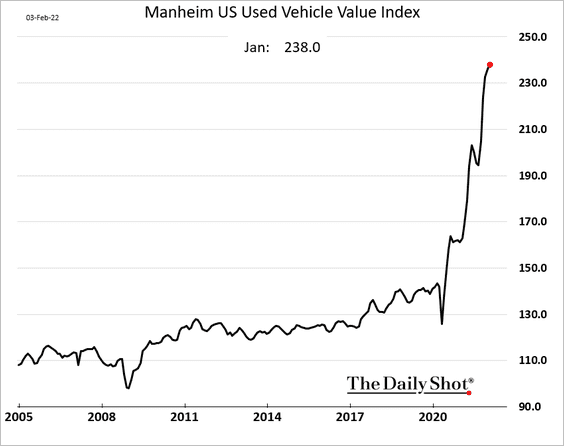 ---
Back to Index
Asia – Pacific
1. The 5-year JGB yield is in positive territory for the first time since 2016.




2. Singapore's retail sales hit a multi-year high in December.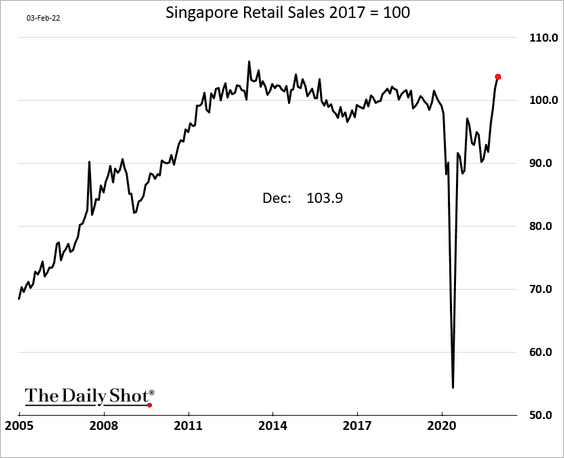 3. South Korea's core CPI reached 3% for the first time in a decade.




4. New Zealand's home price appreciation stands out.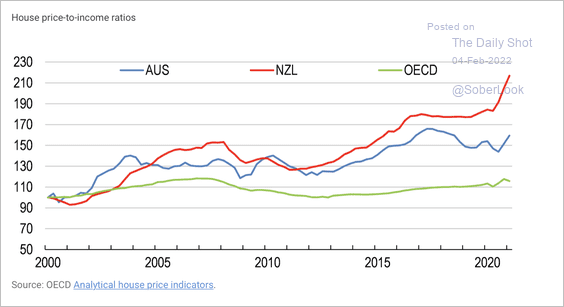 Source: OECD Read full article
---
Back to Index
China
1. China's equity markets have (passively) outperformed this year (some reversal from 2021).


Source: BCA Research

2. Homes in China's major cities are extraordinarily expensive.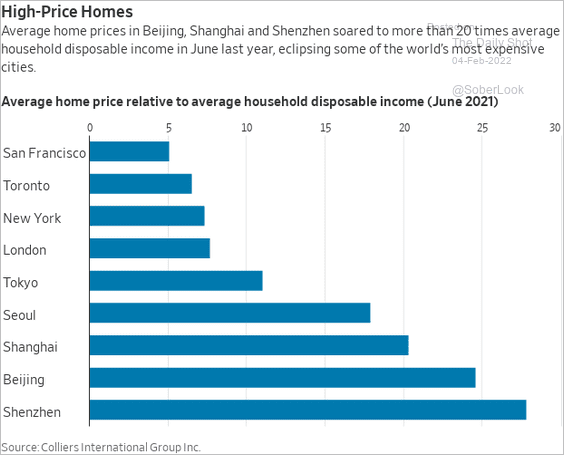 Source: @WSJ Read full article
---
Back to Index
Emerging Markets
1. India's service-sector activity remained in growth mode last month, but barely.




2. The Pakistani rupee finally stabilized.


Source: @markets Read full article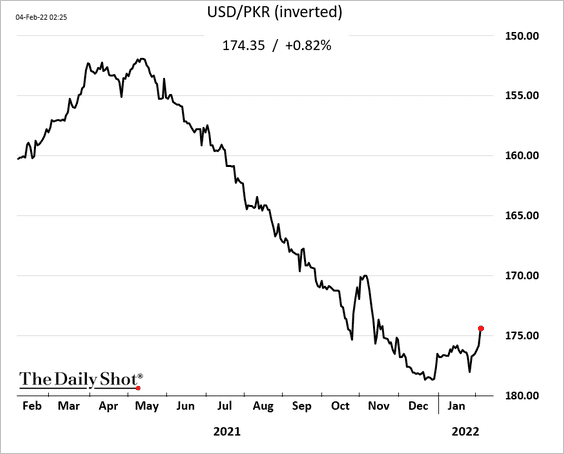 ——————–

3. Turkey's core CPI is nearing 40%. Let's cut rates some more and see what happens.




4. As a whole, EM manufacturing growth stalled last month.


Source: Capital Economics
---
Back to Index
Cryptocurrency
1. The performance gap between bitcoin and the S&P 500 narrowed significantly over the past few months.


Source: CoinDesk Read full article

2. Ether option volumes on Deribit's exchange rose 36% last month. The increased volume was partly due to trading strategies around the January sell-off.


Source: @DeribitExchange

3. The amount of bitcoin mined spiked in Q3 last year due the ease in mining difficulty following China's crypto crackdown.


Source: @TheBlock_

4. Compared to decentralized finance (DeFi), fundraising in the NFTs/Gaming vertical has been heavily weighted toward Ethereum (2 charts).


Source: @TheBlock_


——————–

5. Firms that fall under crypto financial services received the most funding than any other vertical last year.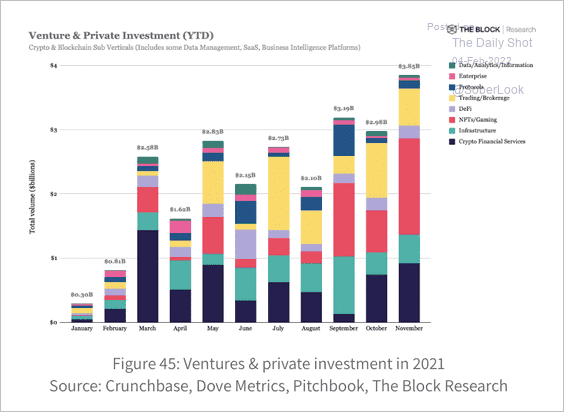 Source: @TheBlock_

6. In Q4 last year, the market cap of algorithmic stablecoins grew 260%, significantly outpacing fiat (backed by the dollar or other traditional currency) and collateral debt position stablecoins.


Source: @MessariCrypto
---
Back to Index
Energy
1. Brent crude continues to climb amid tight supplies and robust demand (2nd chart).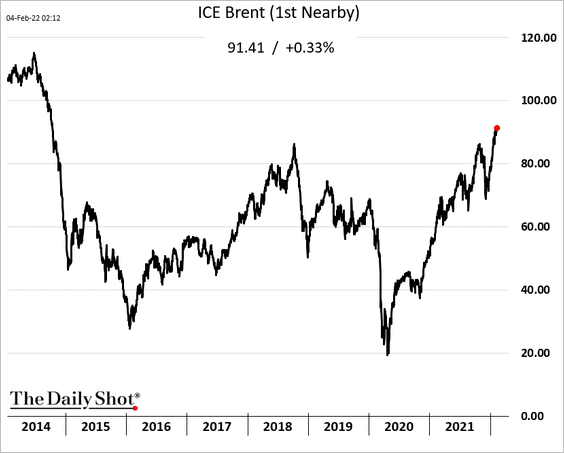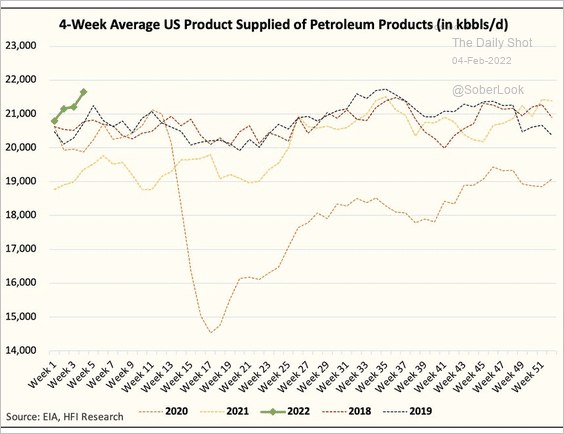 Source: @HFI_Research
——————–

2. US refinery inputs were relatively soft last week.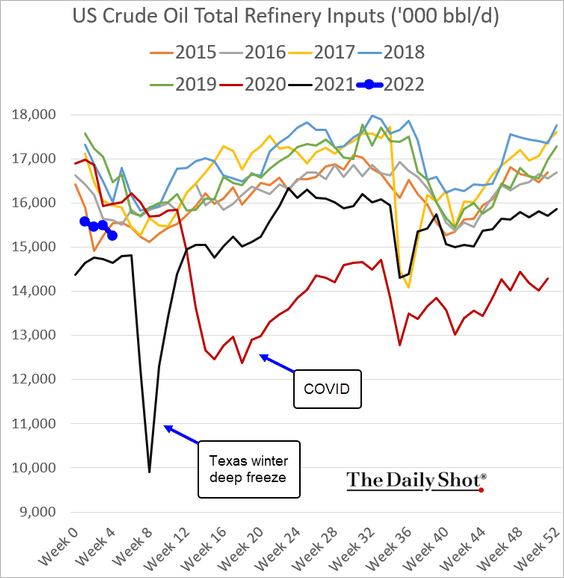 3. Ethanol inventories are surging.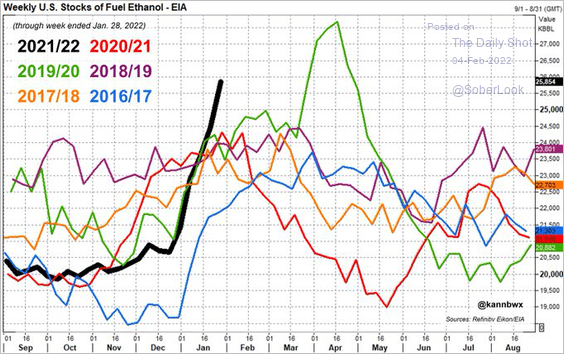 Source: @kannbwx

4. US natural gas volatility hit a multi-decade high.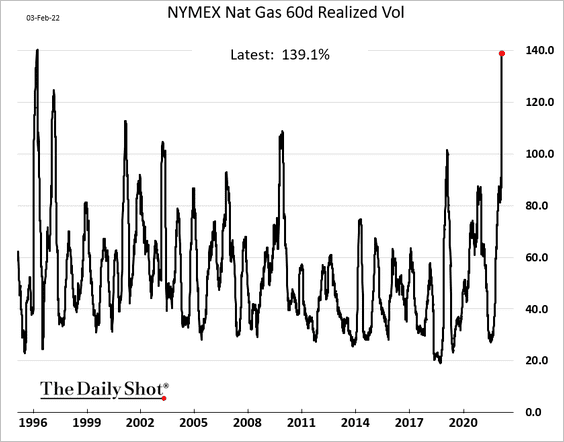 h/t @gersonjr
---
Back to Index
Equities
1. Meta's weak results created a catalyst of a sharp selloff in US tech on Thursday.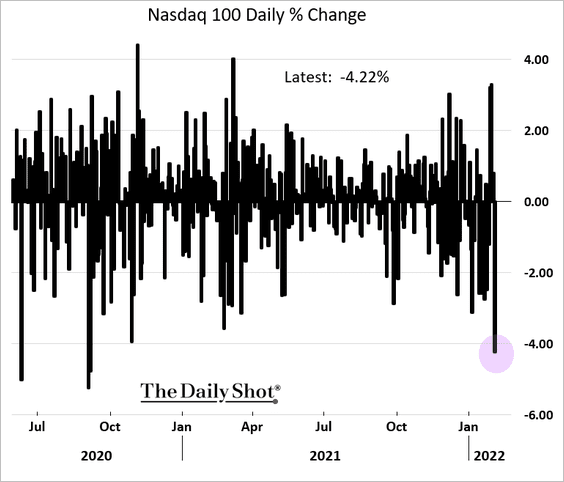 • Below are the month-to-date and year-to-date returns for the largest US tech firms.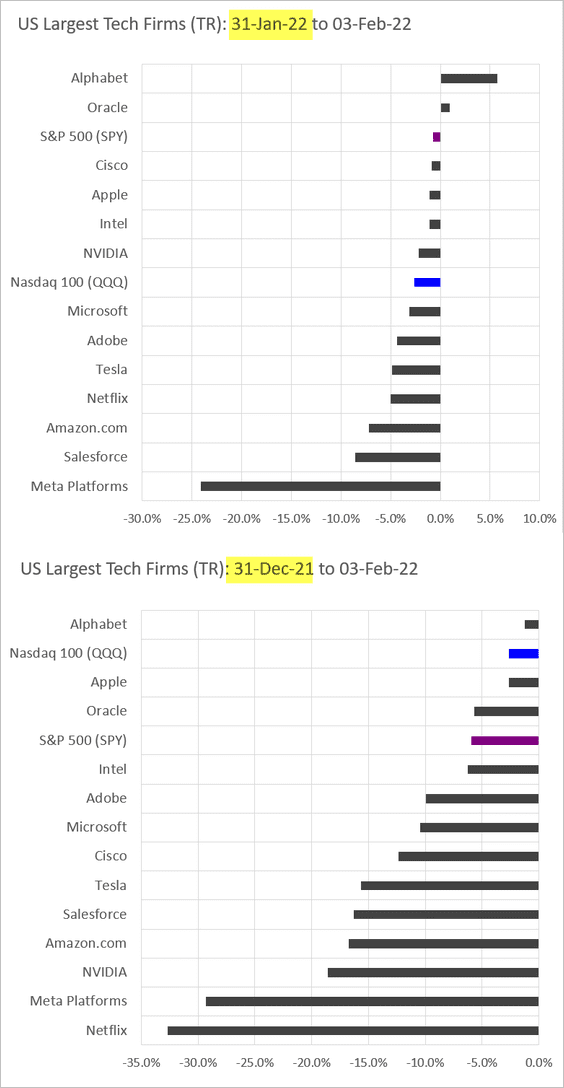 • Here is how the mega-caps contributed to the Nasdaq Composite's decline.




• But there is help on the way.


Source: CNBC Read full article



——————–

2. The S&P 500 is entering a seasonal recovery period. Given the start of the tightening cycle, will this time be different?


Source: Cannon Advisors

3. The options market continues to show caution, with the put/call ratio grinding higher.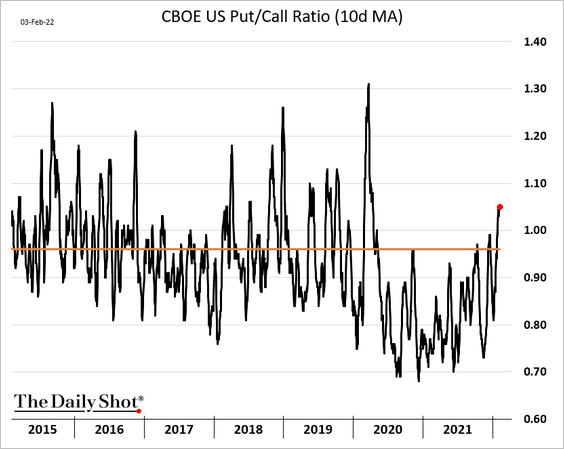 4. JP Morgan's clients want to increase their equity exposure.


Source: JP Morgan Research

5. This chart shows US equity issuance by category.


Source: SIFMA

6. Next, we have the evolution of forward earnings-per-share across global markets.


Source: Hugo Ste-Marie, Portfolio & Quantitative Strategy Global Equity Research, Scotia Capital

7. There was a large difference between the best-performing sector (tech) and the worst-performing sector (energy) in 2020, which benefitted active managers. Last year, however, that return gap closed, leaving little room for active funds to outperform, particularly among US large-caps.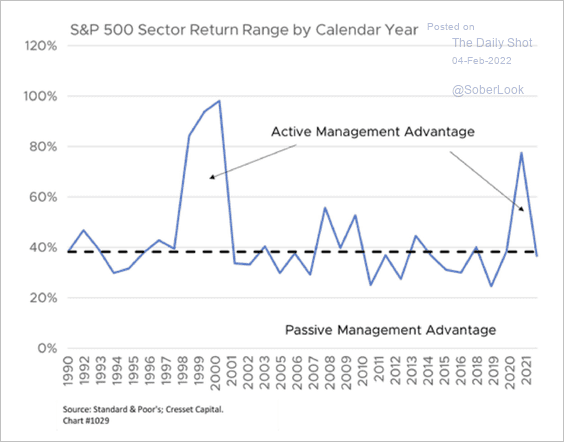 Source: Jack Ablin, Cresset Wealth Advisors

8. ETF expense ratios continue to decline.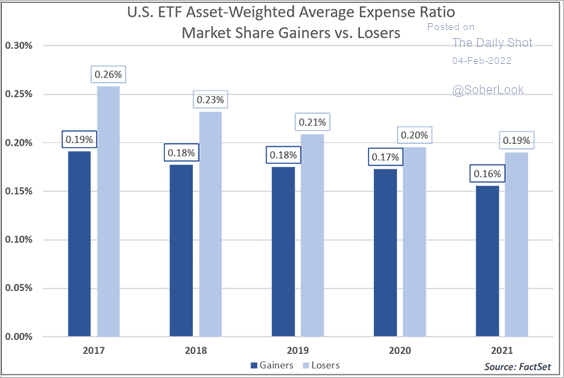 Source: @FactSet

9. The multiple spread between ESG leaders and laggards is growing.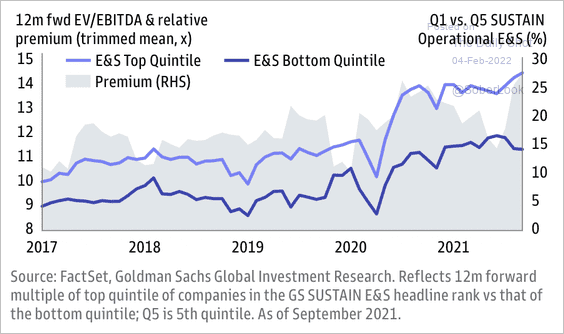 Source: Goldman Sachs Asset Management
---
Back to Index
Credit
High-yield underperformance vs. loans keeps widening. That's shifting the composition of new leveraged finance deals (more loans rather than bonds).


---
Back to Index
Global Developments
1. The amount of negative-yielding debt is plummetting as European and Japanese yields rise.




2. This chart shows the distribution of global fixed income markets.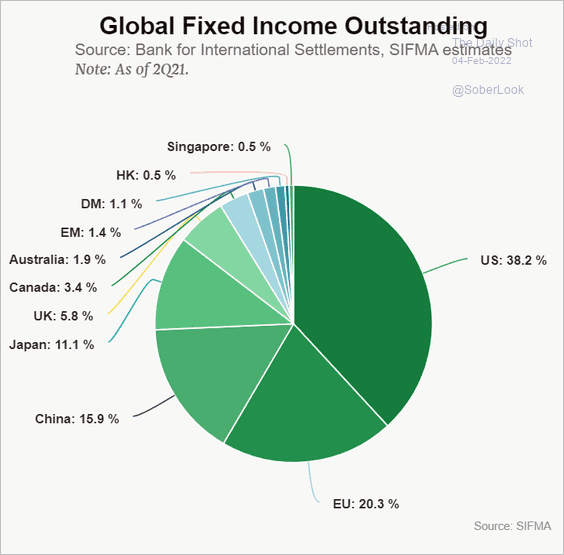 Source: SIFMA

3. The global food price index is approaching its 2011 peak.




4. Manufacturing price pressures remain elevated but are beginning to ease.



Source: Deutsche Bank Research

5. Is the IMF's GDP forecast for this year too optimistic?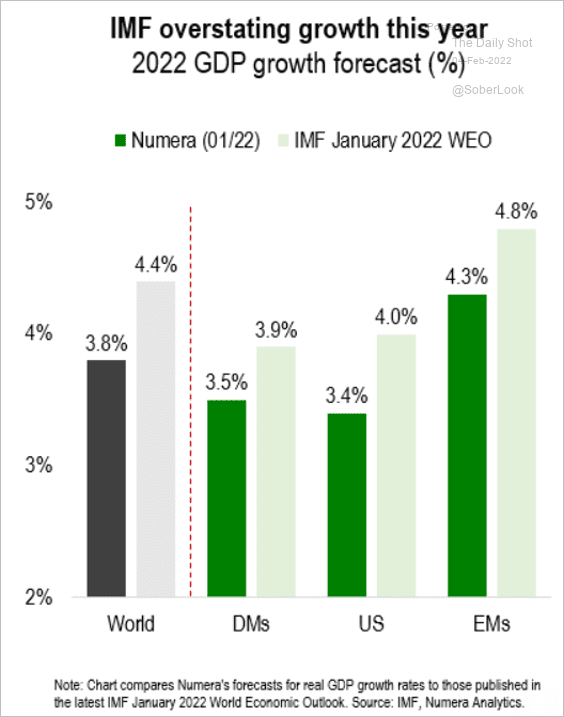 Source: Numera Analytics
---
——————–
Food for Thought
1. States with ICU occupancy rates above 80%: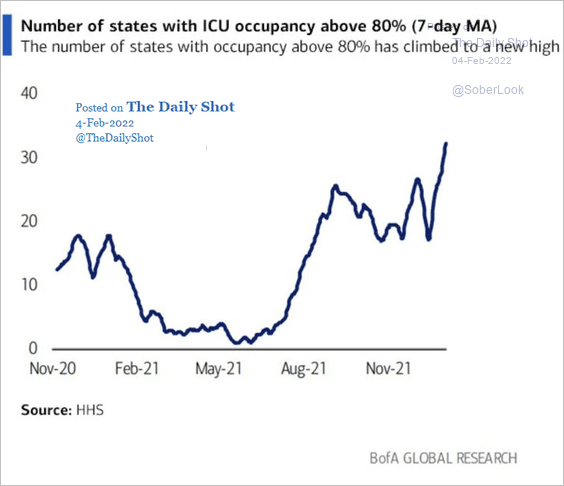 Source: @acemaxx, @BofA_Business, BofA Global Research

2. Excess mortality per 100k people:


Source: @fibke

3. Reported vs. estimated COVID deaths:


Source: Nature Read full article

4. US greenhouse gas emissions: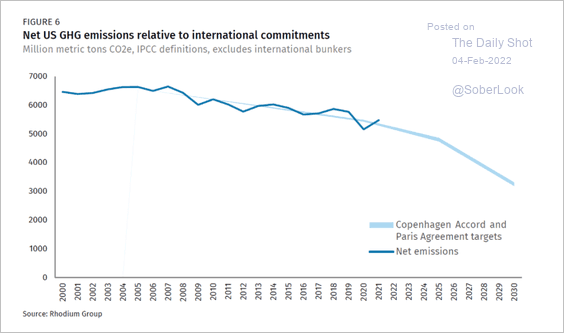 Source: Rhodium Group Read full article

5. Primary energy consumption globally:


Source: @WSJ Read full article

6. Semiconductor content per car: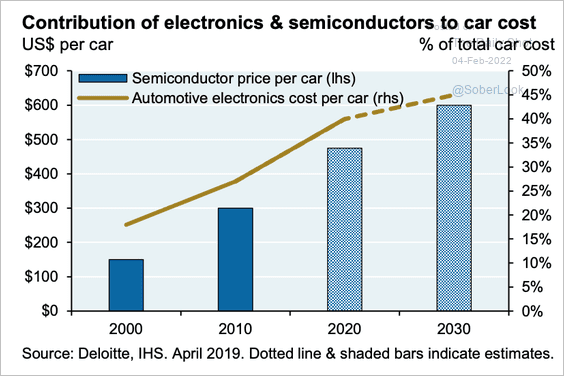 Source: J.P. Morgan Asset Management

• Semiconductor use in electronic devices: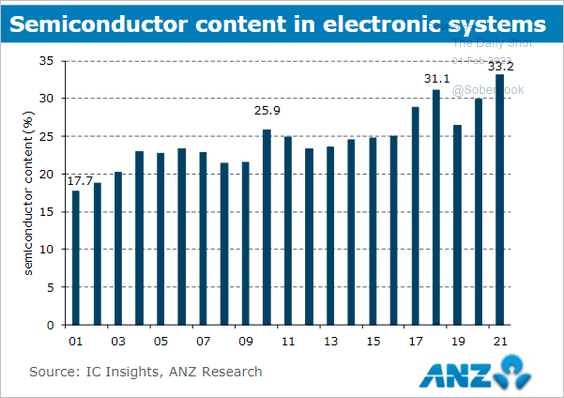 Source: ANZ Research
——————–

7. Starlink satellites are making astronomers' work more challenging.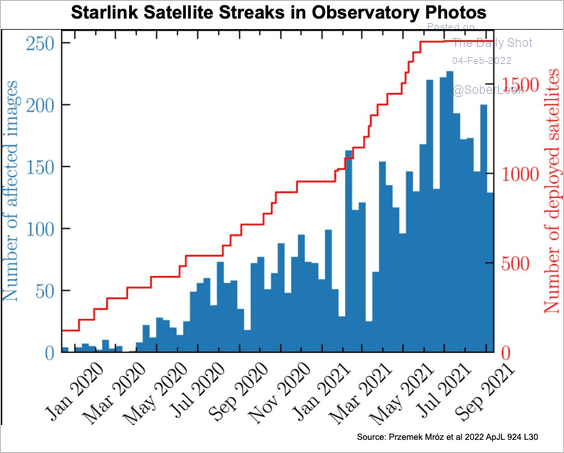 Source: @pkedrosky Read full article

8. Trademark applications:


Source: OECD Read full article

9. Missed work due to COVID: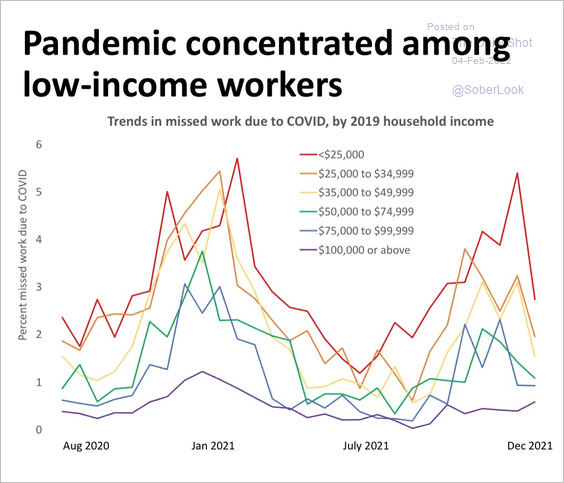 Source: @JuliaRaifman

10. Ukraine surrounded (updated):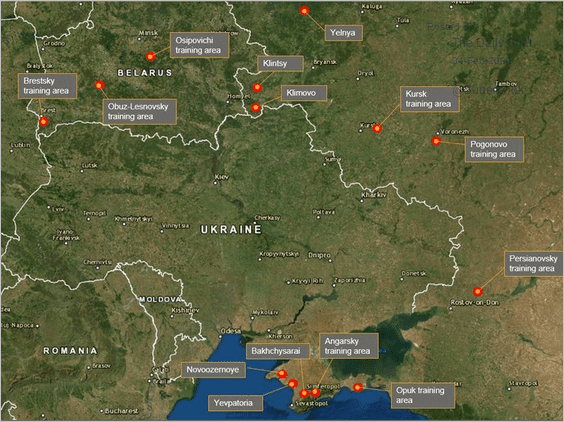 Source: @ChristopherJM, @Maxar

11. Visiting other countries without a visa: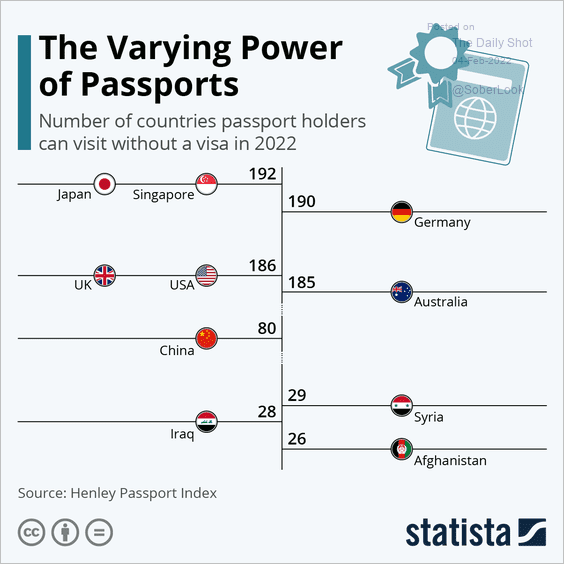 Source: Statista
——————–

Have a great weekend!
---
Back to Index
---