The Daily Shot: 10-Feb-22
• The United States
• The United Kingdom
• The Eurozone
• Asia – Pacific
• Emerging Markets
• Cryptocurrency
• Commodities
• Energy
• Equities
• Alternatives
• Credit
• Rates
• Global Developments
• Food for Thought
---
---
The United States
1. The Atlanta Fed's GDP tracker for the current quarter is holding below 1% (annualized).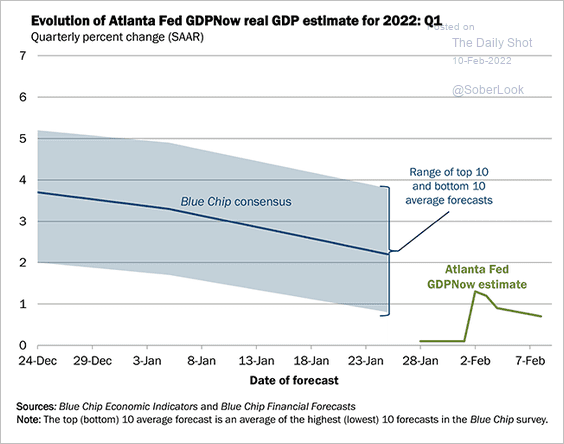 Source: @AtlantaFed Read full article

• Various macro indicators are pointing to slower economic growth ahead.


Source: TS Lombard

• While the current business cycle is still short relative to recent history, it has already exceeded the long-term average and median.


Source: Deutsche Bank Research

• Periods of very low unemployment tend to end in recessions.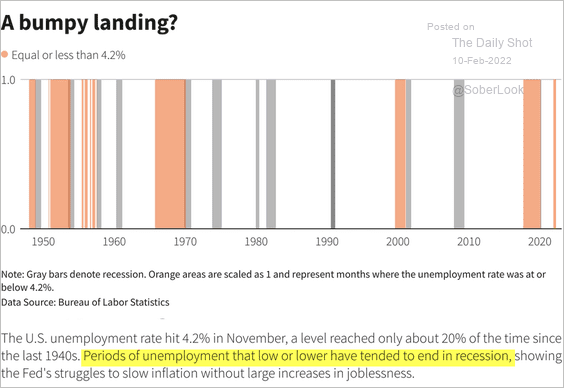 Source: Reuters Read full article
——————–

2. Mortgage applications to purchase a home dropped last week. Are rising mortgage rates starting to take a toll on housing demand?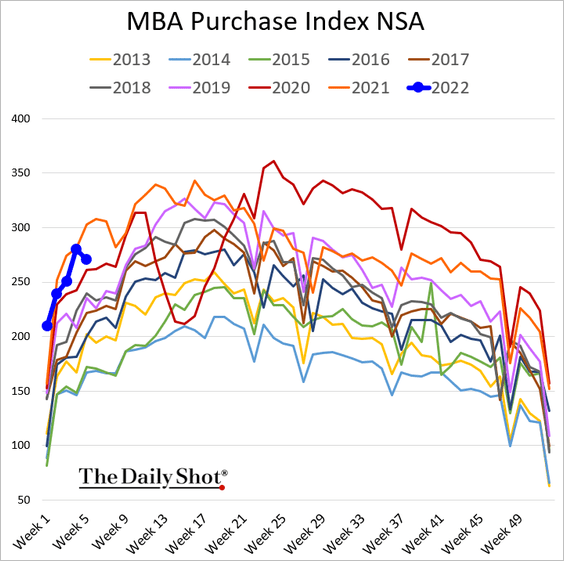 The 30-year mortgage rate is approaching 4%, …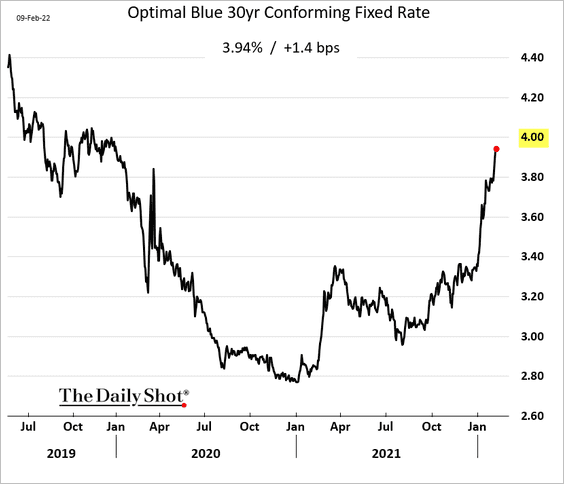 … putting pressure on affordability. This chart shows the monthly payment based on the loan size and mortgage rate.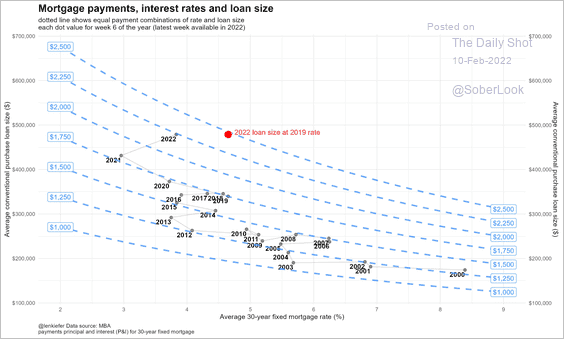 Source: @lenkiefer
——————–

3. What should we expect from the CPI report today. Here is the distribution of forecasts compiled by Bloomberg.


Source: @TheTerminal, Bloomberg Finance L.P.

Has the CPI peak shifted to February?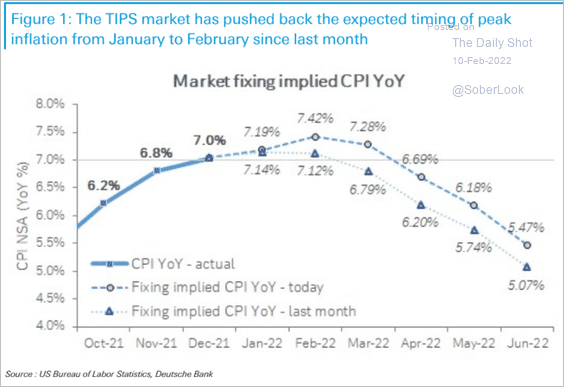 Source: Deutsche Bank Research
——————–

4. It's more common for the Fed to lead other central banks in rate hikes. But not this time.


Source: @jnordvig

5. Trucking companies' sales appear to have peaked, according to a survey from Evercore ISI.


Source: Evercore ISI Research

6. Temp employment has been growing rapidly.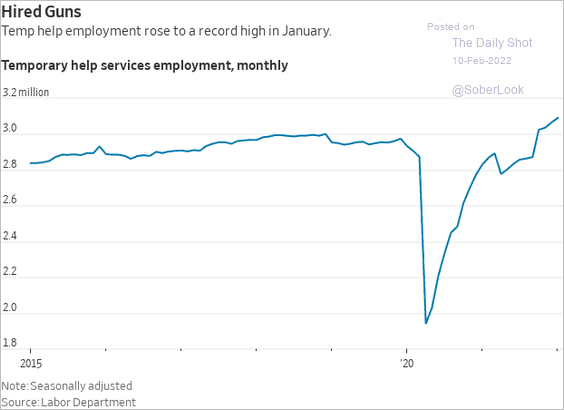 Source: @WSJ Read full article

7. The recent surge in compensation costs should boost productivity gains.


Source: Deutsche Bank Research
---
Back to Index
The United Kingdom
1. The housing market heated up in January.




2. Switching to politics, here is the number of ministerial resignations, excluding regular political turnover.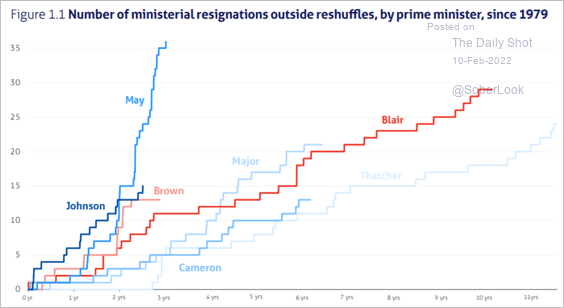 Source: Whitehall Monitor 2022 Read full article
---
Back to Index
The Eurozone
1. Germany's trade surplus continues to shrink.




The trade deficit with China has exploded.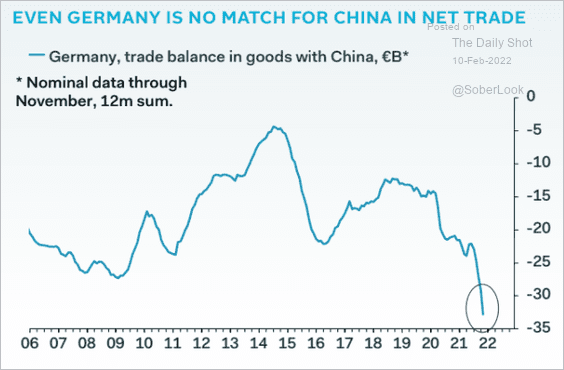 Source: Pantheon Macroeconomics

German imports are soaring.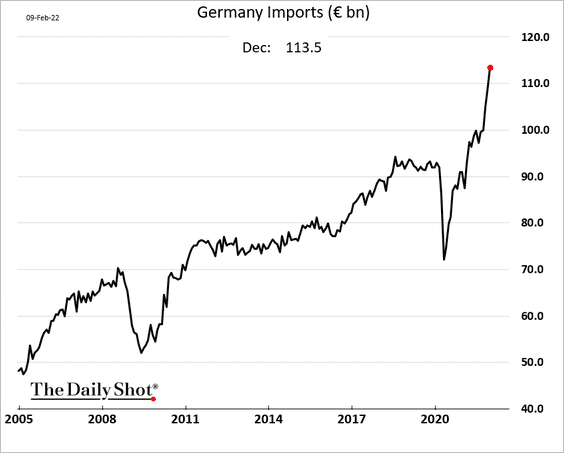 ——————–

2. Italian industrial production declined in December but has generally held up very well.




3. Dutch factory output continues to surge.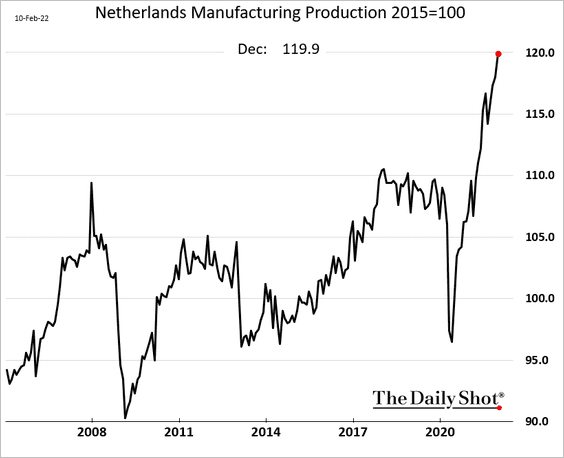 The nation's CPI is nearing 8% as energy prices spike.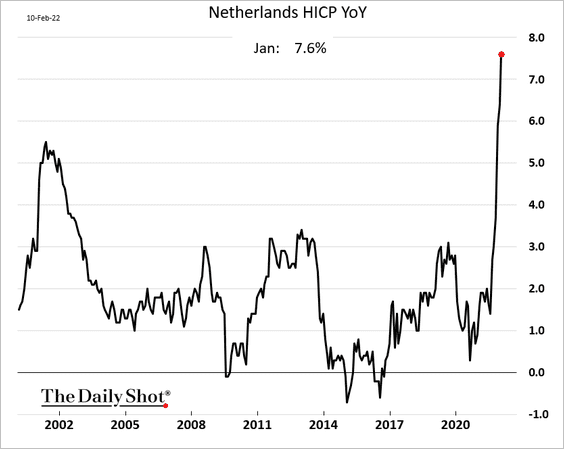 ——————–

4. Market expectations for the ECB rate trajectory keep moving higher.




5. Bank lending rates to businesses have been steadily moving lower since 2014. Have they bottomed?


Source: ECB Read full article

6. Which factors have been limiting production?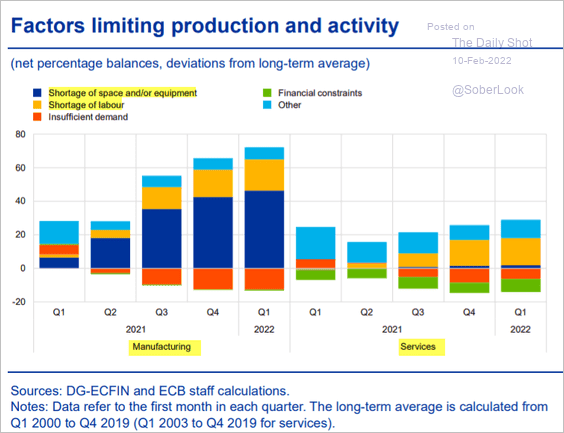 Source: ECB Read full article
---
Back to Index
Asia – Pacific
1. JGB yields keep climbing.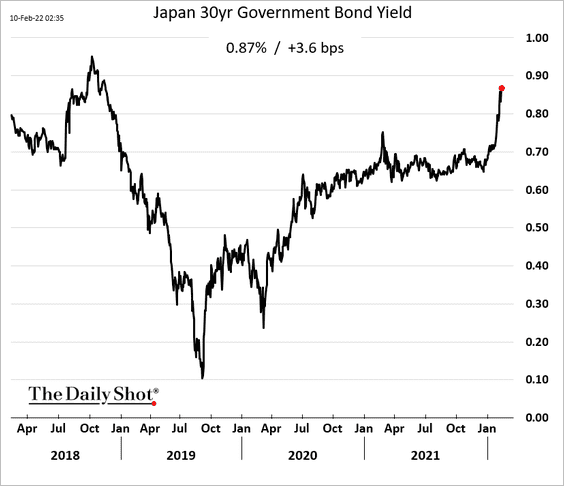 2. Australia's inflation expectations increased this month.


---
Back to Index
Emerging Markets
1. Let's begin with some updates on Russia.

• The core CPI (a bit higher than expected in January):




• Real wages index (through November):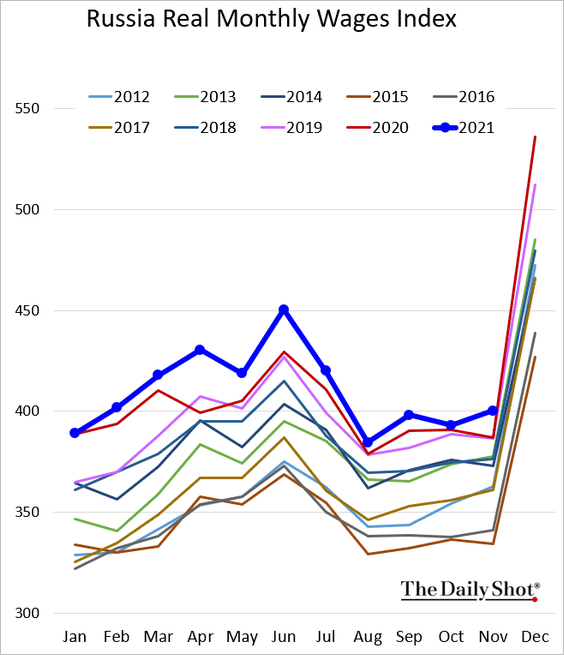 • Construction activity (nominal RUB):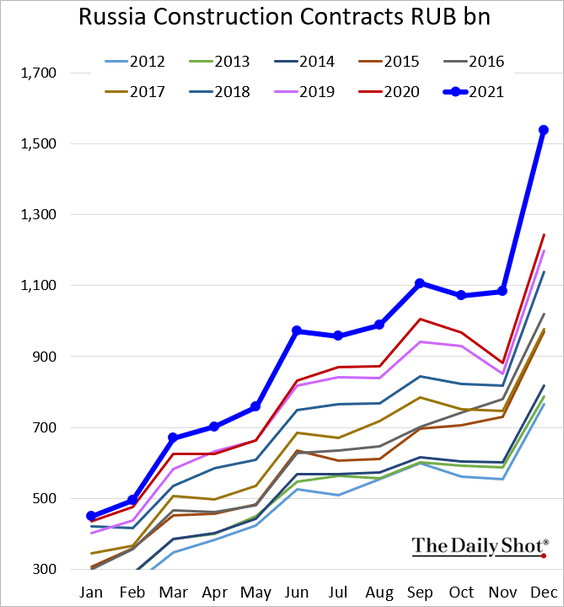 • Geopolitics-driven capital outflows (offsetting robust current account surplus):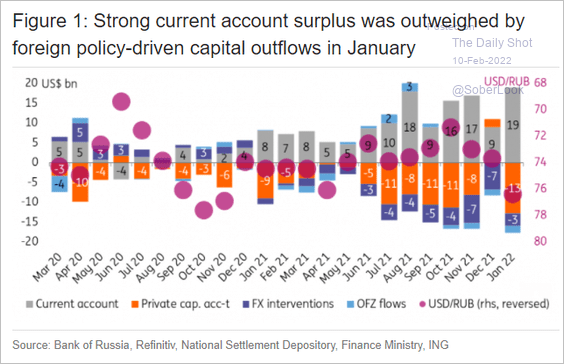 Source: ING
——————–

2. Brazil's CPI remains elevated.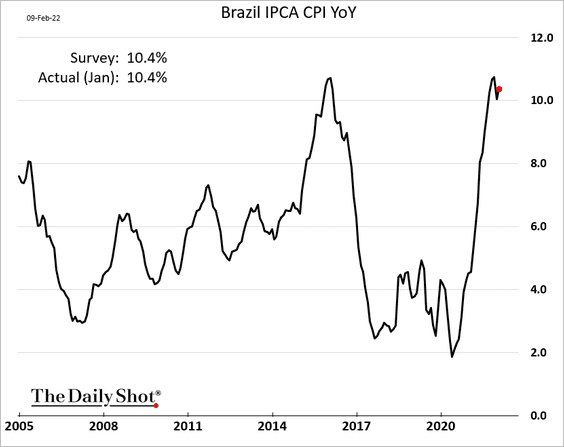 Retail sales are holding below pre-COVID levels.


——————–

3. The Mexican core CPI blasted past 6%.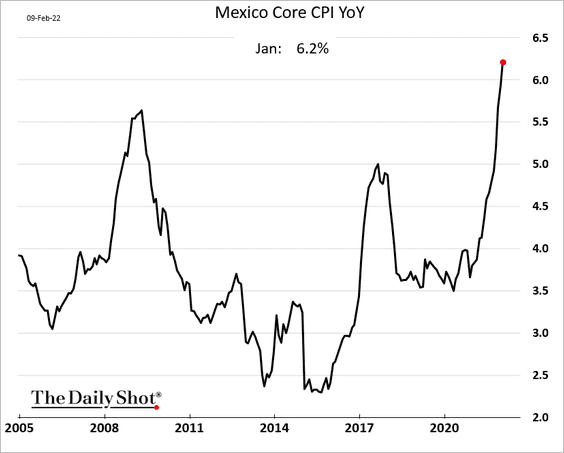 4. This chart shows LatAm 2022 growth forecasts vs. the two-decade average prior to the pandemic.


Source: Natixis
---
Back to Index
Cryptocurrency
1. XRP and LTC have outperformed top cryptos over the past week.


Source: FinViz

2. For now, bitcoin is holding above its 50-day moving average but faces initial resistance at $46.8K


Source: CoinDesk Read full article

3. The total volume of buy orders by takers in BTC perpetual swaps ticked lower on Tuesday and has not kept up with the recent price bounce. That could indicate caution among derivative traders.


Source: CryptoQuant Read full article
---
Back to Index
Commodities
1. Gains in iron ore prices are accelerating, even as Beijing tries to slow the rally.


Source: Reuters Read full article
——————–

2. Gold has held up well despite real rates (inverted in the chart below) rising sharply this year.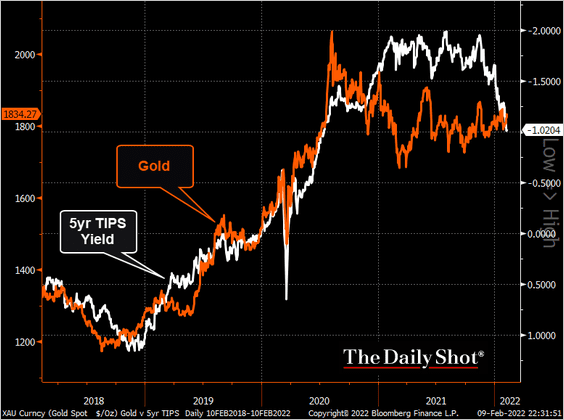 Source: @TheTerminal, Bloomberg Finance L.P.

3. Russia produces over a third of the world's palladium.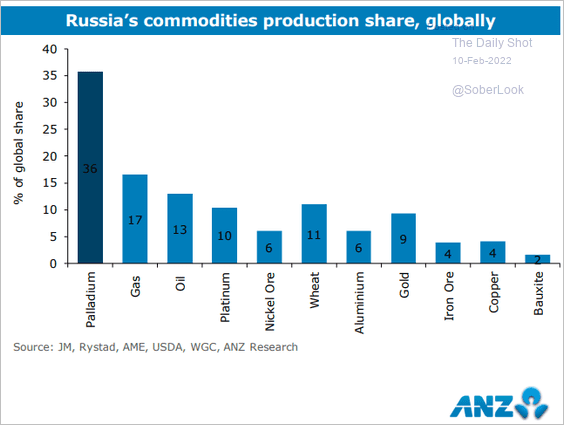 Source: ANZ Research

4. Arabica coffee futures hit the highest level in over a decade.



Source: @markets Read full article

5. Bloomberg's agriculture index is at the highest level since 2014.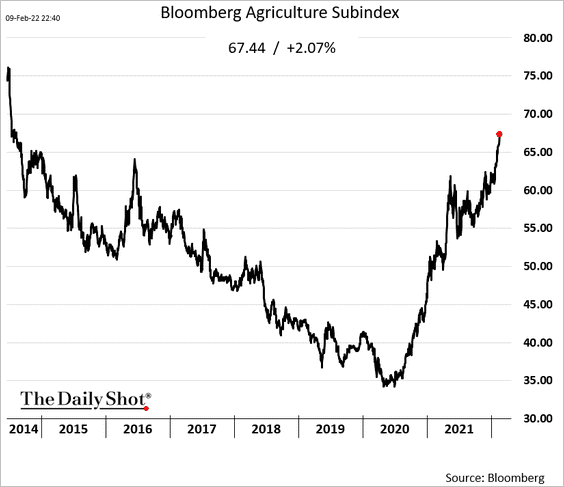 6. Many commodities are in backwardation amid tight supplies.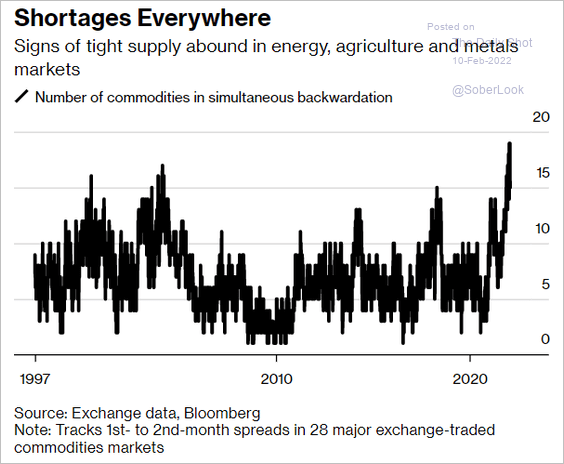 Source: Bloomberg Read full article
---
Back to Index
Energy
1. US crude oil inventories were lower than expected last week (2 charts).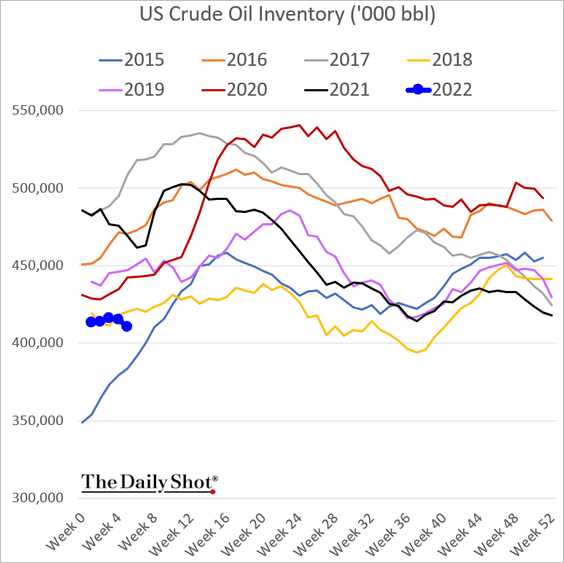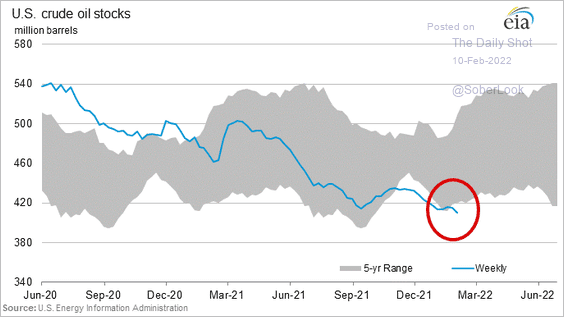 Source: Reuters Read full article

• Oil stocks at Cushing, OK (the WTI futures settlement hub) continue to slump.




• Distillates stockpiles are at multi-year lows.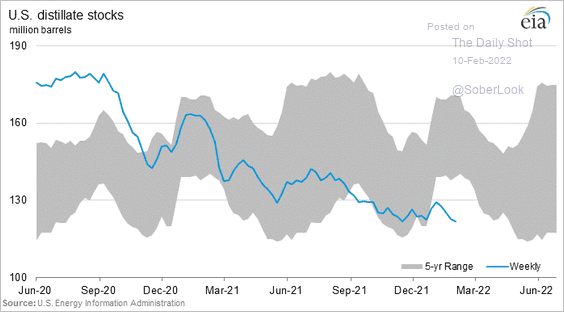 • Here is the total liquids inventory.


Source: @HFI_Research

2. Gasoline demand jumped last week, …




… and inventories moved lower.


——————–

3. The chart below displays estimates of "LNG tightness," an indicator of how profitable existing export projects are based on prices for TTF in the Netherlands, the ANEA spot price in Asia, and Henry Hub price in the US. Tightness is expected to decline, albeit with margins above $3/MMBtu, thereby incentivizing new projects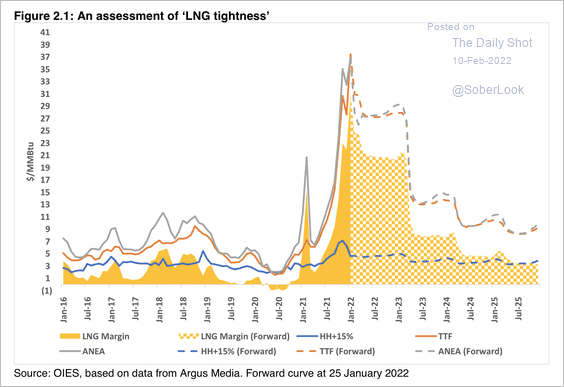 Source: OIES Read full article

4. The US could firmly become a net exporter of crude oil by the end of next year.


Source: EIA

The US continues to grow its exports of hydrocarbons.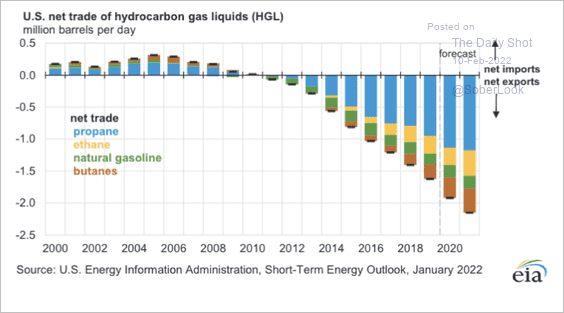 Source: EIA
---
Back to Index
Equities
1. There has been quite a bit of shorting since the start of the year.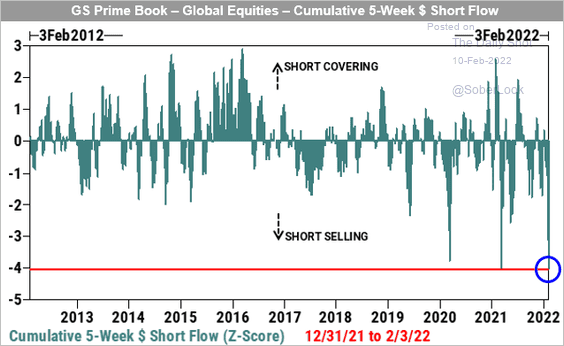 Source: Goldman Sachs; @MichaelGoodwell

Traders are very short the Russell 2000 (small-cap) futures.


Source: @LizAnnSonders
——————–

2. More tech stocks are starting to return above their 200-day moving average.


Source: SentimenTrader

3. The proportion of S&P 500 companies beating on sales is still relatively high. …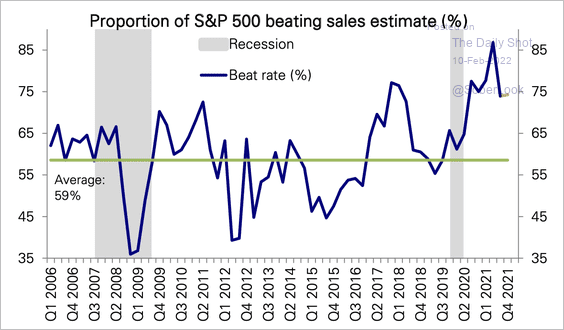 Source: Deutsche Bank Research

… But the proportion of companies beating on margins has fallen below the historical average, …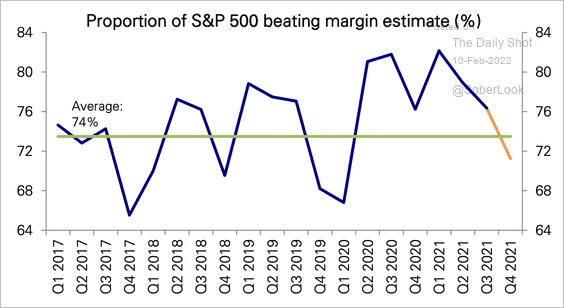 Source: Deutsche Bank Research

… as higher costs cut into profit margins.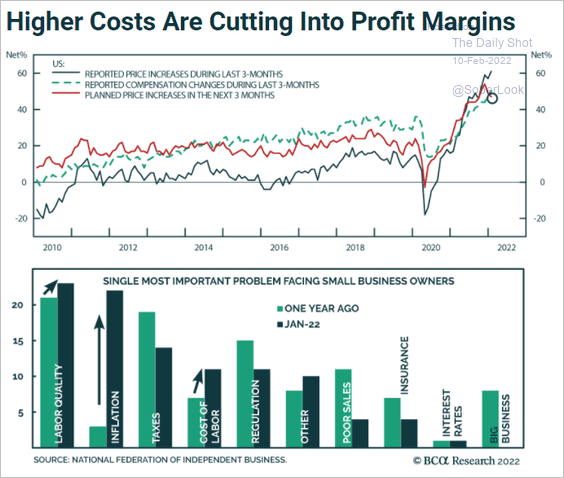 Source: BCA Research
——————–

4. Which sectors have the highest concentrations?


Source: S&P Global Market Intelligence

5. Companies tend to outperform after stock split announcements.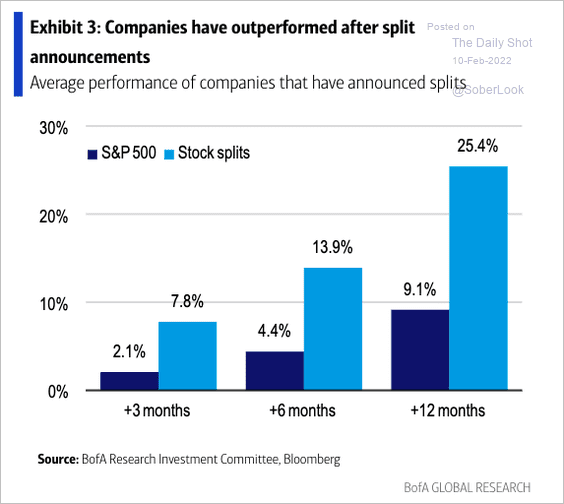 Source: BofA Global Research; @SamRo
---
Back to Index
Alternatives
1. The median valuation of early-stage US venture startups jumped massively last year.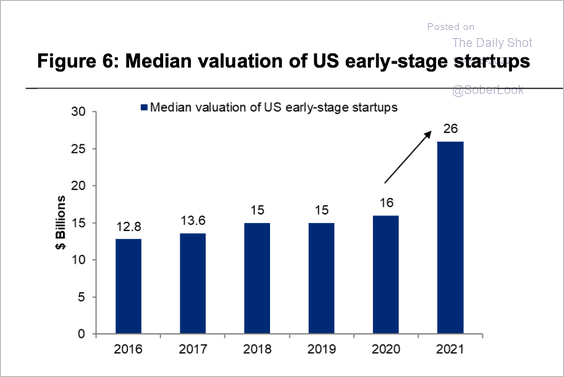 Source: Citi Private Bank

2. What do VCs do with their time?


Source: @emollick Read full article
---
Back to Index
Credit
The largest investment-grade bond ETF continues to see outflows.


Further reading
---
Back to Index
Rates
1. The yield curve keeps flattening as economic growth projections moderate while expectations for rate hikes move up.




The market now expects the yield curve to be inverted two years out.


——————–

2. While the Fed hasn't hiked rates yet, the central bank's hawkish shift has moved the shadow rates sharply higher.


Source: Deutsche Bank Research

3. What are the factors responsible for rising Treasury yields?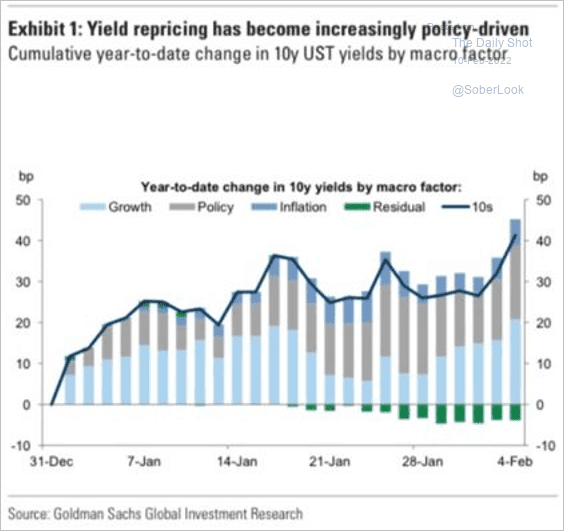 Source: Goldman Sachs

4. Unlike during the financial crisis, EM countries were net sellers of Treasuries in the Spring of 2020.


Source: Federal Reserve Board Read full article
---
Back to Index
Global Developments
1. How do changes in oil prices impact inflation in different countries?


Source: @TCosterg

2. Fiscal rules (restricting government debt/deficit) have been increasing globally.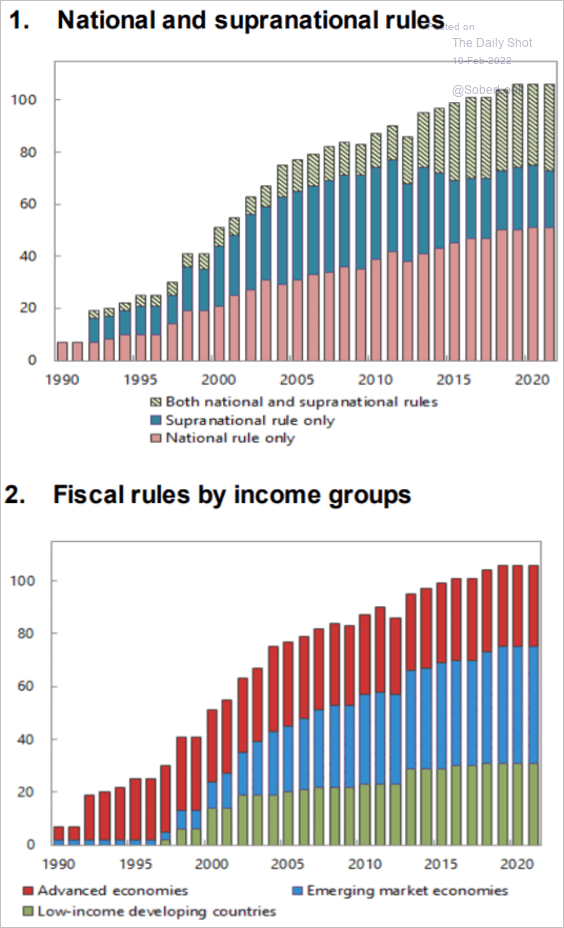 Source: IMF Read full article

3. How prevalent are floating rate mortgages in advanced economies (such as ARMs in the US)?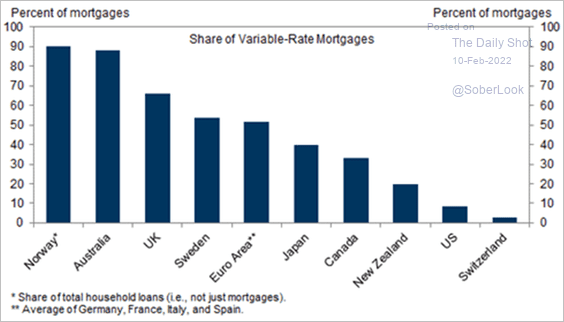 Source: @patrick_saner, @GoldmanSachs

4. Bridgewater has grown significantly less bullish on assets versus cash across the developed world in aggregate. The firm sees Japan and Australia having further room for stimulative policy to run, while the US faces high inflation and growing pockets of asset bubbles.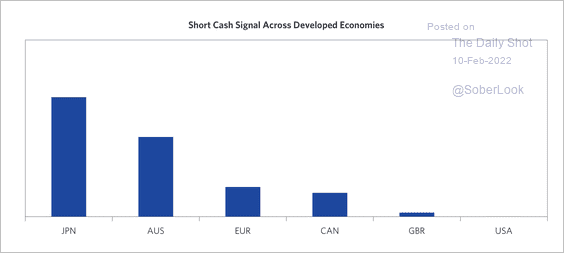 Source: Bridgewater Associates

5. A slowing Chinese economy would reverberate across the globe.


Source: Quill Intelligence
---
——————–
Food for Thought
1. US federal government revenues: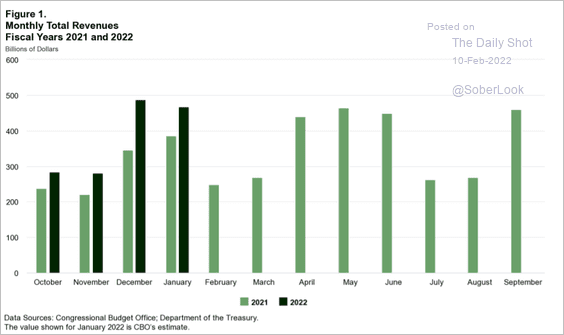 Source: CBO Read full article

2. China's dominance in clean-energy metals:


Source: Visual Capitalist Read full article

3. Corruption rankings: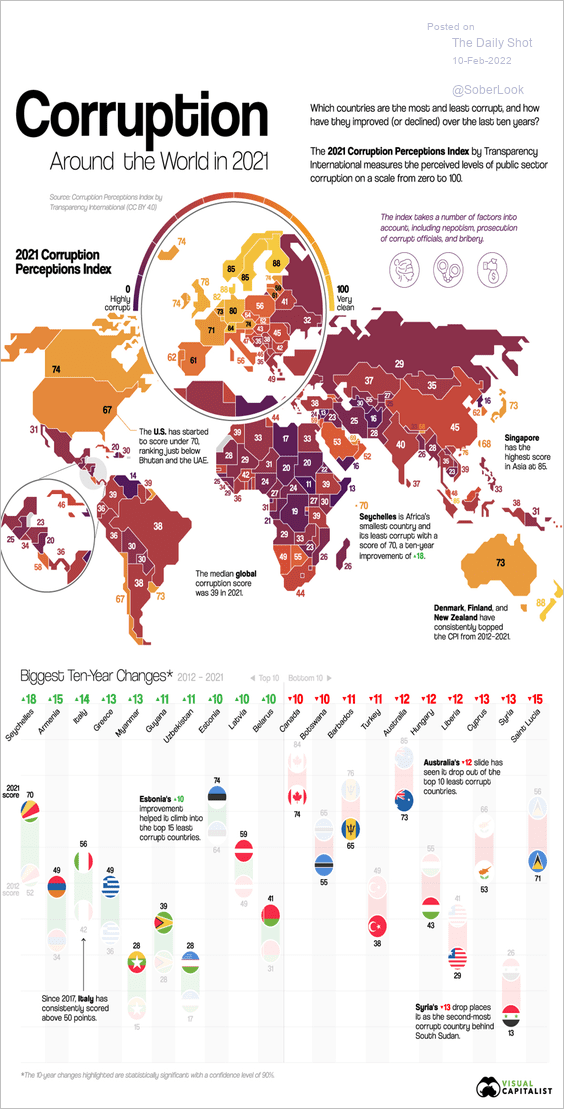 Source: Visual Capitalist Read full article

4. Drug overdose rates by race and gender: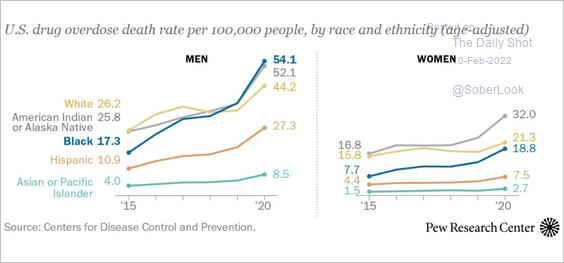 Source: @pewresearch Read full article

5. Using bicycles or mopeds for daily commute: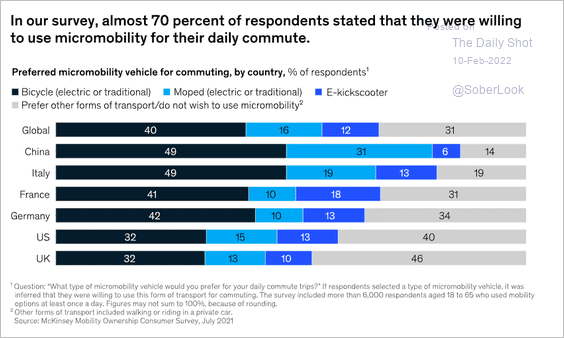 Source: McKinsey & Company Read full article

6. Cell phone price depreciation: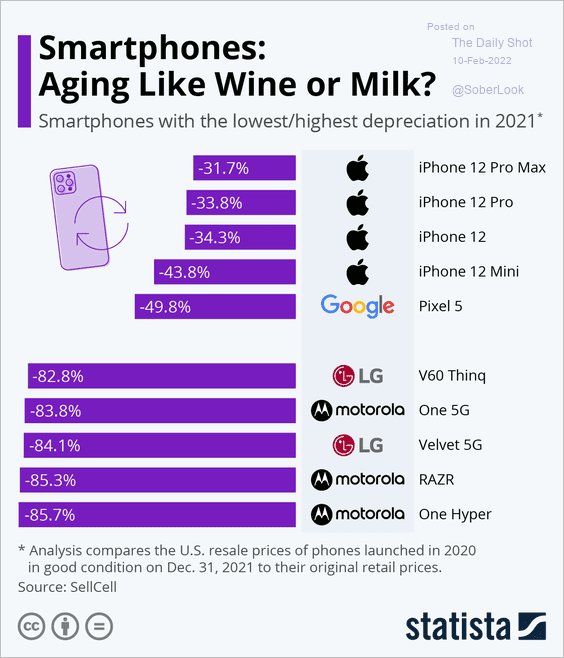 Source: Statista

7. Saving time by not commuting: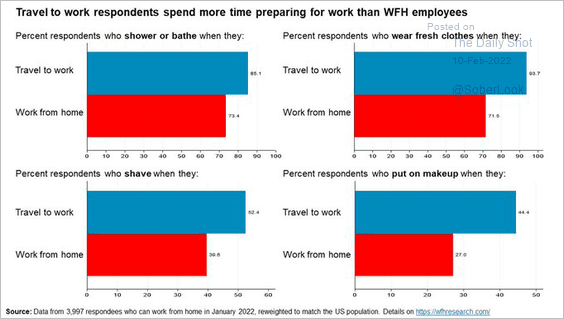 Source: @I_Am_NickBloom

8. Ice skating competition: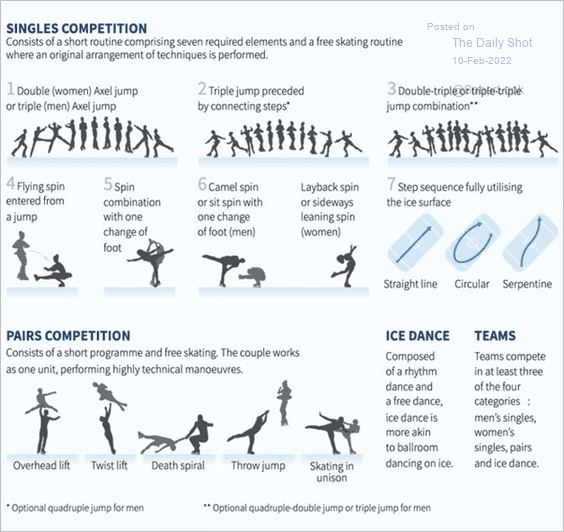 Source: @ReutersGraphics Read full article
——————–
---
Back to Index
---