The Daily Shot: 17-Feb-22
• The United States
• Canada
• The United Kingdom
• The Eurozone
• Japan
• Asia – Pacific
• China
• Emerging Markets
• Commodities
• Energy
• Equities
• Rates
• Global Developments
• Food for Thought
---
---
The United States
1. The FOMC minutes (from the Jan 25-26 meeting) were less hawkish than feared.

• There didn't seem to be any signal for a 50 bps rate hike in March.

• The Committee doesn't appear to be in a rush to begin the balance sheet roll-off.
Participants noted that the removal of policy accommodation in current circumstances depended on the timing and pace of both increases in the target range of the federal funds rate and the reduction in the size of the Federal Reserve's balance sheet. In this context, a number of participants commented that  conditions would likely warrant beginning to reduce the size of the balance sheet sometime later this year.
However, this was before the ugly January CPI report.

• Stocks moved higher.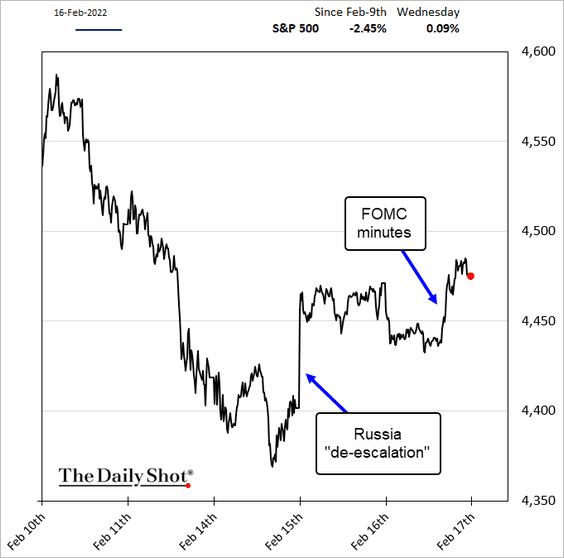 • The 2-year Treasury yield dropped.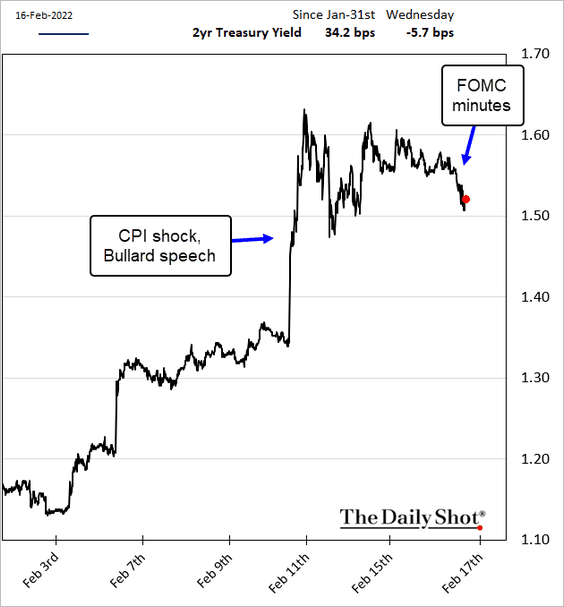 • The dollar was down.


——————–

2. US retail sales were much stronger than expected in January, with both the headline and the core indices rising sharply.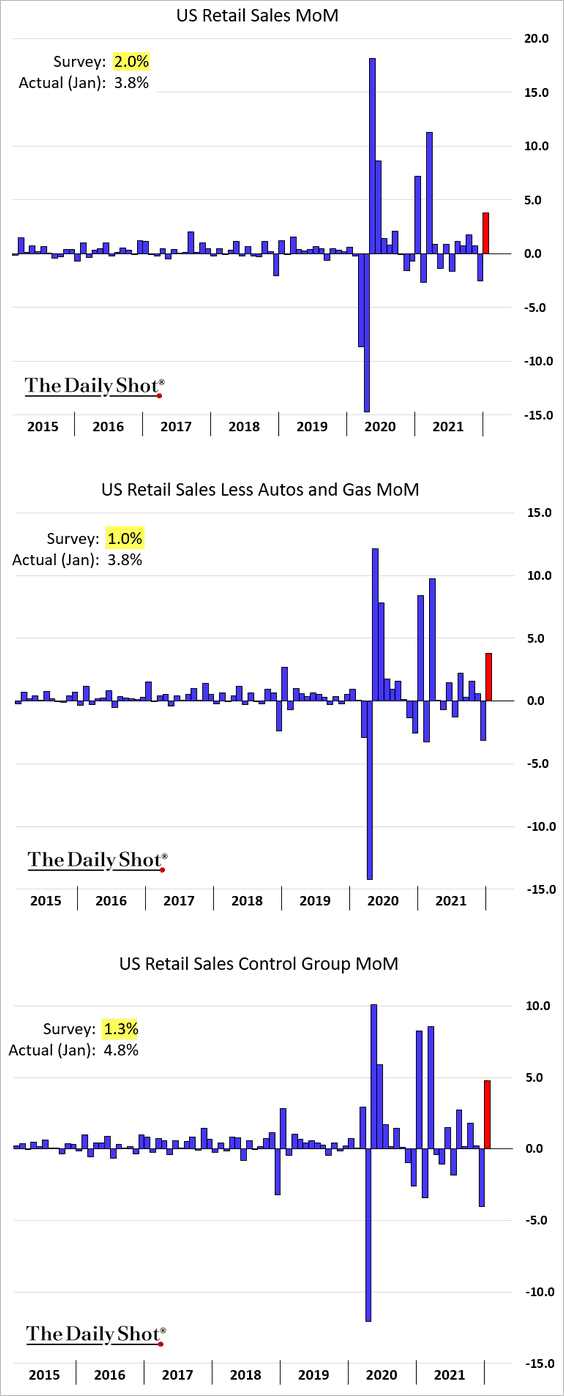 • US households continue to spend despite deteriorating sentiment.


Source: Piper Sandler 

• Here is the retail sales level (ex autos and gas) vs. the pre-COVID trend. The second panel shows the same index without the seasonal adjustments.




• If we adjust for inflation, retail sales are just slightly above trend.


Source: Mizuho Securities USA

• The recovery has been running well ahead of the post-2008 trend (this time, households had a substantial cash injection).


Source: Mizuho Securities USA

• Omicron forced consumers to do more shopping online.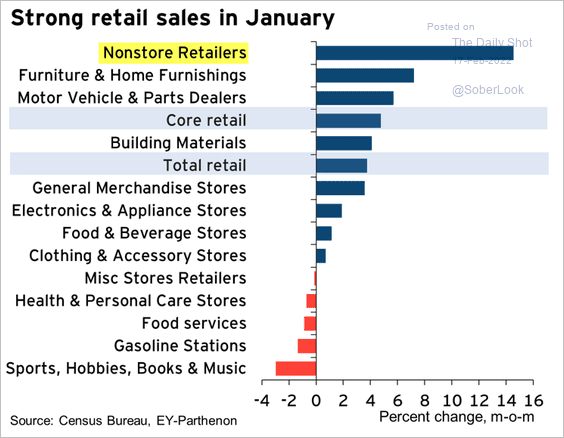 Source: @GregDaco

• The Q1 GDP estimates jumped in response to the retail sales beat.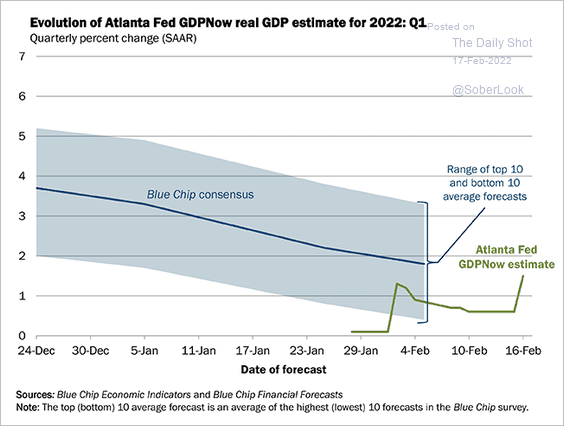 Source: @AtlantaFed Read full article

Here is the Citi Economic Surprise Index using only "hard data" (excluding survey data).


——————–

3. Business inventories skyrocketed in December.




4. Industrial production jumped in January, but much of the increase was from utilities output (due to cold weather).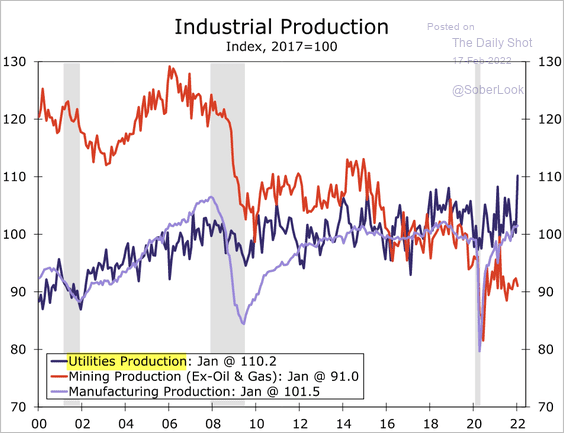 Source: Wells Fargo Securities

Manufacturing production increased only slightly.




Vehicle production slowed.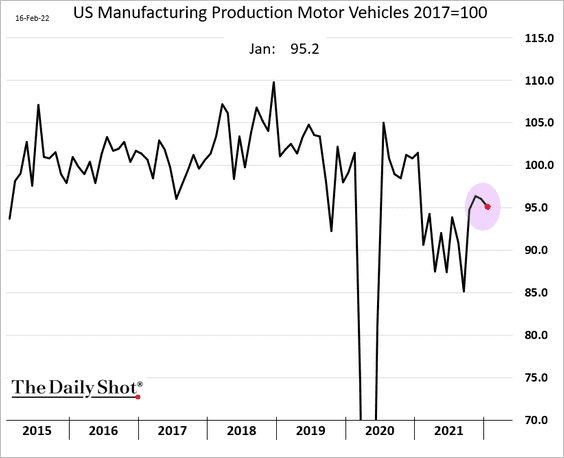 ——————–

5. Import prices continue to surge despite some strengthening in the US dollar.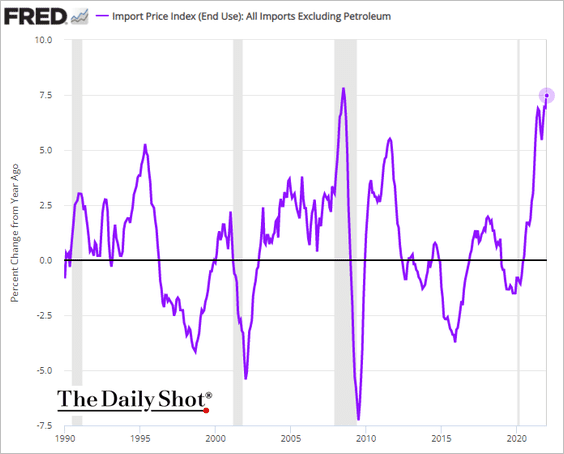 6. Mortgage applications are holding below last year's levels.




Homebuilder confidence softened further this month but remains well above pre-COVID levels.


——————–

7. The fiscal impulse is expected to turn negative over the next year.


Source: @TheTerminal, Bloomberg Finance L.P.

Fund managers now expect softer growth ahead.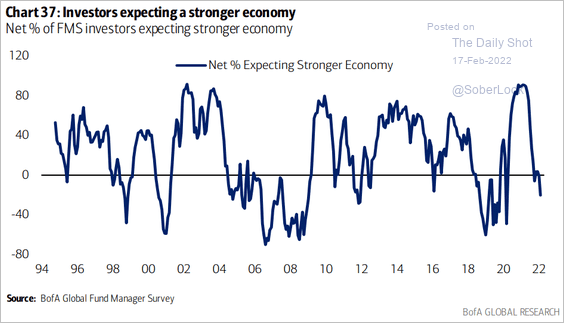 Source: BofA Global Research
---
Back to Index
Canada
1. Is someone taking the protest against vaccine mandates online?



Source: Bleeping Computer Read full article


Source: @JamesMelville
——————–

2. The January CPI topped forecasts, …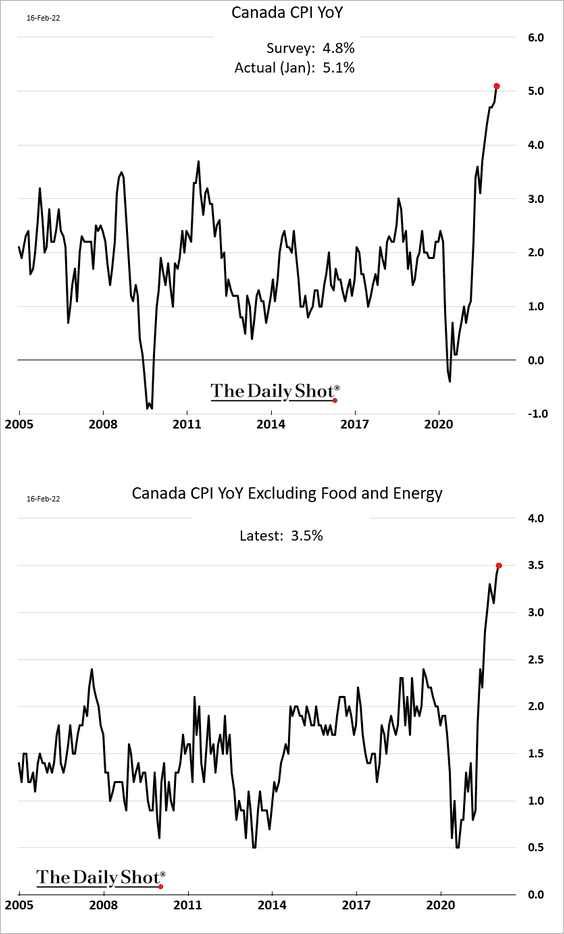 … with core inflation surging.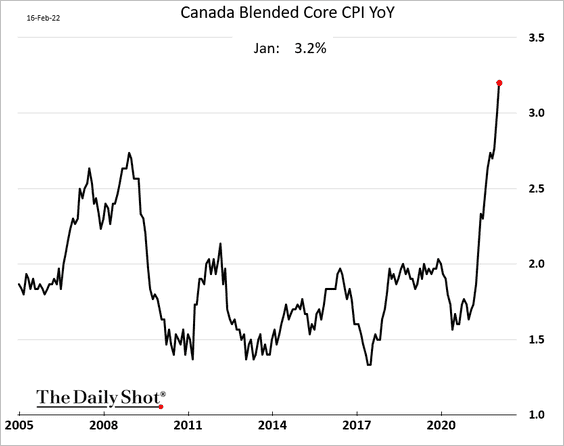 It's not just about base effects.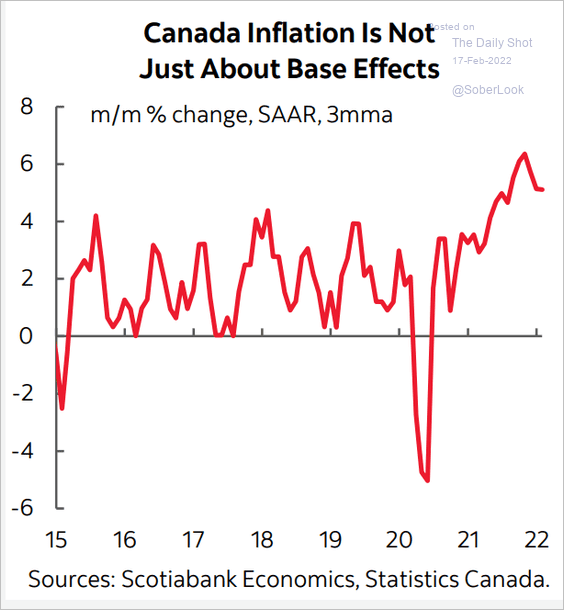 Source: Scotiabank Economics

Here are the trends for goods and services.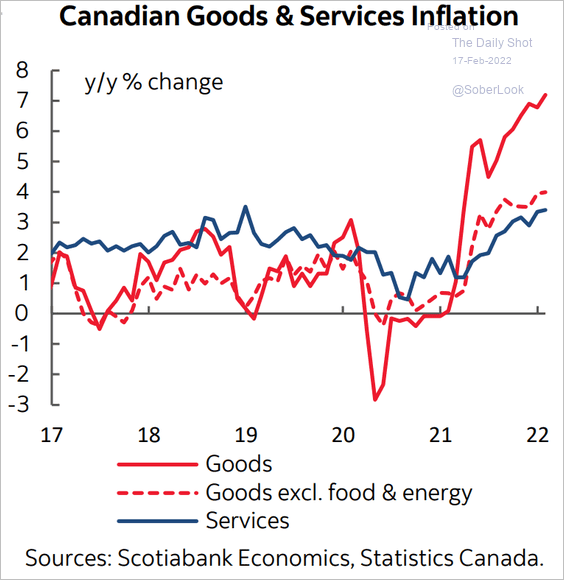 Source: Scotiabank Economics
——————–

3. Industrial sales have been very strong.


---
Back to Index
The United Kingdom
1. Consumer inflation topped expectations, with the core CPI continuing to surge.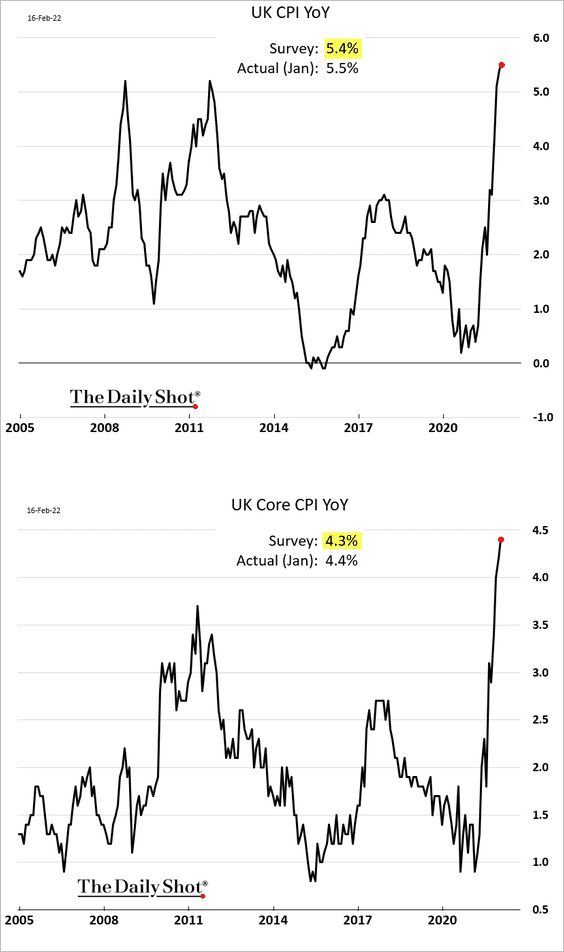 Here is the retail price index.




2. The PPI also surprised to the upside.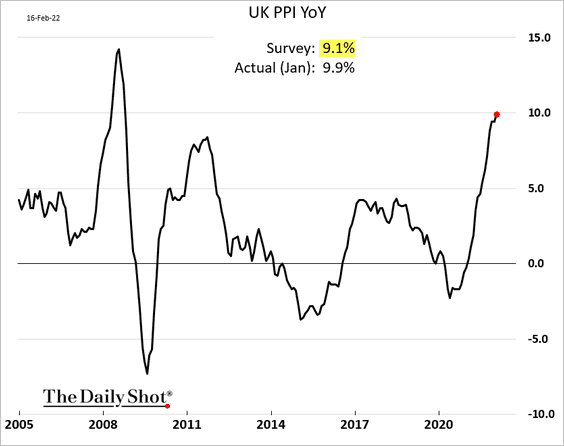 The PPI trend points to further gains in goods inflation.


Source: Pantheon Macroeconomics
——————–

3. Home price appreciation is holding above 10%.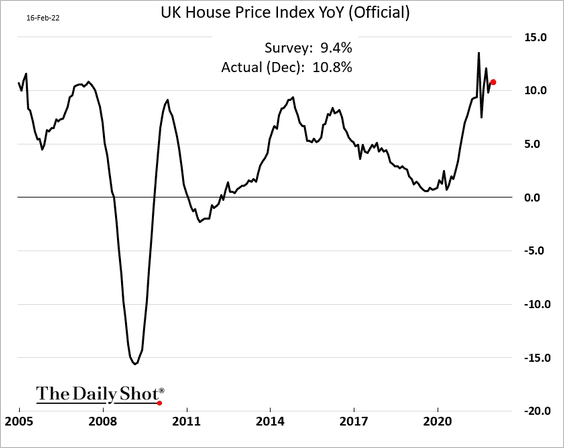 ---
Back to Index
The Eurozone
1. Industrial production is back at pre-COVID levels.




2. Leading indicators suggest that wage inflation will be just below 3% in Q4 2021 versus 2.5% in 2005-2006 when the ECB raised rates.


Source: Deutsche Bank Research

• Eurozone inflation could be near a peak.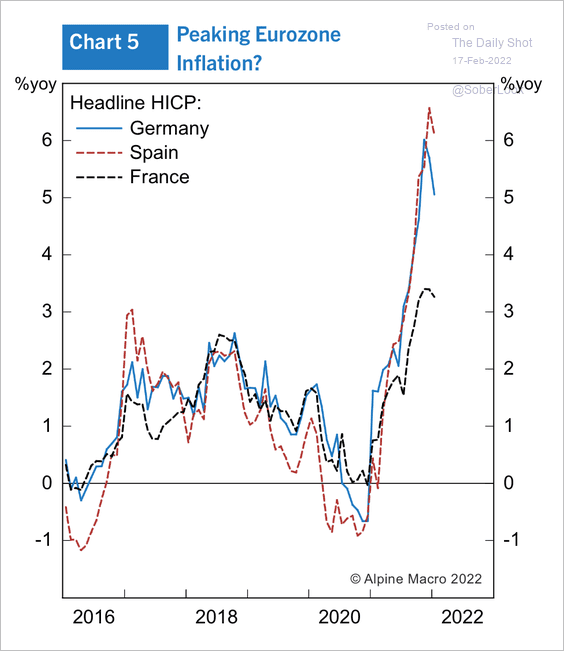 Source: Alpine Macro

• These charts compare the drivers of euro-area inflation to that of the US.



Source: ECB Read full article
---
Back to Index
Japan
1. The 30yr JGB yield is nearing 1% for the first time in six years.




The yield curve has been steepening.


——————–

2. The trade balance slipped deeper into deficit as energy prices surge, pushing imports sharply higher.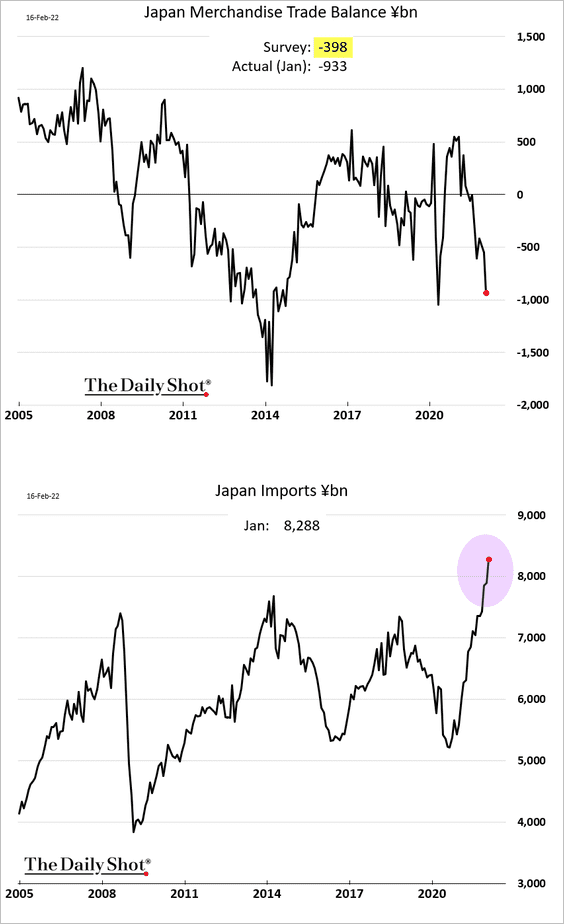 3. Core machinery orders continue to rebound.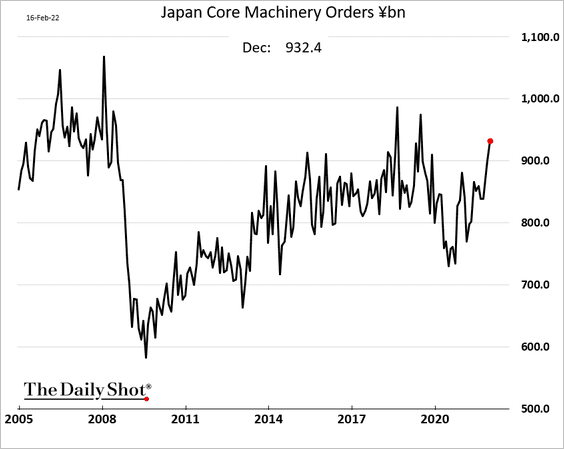 4. Fixed capital formation has declined alongside slowing population growth over the past 20 years.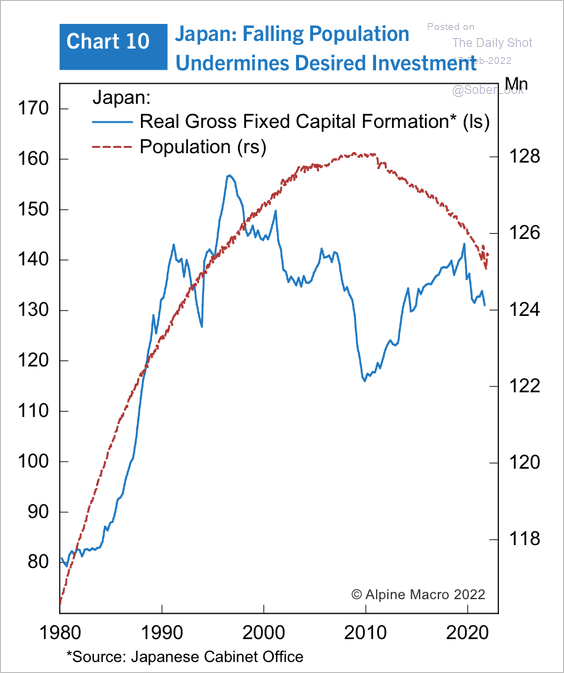 Source: Alpine Macro
---
Back to Index
Asia – Pacific
1. Singapore's exports hit a record high at the end of the year.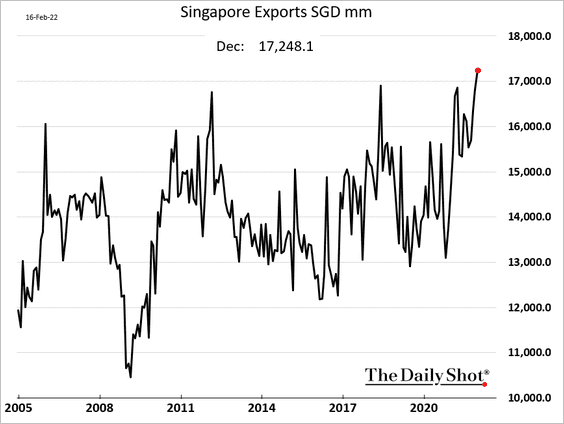 2. Australia's jobs report was firmer than expected.




• The unemployment rate remains near the lows.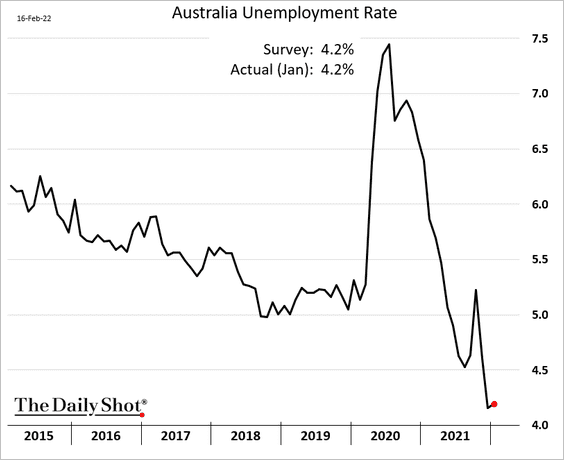 • Labor force participation has been very strong.


---
Back to Index
China
1. Despite some regulatory support from Beijing for property developers, USD-denominated high-yield debt continues to languish.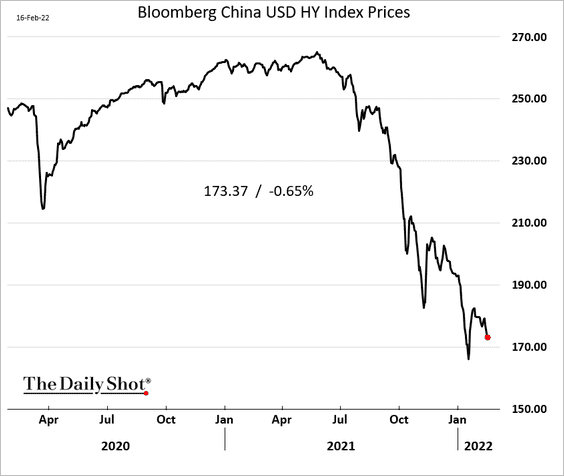 Source: Bloomberg

2. China's effective exchange rate has been much stronger than the CNY/USD cross.


Source: @jasonfurmanAn

3. For now, credit improvement hasn't boosted stock prices.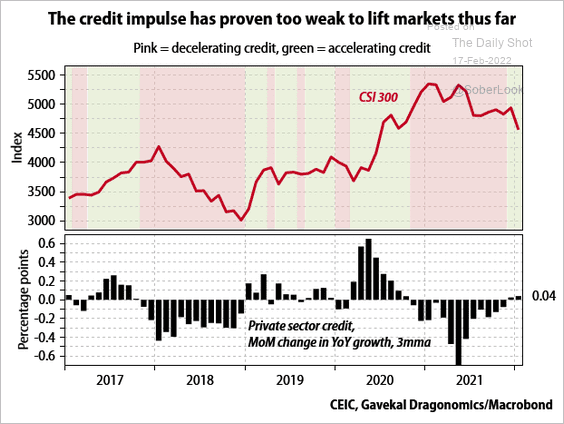 Source: Gavekal Research
---
Back to Index
Emerging Markets
1. South Africa's core inflation keeps moving higher.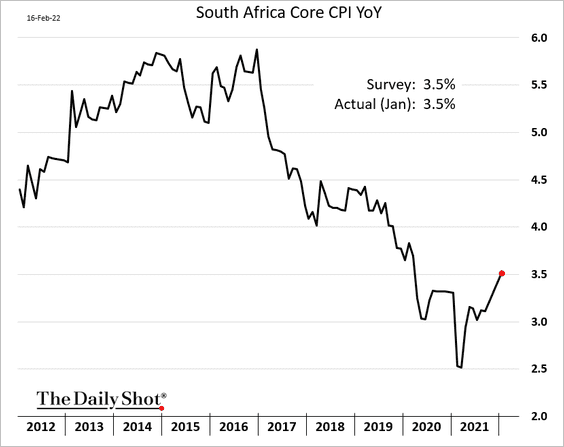 Retail sales have recovered from the riots-induced slump.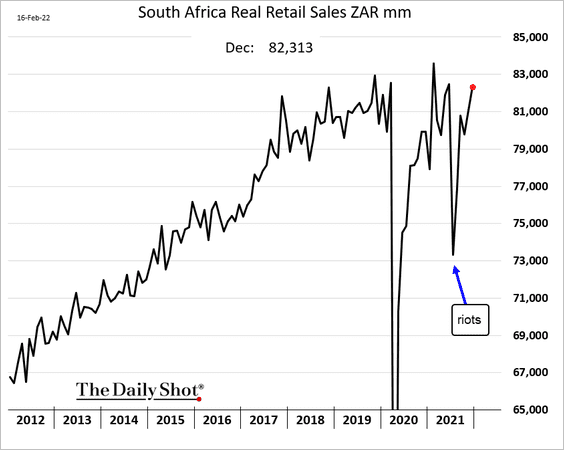 ——————–

2. Turkey's home prices are soaring as inflation spikes.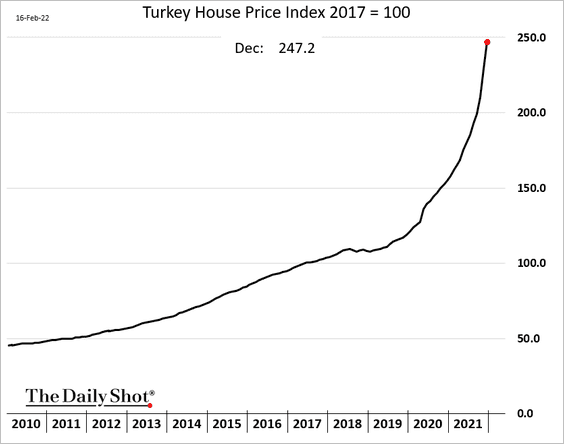 3. Colombia's economy is now running above the pre-COVID trend.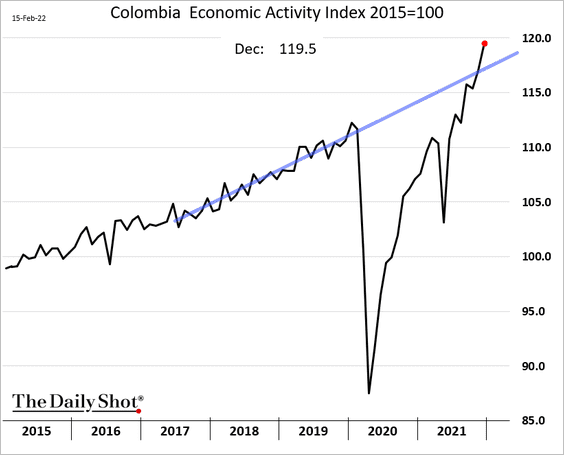 4. Most inflation reports have been surprising to the uispide.


Source: Oxford Economics

5. What share of the population is vaccinated?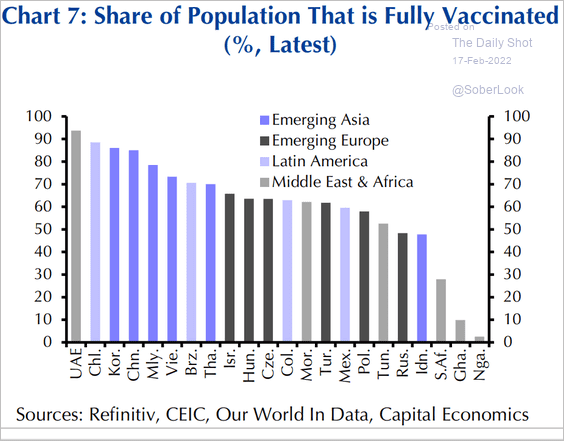 Source: Capital Economics
---
Back to Index
Commodities
1. Beijing has been jawboning iron ore prices lower.




2. US hog futures continue to climb.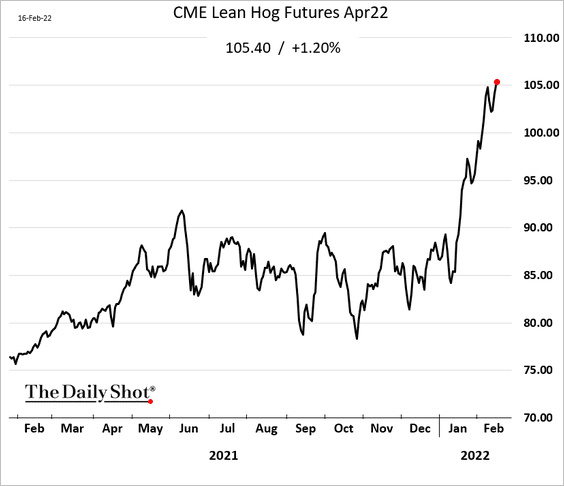 3. Fund managers are very bullish on commodities (and short bonds and tech).


Source: BofA Global Research
---
Back to Index
Energy
1. US crude oil and refined products stockpiles are at multi-year lows for this time of the year (3 charts).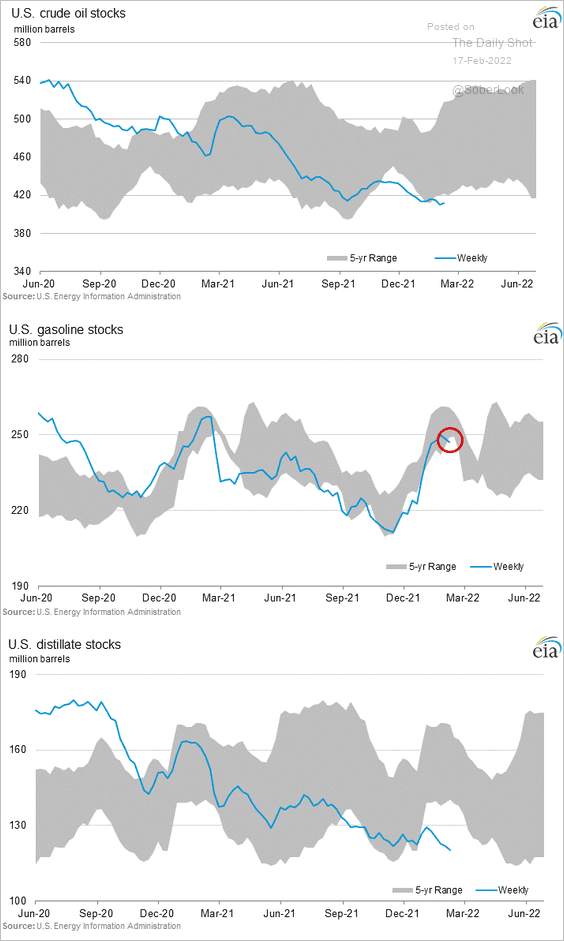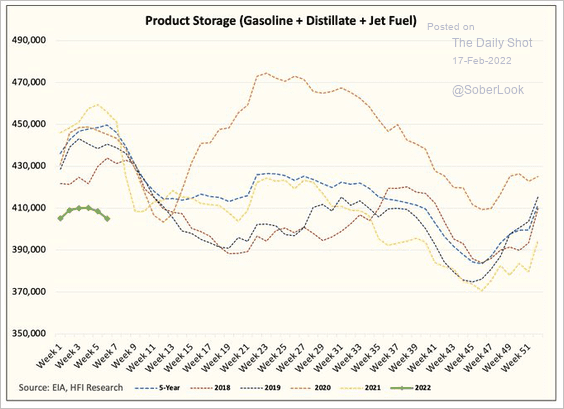 Source: @HFI_ResearchAs


Source: @HFI_ResearchAs

This chart shows oil inventories at Cushing, OK.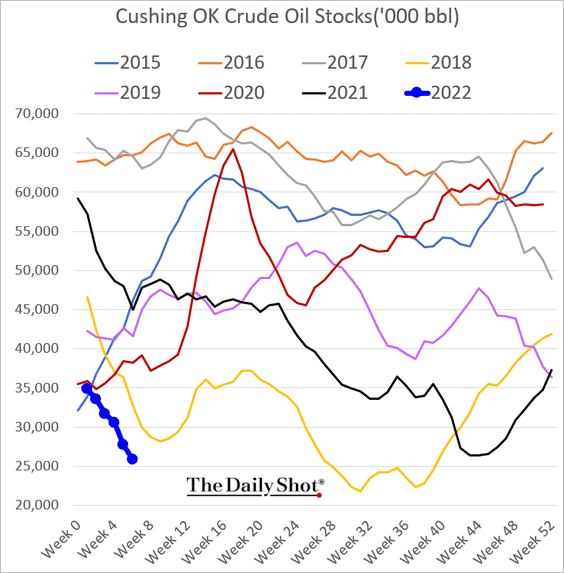 2. US demand for refined products at multi-year highs.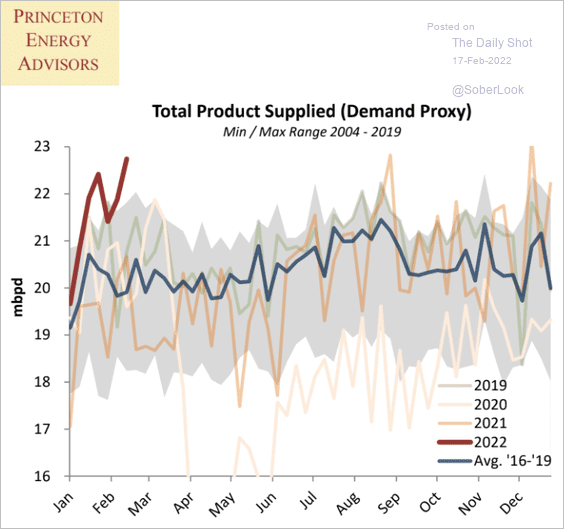 Source: Princeton Energy Advisors

3. This chart shows US liquids inventories in terms of days of supply.


Source: @HFI_ResearchDays
——————–

4. US offshore wind capacity is projected to rise quickly.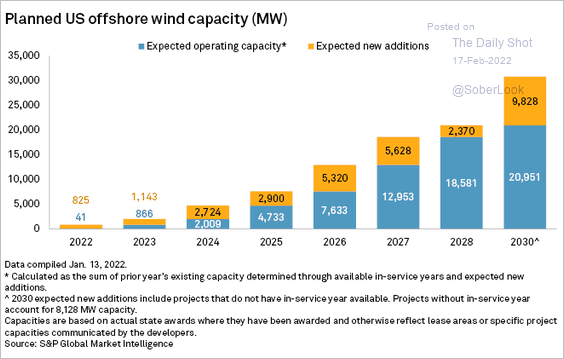 Source: S&P Global Market Intelligence

5. Russia's Gazprom is expected to have a significant amount of spare production capacity for the summer injection season, which could point to higher export growth to Europe in the coming months.


Source: Nadia Kazakova; REA Research

For now, the Gazprom-operated Redhen storage facility in Germany is running empty.


Source: @AndreasStenoIt Read full article
---
Back to Index
Equities
1. In addition to concerns around the Fed's tightening, equity investors remain nervous about the Ukraine/Russia situation.


Source: Reuters Read full article


——————–

2. Fund managers have boosted their cash positions.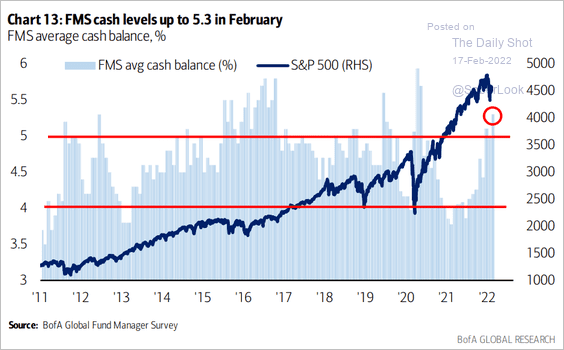 Source: BofA Global Research

3. Have US non-S&P 500 valuations bottomed relative to the S&P 500? Here is the ratio of forward PE ratios.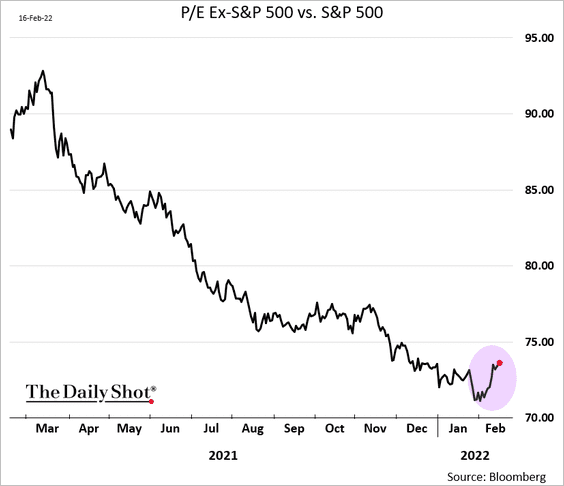 4. S&P 600 (small-cap) value stocks have been sharply outperforming growth this week.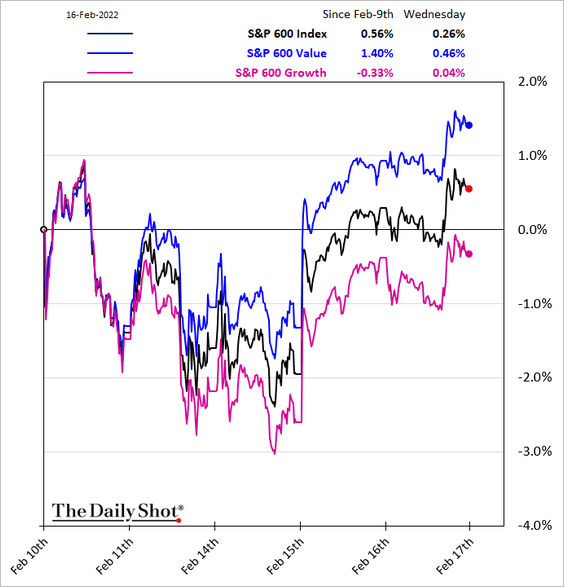 5. The ISM Manufacturing trend shows slower revenue growth ahead.


Source: Simon White, Bloomberg Markets Live Blog

6. How do US stocks perform under different GDP growth and real yield scenarios?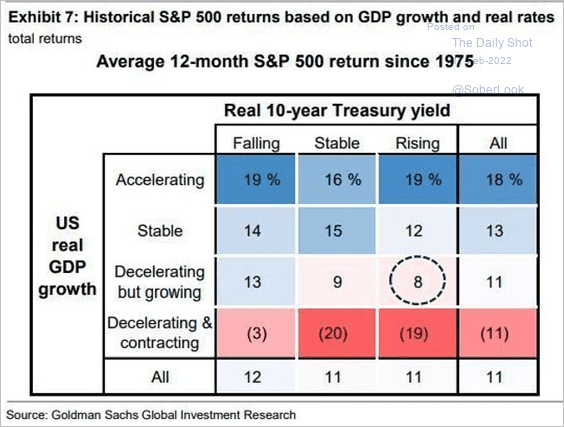 Source: Goldman Sachs

7. Correlated rising rates, once positive, have strongly added to the odds of outperformance for both European and US financial stocks.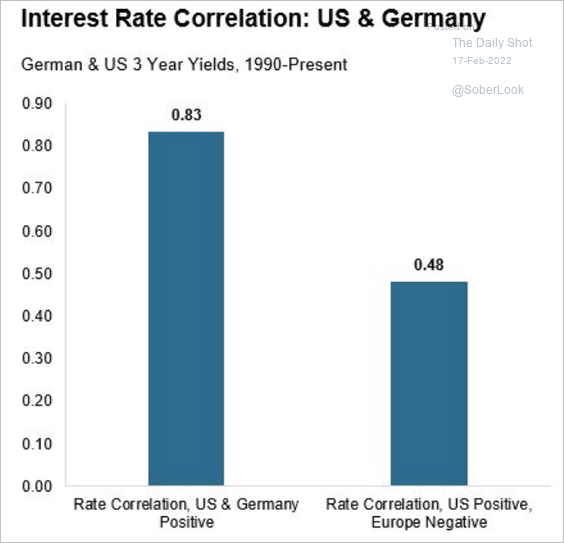 Source: Denise Chisholm; Fidelity Investments 

8. Here is a look at REIT price and income returns during different inflation periods.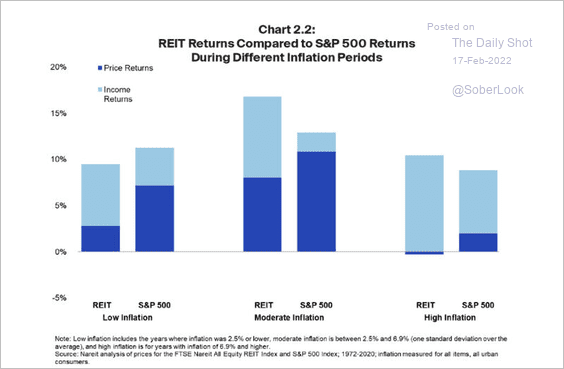 Source: Nareit Read full article

9. The betting markets' prediction for the outcome of the US midterm elections …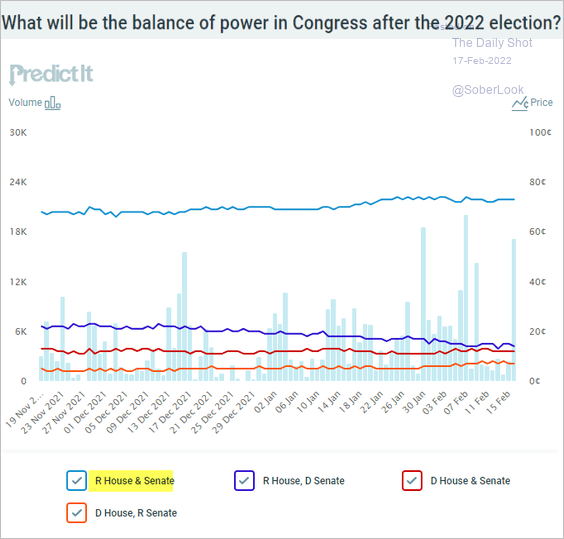 Source: @PredictIt

… should be good for stocks.


Source: Ryan Detrick, LPL Research
---
Back to Index
Rates
1. On average, bonds have weathered previous rate hike cycles with positive performance, albeit with much higher starting yields.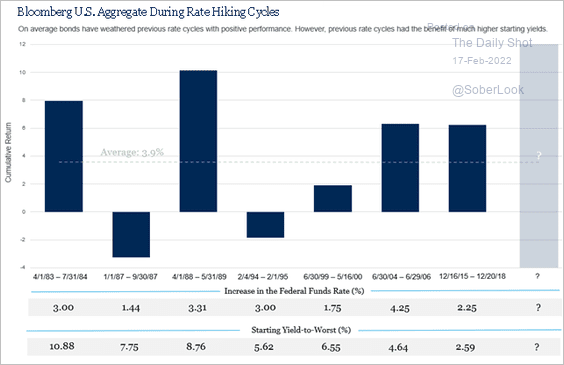 Source: Edge Capital Group Read full article

2. Japanese investors have been dumping foreign bonds.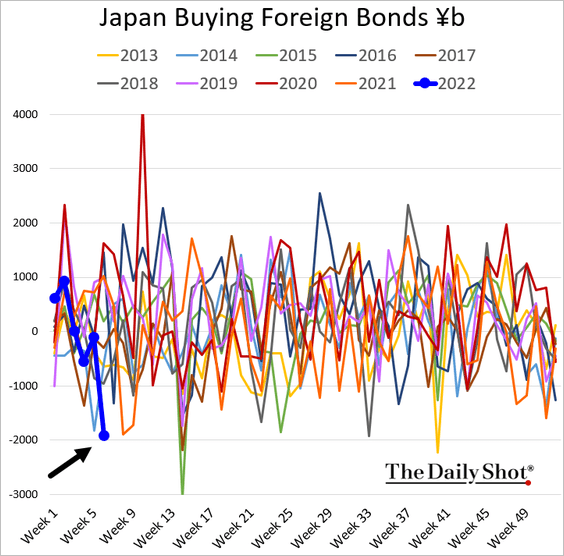 ---
Back to Index
Global Developments
1. Here is a look at how the Russia-Ukraine conflict could impact markets, according to Loomis Sayles.


Source: Loomis Sayles Read full article

2. This chart shows the year-to-date performance of DM trade-weighted currency indices.


---
——————–
Food for Thought
1. Tractor Supply vs. Lowes monthly visits: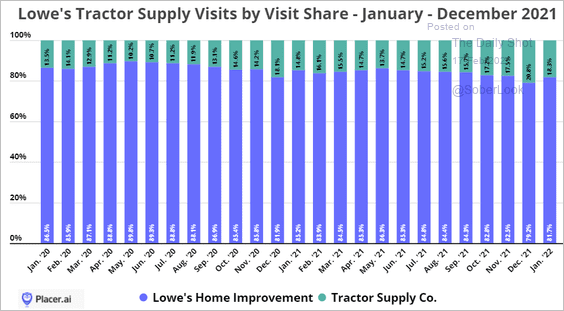 Source: Placer.ai

2. Agricultural resource use by diet:


Source: The Economist Read full article

3. Where will the next COVID variant emerge?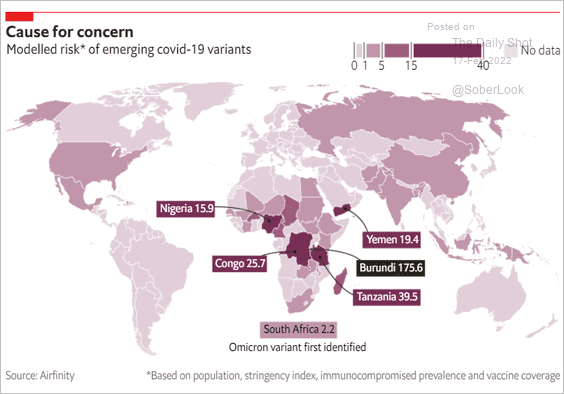 Source: The Economist Read full article

5. Experiencing motion sickness when using VR:


Source: Goldman Sachs

6. Online research prior to making a purchase: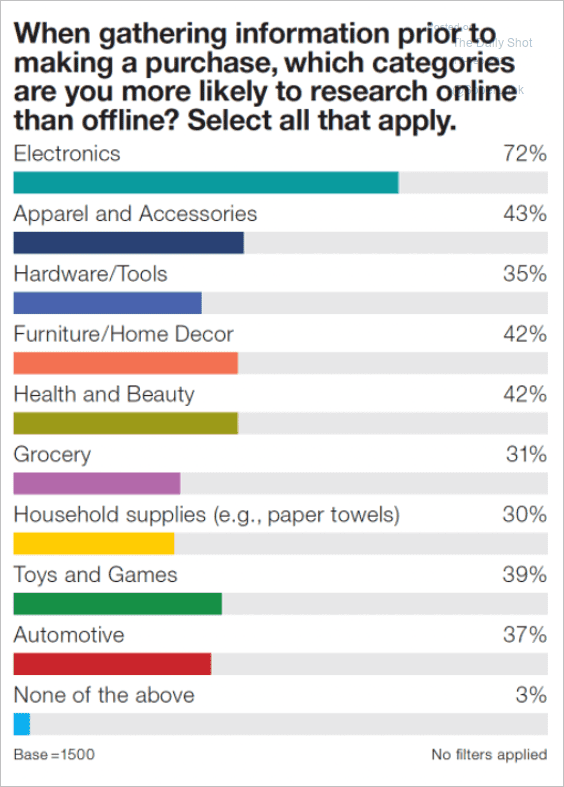 Source: IPSOS Read full article

7. Oscar nominations: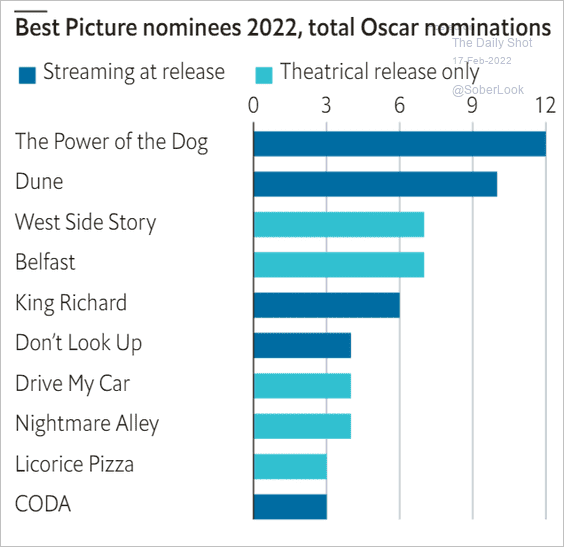 Source: The Economist Read full article
——————–
---
Back to Index
---