The Daily Shot: 23-Feb-22
• The United States
• The United Kingdom
• The Eurozone
• Asia – Pacific
• China
• Emerging Markets
• Cryptocurrency
• Commodities
• Energy
• Equities
• Food for Thought
---
---
The United States
1. The flash Markit PMI report exceeded forecasts this month, suggesting that business activity bounced back from the omicron dip.

– Manufacturing (2 charts):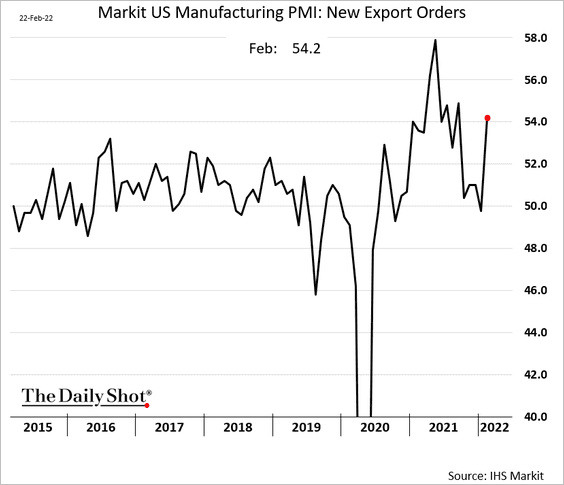 – Services: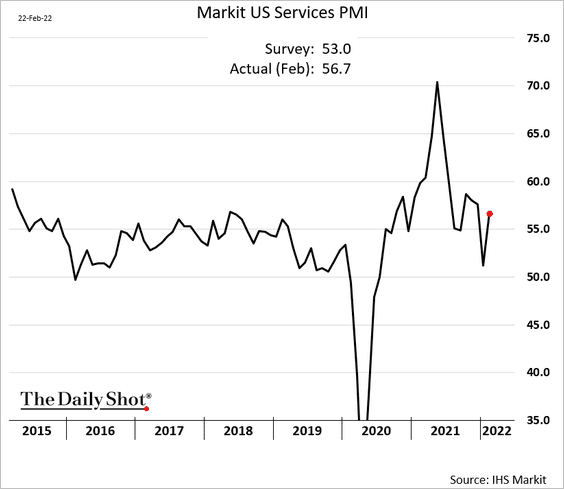 • Manufacturing price pressures persist, but the input price index appears to have peaked.




• Service firms have accelerated output price increases, which will feed into consumer inflation.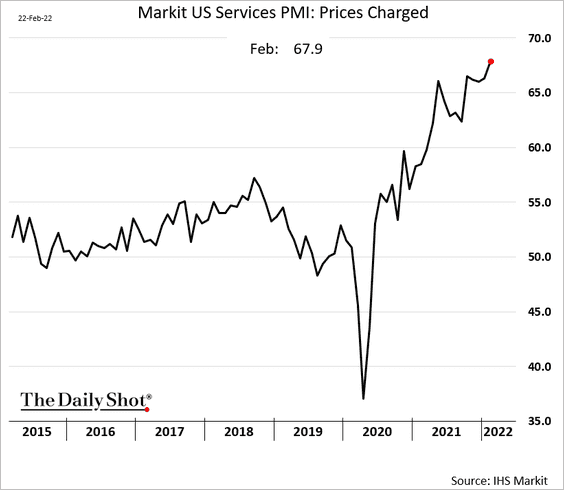 Here is the composite output price index (manufacturing + services).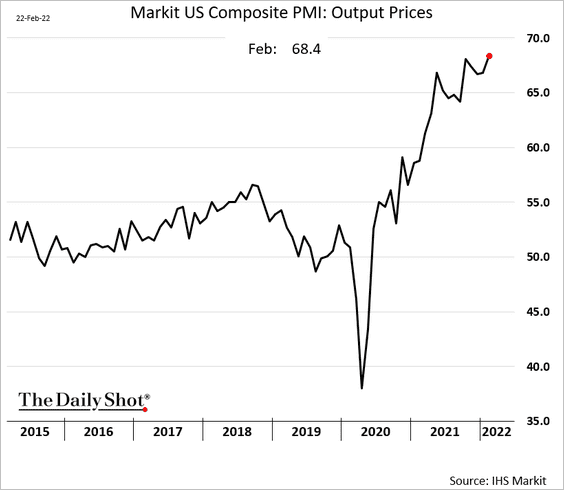 • Backlogs appear to be easing.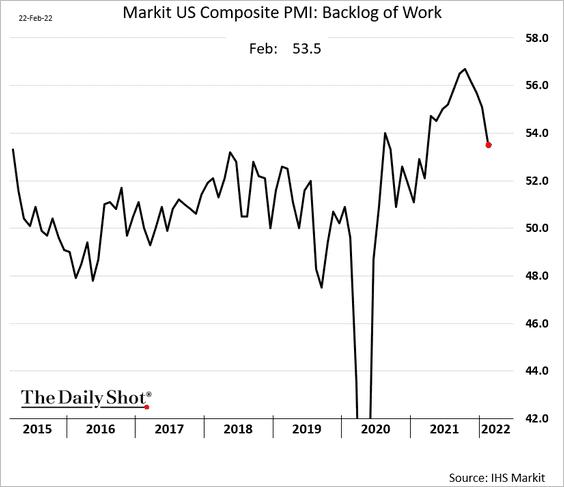 • Businesses remain upbeat about future output.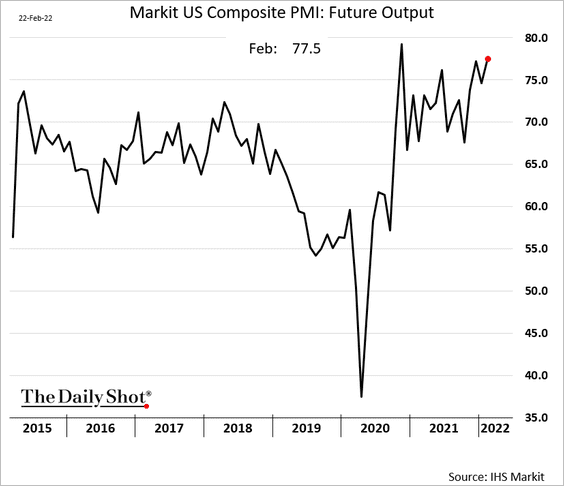 ——————–

2. The Richmond Fed's regional manufacturing index shows stalling growth this month.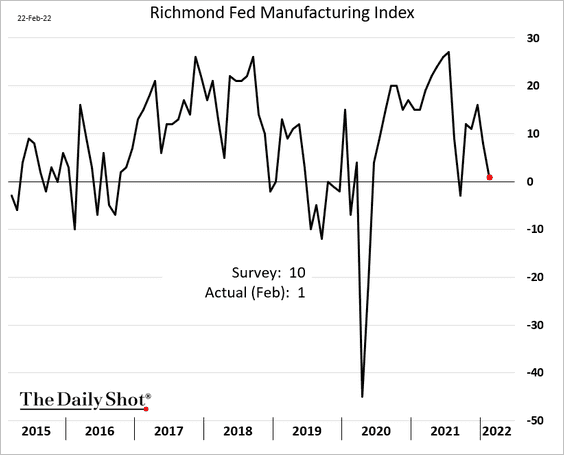 Capacity utilization deteriorated.




But businesses are more optimistic about the future.

• CapEx expectations: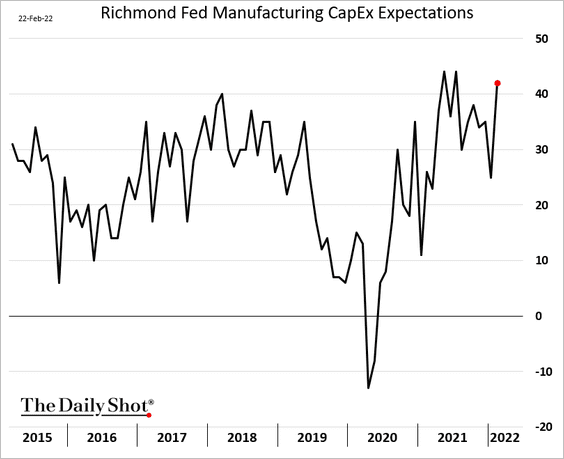 • Expected new orders:




Price pressures are starting to ease.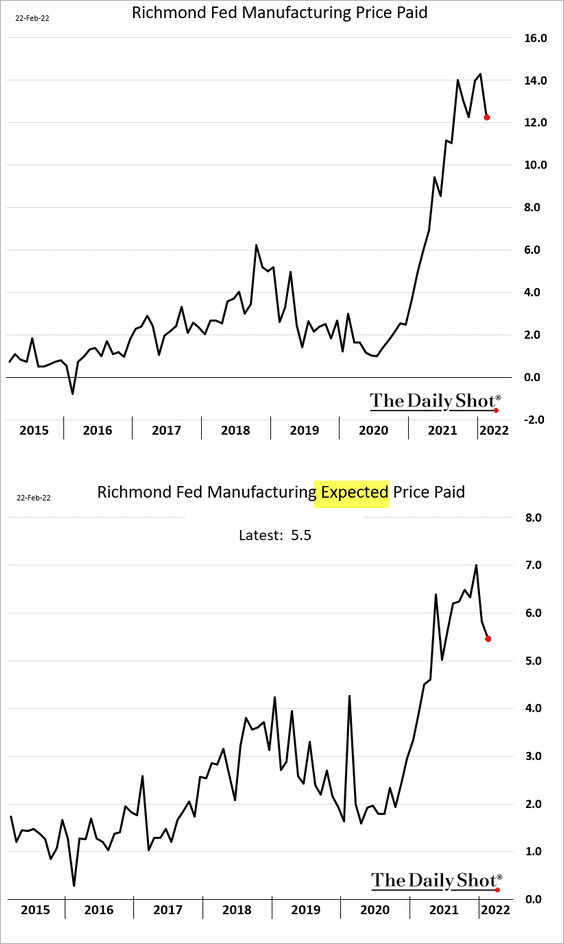 ——————–

3. Home price appreciation accelerated in December.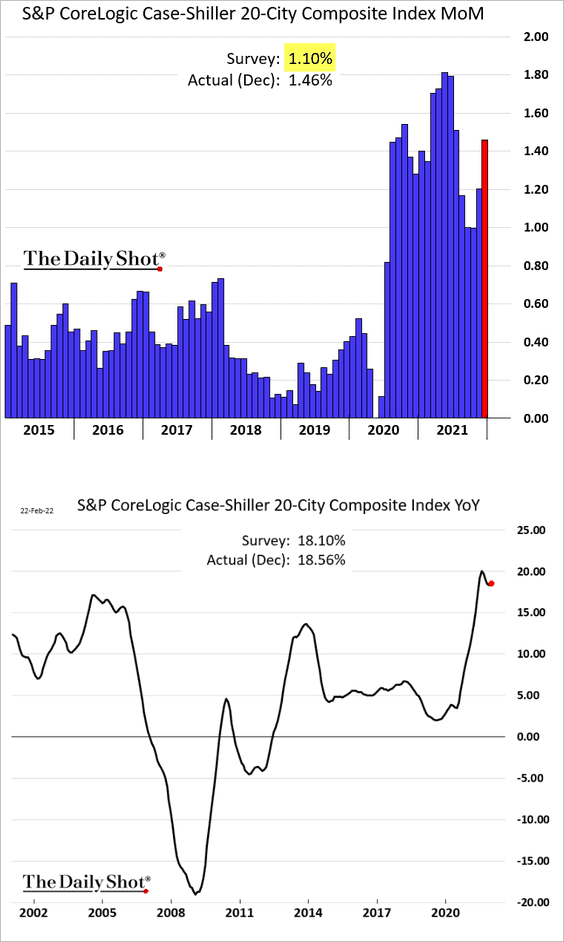 • In 2021, home prices rose more than in any year since just after WW-II.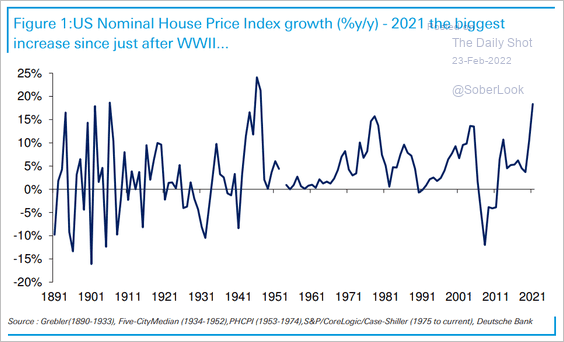 Source: Deutsche Bank Research

• This chart shows home price increases by metro area.


Source: Wells Fargo Securities

• Despite more robust pay increases since the start of the pandemic, home prices have left wages in the dust. This divergence is only sustainable if mortgage rates stay low.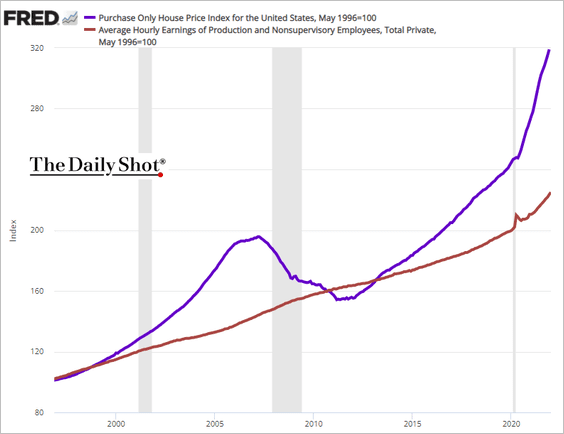 ——————–

4. The Conference Board's consumer confidence index ticked down this month.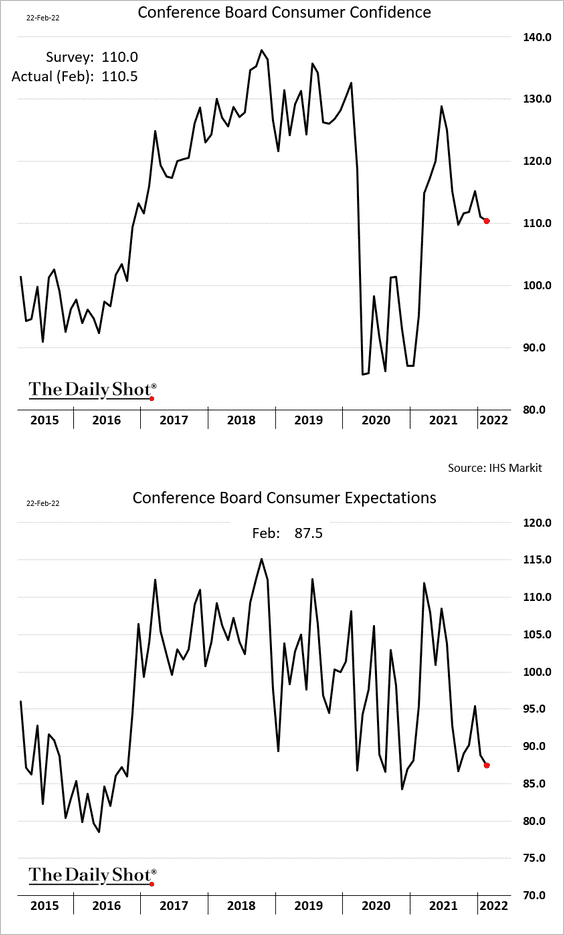 • The labor differential ("jobs plentiful" – "jobs hard to get") edged lower but remains elevated.




• The income differential (expected higher income – expected lower income) has been falling.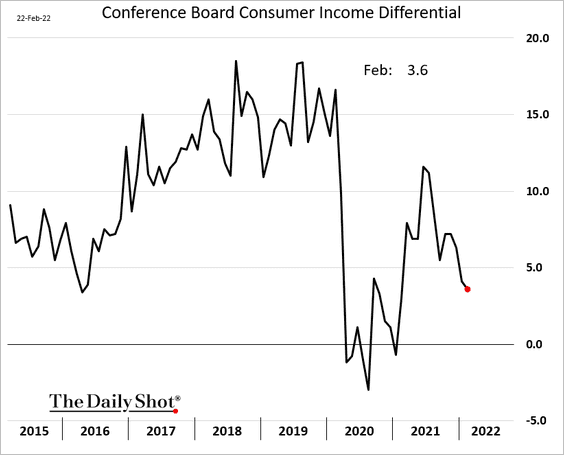 • The Conference Board's index continues to diverge from the U. Michigan sentiment indicator (2 charts).


Source: Piper Sandler 


Source: Wells Fargo Securities
——————–

5. The Treasury curve keeps getting flatter amid concerns about economic growth. The 10yr – 2yr Treasury spread hit 35 basis points for the first time since the COVID crash.




And markets still expect the curve to invert in the months ahead.


——————–

6. Short-term inflation expectations have been surging with crude oil.




As a result, the breakeven (inflation expectations) curve is becoming more inverted (2 charts). The market expects much higher inflation in the near term, but a faster decline later. The record backwardation in crude oil is contributing to this trend.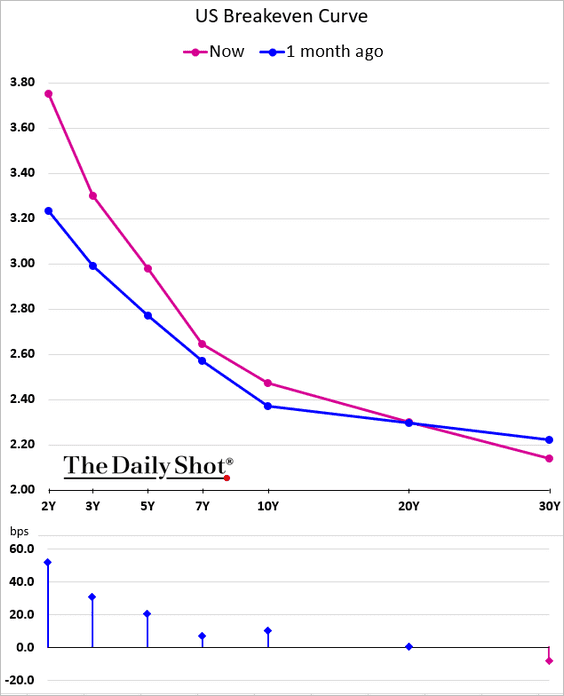 By the way, the consumer inflation expectations "curve" is also very inverted.


Source: BCA Research
——————–

7. The pandemic-era expansion in the US broad money supply has been impressive (contributing to higher inflation).




8. US financial conditions have tightened but remain accommodative relative to the past ten years.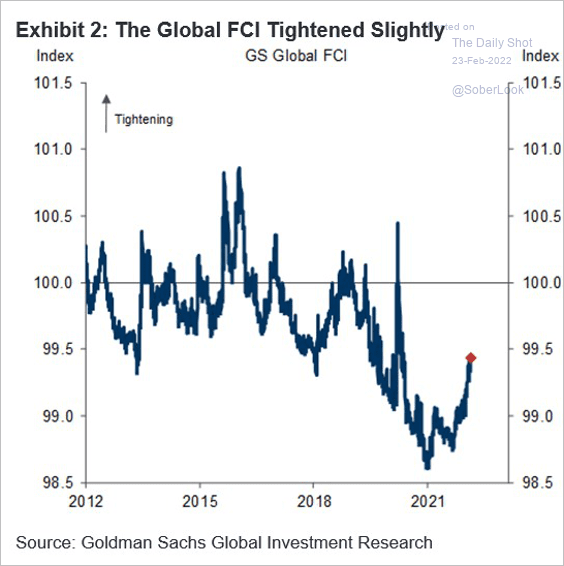 Source: @elerianm, @GoldmanSachs
---
Back to Index
The United Kingdom
The CBI industrial orders index ticked lower this month.




Price pressures accelerated, …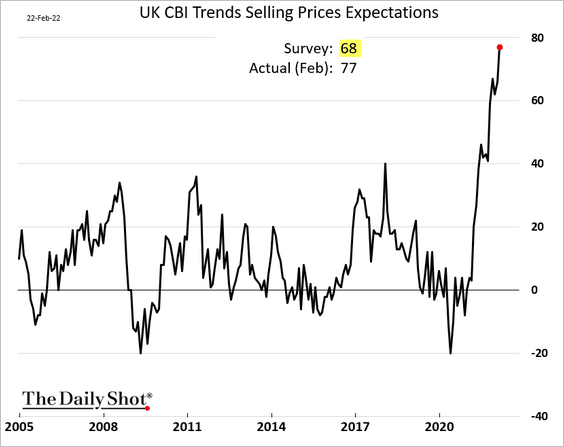 … which will boost the PPI.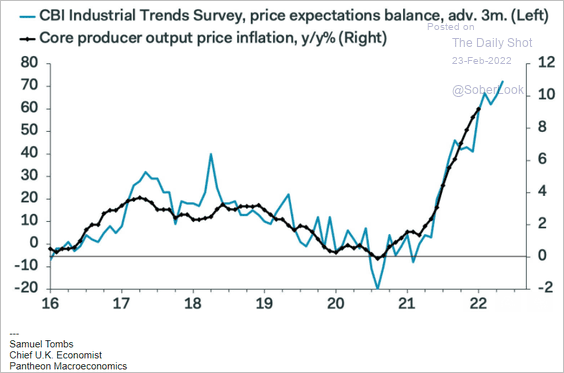 Source: Pantheon Macroeconomics
---
Back to Index
The Eurozone
1. Germany's Ifo expectations index surged this month. But this increase does not fully reflect the Ukraine/Russia escalation.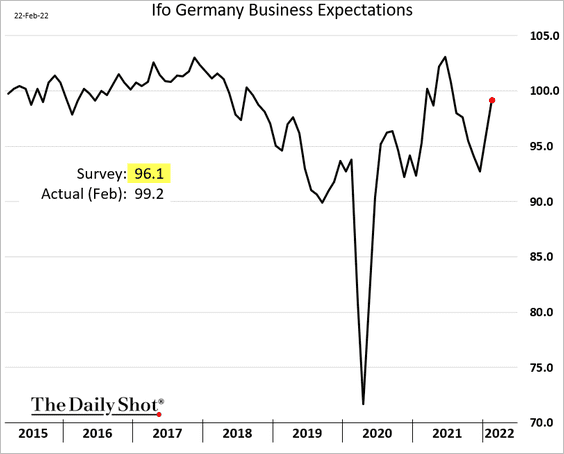 Source: ifo Institute
——————–

2. The price of the Austrian 2.1% 2117 bond, which has a duration of 50 years (95 years to maturity), has plunged more than 40% from its pandemic peak.


Source: III Capital Management

3. This chart illustrates the Eurozone's exposure to Russia.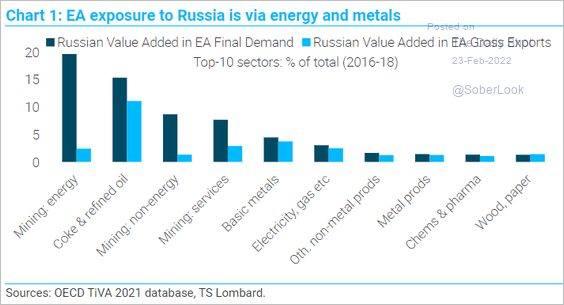 Source: TS Lombard

4. Pantheon Macroeconomics expects further declines in the unemployment rate, which should make the ECB more hawkish.


Source: Pantheon Macroeconomics
---
Back to Index
Asia – Pacific
1. South Korea's business sentiment is holding up well.




2. The RBNZ hiked rates and signaled more to come. The central bank's comments were more hawkish than expected.


Source: @WSJ Read full article

Bond yields and the Kiwi dollar jumped.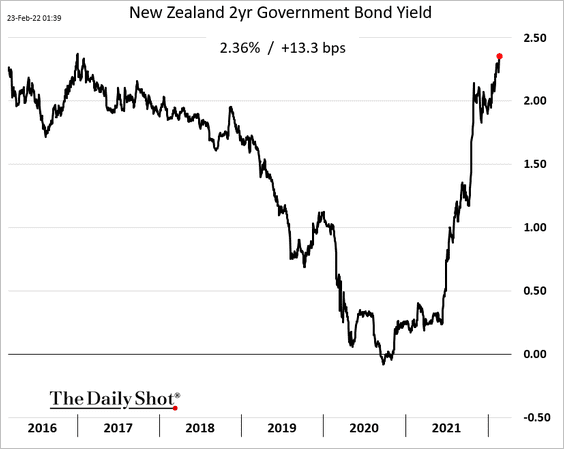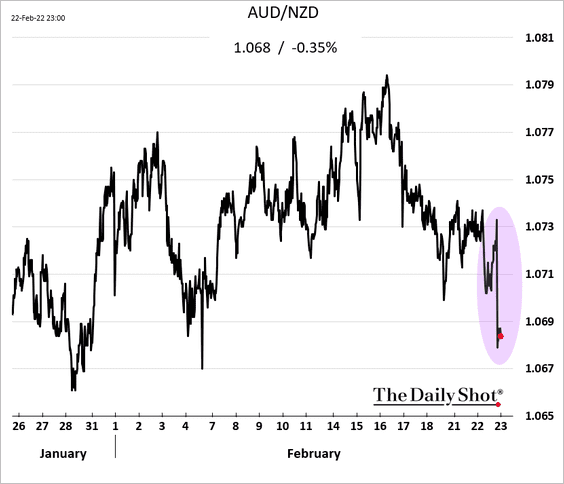 ——————–

3. The Q4 increase in Australian wages was the highest in years.


---
Back to Index
China
1. China's GDP has been less correlated with other EM economies.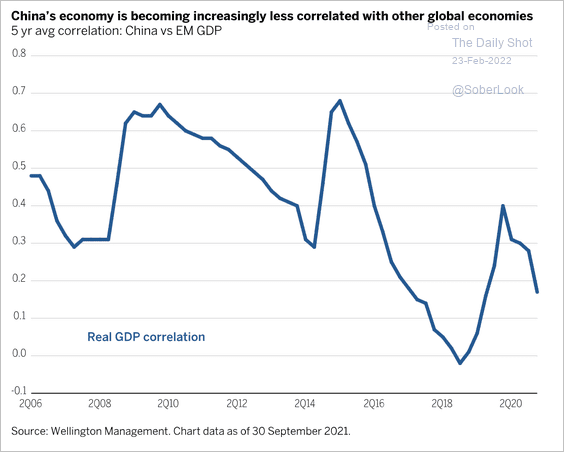 Source: Source: Wellington Management Read full article

2. China's coal output has been surging.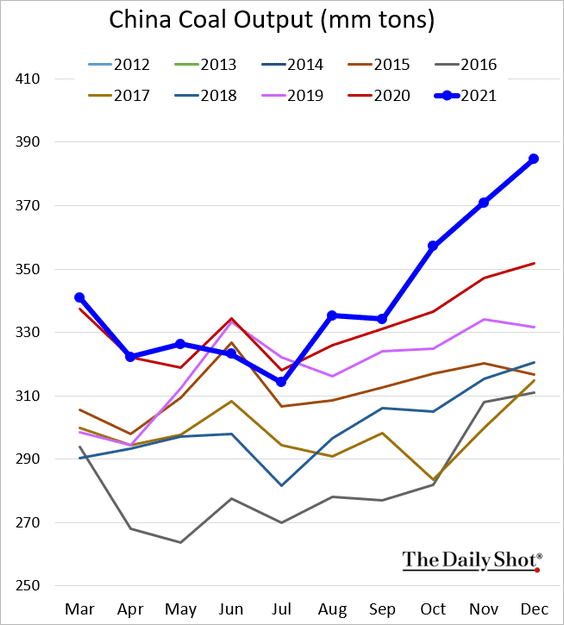 h/t @danmurtaugh

3. Macau visitor numbers remain depressed.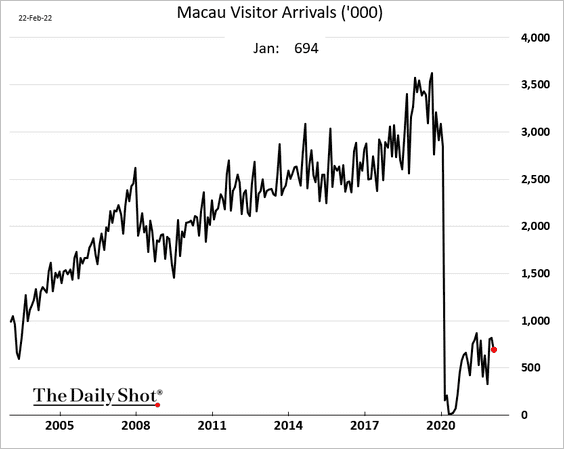 ---
Back to Index
Emerging Markets
1. For now, the announced Russia sanctions don't appear to be too severe.



Source: Reuters Read full article



Source: The Guardian Read full article

• Russian USD bond yields rose sharply yesterday.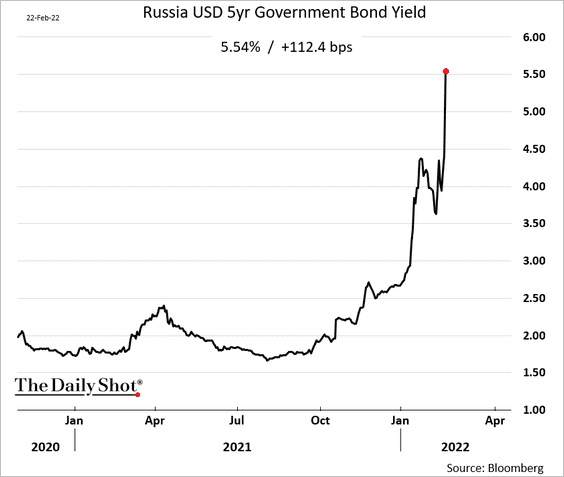 • The ruble trades well below fundamentals.


Source: Numera Analytics

• The equity market drawdown has been almost as large as the COVID selloff.




• Stock valuations are at multi-year lows.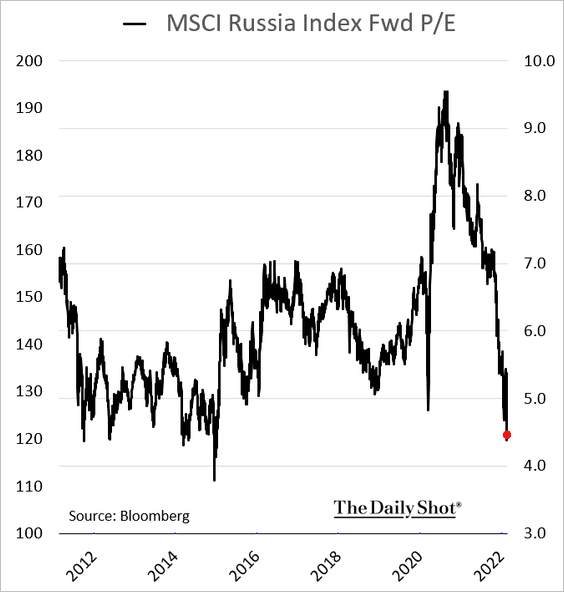 ——————–

2. Ukrainian assets are also under pressure.

• Dollar bonds:




• The Ukrainian hryvnia (1-month forward):


——————–

3. Other EM dollar-denominated bonds have also been selling off amid rising risk aversion. Here is Chile's 30yr debt.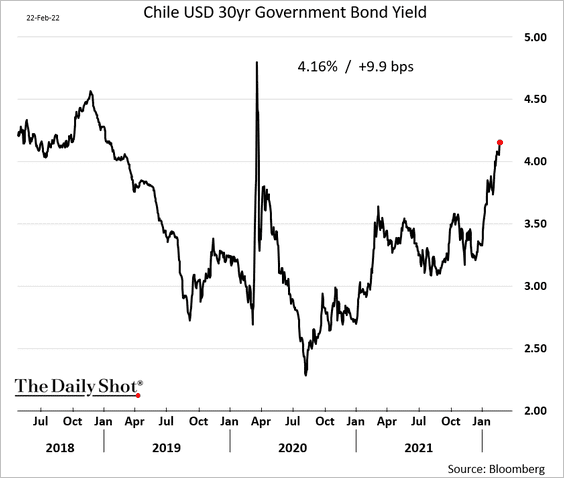 Dollar-denominated debt across EM economies has massively underperformed domestic bonds (in USD terms).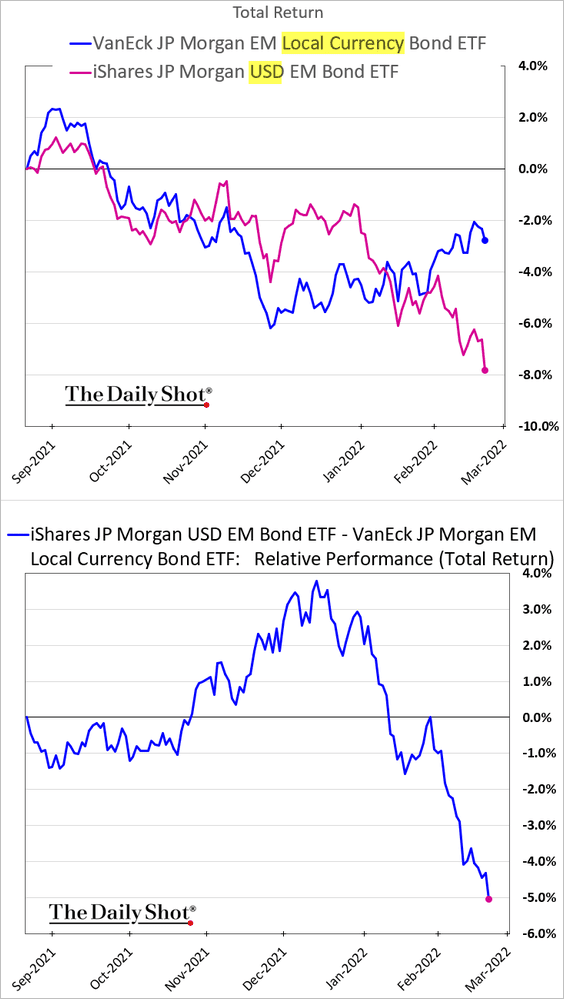 ——————–

4. The Brazilian real is rallying.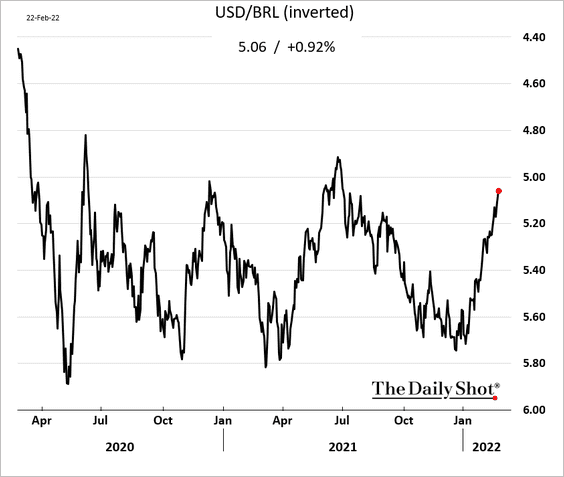 5. CTAs are overweight the S&P 500 and underweight emerging market equities.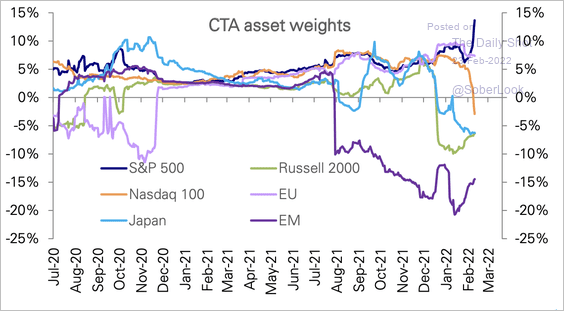 Source: Deutsche Bank Research
---
Back to Index
Cryptocurrency
1. Bitcoin's current drawdown is approaching the previous trough set in July 2021. But drawdowns can go as far as 80%.


Source: Koyfin Read full article

2. The bitcoin Fear & Greed Index entered "extreme fear" territory.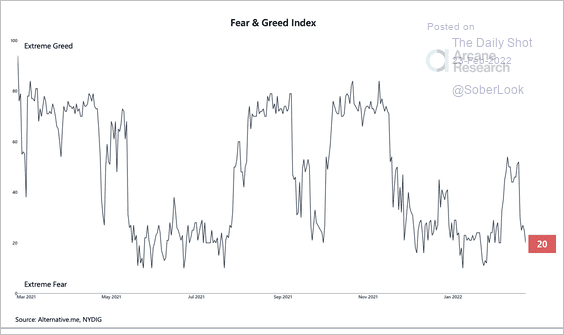 Source: @ArcaneResearch

3. The gold-backed token market has accelerated over the past year in terms of market cap.


Source: @ArcaneResearch

4. Digital asset investment products saw inflows of $109 million last week, led by Bitcoin-focused products. Meanwhile, investors continued to exit Ethereum-focused funds.


Source: CoinShares Read full article

5. The bitcoin network power consumption is now roughly the size of Poland's annual electricity usage (and half of the UK's).


Source: The Cambridge Centre for Alternative Finance
---
Back to Index
Commodities
• Nickel prices hit a multi-year high amid the Russia tensions/sanctions.


Source: @markets Read full article


——————–

• Aluminum prices are also surging.




• Here are the commodities that may be be impacted by the sanctions.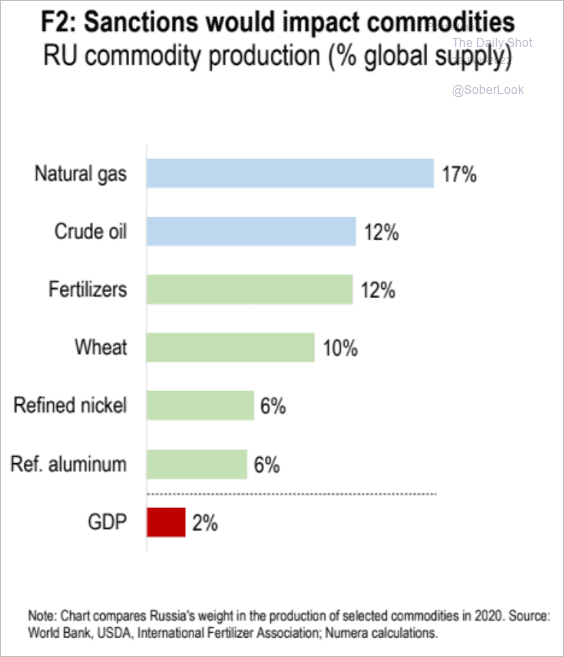 Source: Numera Analytics
---
Back to Index
Energy
1. European natural gas prices are rising again despite extra LNG supplies.



Source: @WSJ Read full article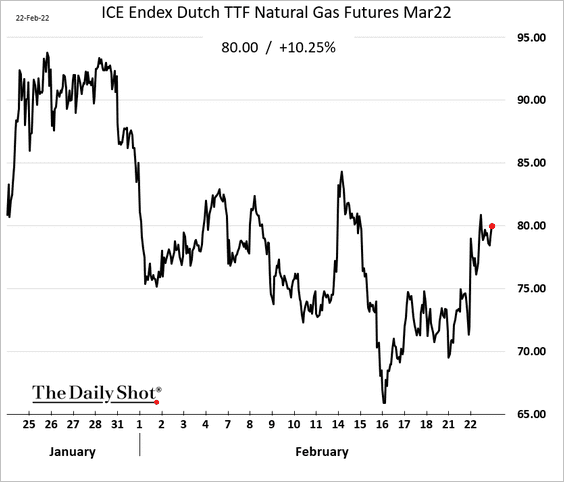 German electricity prices have been surging.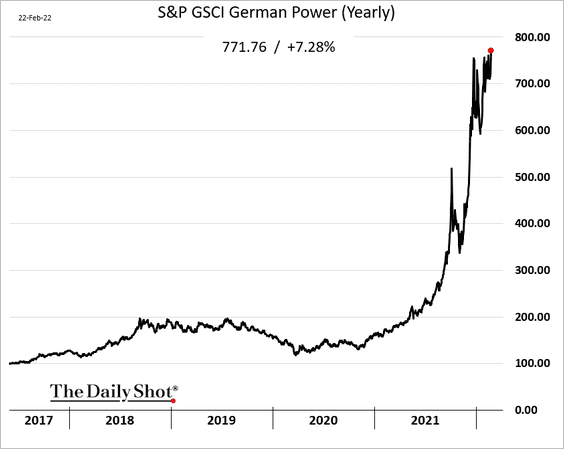 ——————–

2. Brent held resistance at $100.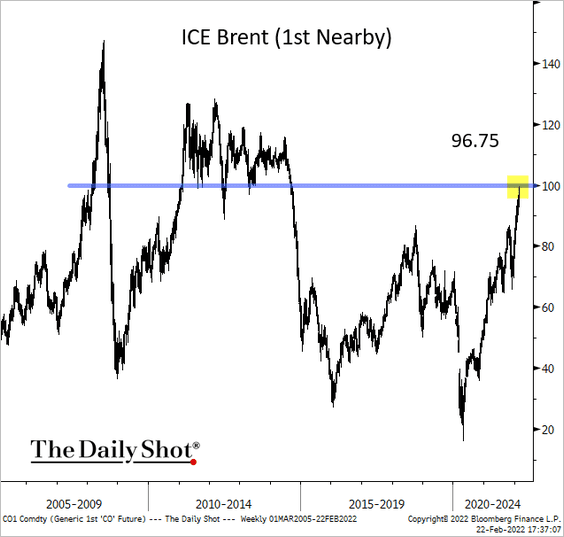 Source: @TheTerminal, Bloomberg Finance L.P.
---
Back to Index
Equities
1. The S&P 500 is in correction territory.




The index is now at support.


h/t Hugo Ste-Marie, Portfolio & Quantitative Strategy Global Equity Research, Scotia Capital
——————–

2. The geopolitical threat is more damaging to stocks than the geopolitical act.


Source: Numera Analytics

3. How do stocks perform after the AAII percentage of bullish investors drops below 20%?


Source: Truist Advisory Services

4. Many companies have been issuing negative guidance for Q1.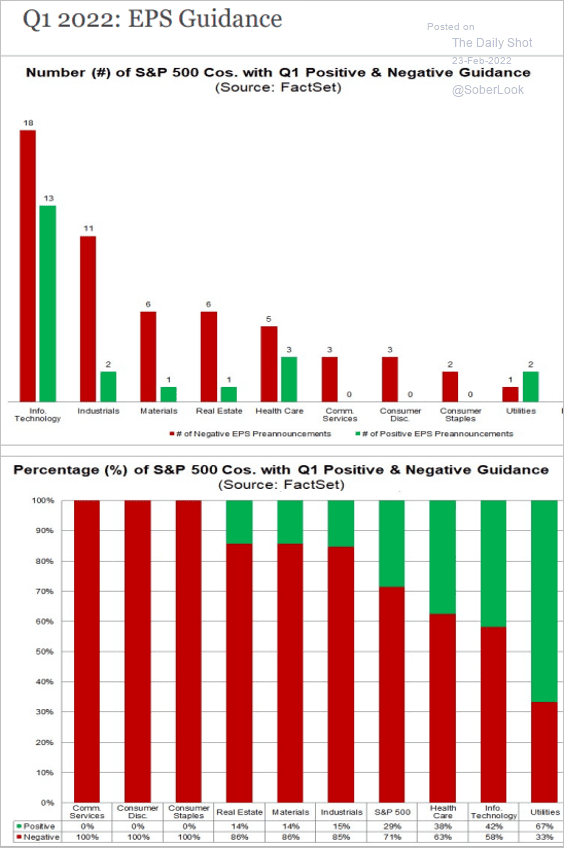 Source: @FactSet

5. Piper Sandler expects a short-term relief from market headline risk, which will benefit growth stocks (2 charts).


Source: Piper Sandler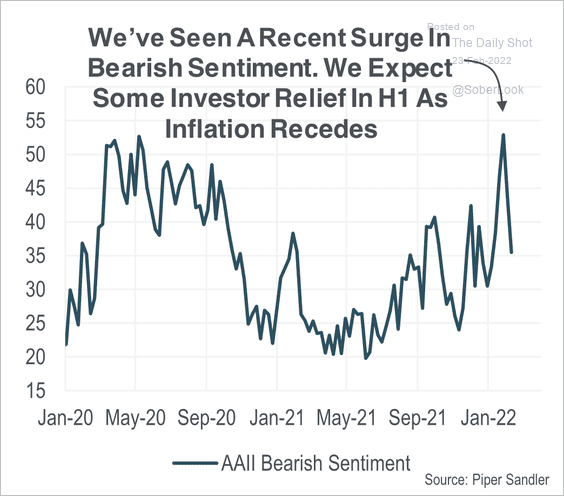 Source: Piper Sandler 
——————–

6. How do growth and value stocks perform around tightening cycles?


Source: MarketDesk Research

7. Equities typically continue to rise following the start of US monetary tightening.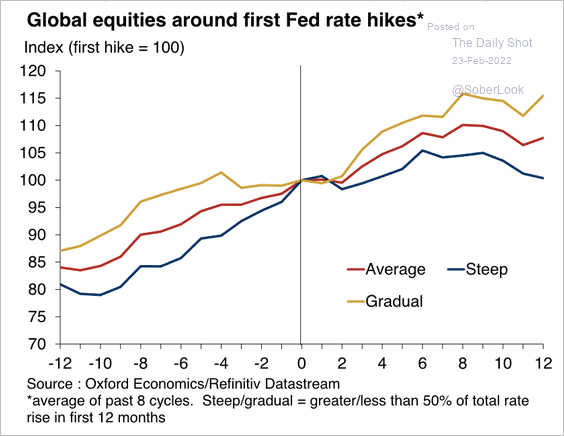 Source: Oxford Economics

8. Hedge funds' favorite picks saw significant underperformance recently.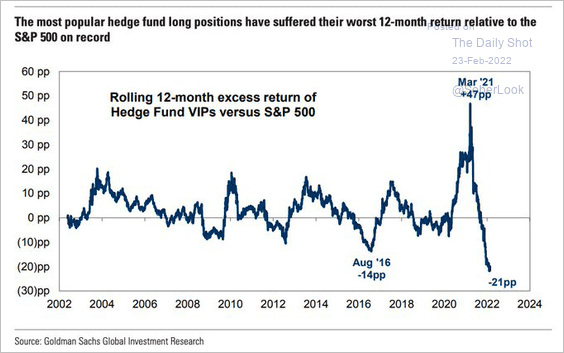 Source: Goldman Sachs; @SamRo

9. Are mega-caps and growth stocks' valuations still too high?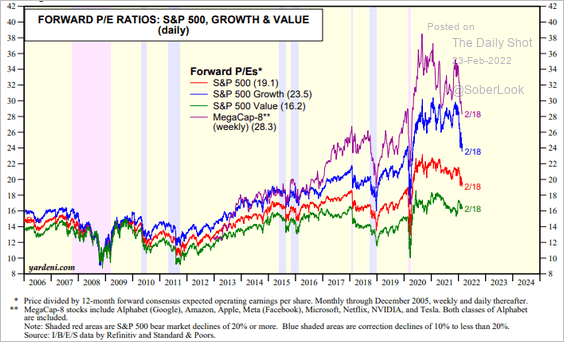 Source: Yardeni Research

10. Rising bond yields drove the rotation from growth into value/cyclical funds.


Source: Deutsche Bank Research

11. The VIX curve is inverted again.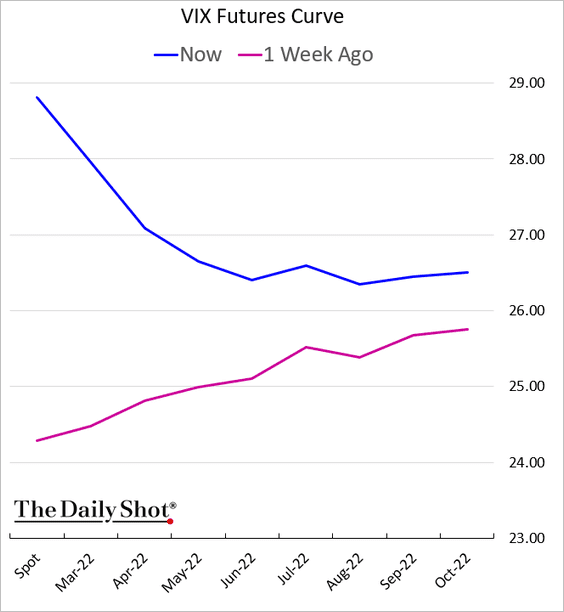 12. Finally, we have some sector performance trends over the past five business days (starting with defensive sectors).

• Utilities:




• REITs: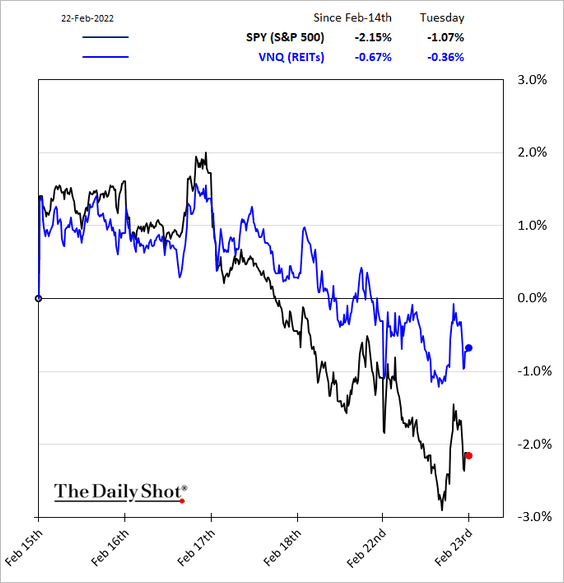 • Consumer staples: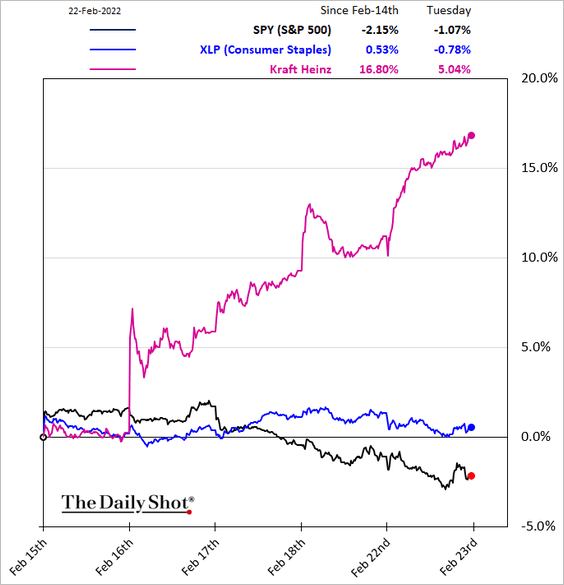 ——————–

• Consumer discretionary and retail: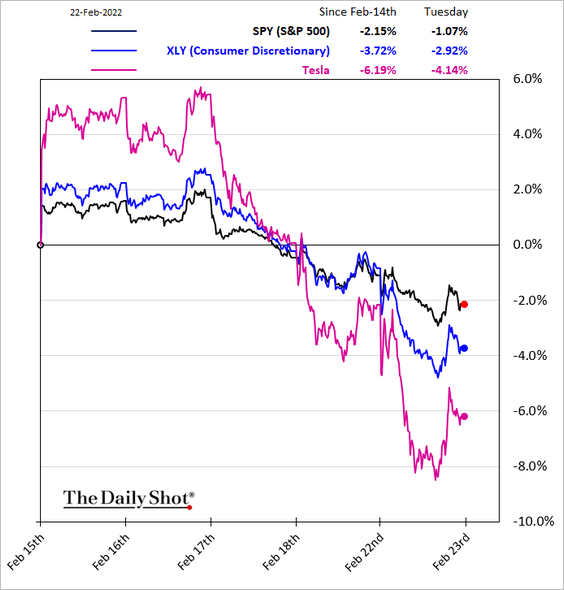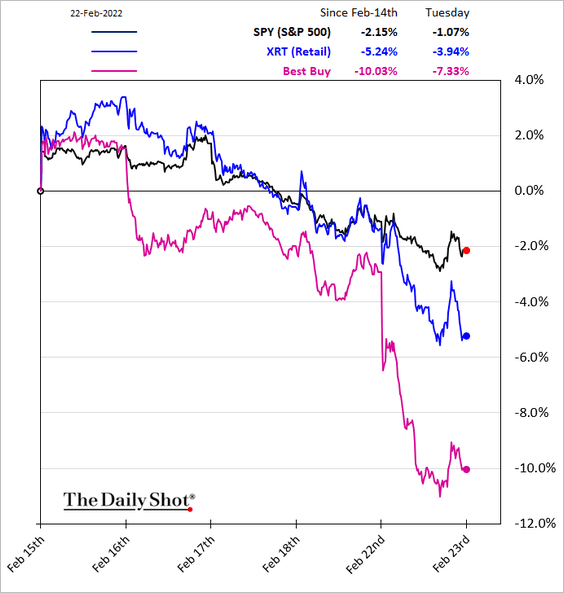 • Banks: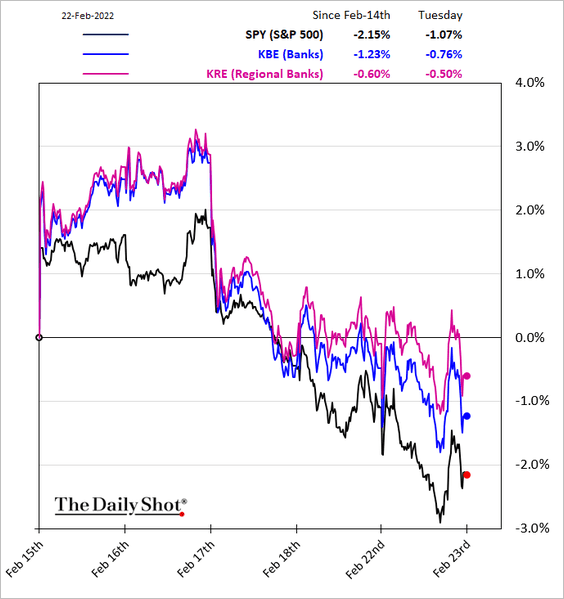 • Metals & Mining:




• Housing:


---
——————–
Food for Thought
1. Age distribution of China's Central Committee vs. the US Congress: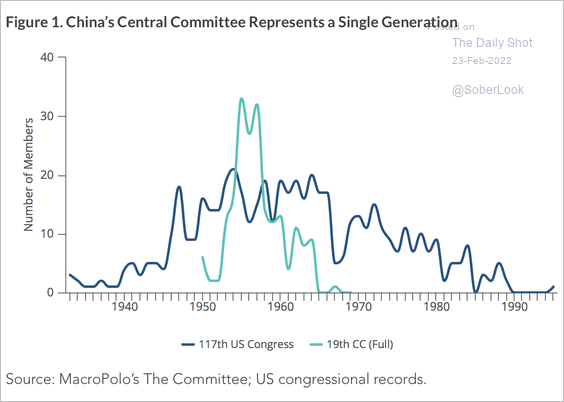 Source: MacroPolo Read full article

2. Russian-speaking population of Ukraine: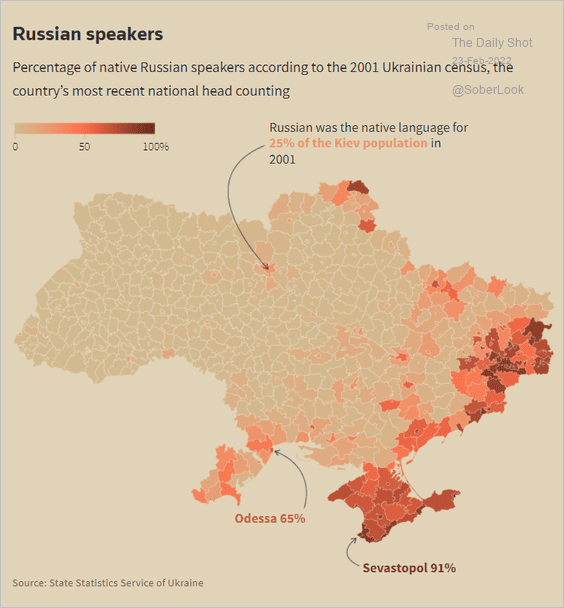 Source: Reuters Read full article

3. Missile system types: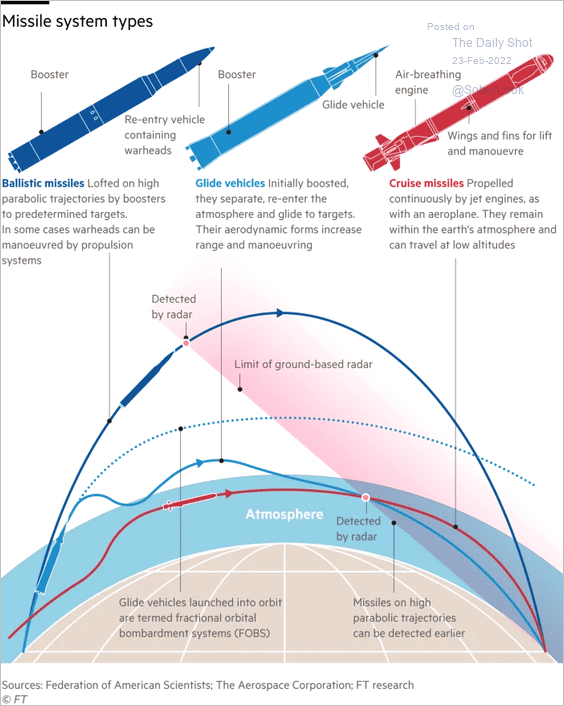 Source: @financialtimes Read full article

4. Satisfaction with the state of US race relations: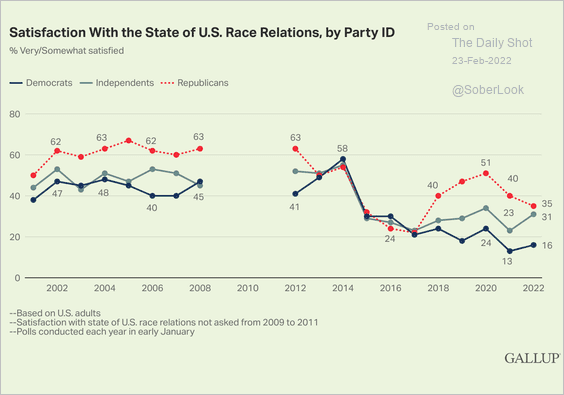 Source: Gallup Read full article

5. Importance of work vs. leisure: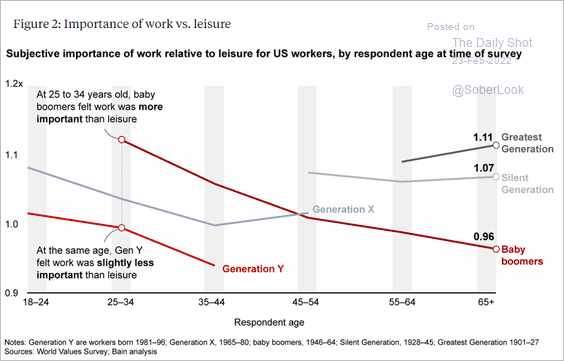 Source: Bain & Company 

6. What motivates workers (across six different worker archetypes)?


Source: Bain & Company 

7. Disney+ streaming subscribers: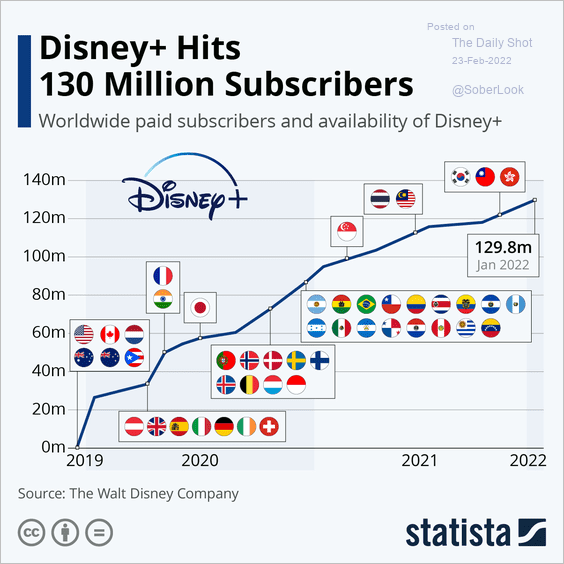 Source: Statista

8. Interest in Wordle, by generation: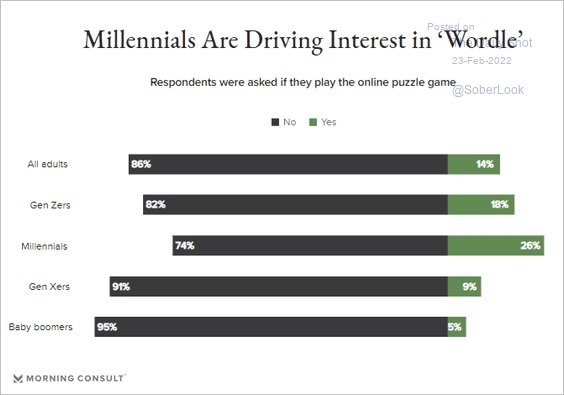 Source: Morning Consult Read full article
——————–
---
Back to Index
---