The Daily Shot: 03-Nov-22
• The United States
• The United Kingdom
• The Eurozone
• Europe
• Asia – Pacific
• China
• Emerging Markets
• Cryptocurrency
• Energy
• Equities
• Rates
• Global Developments
• Food for Thought
---
---
The United States
1. The Fed hiked rates by 75 bps as expected.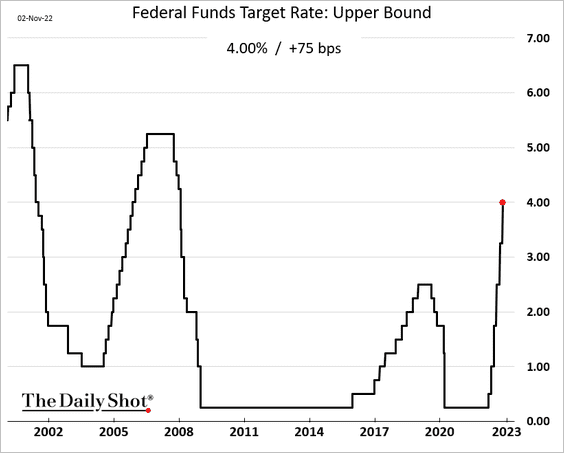 The FOMC statement hints at smaller rate increases ahead. The wording "cumulative tightening" suggests a focus on the terminal rate rather than individual rate increases. The market initially saw the reference to monetary policy "lags" and "economic and financial developments" as a bit dovish.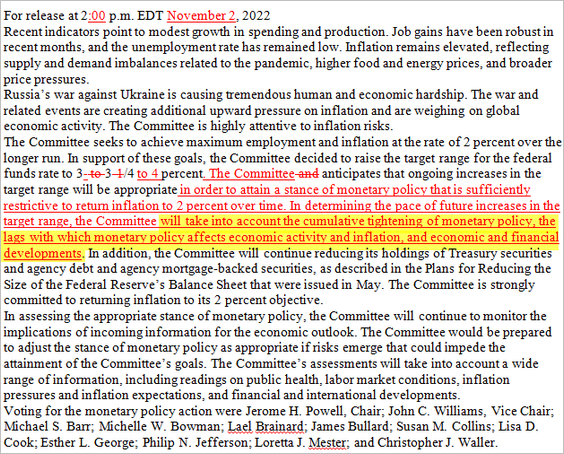 Source: @NickTimiraos

But then we got this comment at the press conference.
Fed Chair Jerome Powell: – … we still have some ways to go, and incoming data since our last meeting suggest that the ultimate level of interest rates will be  higher than previously expected.
A slower pace of rate hikes but a higher peak? This is not the "pivot" the markets were hoping for.

2. Stocks tumbled, …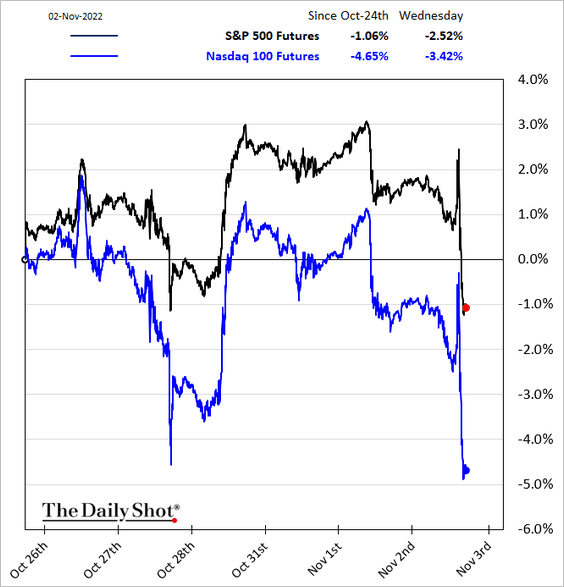 … and treasury yields and the dollar rose, …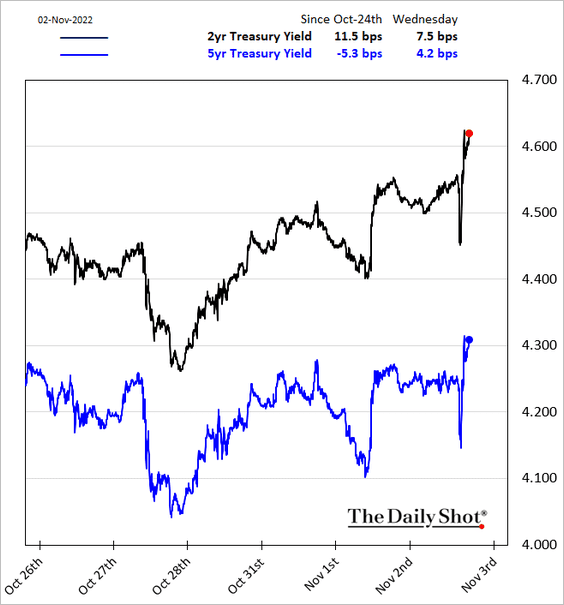 … as the terminal rate moved past 5%.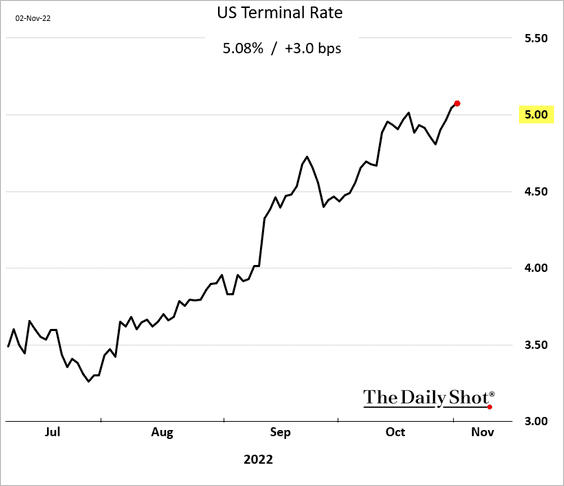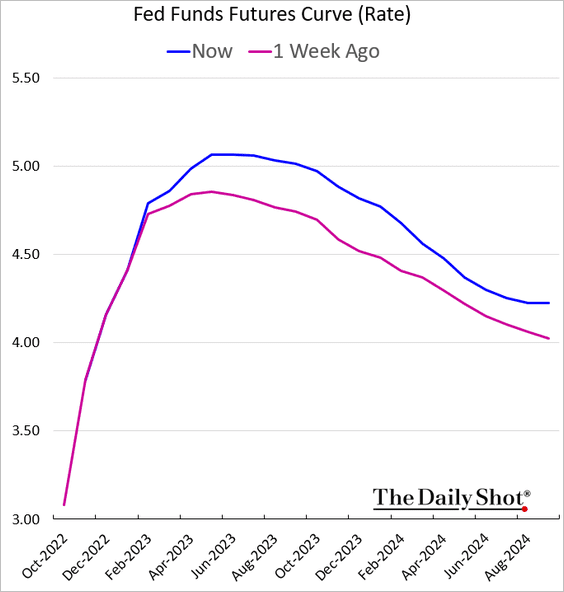 • The fed funds rate peak is now expected to be in May, …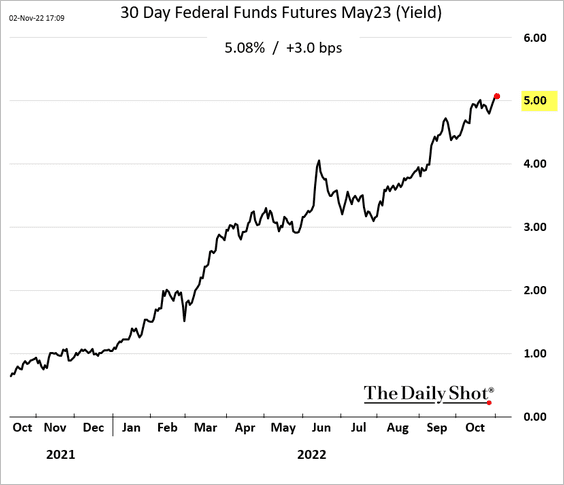 … as it keeps moving further out.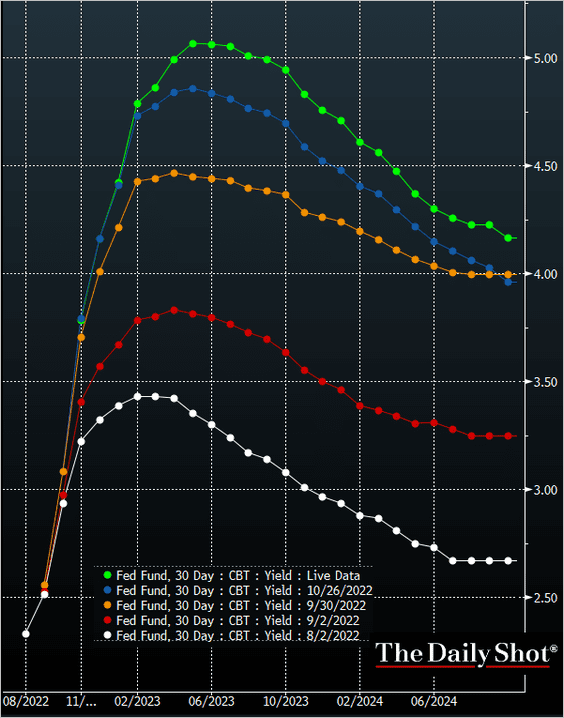 Source: @TheTerminal, Bloomberg Finance L.P.

• So we get a 50 bps increase in December and then what? Another 50 bps in February and 25 or 50 bps in March? Another hike in May? Here is what the market sees in February and March.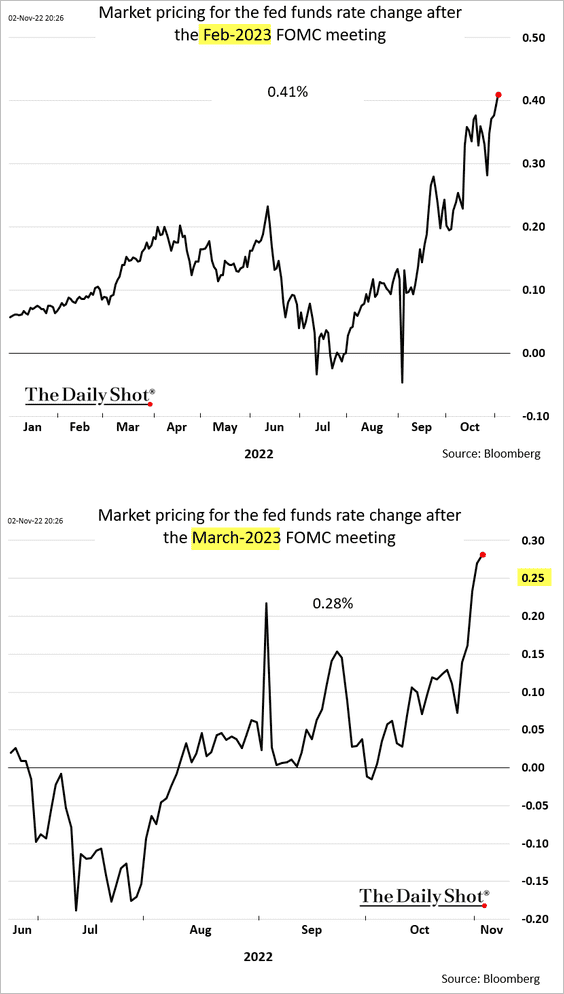 • Will we see rapid rate cuts in 2024? Here is a forecast from Wells Fargo.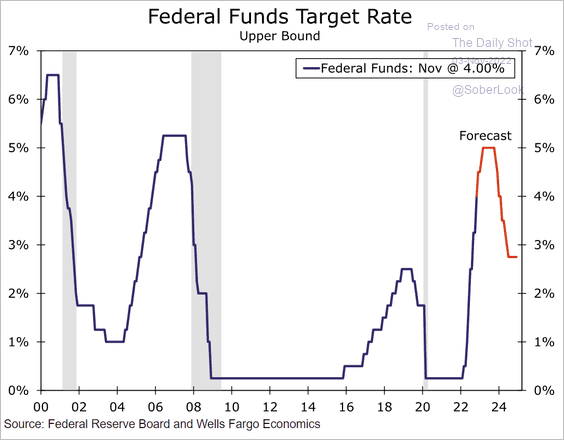 Source: Wells Fargo Securities

• The pace of policy tightening has been remarkably fast (2 charts).


Source: Truist Advisory Services


Source: ING
——————–

3. The 2-year Treasury yield reached another cycle high, …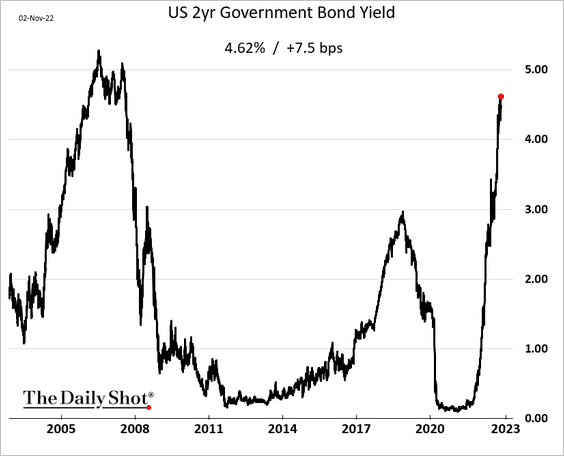 … as the curve inverts further (2 charts).




The market doesn't see much room for a soft landing.


Source: Chart and data provided by Macrobond
——————–

4. The October gains in the ADP private payrolls report topped forecasts.



Source: Reuters Read full article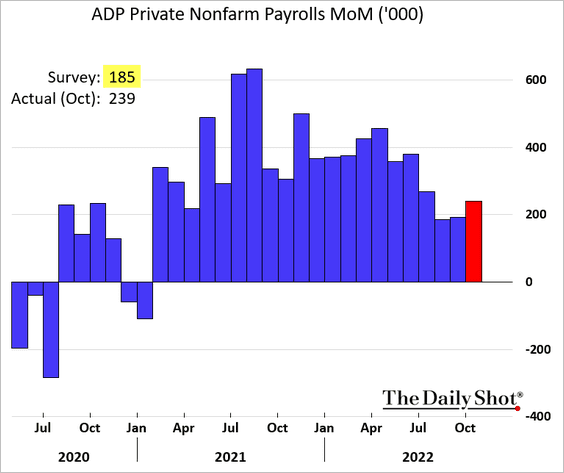 The breadth of job gains was not great.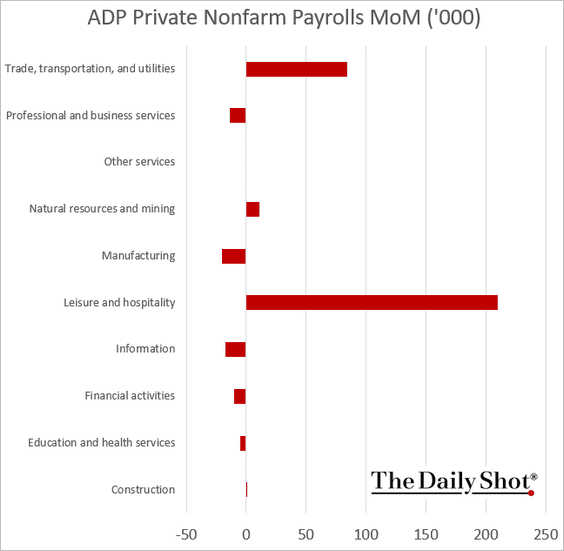 And tighter credit conditions point to a deterioration in the labor market ahead.


Source: Quill Intelligence
——————–

5. Mortgage applications are running at 2014 levels, …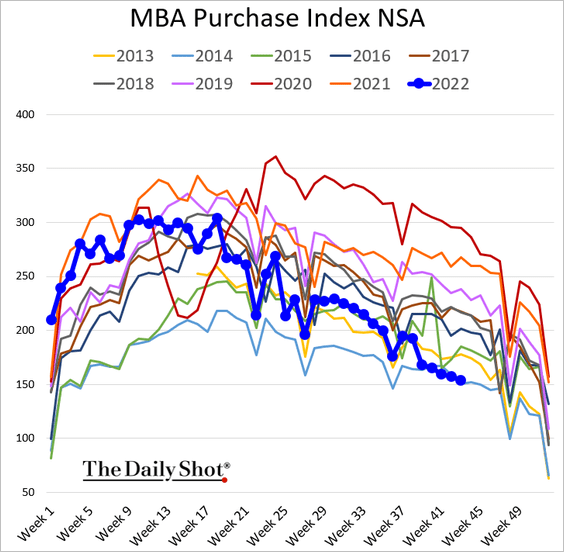 … as mortgage rates hold above 7%.


Source: @mortgagenewsmnd
——————–

6. Will higher rates boost US productivity?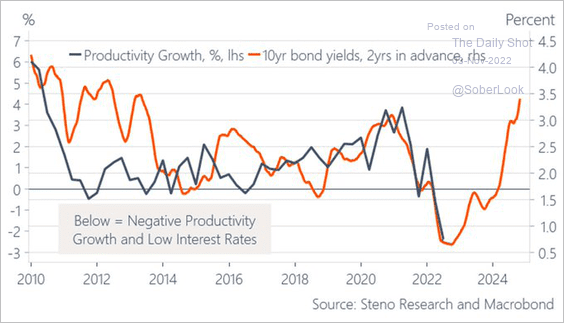 Source: @AndreasSteno
---
Back to Index
The United Kingdom
1. Gilt yields are moving lower as the "Truss premium" dissipates.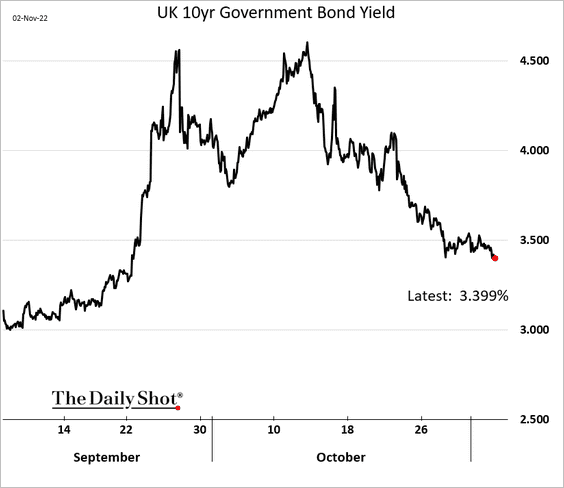 2. Visas to skilled workers surged this year.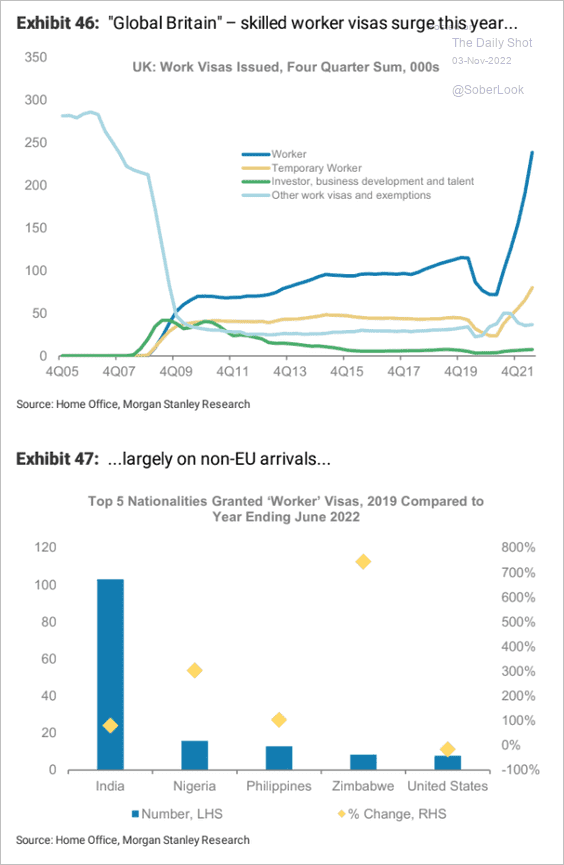 Source: Morgan Stanley Research
---
Back to Index
The Eurozone
1. The final manufacturing PMI reports were worse than the October flash figures.


Source: S&P Global PMI

• France: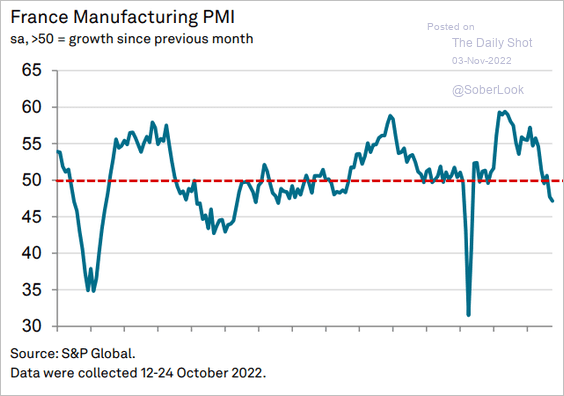 Source: S&P Global PMI

• Germany:


Source: S&P Global PMI

• Italy:


Source: S&P Global PMI

• The Netherlands:


Source: S&P Global PMI

• Spain: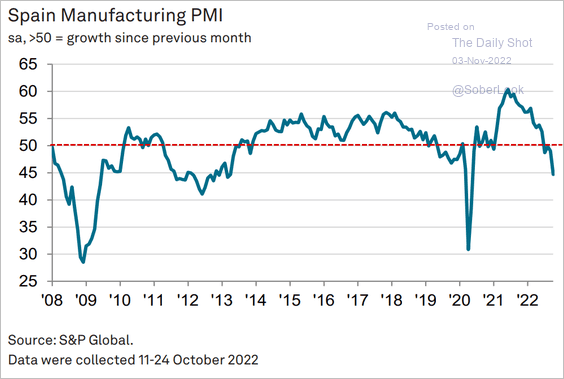 Source: S&P Global PMI
——————–

2. Despite the headwinds, German unemployment remains relatively low.




Here is the Manufacturing PMI employment index:




Separately, Germany's trade surplus edged higher in September.


——————–

3. This chart shows total employment and hours worked vs. pre-COVID levels across the Eurozone.


Source: Morgan Stanley Research

4. Negotiated wages are starting to decline.


Source: Evercore ISI Research
---
Back to Index
Europe
1. Sweden's manufacturing activity is contracting.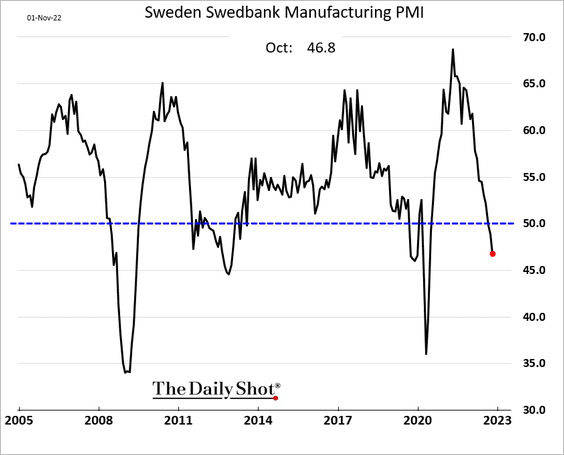 2. Manufacturing is also in trouble in central Europe.

• Poland:


Source: S&P Global PMI

• The Czech Republic: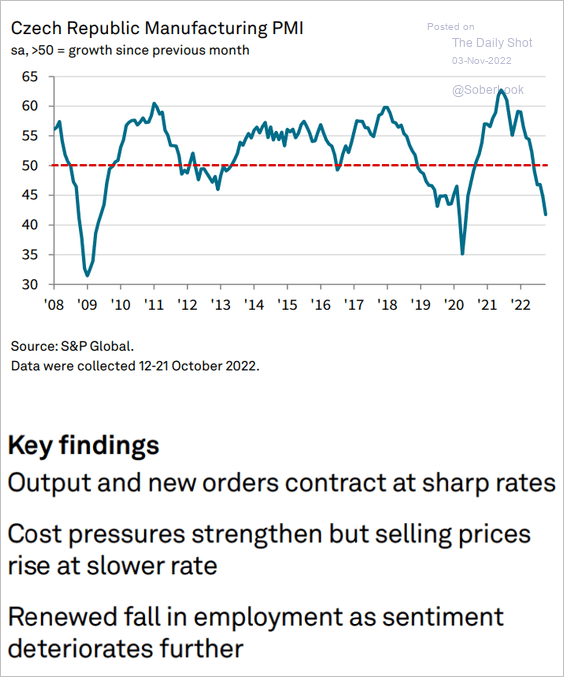 Source: S&P Global PMI

Separately, the Czech GDP contracted last quarter.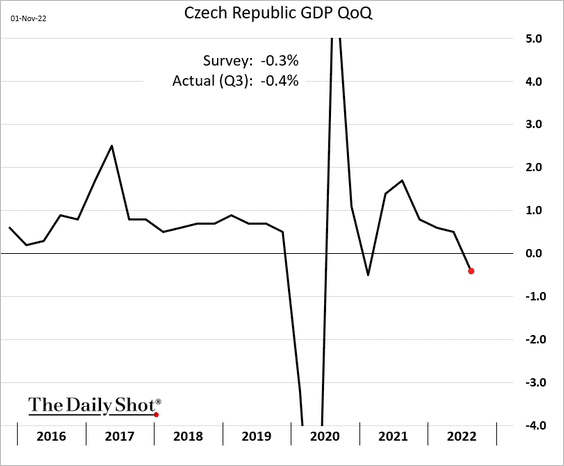 ——————–

3. A deep European recession is coming.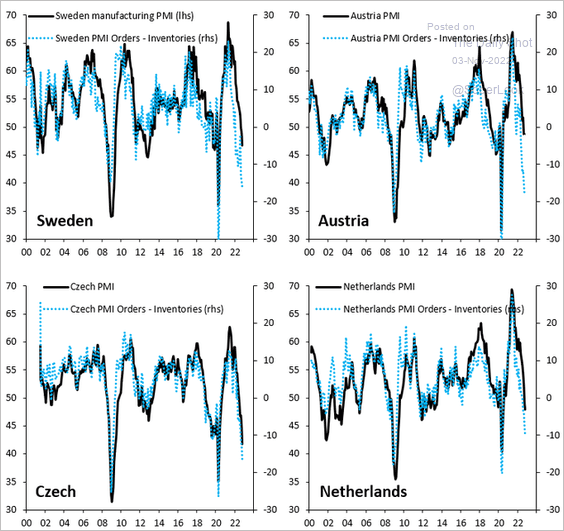 Source: @RobinBrooksIIF
---
Back to Index
Asia – Pacific
1. Japan's core inflation has been aligned with the historical Phillips Curve.


Source: Morgan Stanley Research

2. Singapore's business activity remains robust.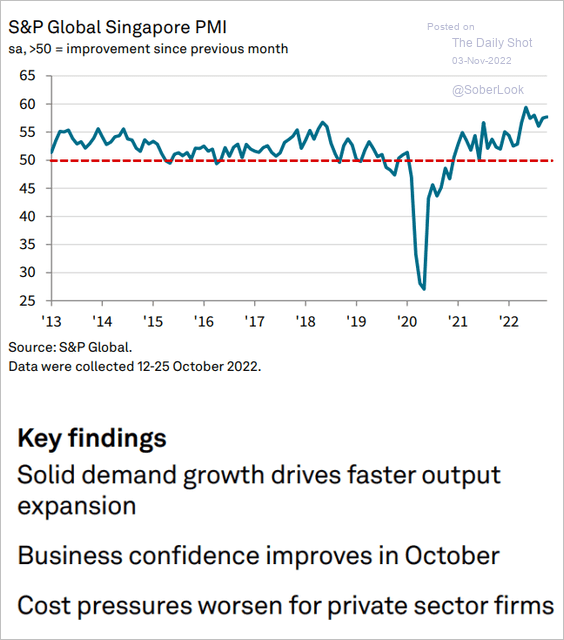 Source: S&P Global PMI

3. Australia's trade surplus topped expectations on strong exports.




However, Australia's service sector growth has stalled.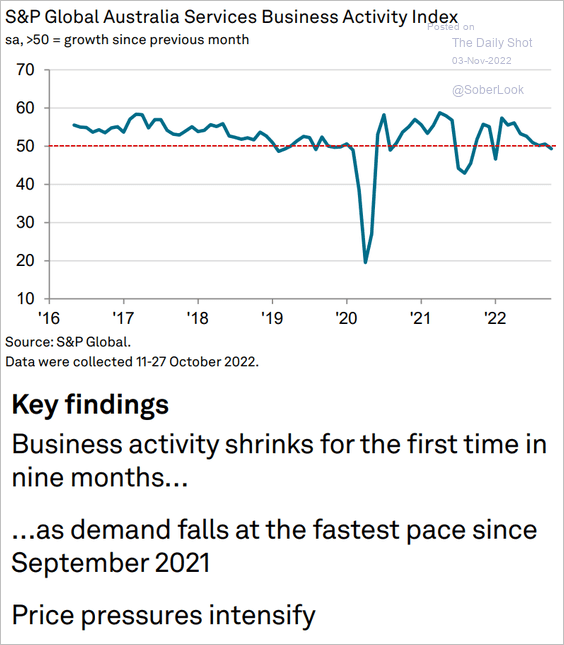 Source: S&P Global PMI
——————–

4. Asian currencies are pricing in weaker regional manufacturing growth.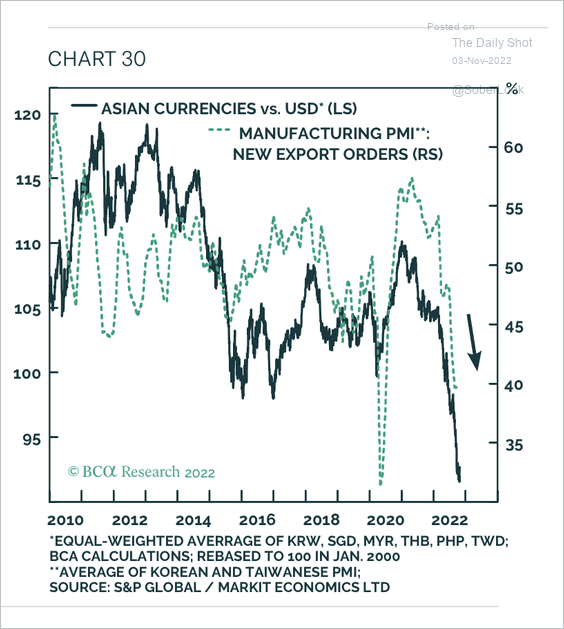 Source: BCA Research
---
Back to Index
China
1. The S&P Global Services PMI moved deeper into contraction territory amid lockdowns.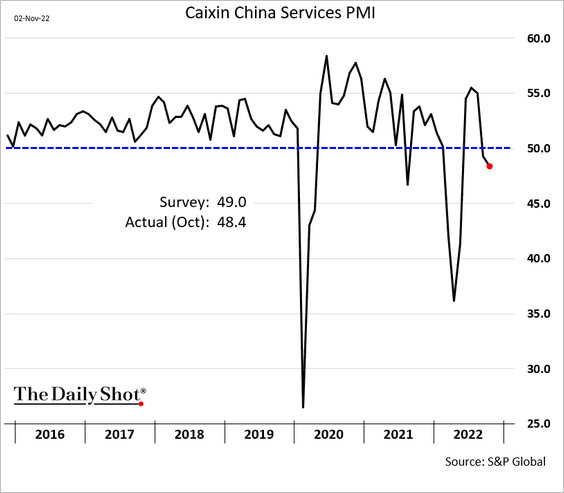 2. Local currency bank loans had their largest reading in September in about 30 years. Some banks are inflating loan volumes to meet government targets amid weak credit demand, according to PGM Global.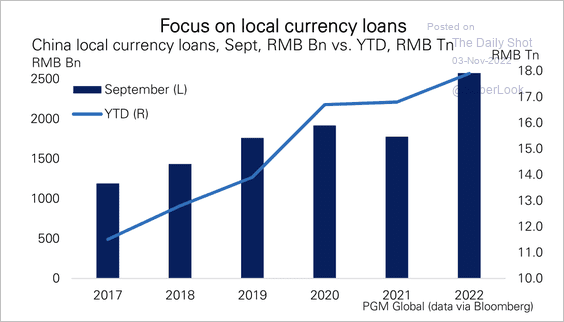 Source: PGM Global

• Domestic loan demand is falling while the money supply is rising, which means banks are sitting on plenty of cash.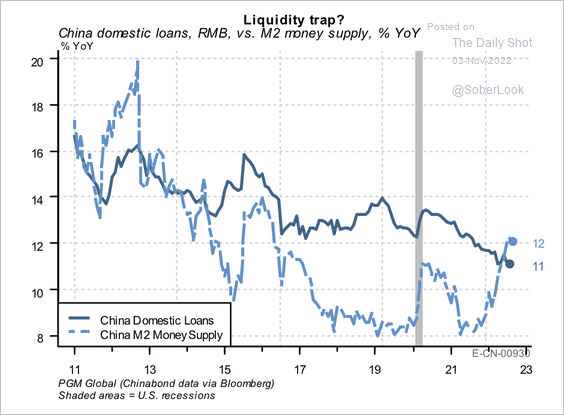 Source: PGM Global

• Credit risk is concentrated in the banking sector, which owns over 80% of local government bonds (also tied to the property sector).


Source: PGM Global
——————–

3. The budget deficit is massive.


Source: @MollySmithNews, @business Read full article
---
Back to Index
Emerging Markets
1. Let's begin with some updates on Chile.

• Economic activity (topped expectations):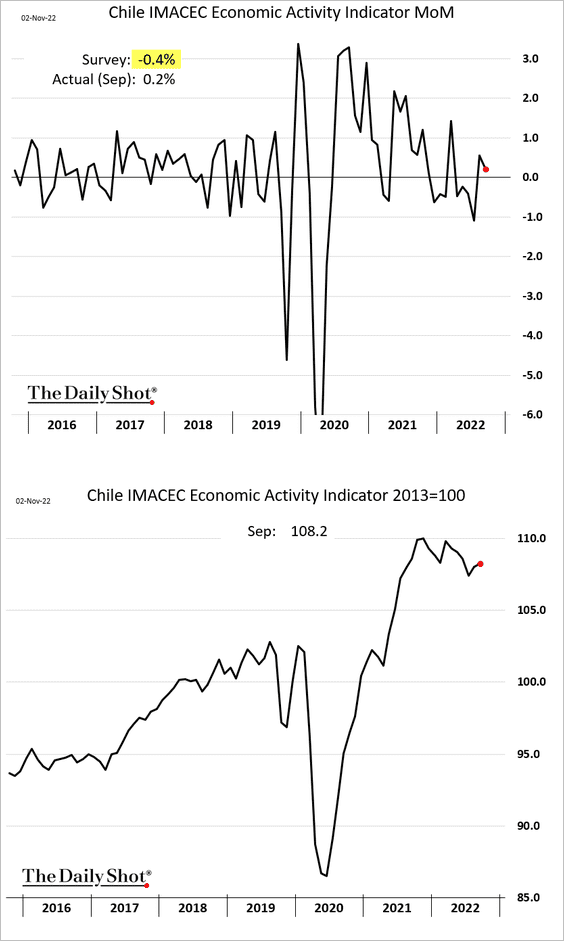 • Industrial production (running at 2016 levels):




• Copper output (soft):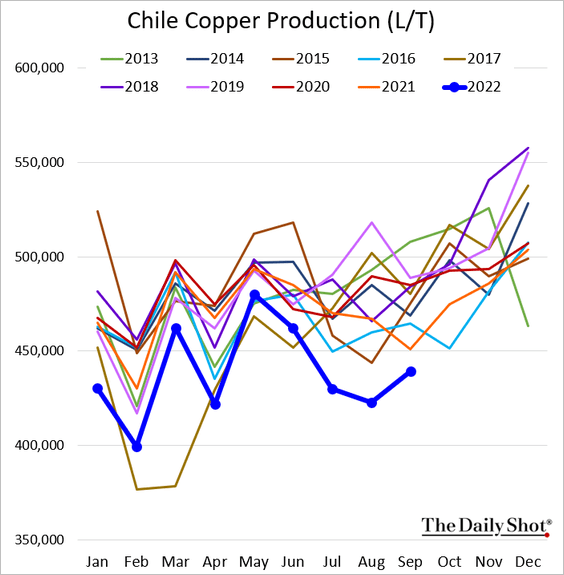 • Business confidence …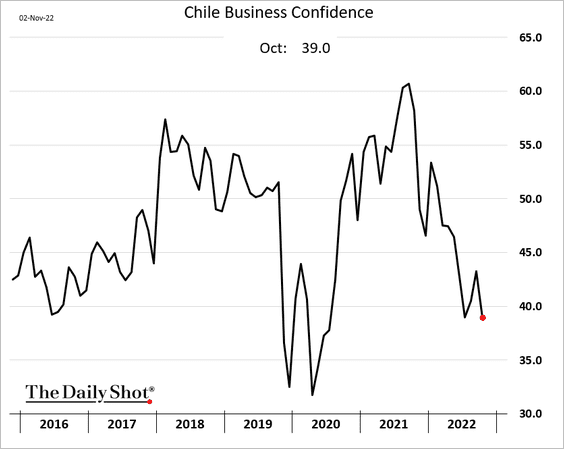 … and business outlook (weak):




• Retail sales (deteriorating):




• Unemployment (grinding higher):


——————–

2. Next, we have some updates on Russia. Once again, it's important to keep in mind that these figures are reported by the Russian government and should be taken with a grain of salt.

• Retail sales:




• Real wages: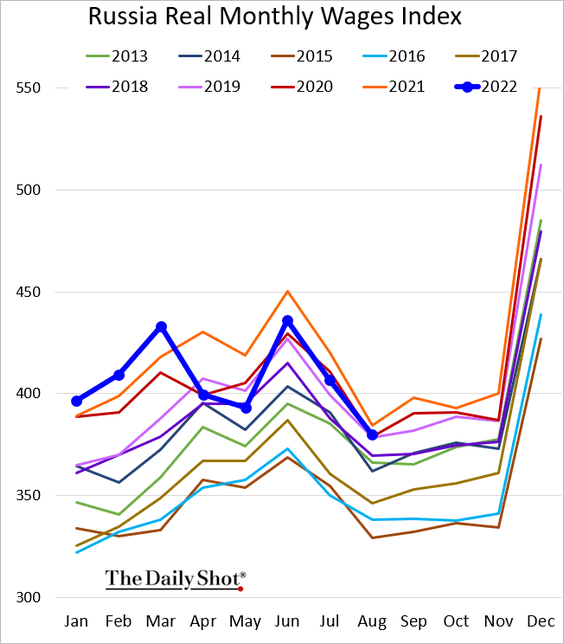 • Unemployment: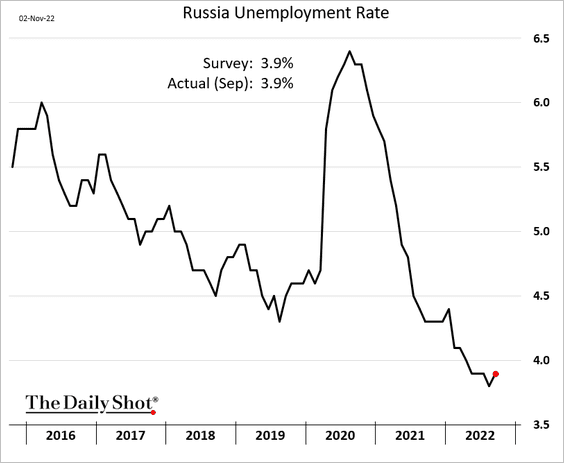 • Cargo shipments:


——————–

3. Saudi business growth remains robust as oil proceeds roll in.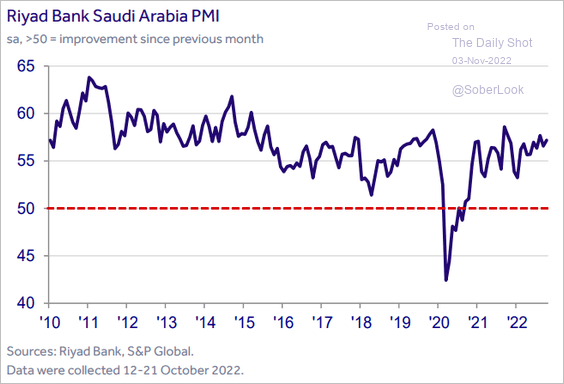 Source: S&P Global PMI

4. The Iranian rial hit a record low vs. USD, …


Source: @BonbastEx

… as protests persist.



---
Back to Index
Cryptocurrency
1. The Crypto Fear & Greed Index moved out of "extreme fear" territory last week.


Source: Alternative.me

2. 47% of the top 50 altcoins have outperformed bitcoin over the past month, indicating a neutral stance among crypto traders.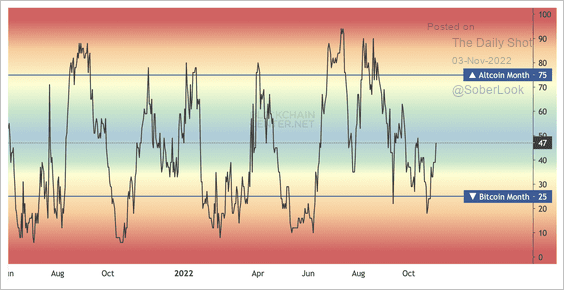 Source: Blockchain Center

3. The BTC/ETH price ratio declined from its 200-day moving average, reflecting a risk-on tone in crypto markets.




4. Ether's implied volatility ticked higher over the past week.


Source: The Block

5. Bitcoin's correlation with stocks declined last month.


Source: Reuters Read full article
---
Back to Index
Energy
1. US gasoline demand remains relatively soft, …




… boosting inventories – as measured in days of supply.




US gasoline production is now well below last year's levels.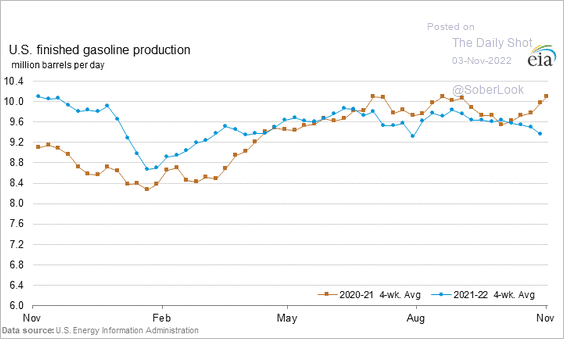 ——————–

2. US diesel inventories remain exceptionally low.

• Days of supply:




• Barrels:


——————–

3. The energy sector closed October with its highest weighting in the S&P 500 since March 2019.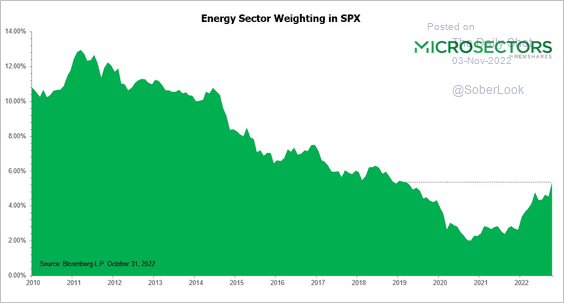 Source: @msectors
---
Back to Index
Equities
1. The market reaction to Chair Powell's press conference was severe. It was not the "pivot" markets wanted to see.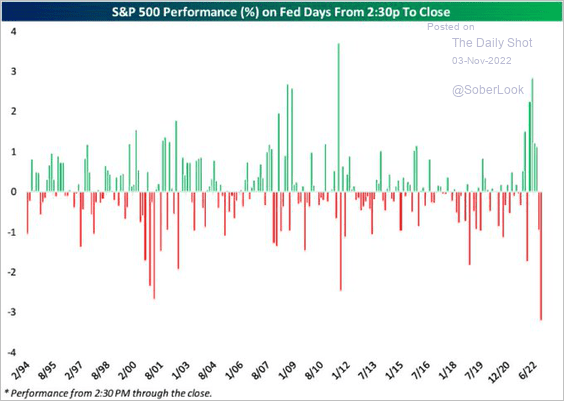 Source: @bespokeinvest

2. The equal-weight S&P 500 continues to outperform, …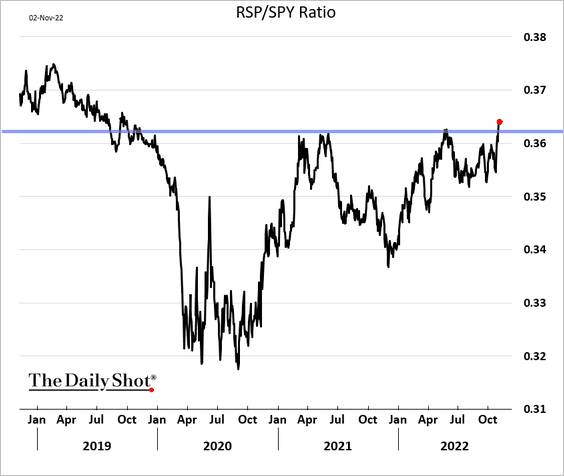 … as tech mega-caps make the overall index too expensive.


Source: Truist Advisory Services
——————–

3. Growth stocks' underperformance deepens.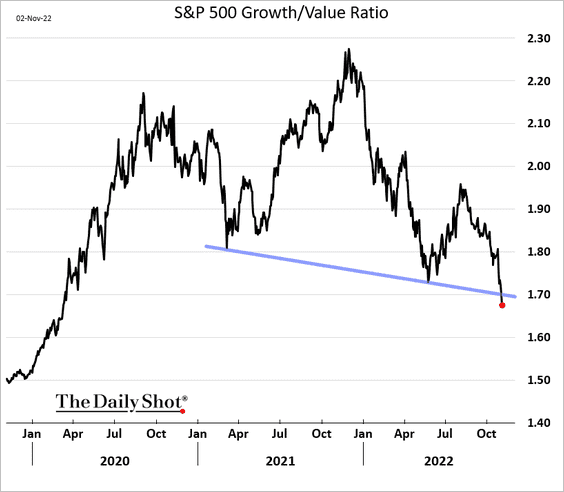 4. The BoA's sentiment indicator is nearing the "buy signal."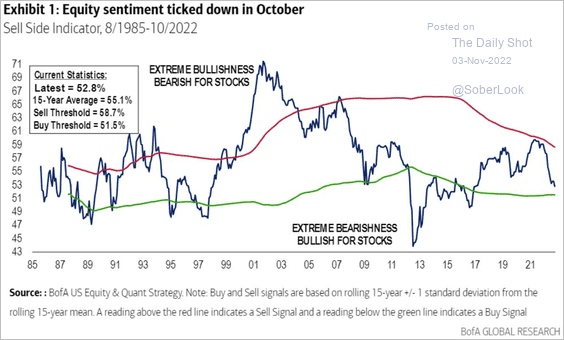 Source: BofA Global Research; @markets Read full article

5. Individual investors are sitting on a lot of cash


Source: @WSJ Read full article

6. Net bullish options volumes remain depressed.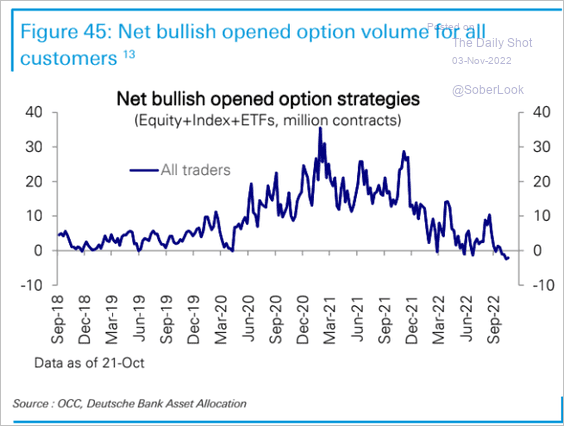 Source: Deutsche Bank Research

7. New lows continue to outpace new highs.


Source: @WillieDelwiche

8. Back to the 2008 analog?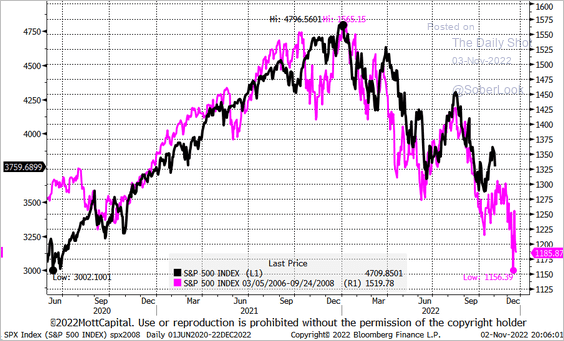 Source: @MichaelMOTTCM

9. The rapid rise in Treasury yields implies further underperformance for consumer discretionary stocks.


Source: MRB Partners

10. Materials, financials, and consumer discretionary sectors have seen the largest downward revisions to earnings estimates. Communication services had the largest increase in earnings expectations, which contributed to recent disappointments.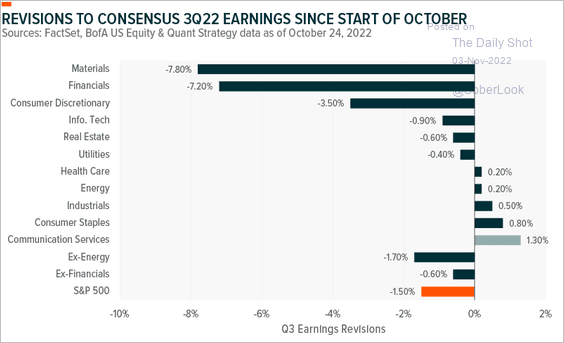 Source: Global X ETFs Read full article

11. This video is a visualization of the S&P 500 performance by sector since the beginning of the year.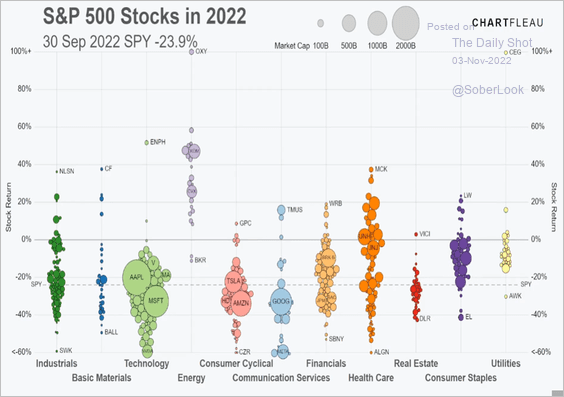 Source: Visual Capitalist, h/t Walter Read full article
---
Back to Index
Rates
Markets remain concerned about year-end US dollar liquidity. Here is the FRA-OIS spread.


---
Back to Index
Global Developments
1. The dollar is trading at high valuations while the US trade deficit has been widening.


Source: BCA Research

2. Global manufacturing contraction in October was driven by falling intermediate goods production.


Source: S&P Global PMI

• Manufacturers face shrinking demand: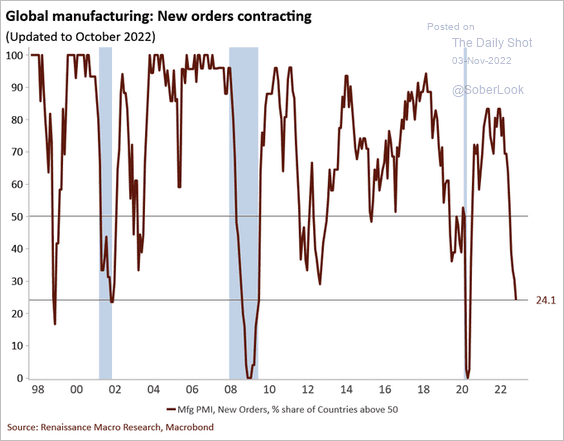 Source: @RenMacLLC

• Tight monetary policy points to further weakness in manufacturing.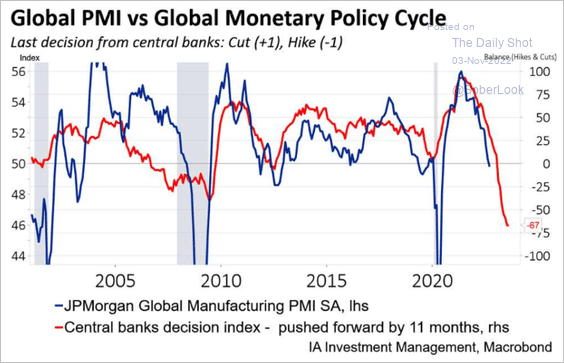 Source: Industrial Alliance Investment Management

• Here are the manufacturing PMI indicators by country.


Source: S&P Global PMI
---
——————–
Food for Thought
1. Quarterly growth in Facebook's active users: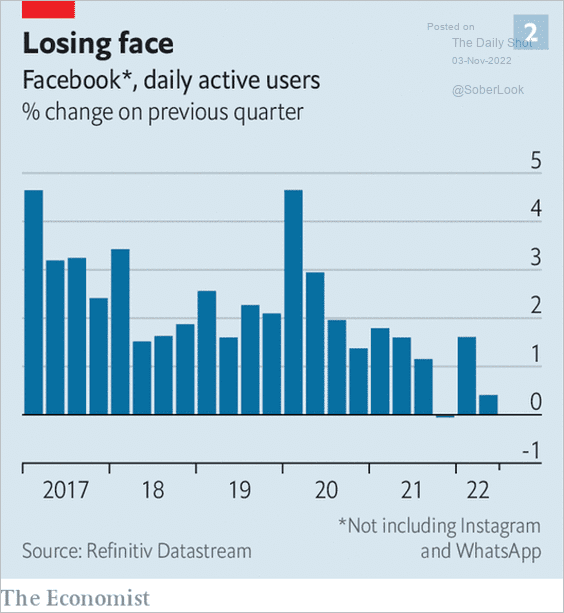 Source: The Economist Read full article

2. Micromobility investments: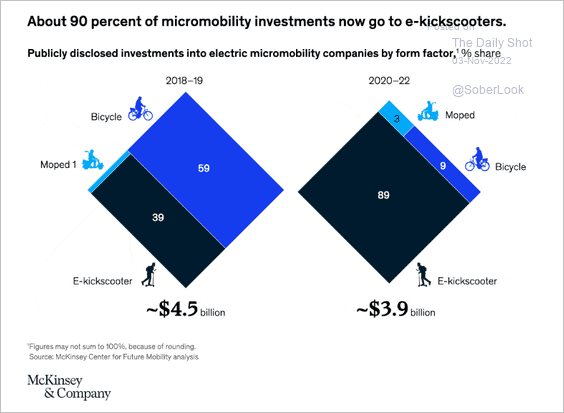 Source: McKinsey & Company Read full article

3. Views on pardoning Americans convicted of simple marijuana possession:


Source: @CivicScience Read full article

4. Trust in state and local governments: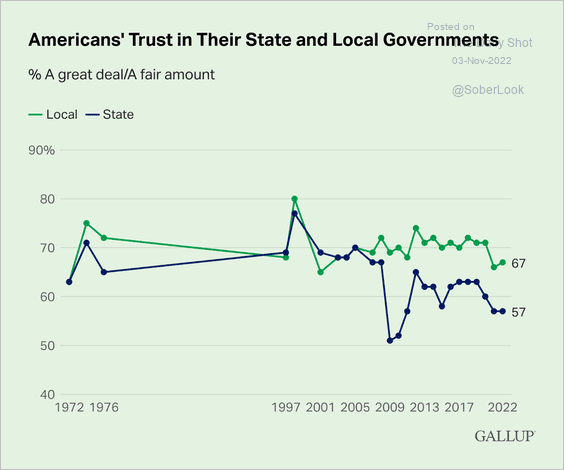 Source: Gallup Read full article

5. Bloomberg articles containing the phrase "voter fraud":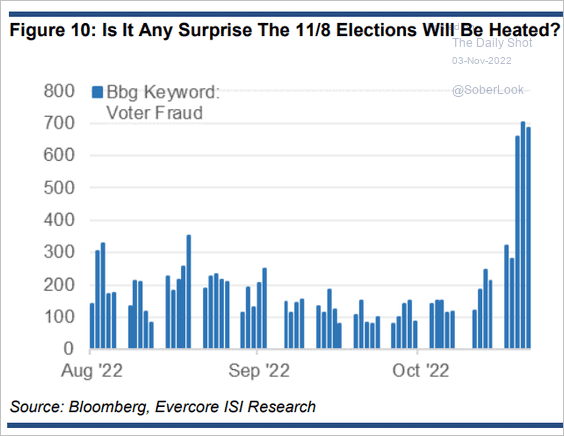 Source: Evercore ISI Research

6. Coffee shop visits vs. 2021: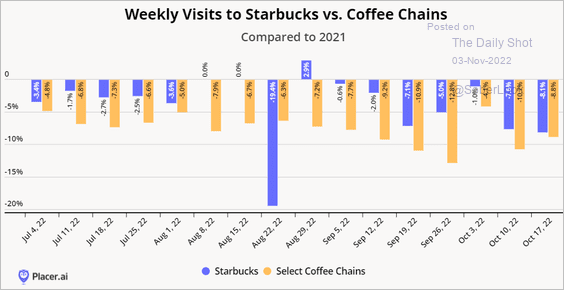 Source: Placer.ai

7. Most visited museums:


Source: Statista
——————–
---
Back to Index
---