The Daily Shot: 26-Jul-22
• The United States
• Canada
• The United Kingdom
• The Eurozone
• Asia – Pacific
• China
• Emerging Markets
• Cryptocurrency
• Energy
• Equities
• Credit
• Rates
• Global Developments
• Food for Thought
---
---
The United States
1. The Dallas Fed manufacturing index confirmed the weakness reported by other Fed districts.




Supply chain stress is easing, …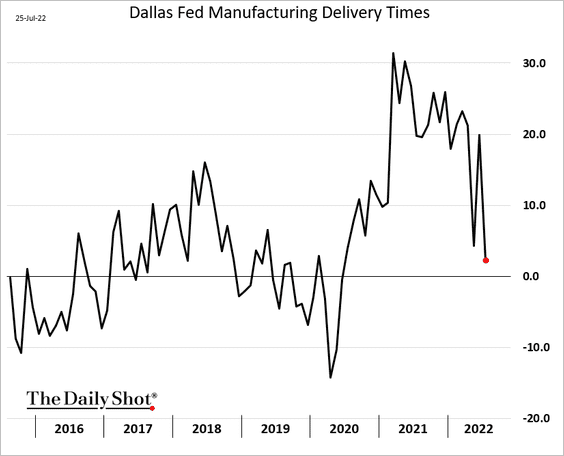 … and so are price pressures, althought we still have a ways to go before reaching more typical levels.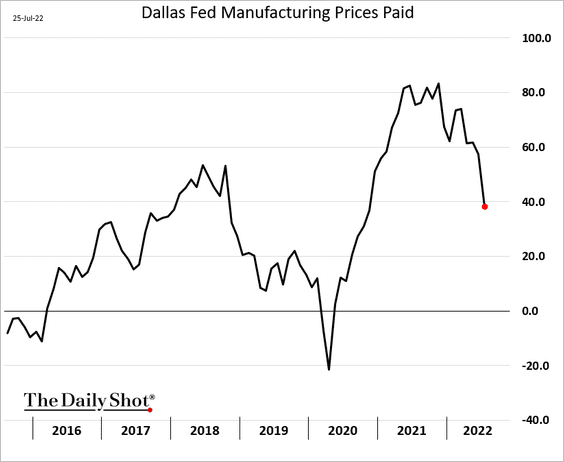 Fewer businesses are boosting wages.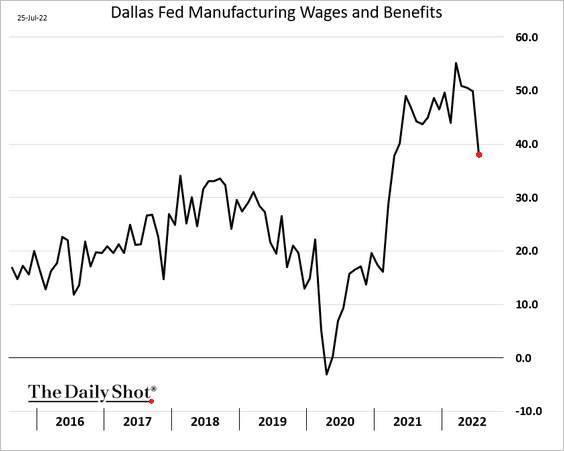 ——————–

2. Next, we have some updates on the housing market.

• More sellers have been cutting prices.


Source: Altos, CalculatedRisk 

• Properties are taking longer to sell.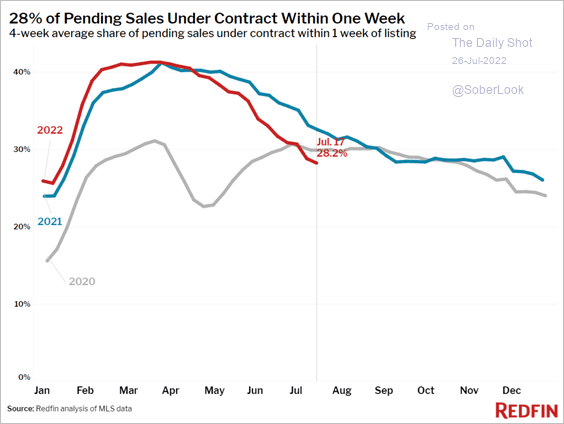 Source: Redfin

• New housing supply has been rising.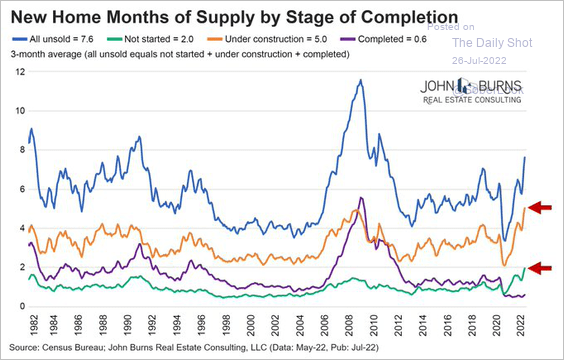 Source: @RickPalaciosJr

• Mortgage applications and homebuilder sentiment point to weakness ahead for new home sales.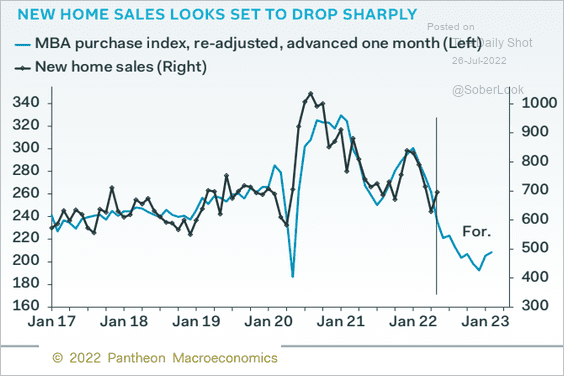 Source: Pantheon Macroeconomics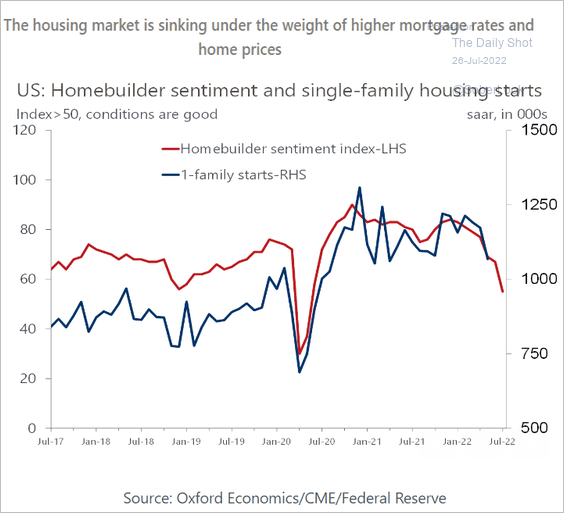 Source: Oxford Economics

• Building materials shortages are easing as demand moderates.


Source: @johnburnsjbrec

• The spread between mortgage rates and Treasury yields is elevated.


Source: Yardeni Research

• The overall housing supply remains tight.


Source: BCA Research
——————–

3. Here are some updates on consumer sentiment.

• The current conditions component of consumer sentiment has been highly correlated with real consumer spending.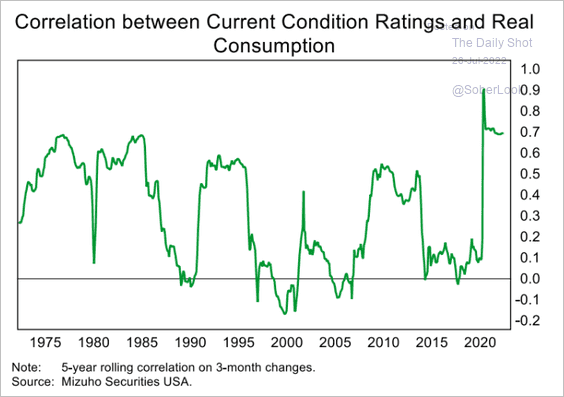 Source: Mizuho Securities USA

• Do we need to wait for real wages to rebound before sentiment turns meaningfully higher?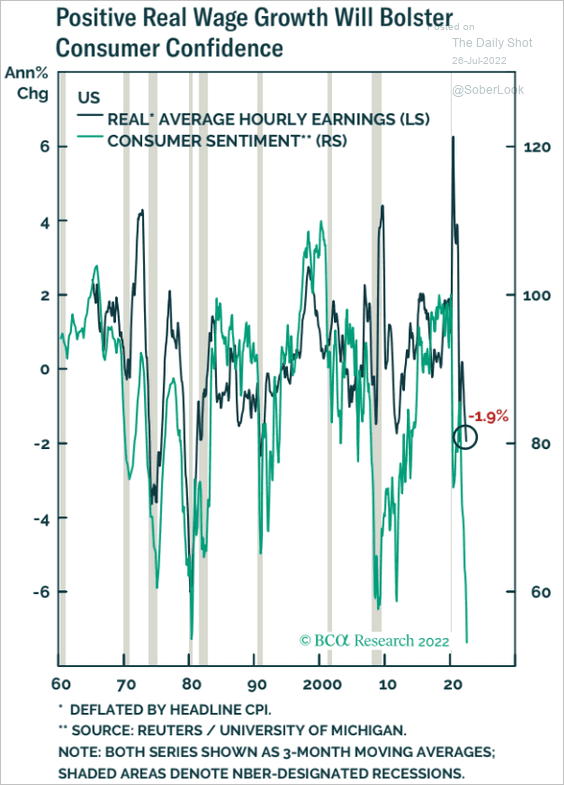 Source: BCA Research

• This chart shows consumer sentiment vs. Goldman's Twitter Economic Sentiment Index (sentiment on Twitter).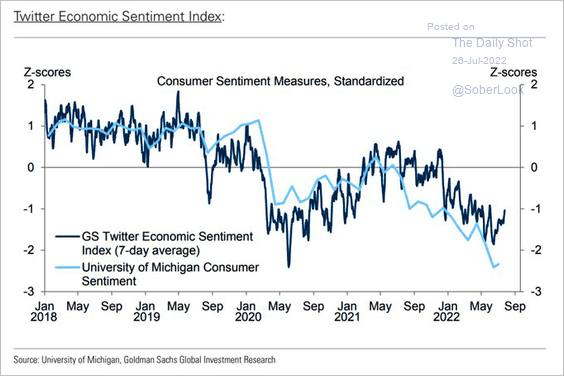 Source: Goldman Sachs; @WallStJesus
——————–

4. The market continues to price Fed rate cuts in the first half of next year.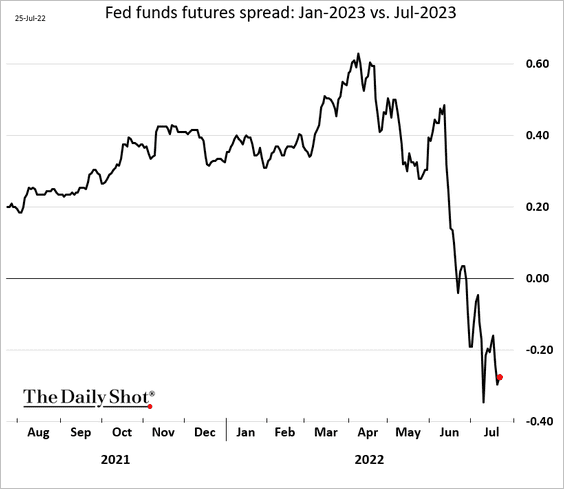 Bets on rate cuts this early in the hiking cycle are unusual.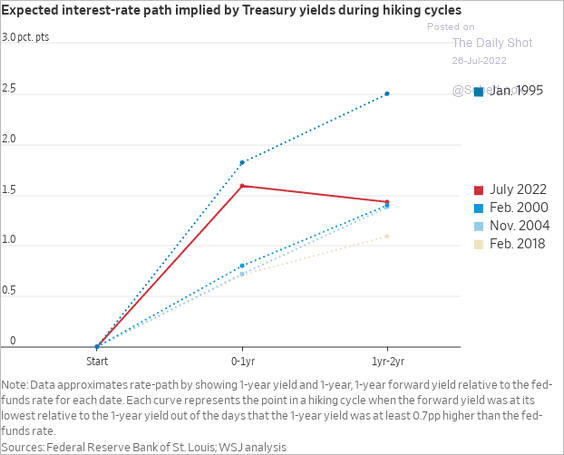 Source: @WSJ Read full article
——————–

5. The economic contraction, if one is coming, is expected to be shallow due to elevated excess savings.


Source: MRB Partners

• Goldman doesn't see a recession – just slow growth.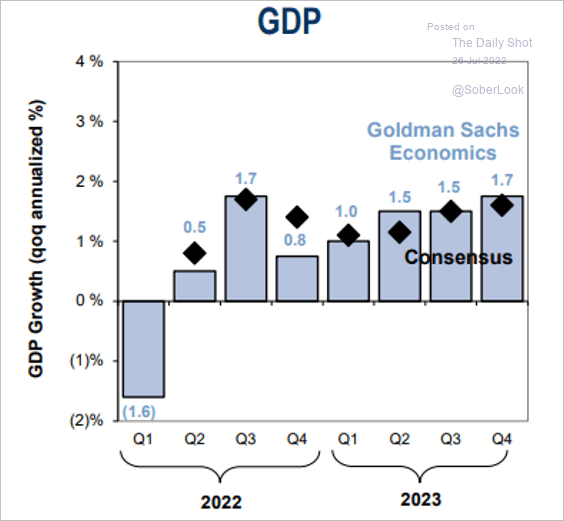 Source: Goldman Sachs; @MikeZaccardi

• Here is Morgan Stanley's recession probability model.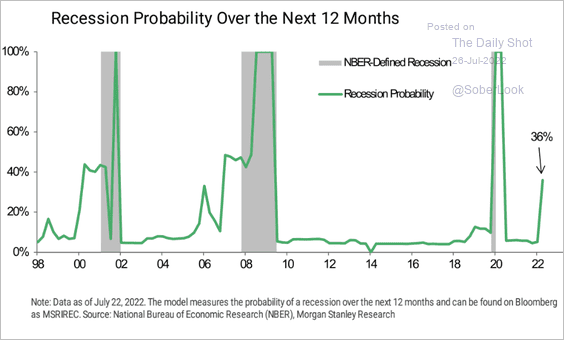 Source: Morgan Stanley Research
---
Back to Index
Canada
1. Consumer confidence appears to have stabilized.




2. The TSX Index is holding support, although breadth indicators remain weak.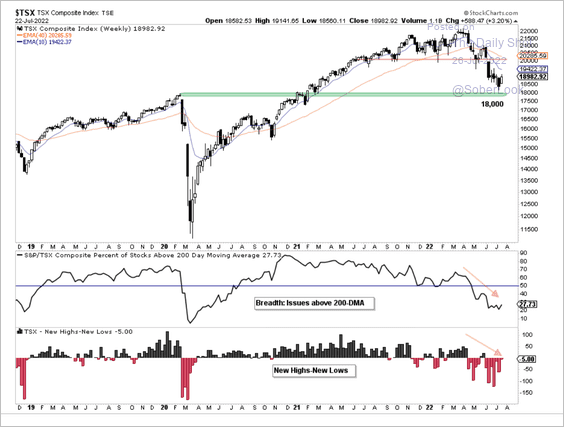 Source: Aazan Habib, Paradigm Capital
---
Back to Index
The United Kingdom
1. The market doesn't see the BoE hiking by more than 50 bps next month.



Source: Reuters Read full article
——————–

2. The CBI report showed slower growth in industrial orders this month.




Price gains are moderating, …




… which will later show up in the PPI data.


Source: Pantheon Macroeconomics
——————–

3. Real retail sales continue to fall.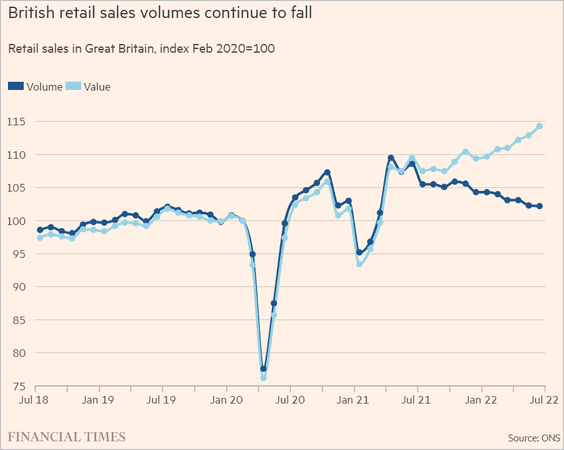 Source: Financial Times
---
Back to Index
The Eurozone
1. Germany's Ifo business expectations index is crashing …


Source: ifo Institute 

… which points to a contraction in Germany's GDP (2 charts).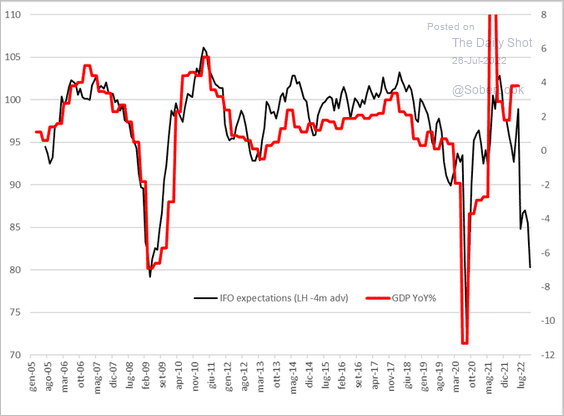 Source: @CavaggioniMario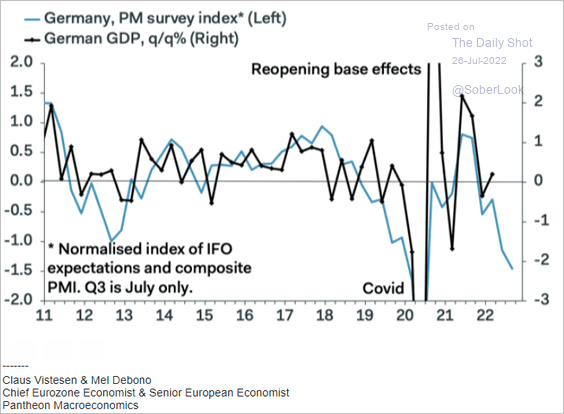 Source: Pantheon Macroeconomics

Here is the spread between the Ifo expectations and current assessment indices.


Source: @StephaneDeo
——————–

2. Capital Economics forecasts a shallower path for the Eurozone GDP trajectory.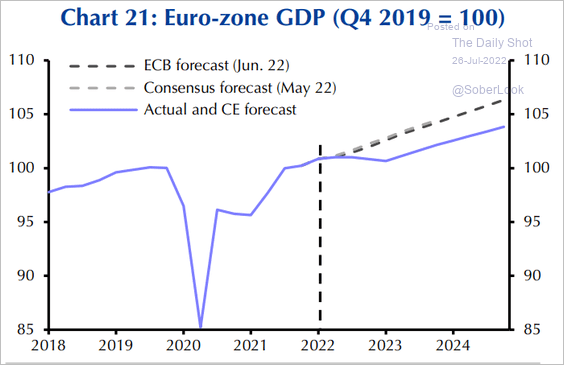 Source: Capital Economics

3. Market pricing for the ECB's rate hike trajectory has declined sharply.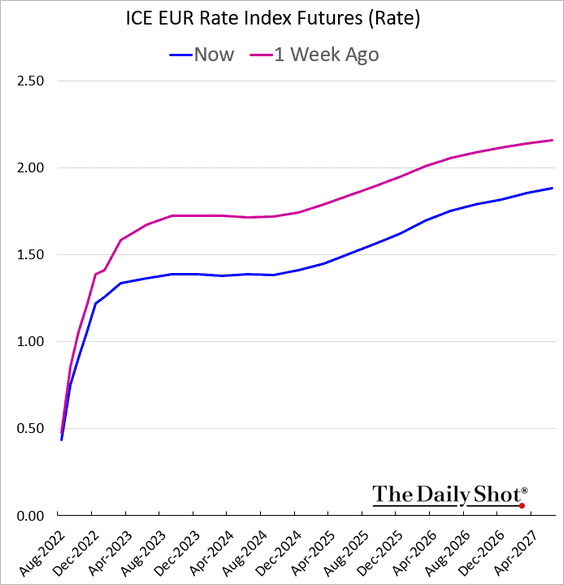 The yield curve has flattened (2 charts).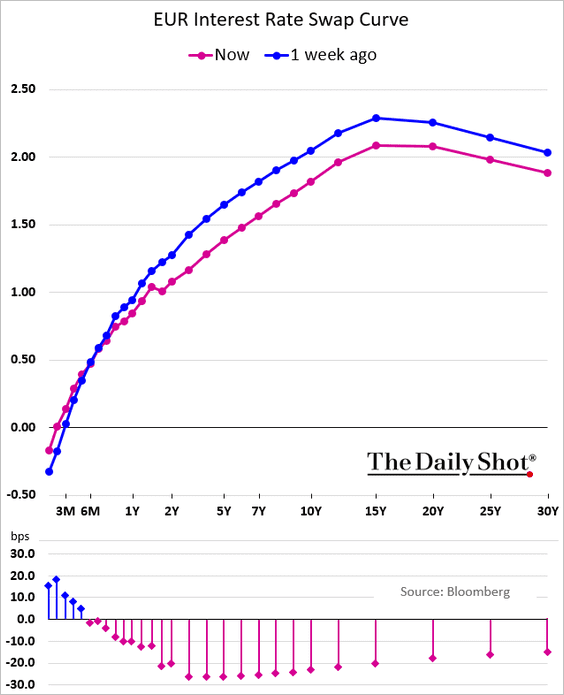 ——————–

4. Household deleveraging is over.


Source: MRB Partners

5. Consumer inflation expectations have been moderating.


Source: Pantheon Macroeconomics
---
Back to Index
Asia – Pacific
1. Japan's services PPI continues to climb.




2. Singapore's CPI surprised to the upside.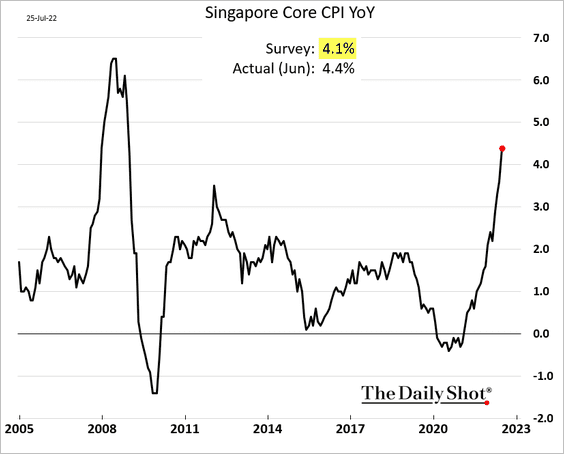 3. South Korea's Q2 GDP growth was stronger than expected.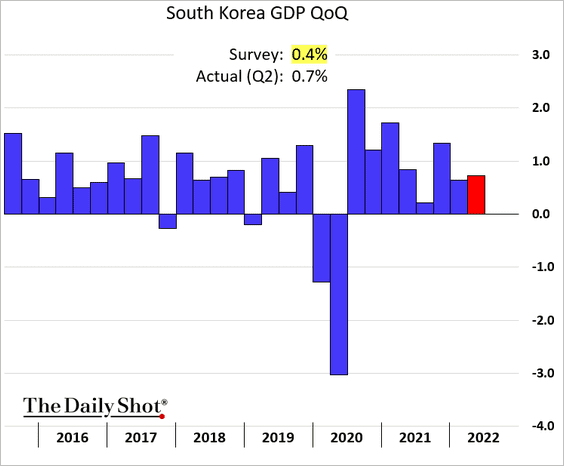 4. Taiwan's industrial production remains robust.


---
Back to Index
China
1. Beijing's property sector bailout announcement is boosting developers' shares …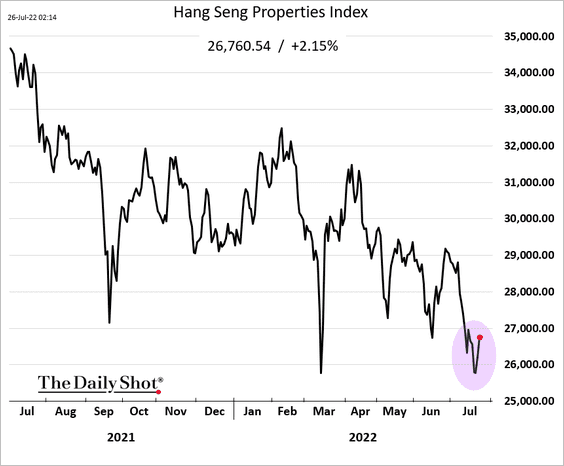 … as well as iron ore prices.


——————–

2. Business activity remains soft, according to the World Economics SMI report.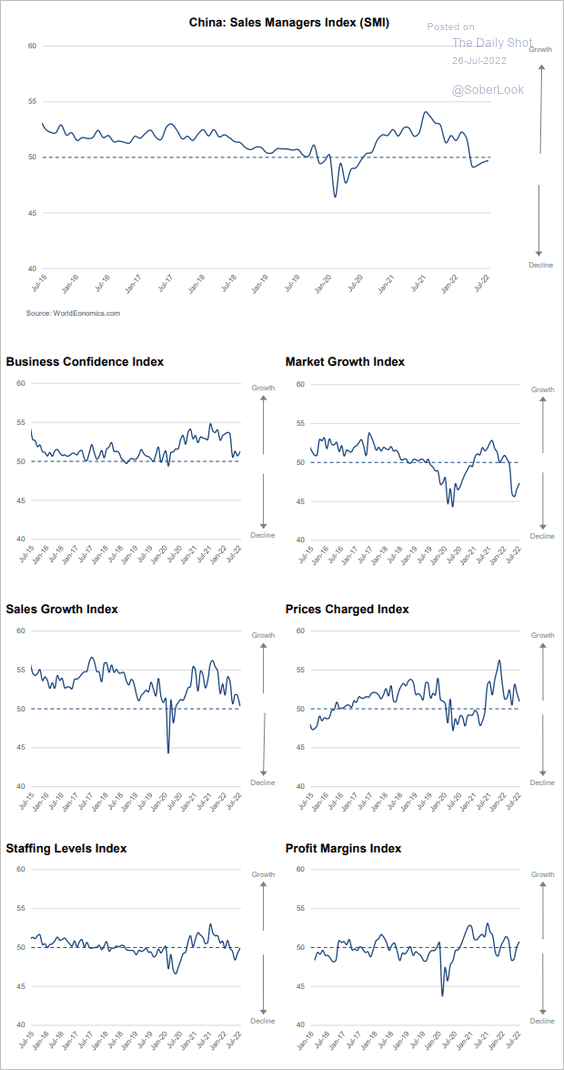 Source: World Economics

3. Hong Kong's exports are now well below last year's levels.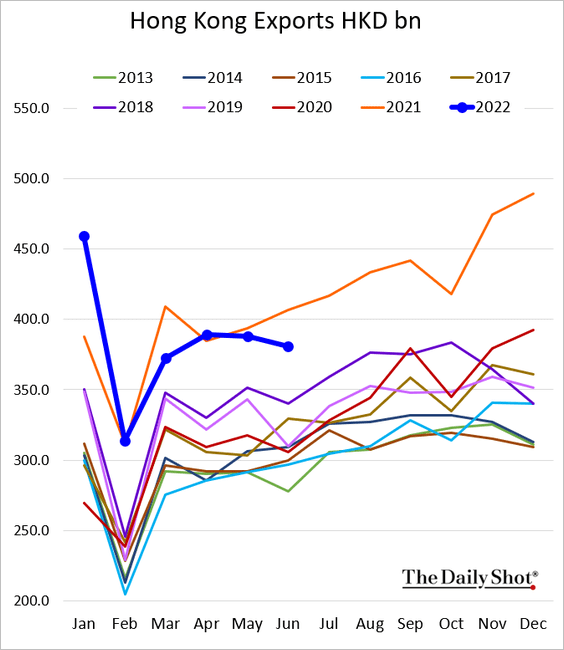 The trade deficit hit a record high.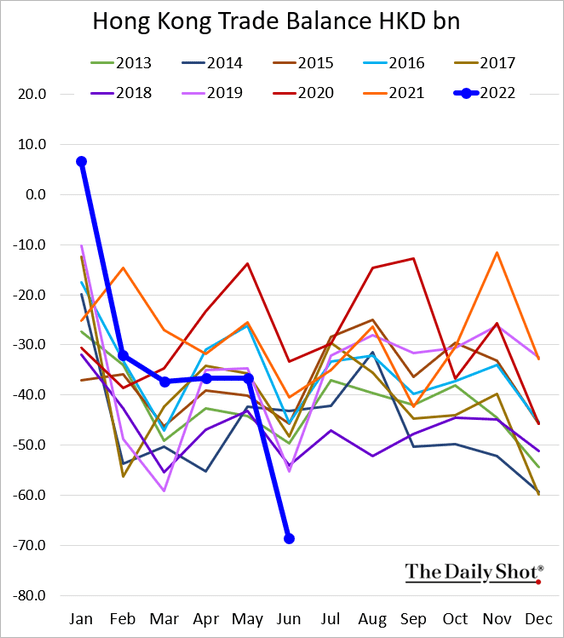 ---
Back to Index
Emerging Markets
1. Mexico's economic activity eased in May.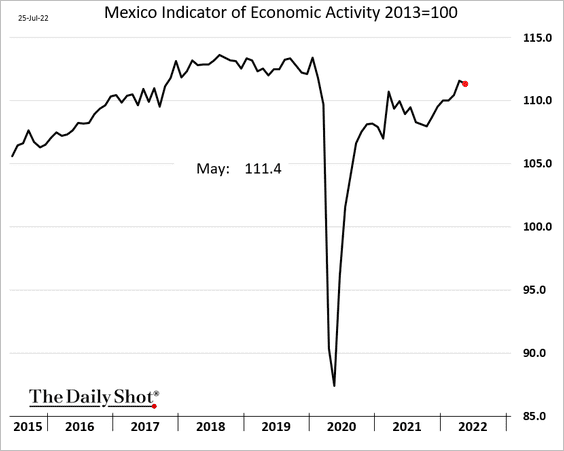 Is inflation peaking?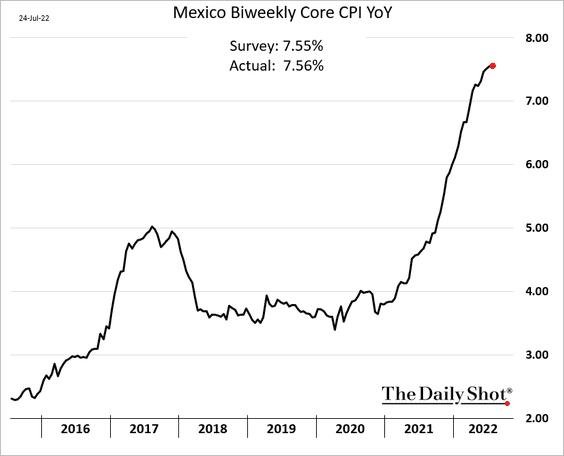 ——————–

2. Brazil's high-frequency price data show some moderation in inflation.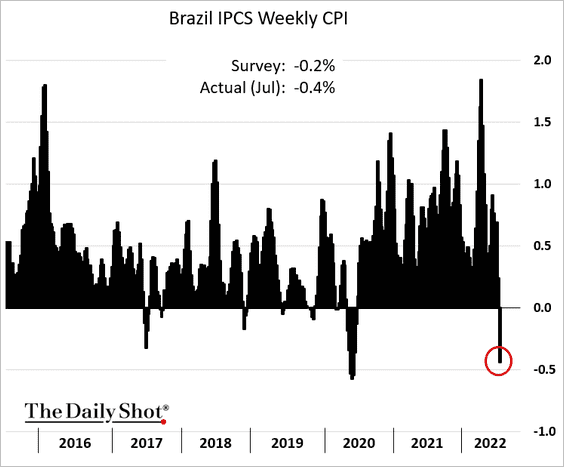 3. Turkey's manufacturing confidence has been holding up well, but it's starting to buckle.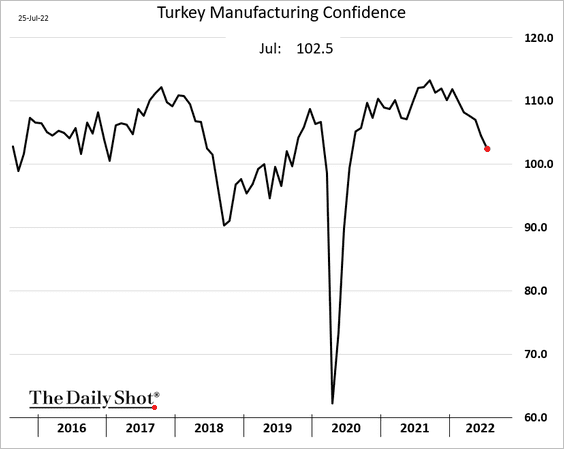 Capacity utilization remains strong.


——————–

4. The Philippine government budget is under pressure.




5. EM spreads have been tightening relative to the US.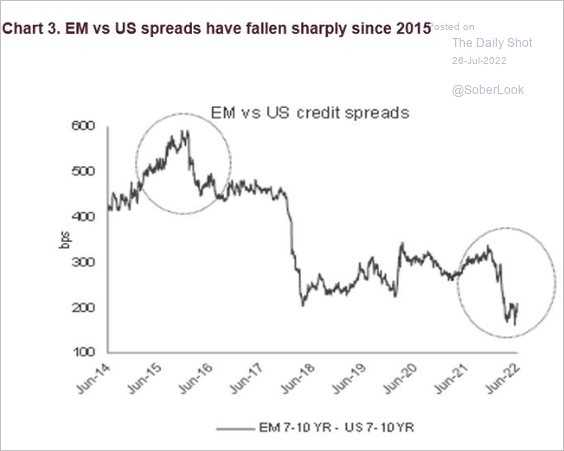 Source: FTSE Russell Read full article

6. EM policy tightening started well before advanced economies.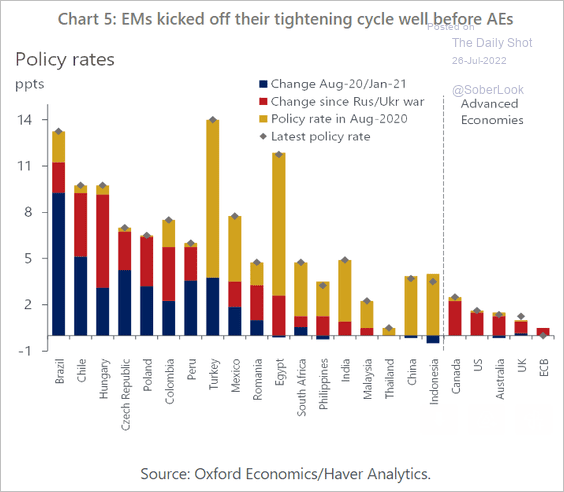 Source: Oxford Economics
---
Back to Index
Cryptocurrency
1. Cryptos are taking another leg down.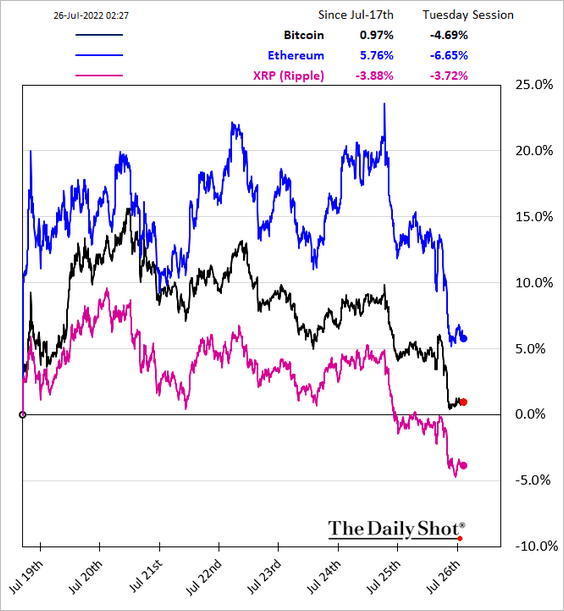 2. Crypto investment products saw inflows totaling $30 million last week, following a strong uptick in the prior week, mostly in Switzerland (2 charts).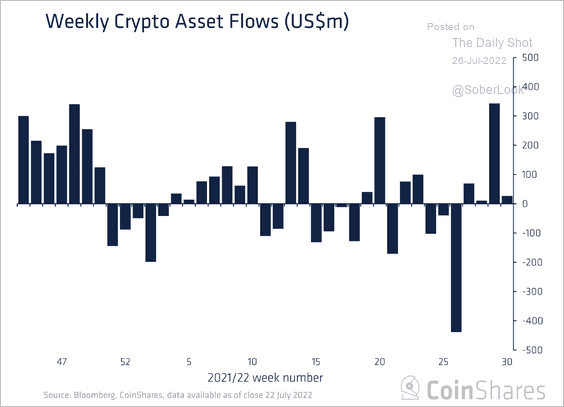 Source: CoinShares Read full article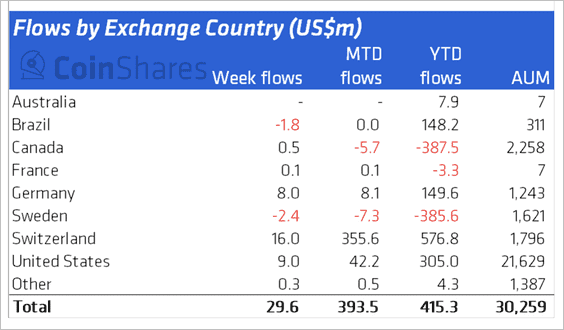 Source: CoinShares Read full article

3. Bitcoin and Ethereum-focused products accounted for a majority of inflows last week, while multi-asset funds saw outflows.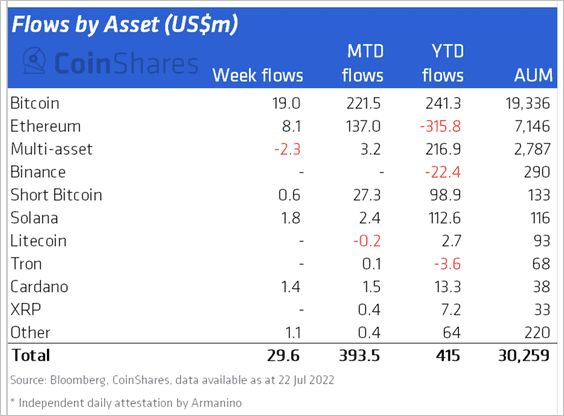 Source: CoinShares Read full article

4. The total value locked (TVL) across DeFi tokens has declined by 70% in the last quarter alone toward $70 billion.


Source: CoinShares

5. A collection of DeFi applications have been built on alternative blockchains over the past year, partly because of high transaction fees on Ethereum.


Source: CoinShares
---
Back to Index
Energy
1. WTI crude oil futures held support.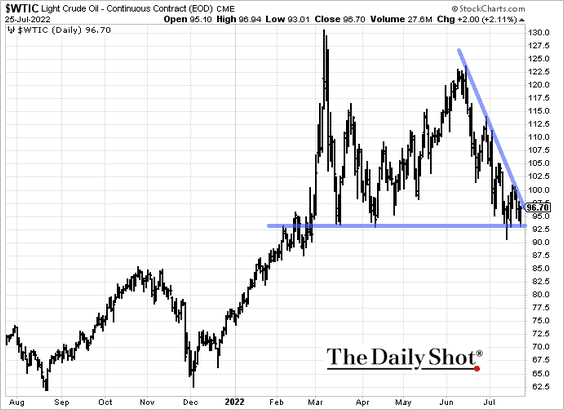 Oil markets remain tight.


——————–

2. Russia is putting a squeeze on Europe's natural gas markets.



Source: @WSJ Read full article

Futures jumped.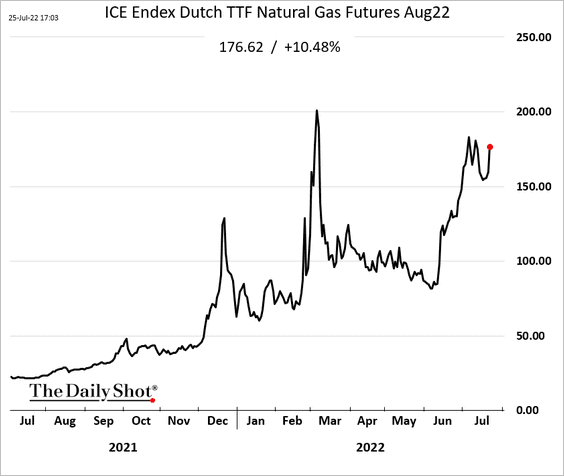 ——————–

3. US natural gas futures are nearing $9/mmbtu as the heatwave persists.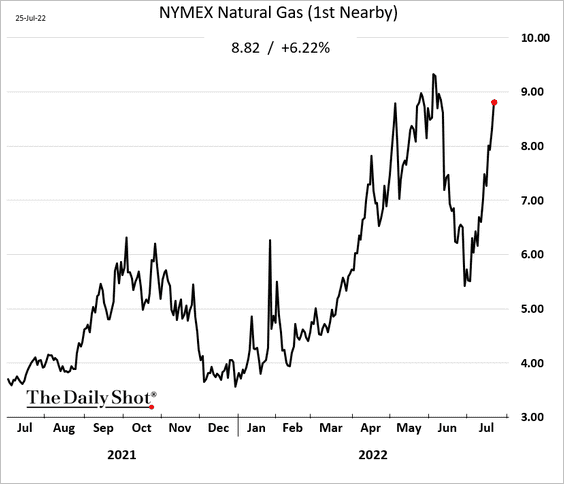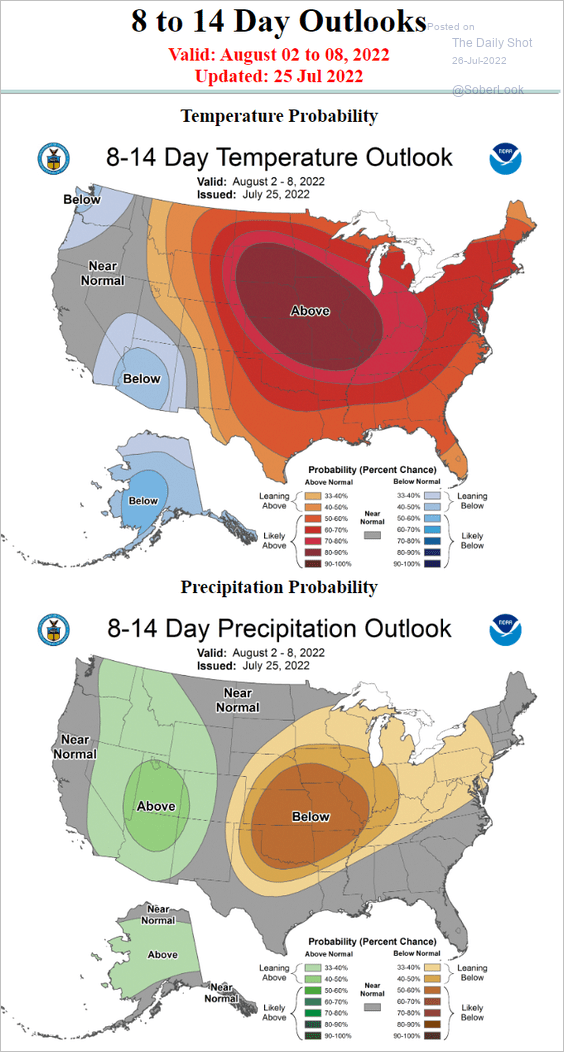 Source: NOAA
——————–

4. US retail gasoline prices are down 10% this month. The next move will likely be higher.


---
Back to Index
Equities
1. We got some bad news from Walmart, sending shares down sharply after the close.



Source: CNBC Read full article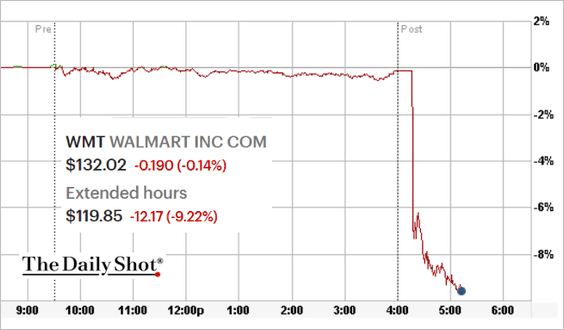 Amazon declined as well.


——————–

2. Companies with higher non-US revenues saw stronger earnings and revenue growth.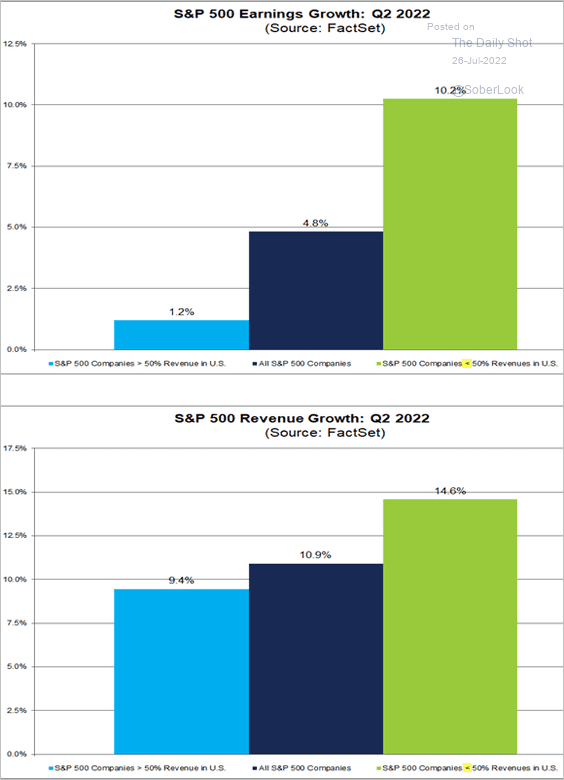 Source: @FactSet

3. US earnings estimates are getting trimmed faster than those in Europe and Japan.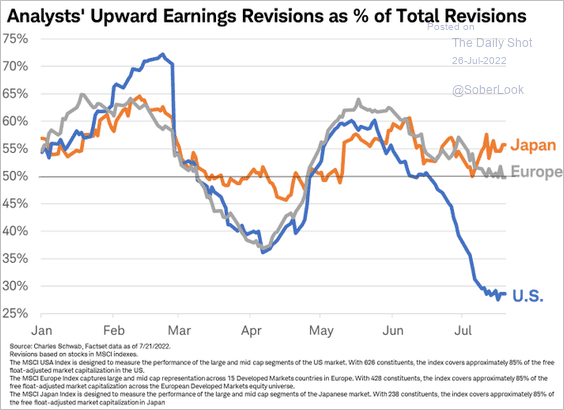 Source: @JeffreyKleintop

4. The short-term bottoming process in equities and bonds has coincided with the correction in commodities.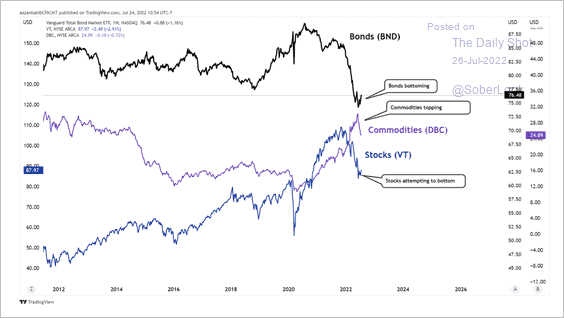 Source: Aazan Habib, Paradigm Capital

But commodities are rebounding.


——————–

5. Companies with low operating leverage have been outperforming in recent days.




Here is the operating leverage by sector.


Source: J.P. Morgan Asset Management; @Mayhem4Markets
——————–

6. The correlation among S&P 500 companies has been declining.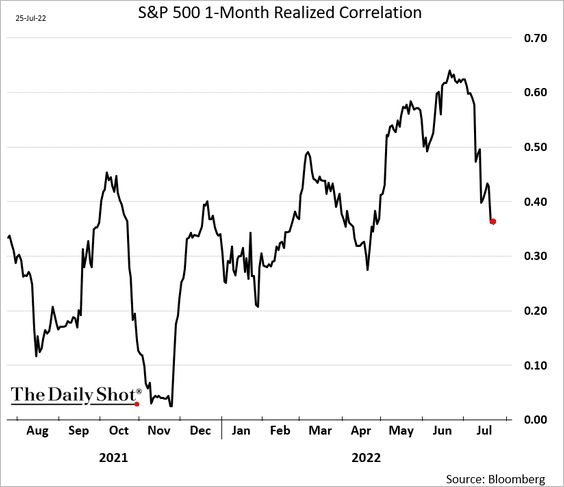 7. Microcaps have been underperforming small caps.




8. Speculative tech shares have given up last week's outperformance.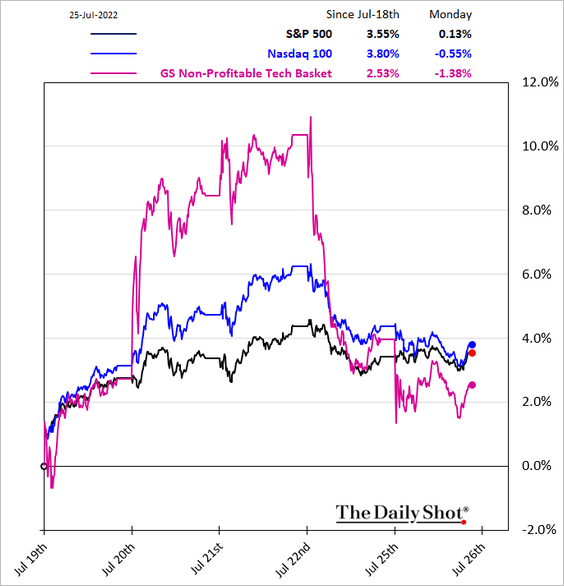 9. Utilities have been underperforming this month.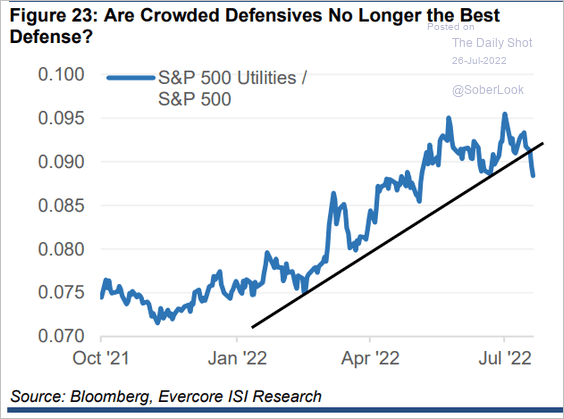 Source: Evercore ISI Research
——————–

10. On a separate note, financial advisors expect to be adjusting their fee structure in the years ahead.


Source: Natixis Investment Managers 
---
Back to Index
Credit
1. Leveraged loan prices are rebounding.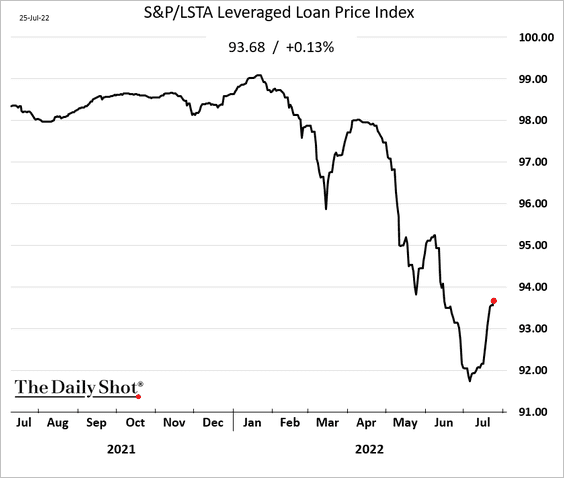 2. So far, we've had the biggest annual decline in high-yield bond issuance on record.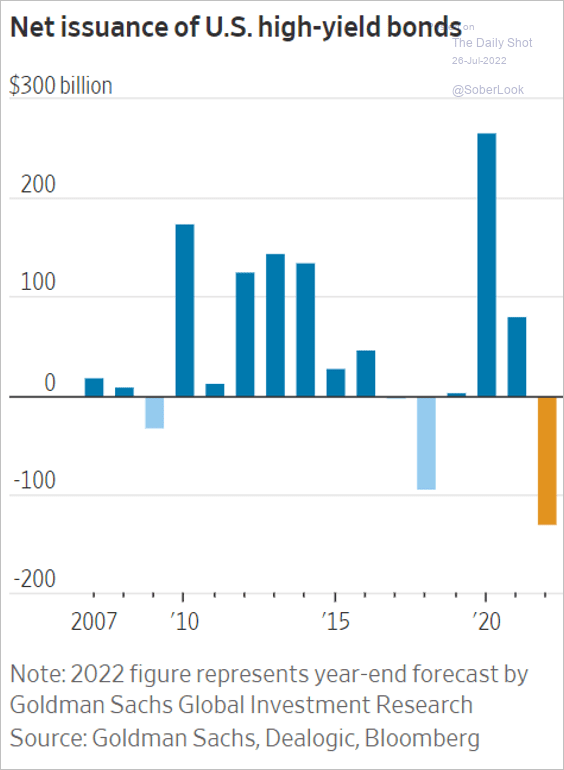 Source: @GunjanJS, @WSJmarkets, @ericwallerstein Read full article
---
Back to Index
Rates
1. The 10-year – 3-month portion of the Treasury curve continues to flatten.




2. Are Treasuries attractive at current levels?


Source: Alpine Macro

3. Asset managers have been boosting their bets on ultra-long bond futures.


---
Back to Index
Global Developments
1. Manufacturing activity continues to slow.


Source: Hugo Ste-Marie, Portfolio & Quantitative Strategy Global Equity Research, Scotia Capital

2. Markets expect many central banks to begin easing next year.


Source: BCA Research

3. Risky asset fund flows have been low relative to safe assets.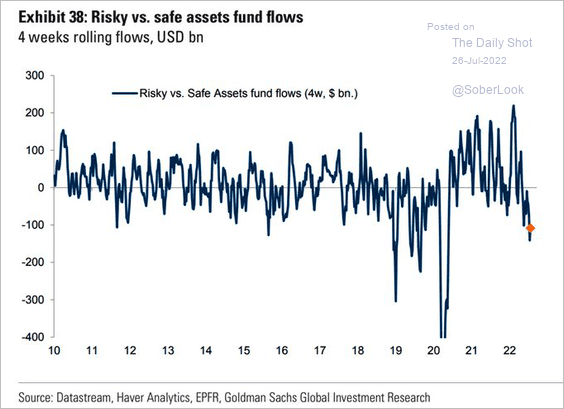 Source: Goldman Sachs; @WallStJesus

4. The peak in the stock-bond ratio tends to signal recessions.


Source: MRB Partners

5. The percentage of countries with inflation below 2% has dropped to zero.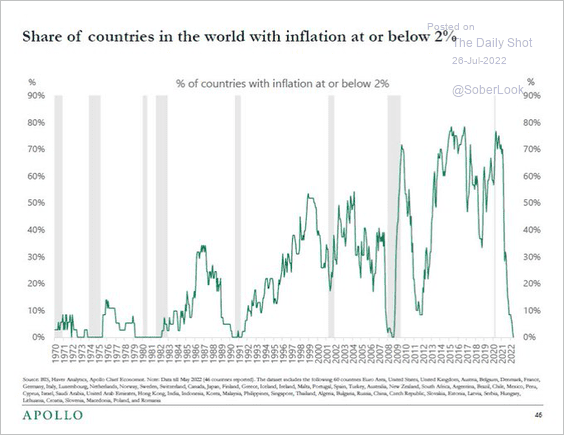 Source: Apollo Global Management; @MichaelRStrain
---
——————–
Food for Thought
1. Scarring effects of losing a job on wages (over the long term):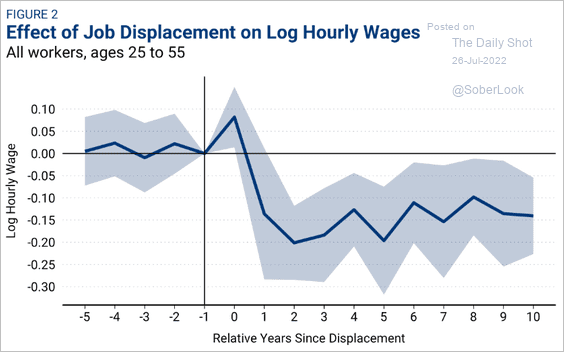 Source: @RichardvReeves, @kfbutcher, @ArielGelrud Read full article

2. The composition of income by income level: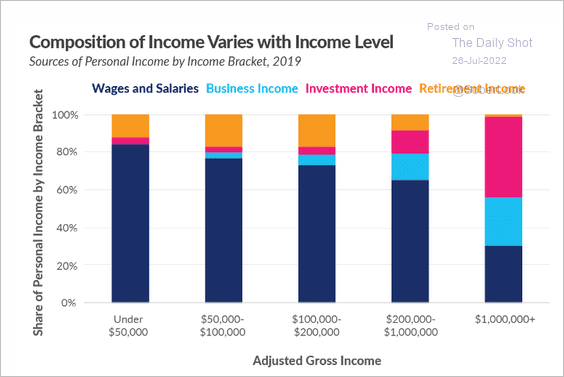 Source: Tax Foundation 

3. Republicans' views on climate change policy:


Source: @axios Read full article

4. GOP favorability ratings among Republicans: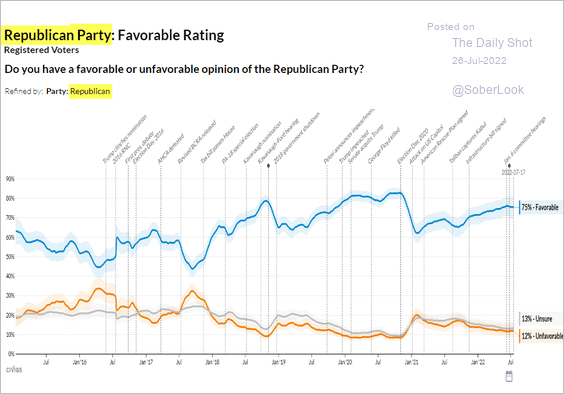 Source: @databyler Read full article

5. Warmer nights and insufficient sleep: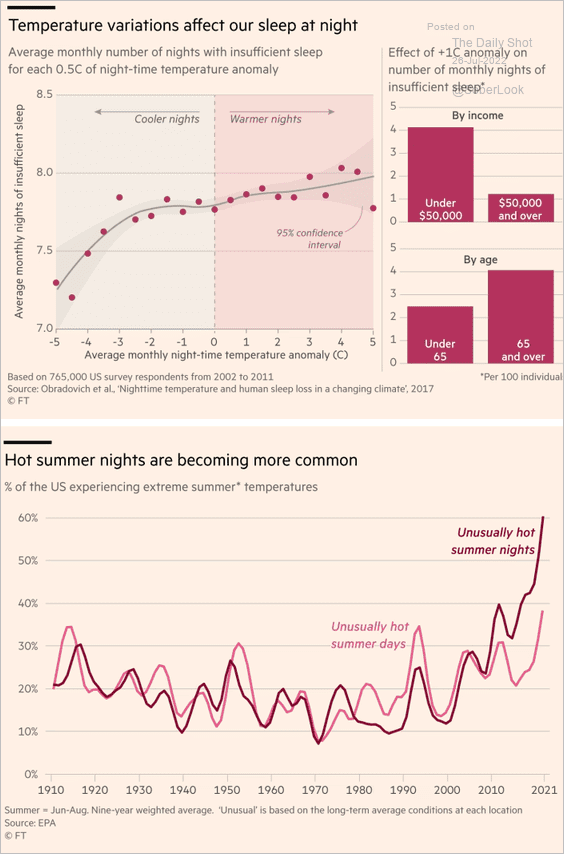 Source: @financialtimes Read full article

6. Tour de France doping violations:


Source: Statista
——————–
---
Back to Index
---