The Daily Shot: 10-Nov-23
• The United States
• The United Kingdom
• Europe
• Japan
• China
• Emerging Markets
• Cryptocurrency
• Commodities
• Energy
• Equities
• Credit
• Rates
• Food for Thought
---
---
The United States
1. Chair Powell struck a hawkish tone on Thursday, suggesting that the monetary policy may not be sufficiently restrictive, slowing inflation could be a "head fake," and the central bank "will not hesitate" to hike rates again.
Chair Powell: – [The FOMC] is committed to achieving a stance of monetary policy that is sufficiently restrictive to bring inflation down to 2 percent over time;  we are not confident that we have achieved such a stance. We know that ongoing progress toward our 2 percent goal is not assured:  Inflation has given us a few head fakes. If it becomes appropriate to tighten policy further,  we will not hesitate to do so.
The Taylor rule suggests that the policy rate is in the right zip code, but there is a lot of uncertainty associated with that measure.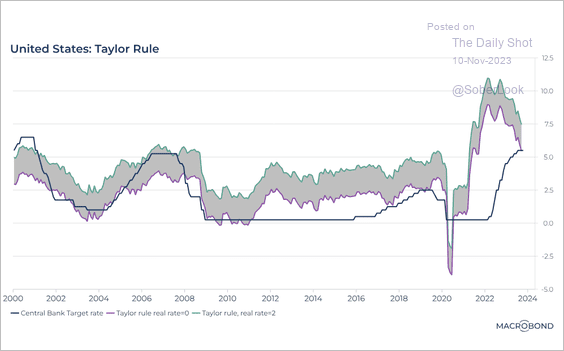 Source: Macrobond

2. In addition to Powell's remarks, the Treasury market took a blow from a sloppy 30-year bond auction (see the rates section). Surging yields drove stocks down and boosted the dollar.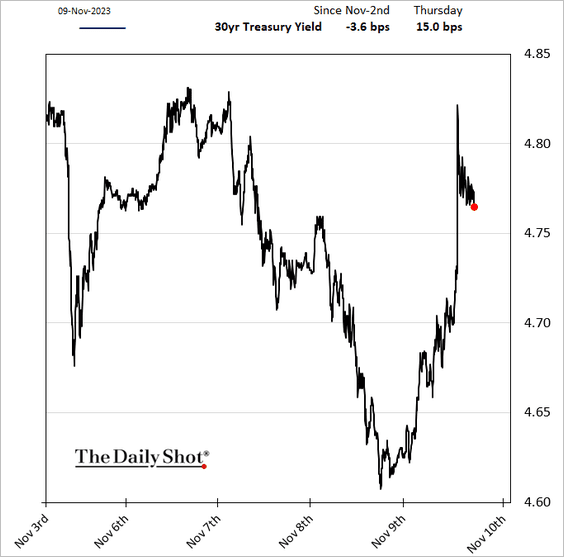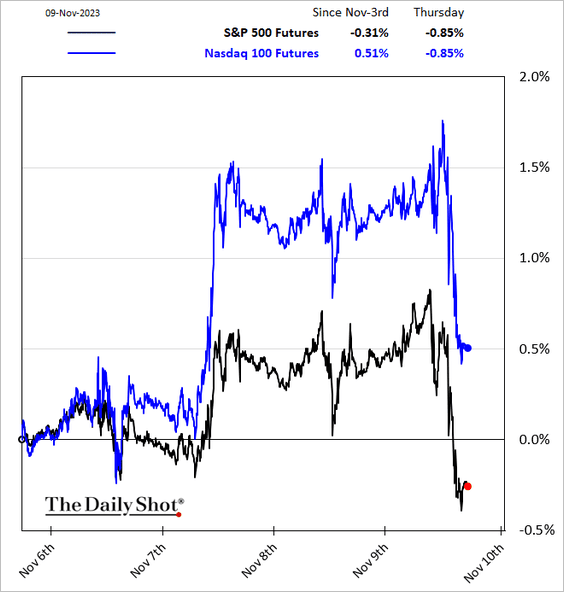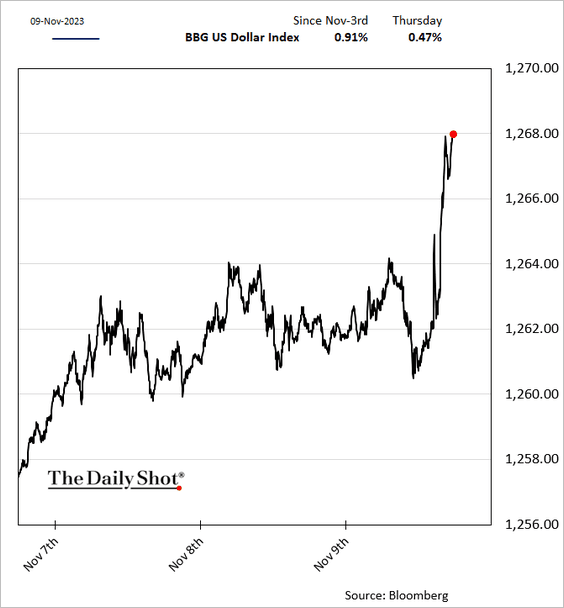 Source: Barron's Read full article
——————–

3. Initial jobless claims are holding just above multi-year lows.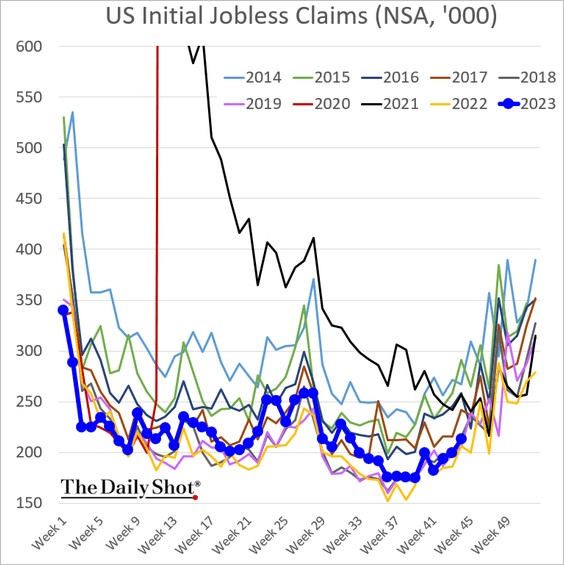 But continuing claims are elevated.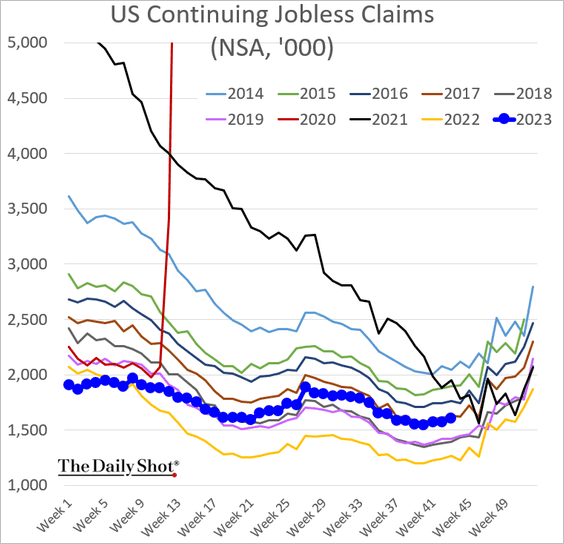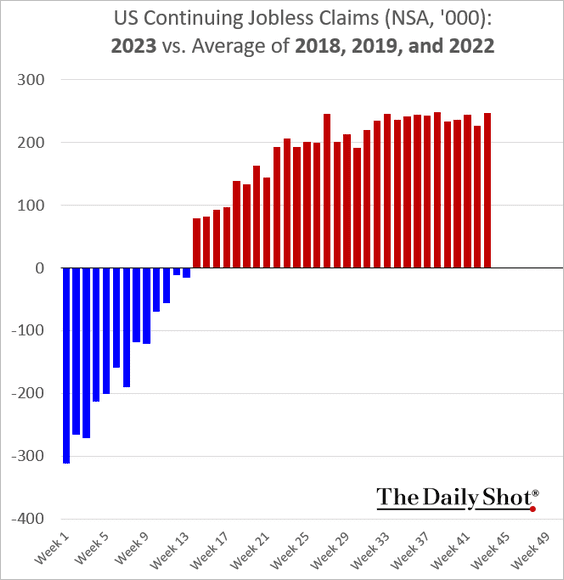 What's causing this divergence? Here is a quote from Reuters.
Reuters: … the persistence of the recent rise indicates that while new layoffs remain subdued, those out of work are experiencing a harder time finding a new job. That would be consistent with the latest hiring data showing the job market is cooling.
• High continuing claims tend to coincide with recessions.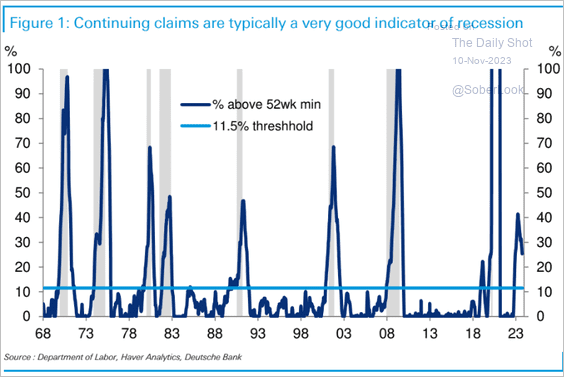 Source: Deutsche Bank Research
——————–

4. Healthcare workers, public school teachers, and restaurant/hotel workers drove a large portion of the job gains this year.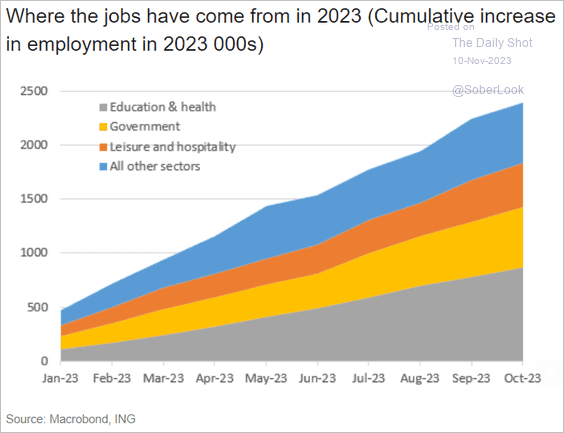 Source: ING

5. Credit/debit card spending softened last month, …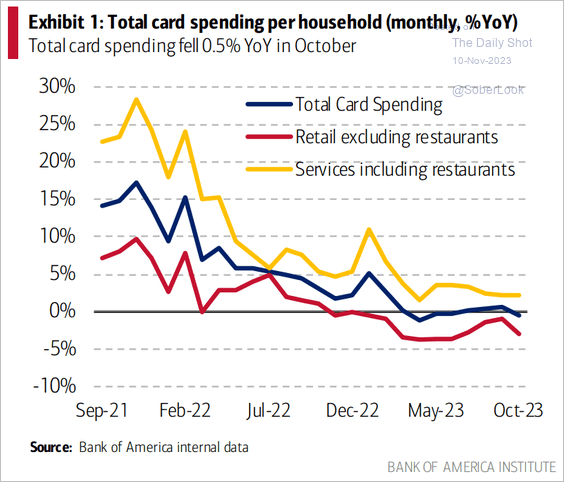 Source: Bank of America Institute

… with higher-income Americans trimming expenditures relative to 2022, …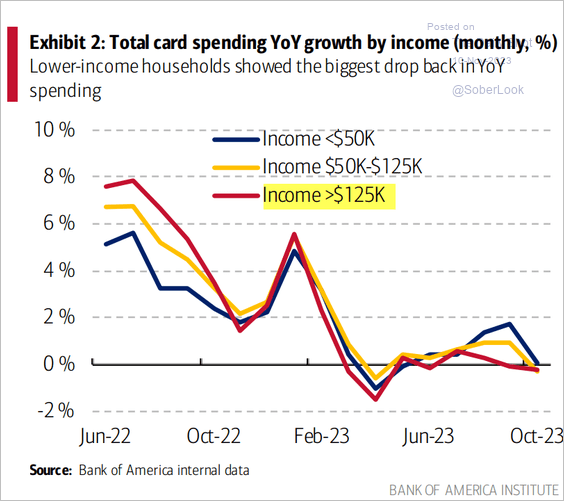 Source: Bank of America Institute

… which could be due to high-income employees' stagnating wages.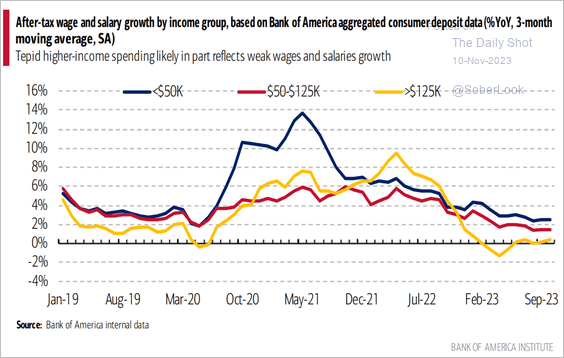 Source: Bank of America Institute
——————–

6. Small businesses are paying very high rates on short-term financing.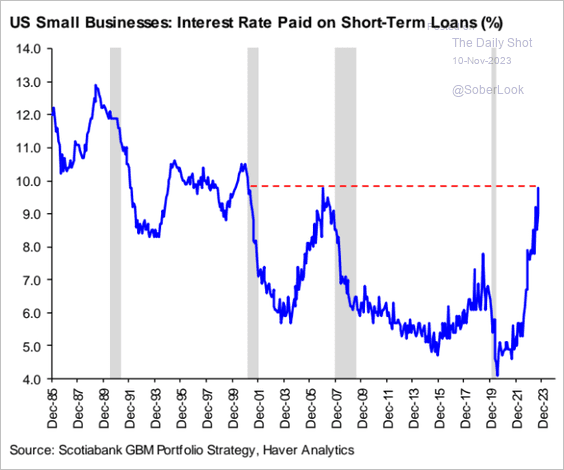 Source: Hugo Ste-Marie, Portfolio & Quantitative Strategy Global Equity Research, Scotia Capital

• Broadly, higher rates will put pressure on business investment over the next decade.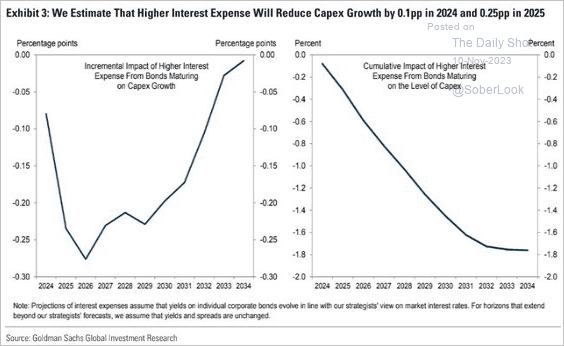 Source: Goldman Sachs; @MikeZaccardi
---
Back to Index
The United Kingdom
1. The GDP report was a bit better than expected, with September growth boosted by services.




On a quarterly basis, the GDP stagnated but did not contract.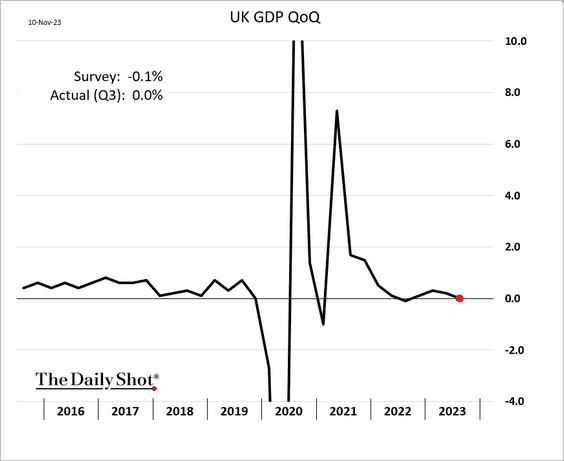 Source: Reuters Read full article

We will have more on the GDP report next week.
——————–

2. The Lloyds Business Barometer has diverged from the UK PMI.


Source: Pantheon Macroeconomics
---
Back to Index
Europe
1. Here is a look at business and household financing rates in the Eurozone.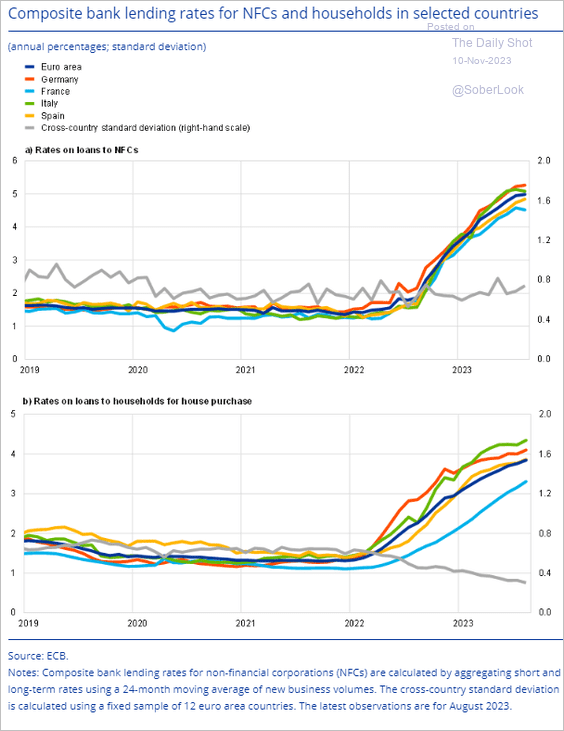 Source: ECB

2. Norway's wage growth has been accelerating.




3. Next, we have some data on revenues from taxes and social security payments.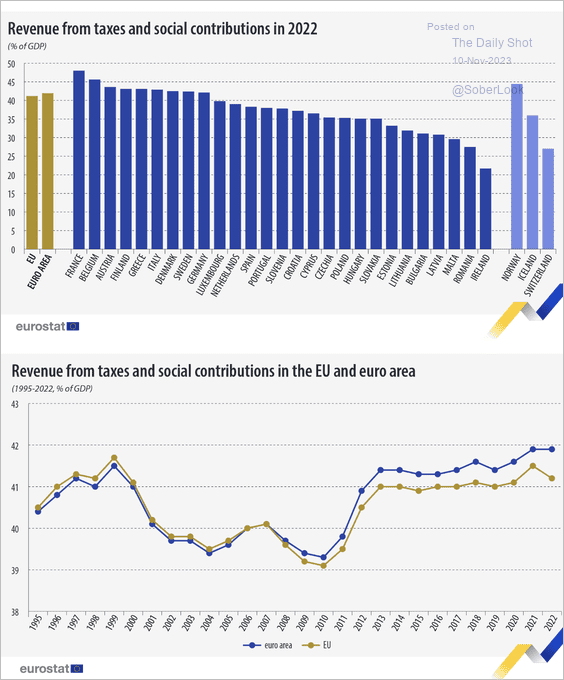 Source: Eurostat Read full article
---
Back to Index
Japan
1. The sentiment among Japanese merchants deteriorated for the third consecutive month.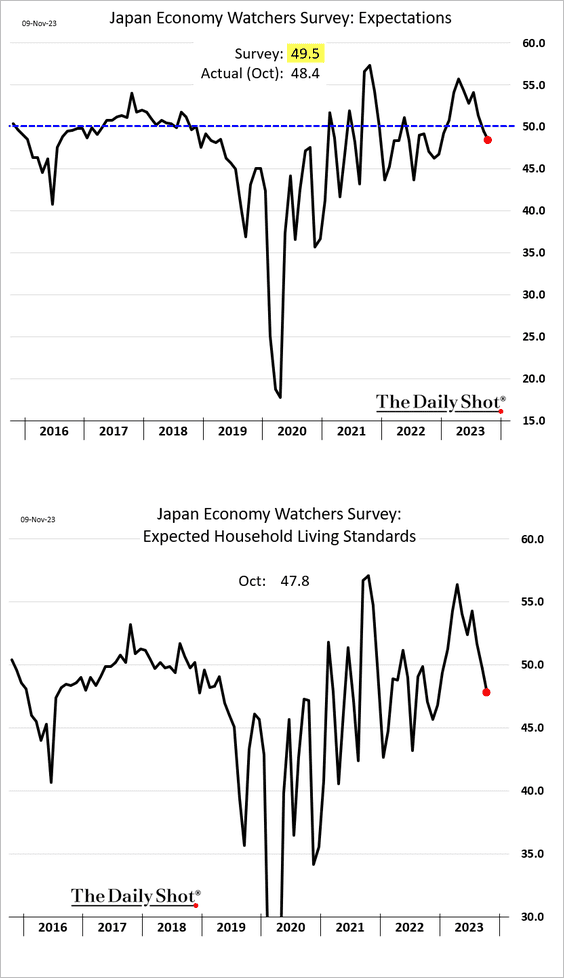 2. Growth in Japan's broad money supply continues to slow.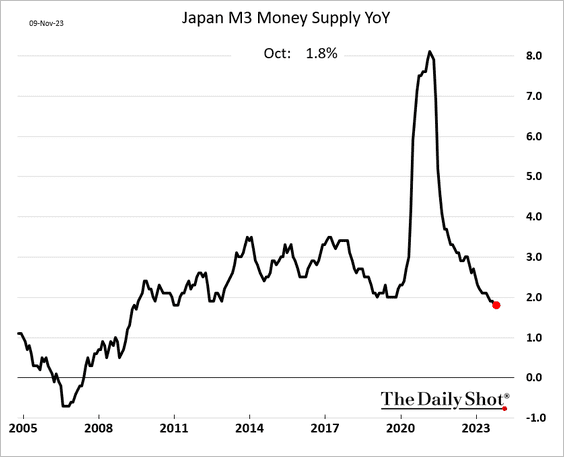 3. Japanese equities are starting to improve relative to the US.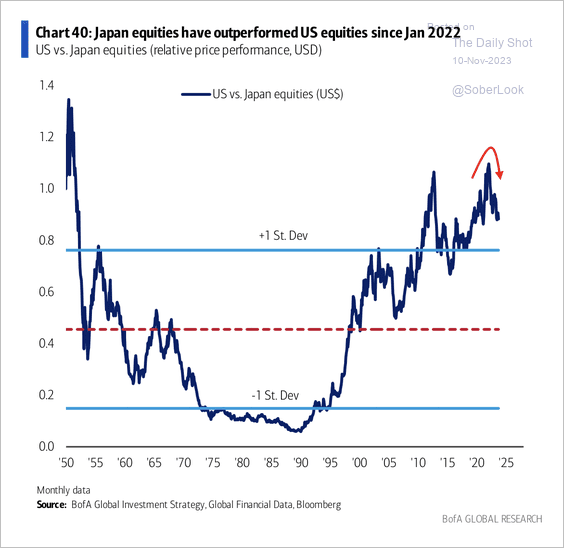 Source: BofA Global Research

• Japan's share of the world market cap hit a low of 5.2% in October 2022.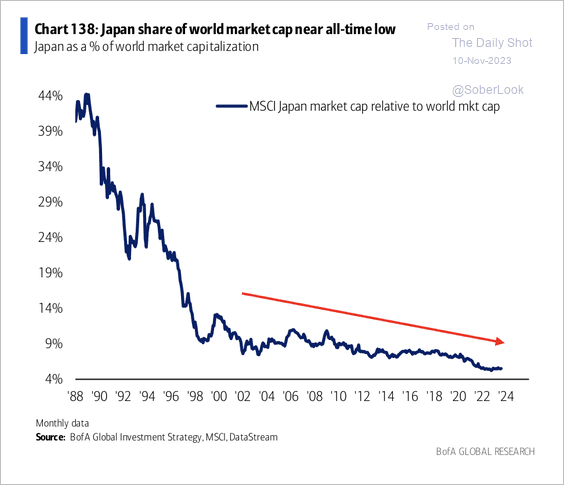 Source: BofA Global Research
---
Back to Index
China
1. Investors were spooked by Beijing's request to have Ping An take over Country Garden.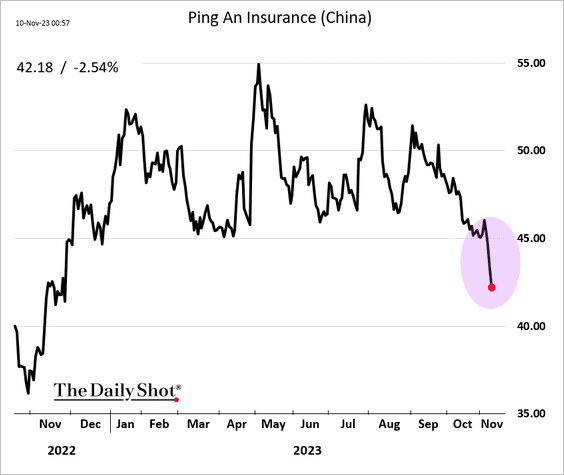 Source: @markets Read full article

• The Hang Seng Properties index has been capped by the 50-day moving average and is nearing multi-year lows.


Source: @TheTerminal, Bloomberg Finance L.P.
——————–

2. Capacity utilization in most industries has improved.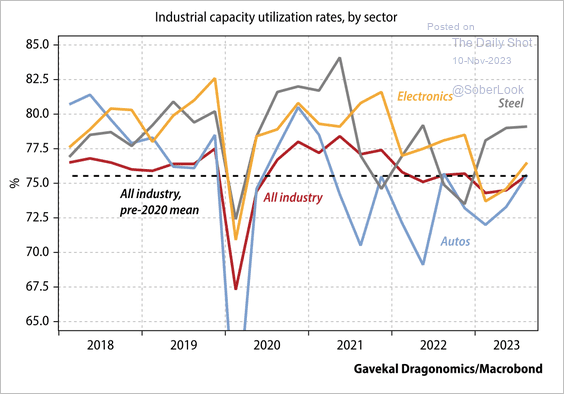 Source: Gavekal Research

• Electronics and materials have been the main drivers of the rise in exports this year.


Source: Gavekal Research
——————–

3. Household consumption indicators remain firm.


Source: MRB Partners
---
Back to Index
Emerging Markets
1. The Indian rupee is trading near record lows vs. the dollar.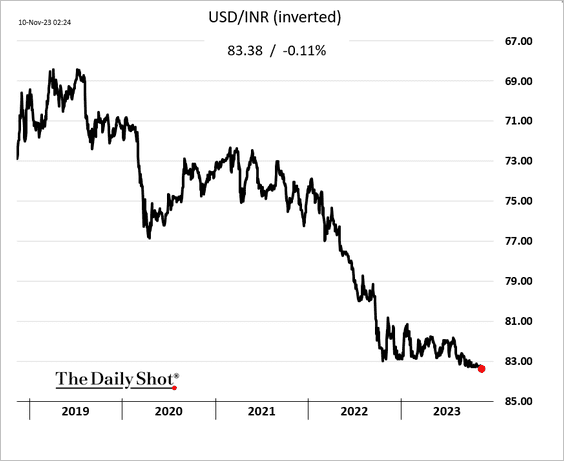 2. South Africa's manufacturing output declined in September and remains well below pre-COVID levels.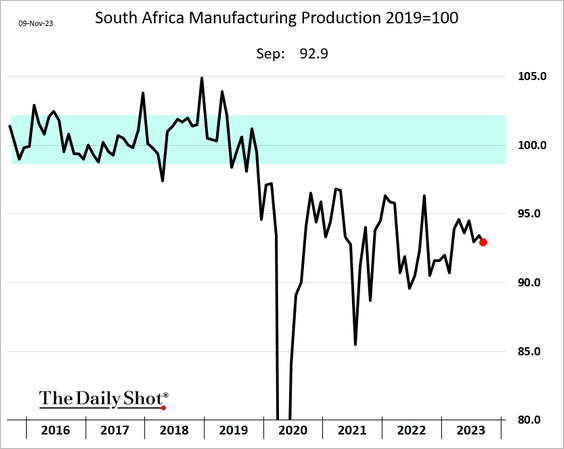 Mining production also eased.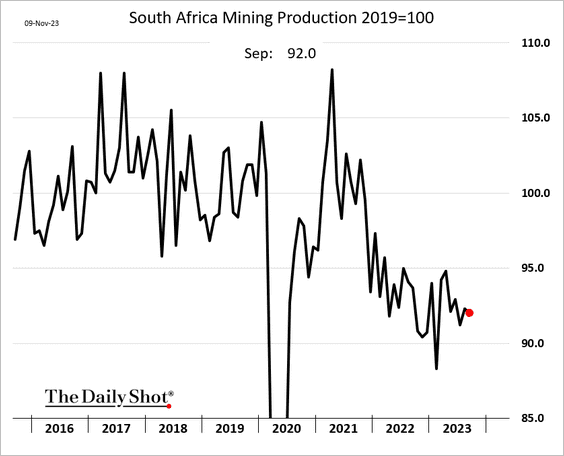 ——————–

3. Ukraine's inflation continues to moderate.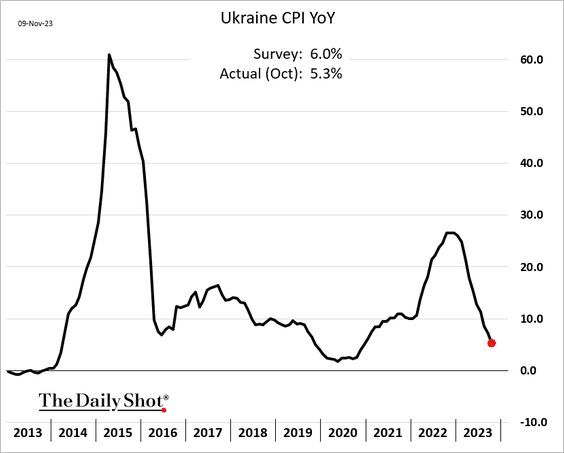 4. Mexican inflation has been slowing.




Banxico kept rates unchanged but hinted at a possible rate cut ahead.



Source: @WSJ Read full article

• Mexican vehicle exports hit a record high for this time of the year.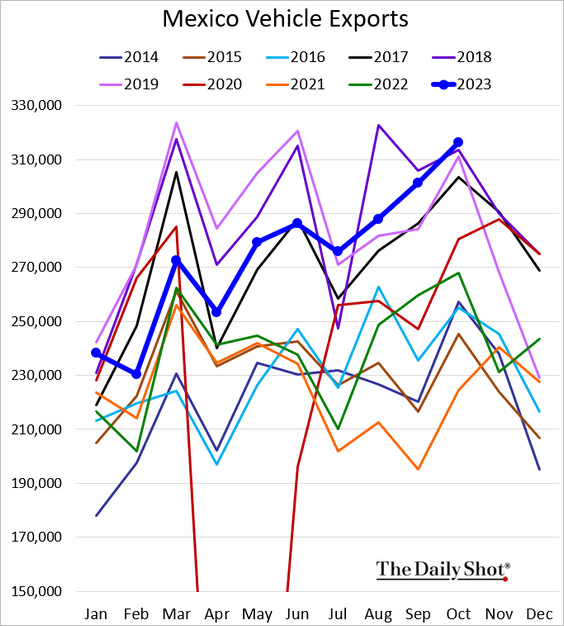 ——————–

6. Peru's central bank cut rates again.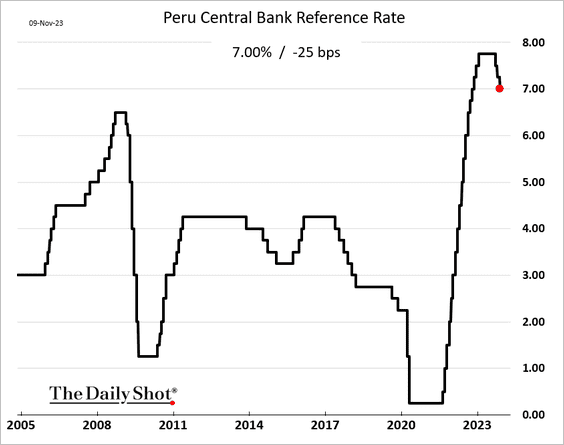 ---
Back to Index
Cryptocurrency
Ether blasted past $2k and is testing resistance near the previous 2023 peak.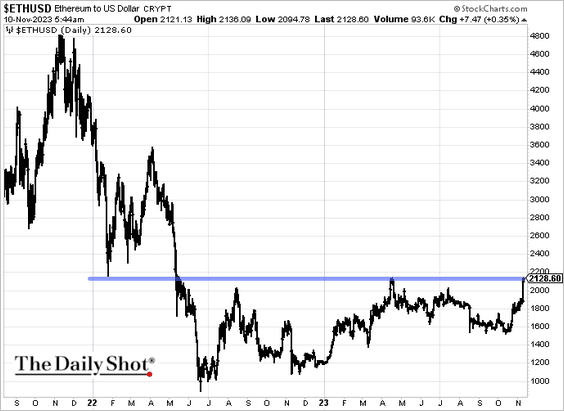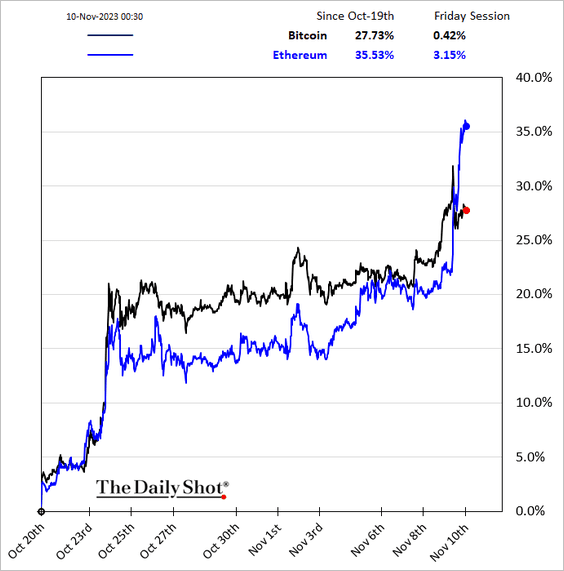 Source: Reuters Read full article
---
Back to Index
Commodities
1. The government reported that US farmers are set to produce the largest corn crop in history this year. Prices are drifting lower.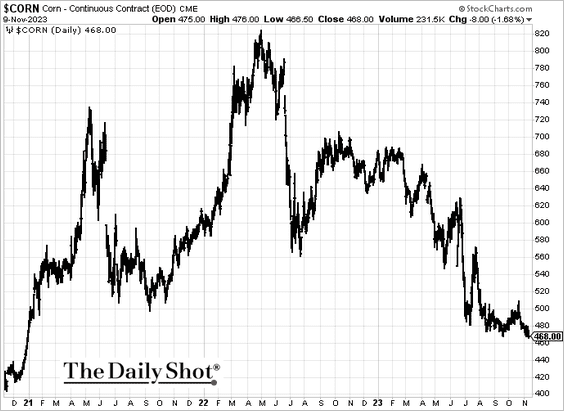 2. Coffee and cocoa futures continue to climb.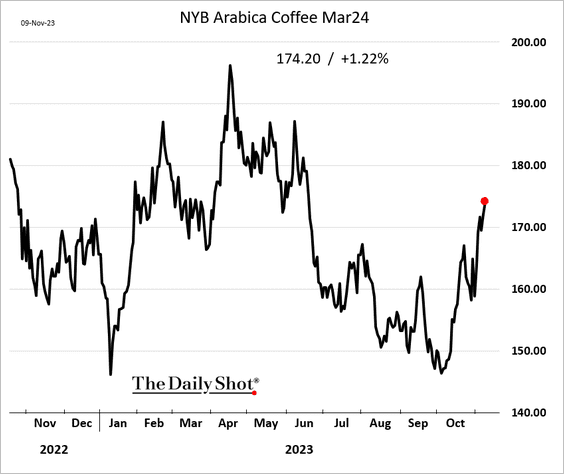 Source: barchart.com Read full article
——————–

3. Flash memory prices are rebounding.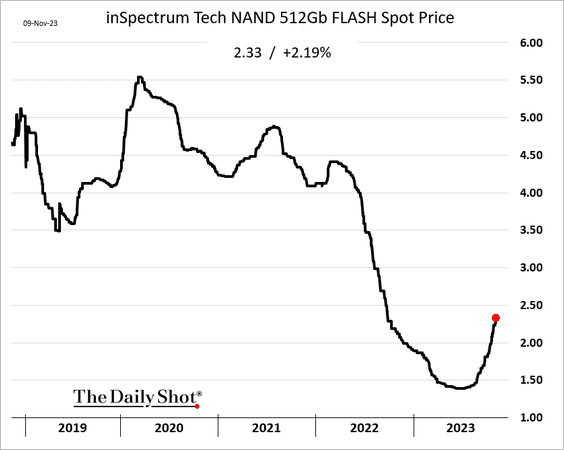 ---
Back to Index
Energy
1. Capital Economics sees OPEC+ unwinding its output cuts in the second half of next year.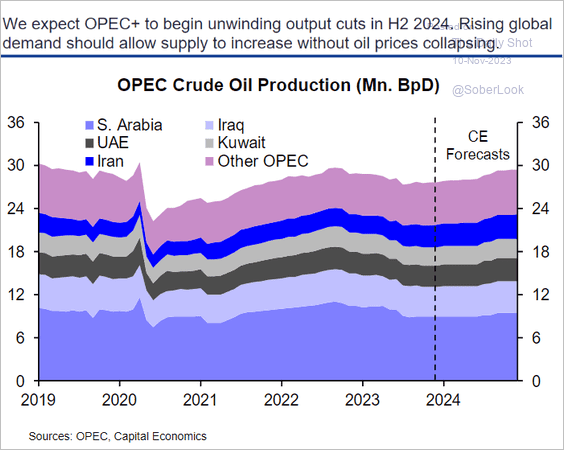 Source: Capital Economics

2. Iran's oil production has been trending higher.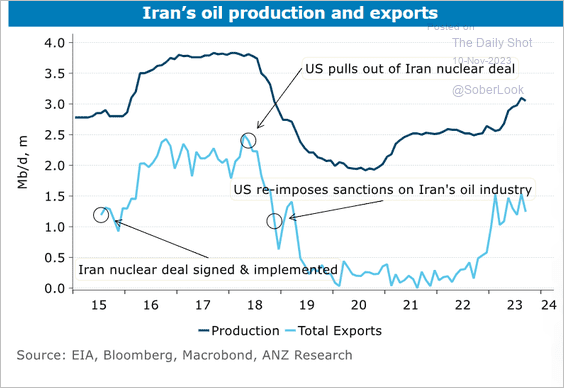 Source: @ANZ_Research

3. Warm weather has been reducing oil demand.


Source: Goldman Sachs; @dailychartbook
---
Back to Index
Equities
1. Investor sentiment improved sharply in recent days.

• Retail investors: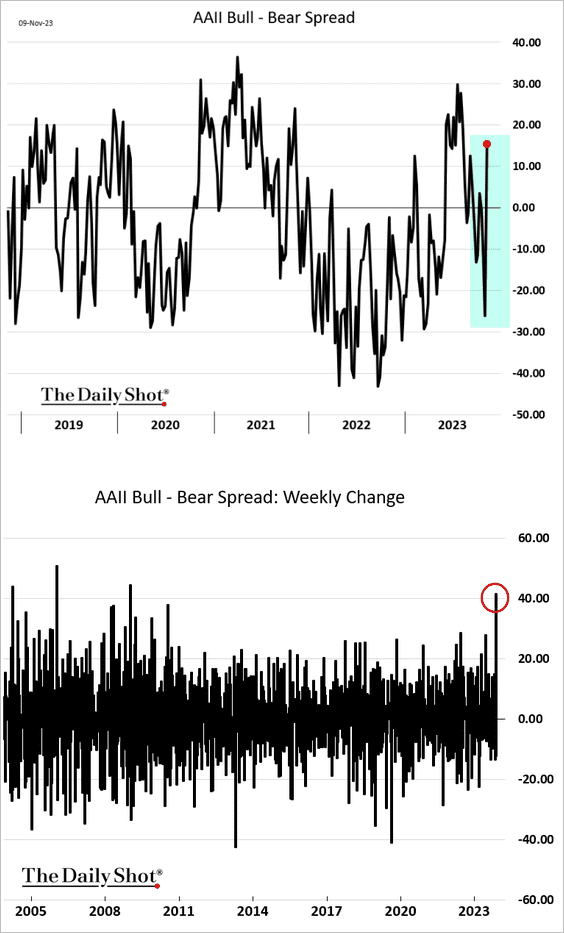 • Investment managers: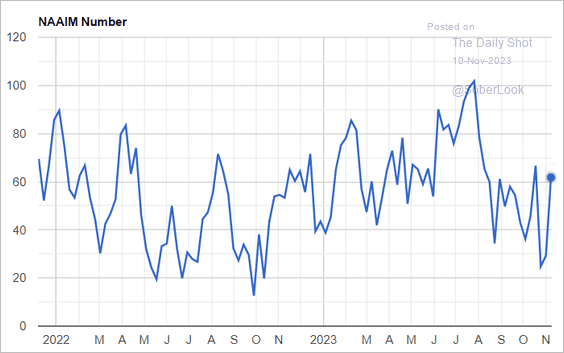 Source: NAAIM
——————–

2. Retail investors don't seem to be chasing the current rally.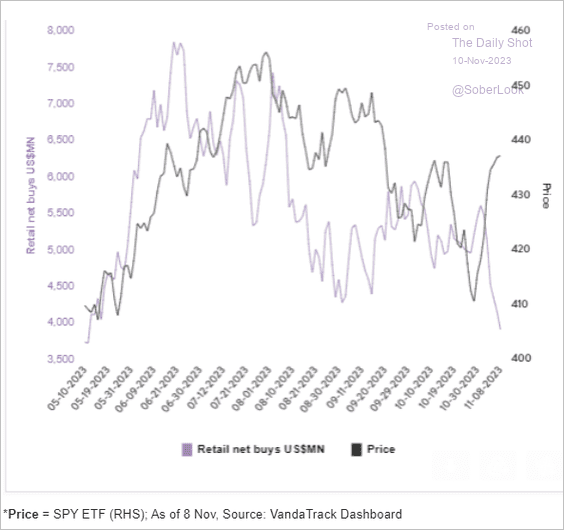 Source: Vanda Research

3. Small-cap underperformance continues. The Russell 2000 ratio to the S&P 500 has reached its lowest point in more than two decades.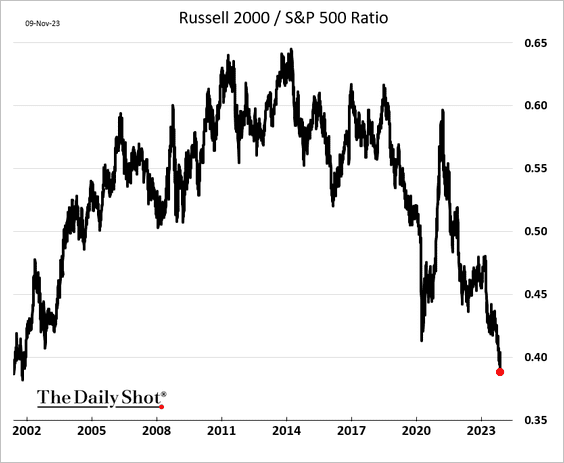 But options traders are betting on a bounce, with IWM (Russell 2000 ETF) call options volume near record highs.


——————–

4. Financials and healthcare sectors continue to see outflows.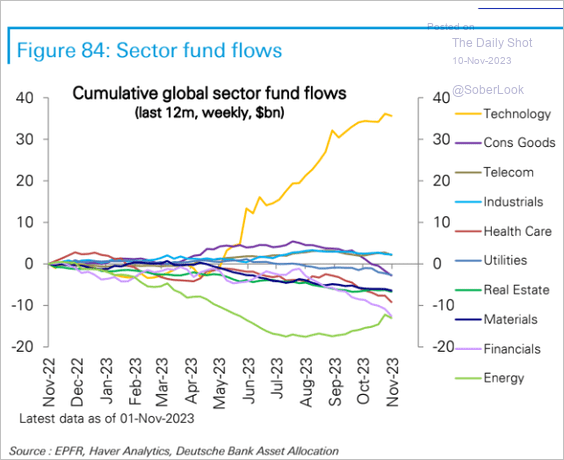 Source: Deutsche Bank Research

5. Earnings tend to drive performance in election years.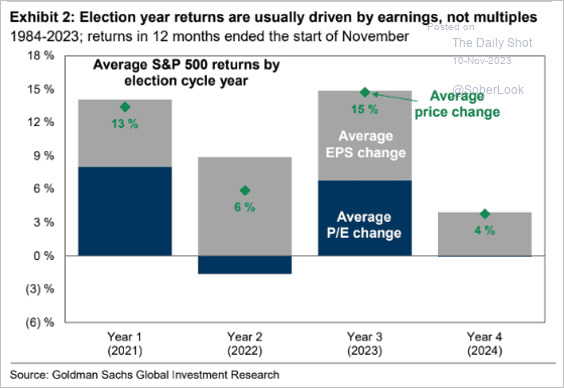 Source: Goldman Sachs; @MikeZaccardi

6. Regional performance disparities have narrowed as global markets move more in tandem.
TS Lombard: – Despite diverging economic and thus earnings outlooks, regional equities have been highly correlated, driven by broader macro forces. Dispersion, as measured by the standard deviation between monthly market returns for the largest 20 markets in the MSCI world index, hit a 20-year low in October …. This is much lower than the average dispersion over the past 20 years and looks unsustainable.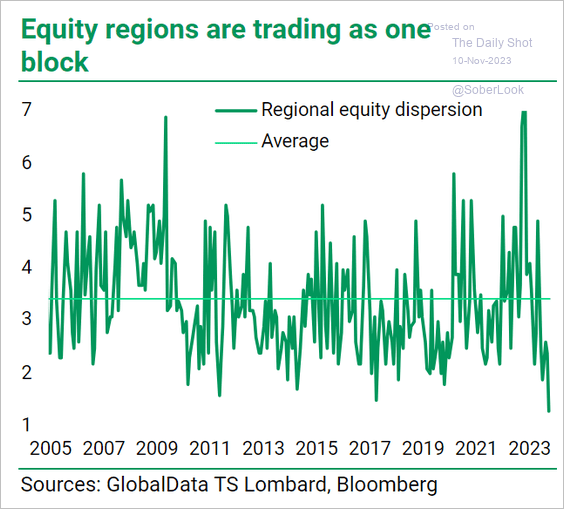 Source: TS Lombard
---
Back to Index
Credit
1. Business loans held on banks' balance sheets are now down on a year-over-year basis.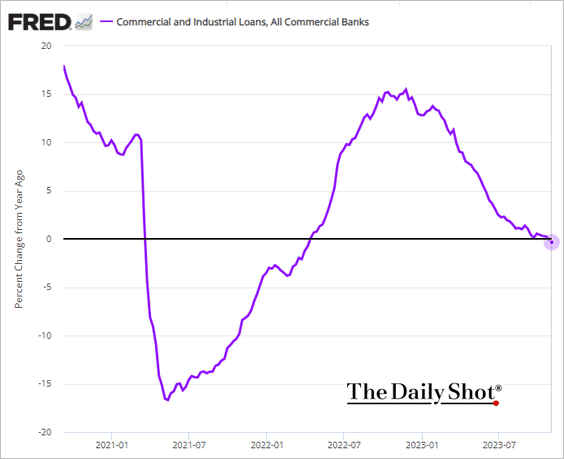 2. US corporate bankruptcies slowed in October.


Source: S&P Global Market Intelligence
---
Back to Index
Rates
1. This chart illustrates how weak the latest 30-year bond auction was.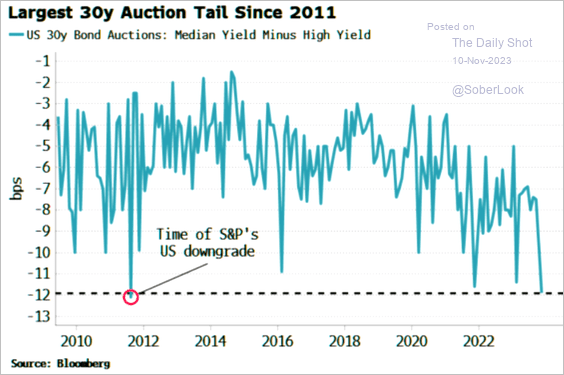 Source: Simon White, Bloomberg Markets Live Blog

The already jittery market has to absorb higher amounts of notes and bonds.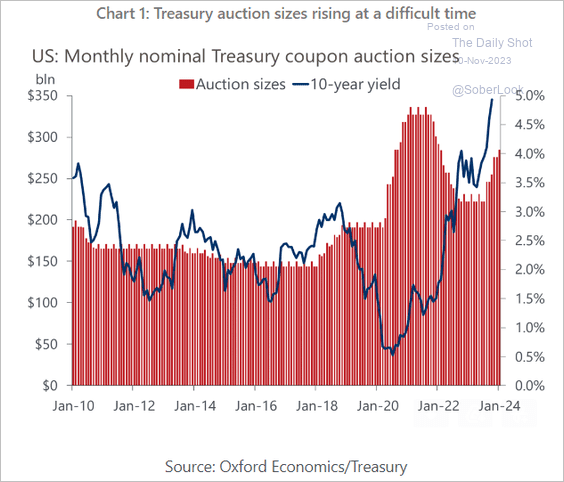 Source: Oxford Economics
——————–

2. JP Morgan's Treasury sentiment index is elevated.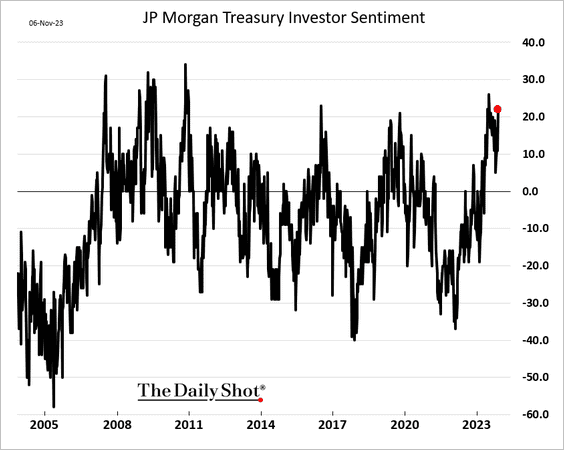 3. Market liquidity remains poor.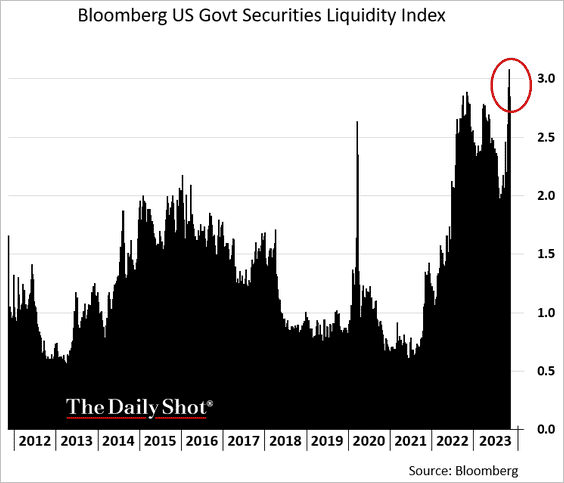 4. Here is a look at Treasury ownership since 1945.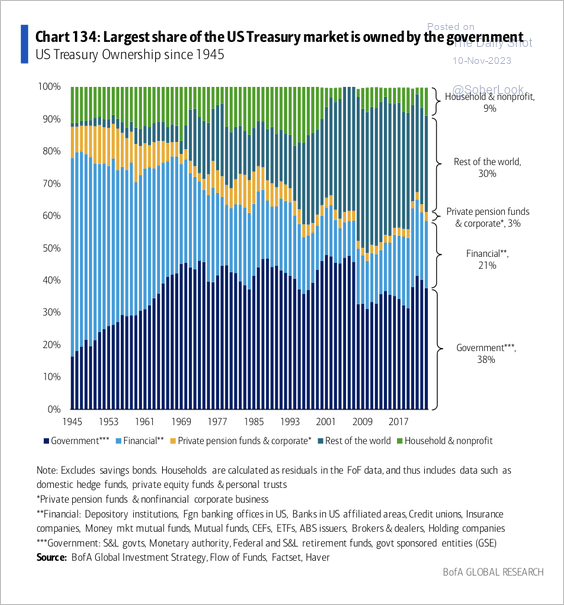 Source: BofA Global Research
---
——————–
Food for Thought
1. Sources of child care in the US: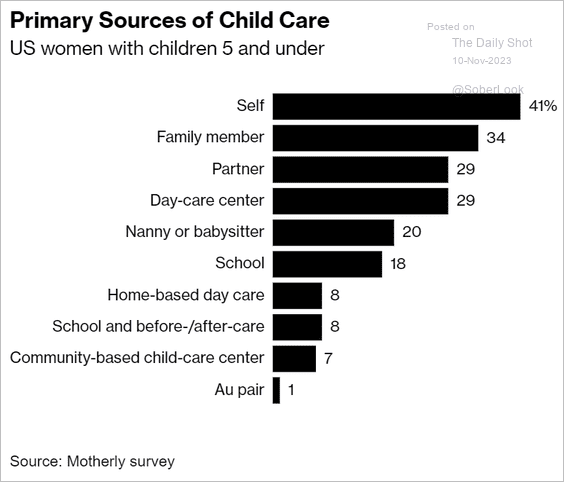 Source: @BW Read full article

2. Emotional well-being: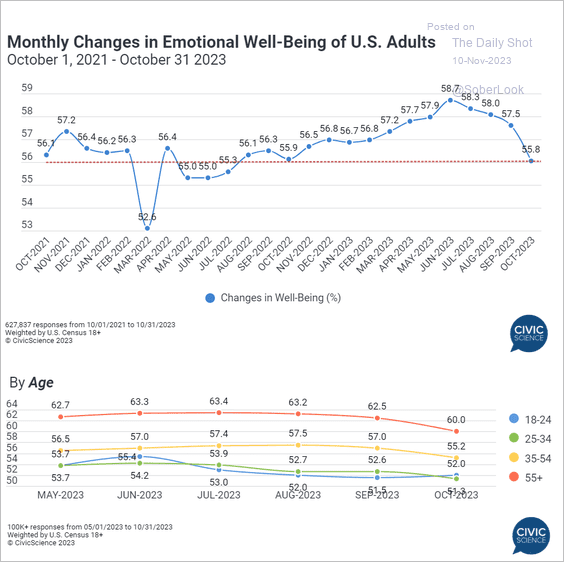 Source: @CivicScience Read full article

3. Prescription drug spending boosted by new weight-loss medications: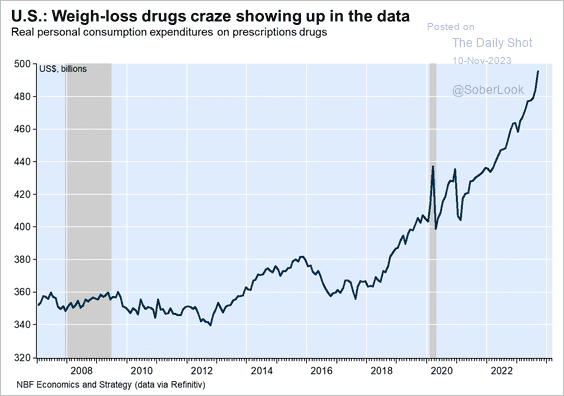 Source: Economics and Strategy Group, National Bank of Canada

4. The globalization index: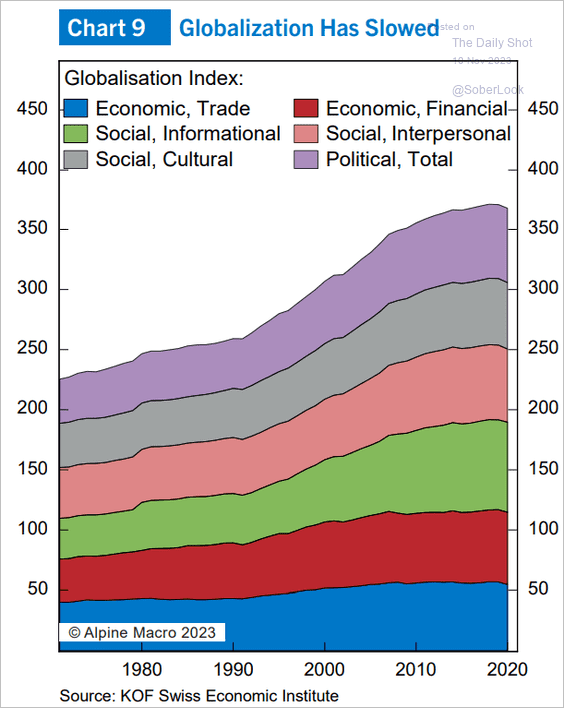 Source: Alpine Macro

5. Websites containing child pornography:


Source: Statista

6. The most-spoken language in each state besides English and Spanish: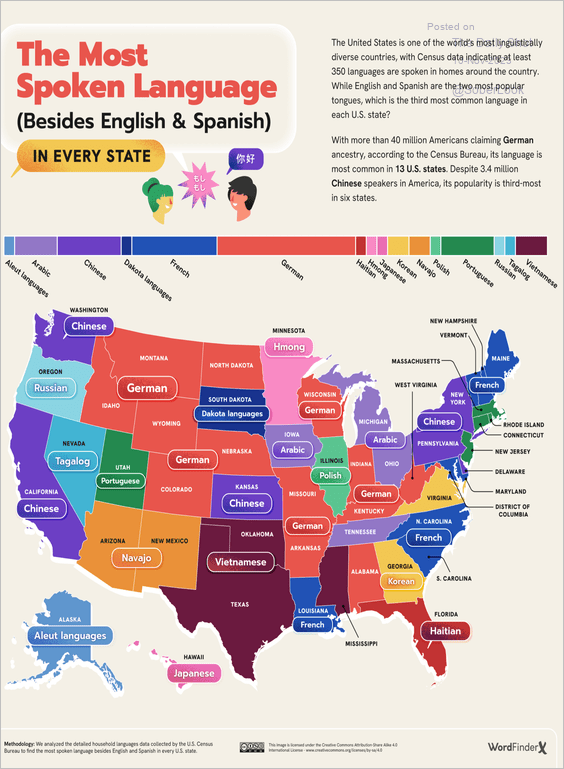 Source: Visual Capitalist Read full article

——————–

Have a great weekend!
---
Back to Index
---