The Daily Shot: 09-Sep-21
• The United States
• Canada
• The United Kingdom
• The Eurozone
• Asia – Pacific
• China
• Emerging Markets
• Cryptocurrencies
• Commodities
• Energy
• Equities
• Global Developments
• Food for Thought
---
---
The United States
1. In another sign of tightening labor market conditions, job openings hit a record high in July.




Retail job vacancies pulled back from the highs, …




… but many other sectors broke records.

• Manufacturing:




• Business services: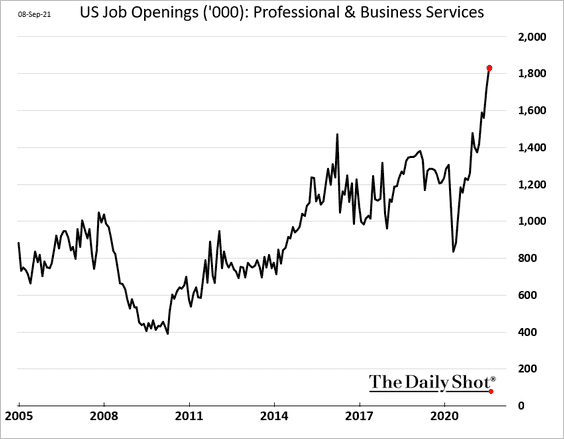 • Healthcare:




• State and local governments:




• Hotels and restaurants: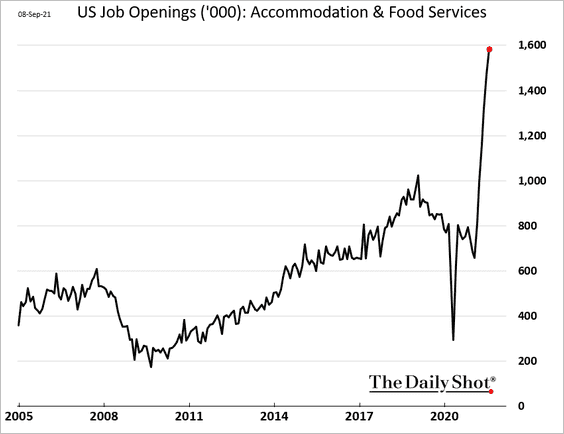 The hires-to-openings ratio touched a new low.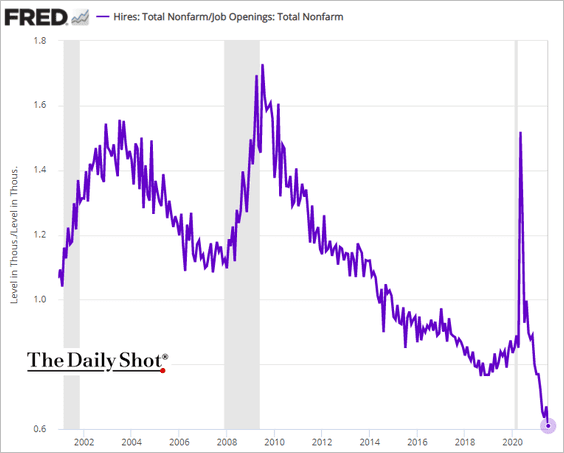 Here is the Beveridge Curve.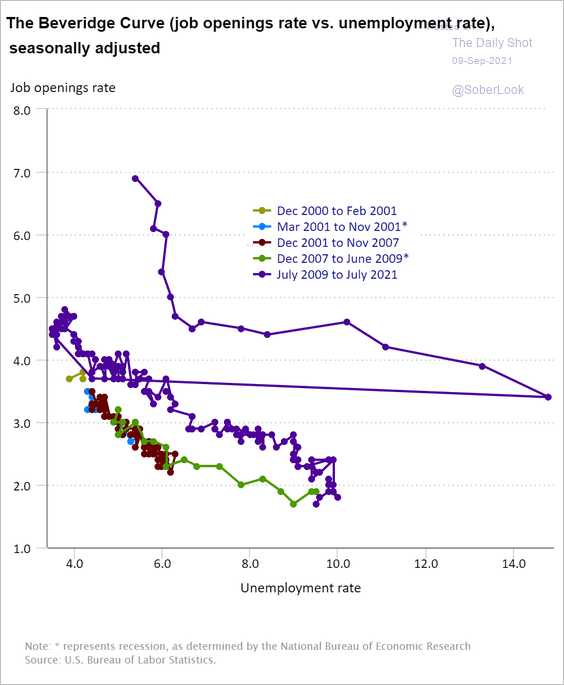 Source: U.S. BUREAU OF LABOR STATISTICS

There are now five job openings for every four unemployed Americans.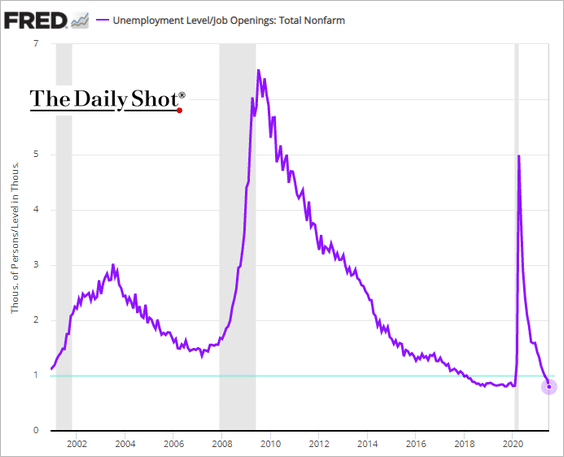 ——————–

2. Credit card borrowing continues to recover.




Total consumer credit expansion has been robust.


Source: Longview Economics
——————–

3. The Fed's Beige Book report was slightly less upbeat than in prior months.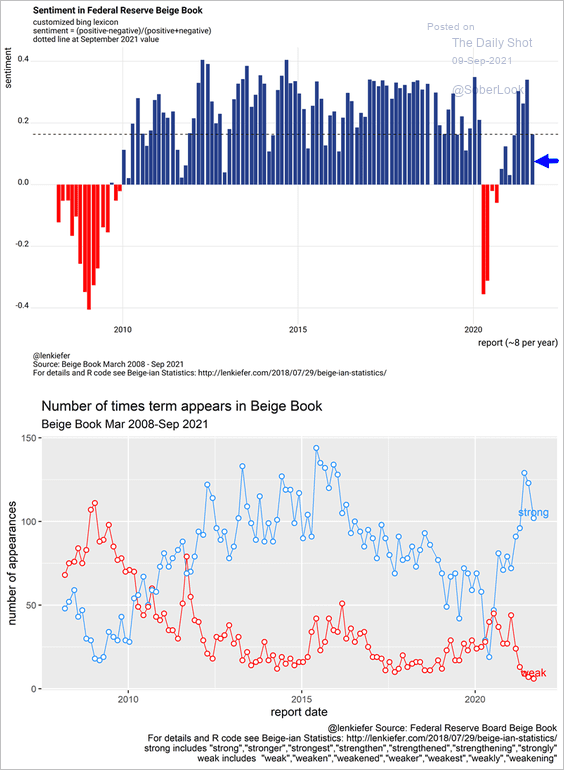 Source: @lenkiefer

• There was further discussion on labor shortages and rising wages …
With persistent and extensive labor shortages, a number of Districts reported an  acceleration in wages, and most characterized wage growth as strong-including all of the midwestern and western regions. Several Districts noted particularly  brisk wage gains among lower-wage workers. Employers were reported to be using more frequent raises, bonuses, training, and flexible work arrangements to attract and retain workers.
• … as well as supply shortages/inflation.
Inflation was reported to be steady at an elevated pace, as half of the Districts characterized the pace of price increases as strong, while half described it as moderate. With pervasive  resource shortages, input price pressures continued to be widespread. Most Districts noted substantial escalation in the cost of metals and metal-based products, freight and transportation services, and construction materials, with the notable exception of lumber whose cost has retreated from exceptionally high levels. Even at greatly increased prices, many businesses reported having trouble sourcing key inputs. Some Districts reported that businesses are finding it  easier to pass along more cost increases through higher prices. Several Districts indicated that businesses anticipate  significant hikes in their selling prices in the months ahead.
——————–

4. Next, we have some updates on the housing market.

• Loan applications remained robust before Labor Day.




• Home price appreciation should slow sharply in the months ahead, according to CoreLogic.


Source: CoreLogic

• Tappable equity in homeowners' properties reached a record high.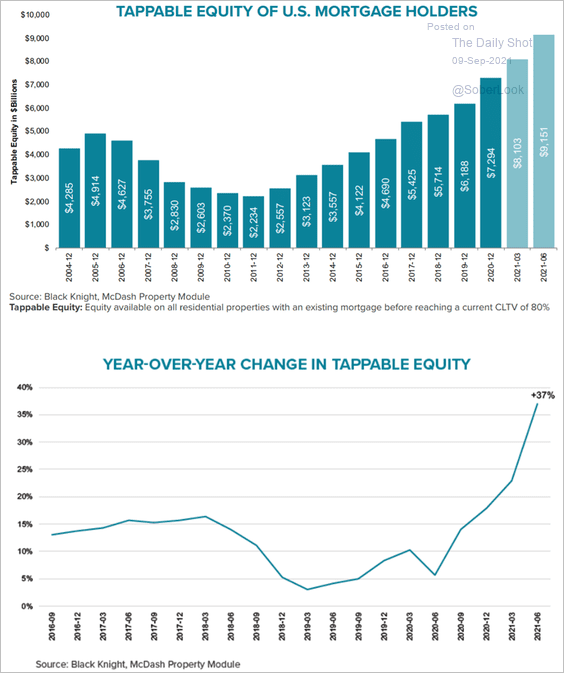 Source: Black Knight

• This chart shows home prices relative to household income.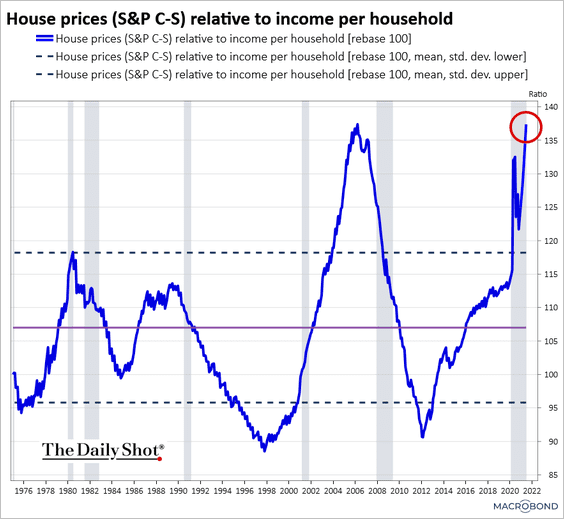 Source: Chart and data provided by Macrobond

• House flipping has become challenging amid tight inventories.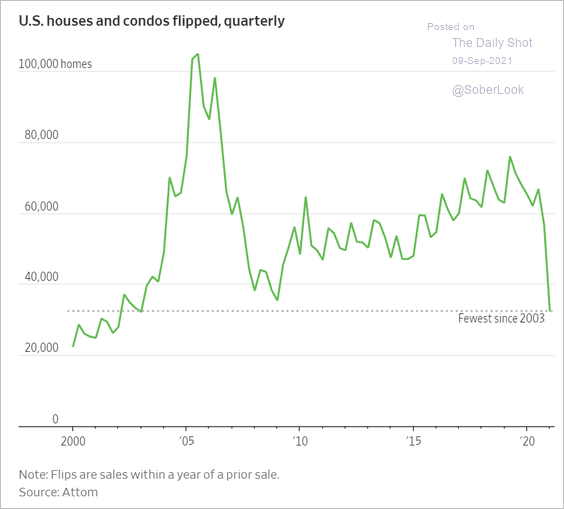 Source: @WSJ Read full article
——————–

5. Logistics bottlenecks are still near extremes.

• Anchored container ships waiting to offload at LA/Long Beach ports:


Source: Cornerstone Macro


Source: Marine Traffic

• Container shipping costs (globally):




• Costs to ship cars:


Source: BNN Bloomberg Read full article

• China's container production (China dominates the global container market; new supply remains insufficient):


——————–

6. Related to the above, this chart shows North American steel prices.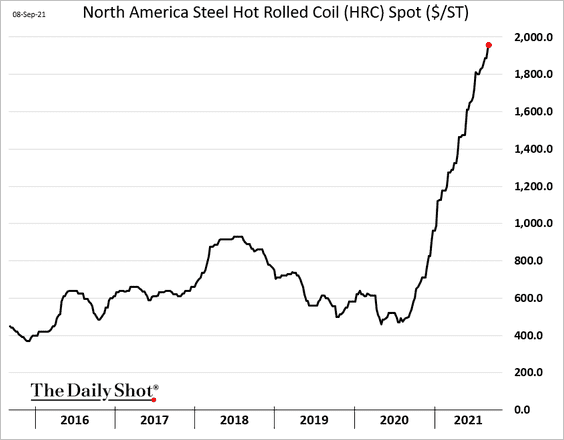 ---
Back to Index
Canada
1. The BoC may taper asset purchases in October, …



Source: Bloomberg Read full article

… despite a softer GDP print in Q2.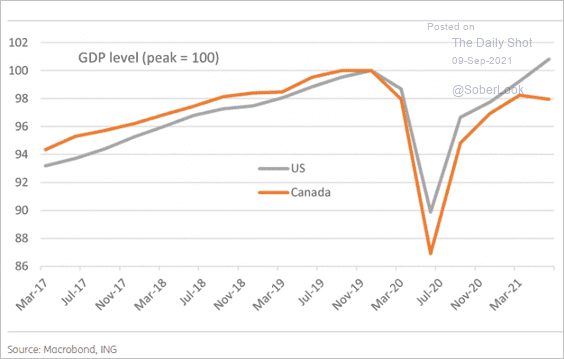 Source: ING

Here is a forecast for the central bank's balance sheet and policy rate from Oxford Economics.


Source: Oxford Economics
——————–

2. This chart shows Scotibank's forecast for Canada's output gap.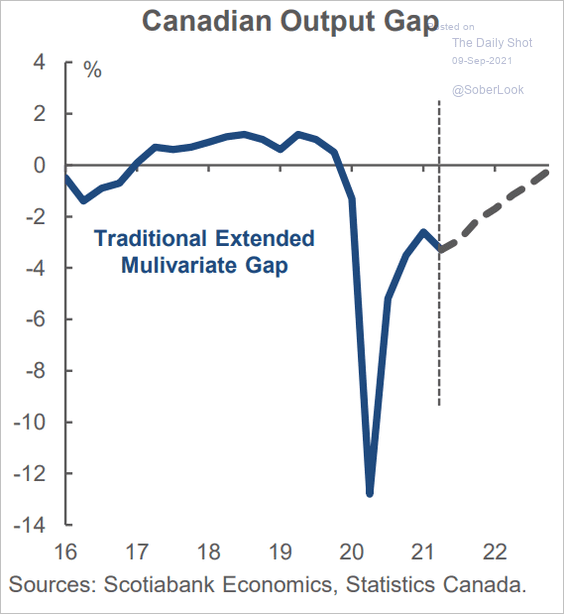 Source: Scotiabank Economics

3. Business activity held up well last month.




4. Consumer confidence has been rolling over.


---
Back to Index
The United Kingdom
1. The RICS house price indicator pulled back from the highs but remains strong.


Source: euronews Read full article
——————–

2. The cost of construction has been surging.


Source: Statista

3. Tax hikes are coming as the UK debt-to-GDP ratio breaks above 100%.


Source: @WSJ Read full article


Source: @WSJ Read full article
---
Back to Index
The Eurozone
1. Inflation is expected to remain tame over the next few years.


Source: Fitch Ratings

Fitch Ratings expects ECB bond purchasing to continue until at least 2024.


Source: Fitch Ratings

A revamped asset purchase program (APP) could be used to offset the end of the pandemic emergency purchase program (PEPP).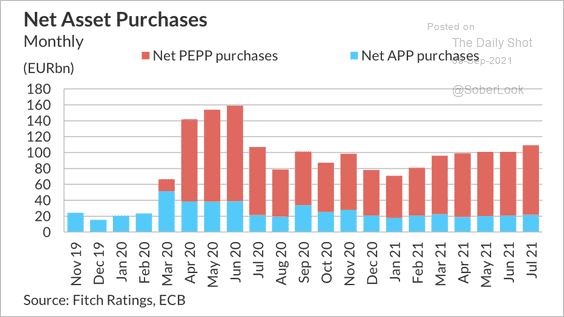 Source: Fitch Ratings
——————–

2. European banks' health has improved markedly in terms of nonperforming loans (NPLs) and capital buffers.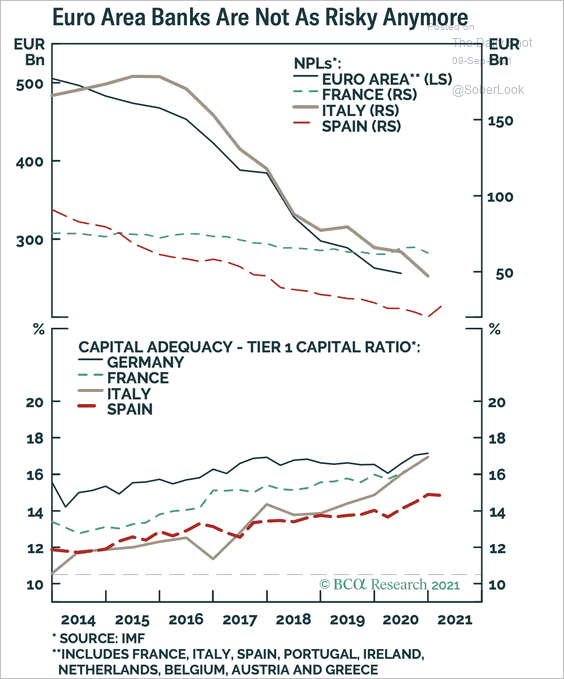 Source: BCA Research

Europe has a much higher capital stock relative to GDP when compared to the US and China. This excess dampens rates of return in the financial industry.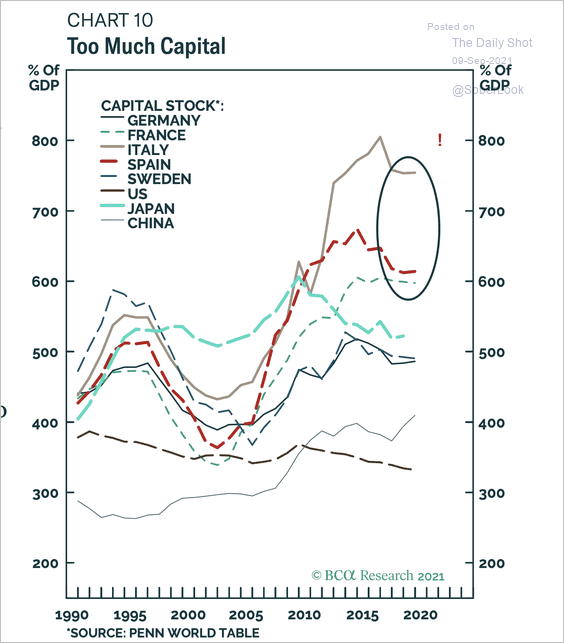 Source: BCA Research
——————–

3. French private employment is now above pre-COVID levels.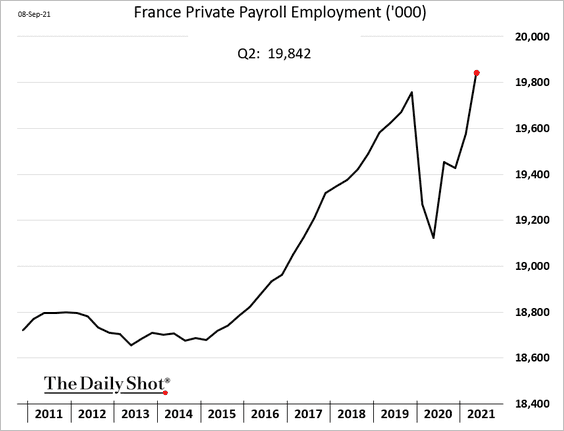 French trade volumes have recovered.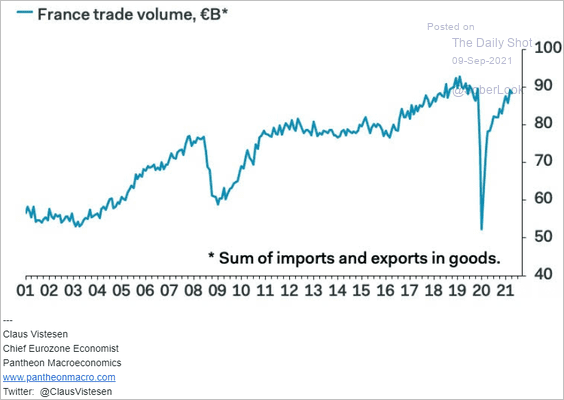 Source: Pantheon Macroeconomics
——————–

4. Italian retail sales pulled back in July.




Below are a couple of additional charts on Italy.

• GDP per capita:


Source: OECD Read full article

• Divergence in productivity growth: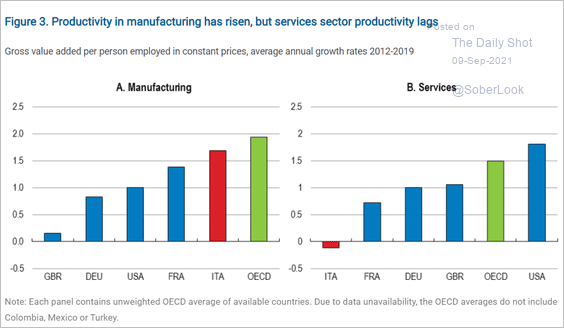 Source: OECD Read full article
---
Back to Index
Asia – Pacific
1. Japan's Economy Watchers Expectations index retreated in August.




2. New Zealand's traffic conditions point to a sharp reduction in mobility last month.


---
Back to Index
China
1. Inflation ticked lower in August.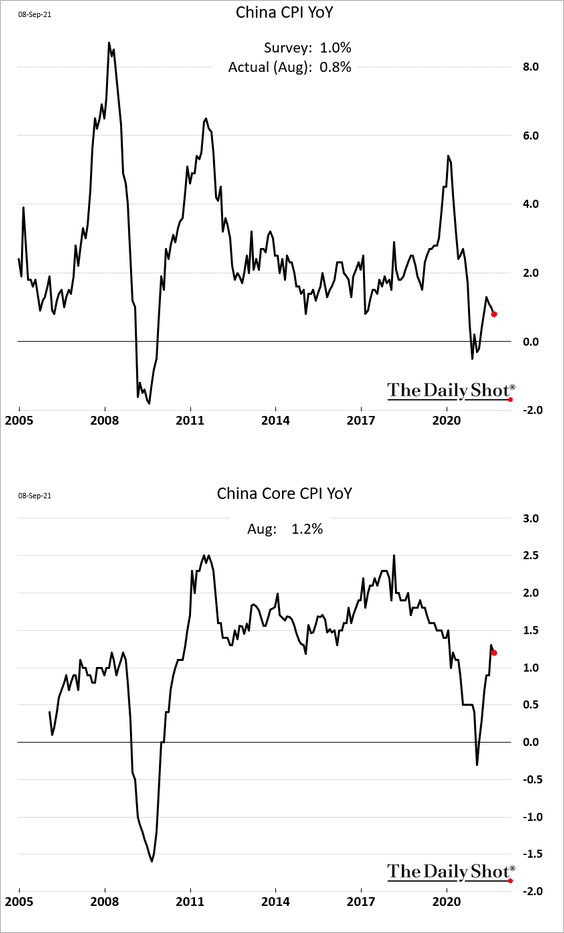 Pork deflation has been a drag on the headline CPI.


——————–

2. The PPI continues to surge, pushed higher by massive gains in coal prices.




And coal prices keep surging.

• Thermal coal: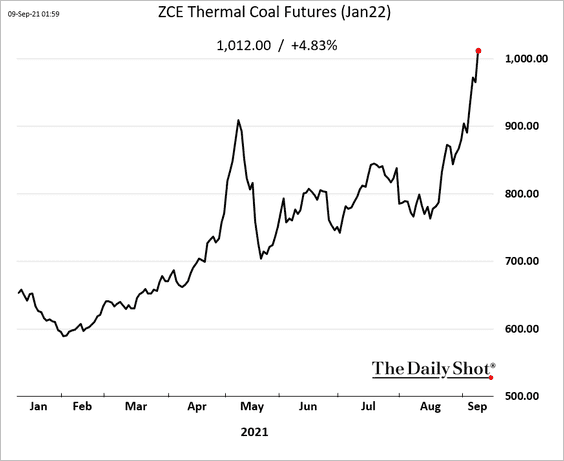 • Metallurgical coal:




Coal inventories have been shrinking.


Source: Fitch Ratings
——————–

3. According to Fitch Ratings, Evergrande could default on its coupon payments in the months ahead.


Source: @RChoongWilkins, @TheTerminal, Bloomberg Finance L.P. Read full article
Fitch Ratings: – Limited Progress on Asset Disposals: There is limited evidence of progress on the sale of Evergrande's property-management business and new-energy vehicle business. We believe these  asset disposals are subject to significant execution risk, increasing the chance that the company will default on the interest payments due on its US-dollar bonds; we estimate that these amount to USD129 million in September and total USD850 million through to the end of 2021.
3. Next, we have some updates on the equity market.

• The Nasdaq Golden Dragon index and the Hang Seng TECH index held resistance.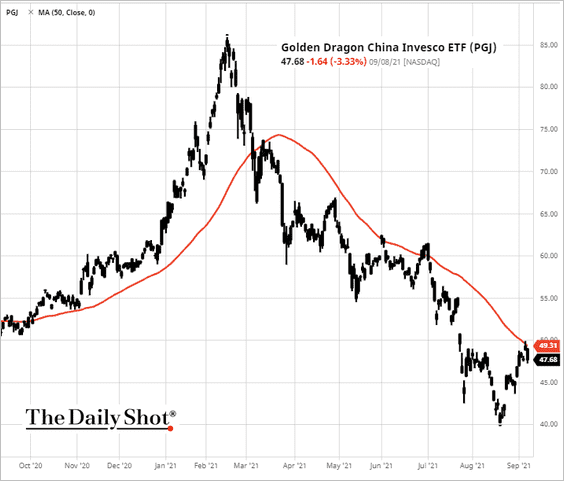 Source: barchart.com, h/t @Matt_Turnerr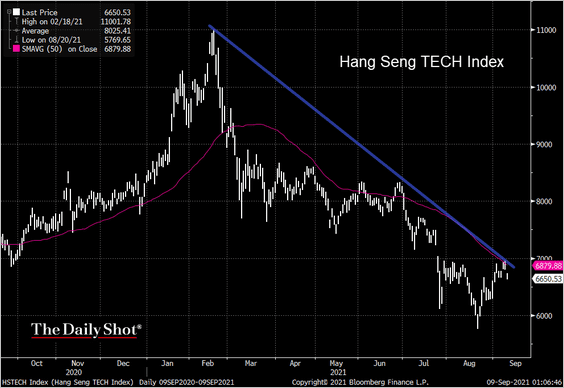 Source: @TheTerminal, Bloomberg Finance L.P.




• The latest drawdown of the MSCI China Index is on par with previous crashes. Have we reached the bottom?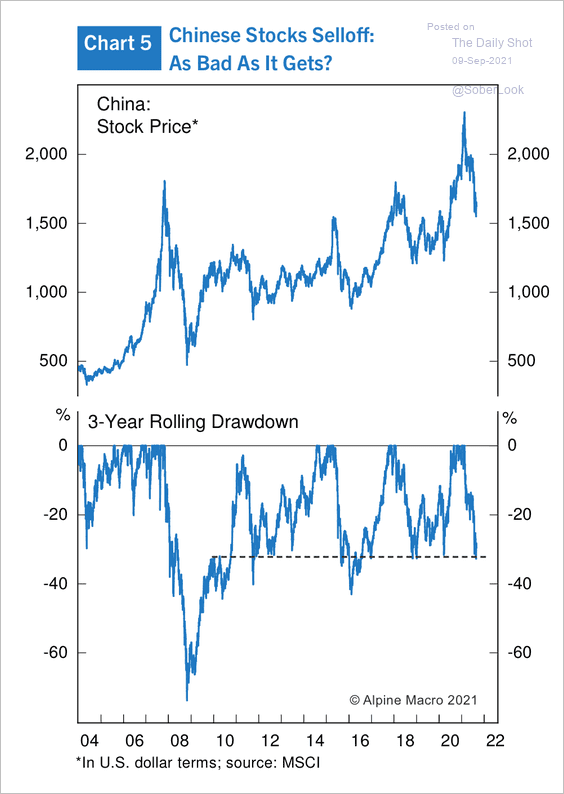 Source: Alpine Macro

• Some of the largest Chinese tech stocks are trading at substantial discounts relative to their US counterparts.


Source: Alpine Macro

• Northbound flows have been robust.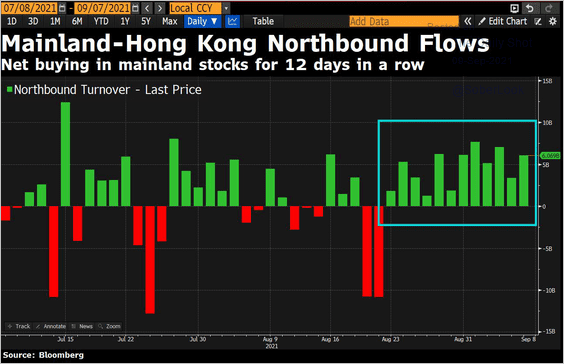 Source: @DavidInglesTV
——————–

4. Strong inflows on both the current and capital accounts have increased demand for the renminbi.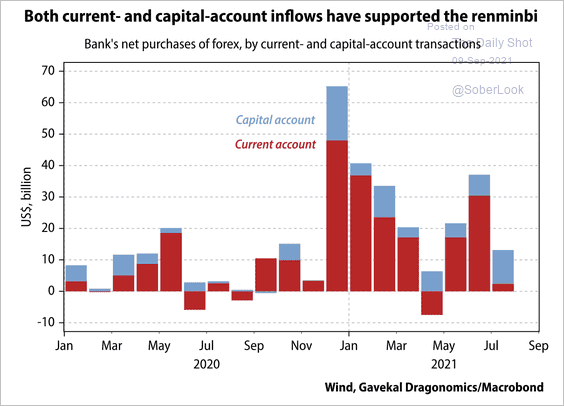 Source: Gavekal Research
---
Back to Index
Emerging Markets
1. Markets are getting nervous about Bolsonaro's latest tactics.



Source: The New York Times Read full article


Source: BBC Read full article

Stocks and the real are down sharply.




Separately, vehicle production and sales have been soft.


——————–

2. Chilean inflation continues to strengthen.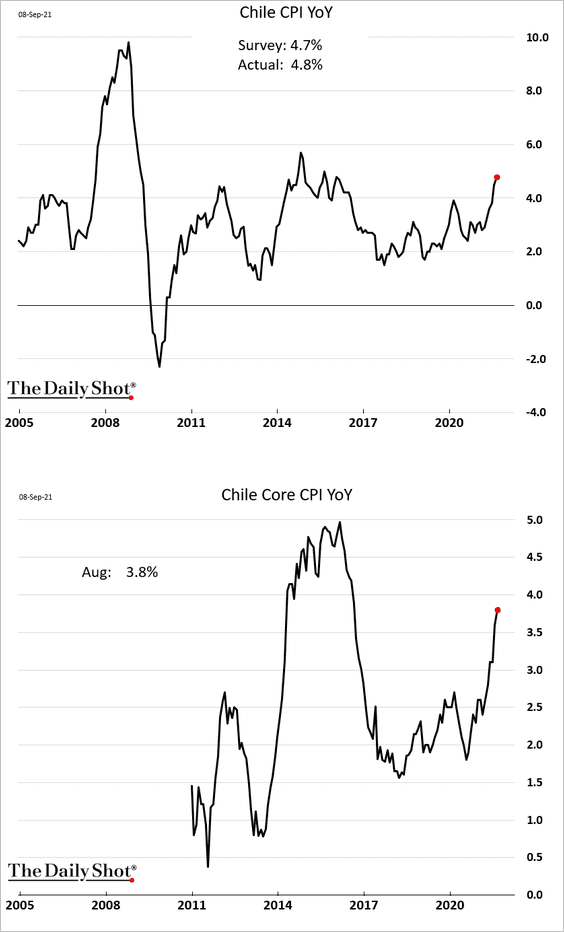 3. Russia's core CPI surprised to the upside.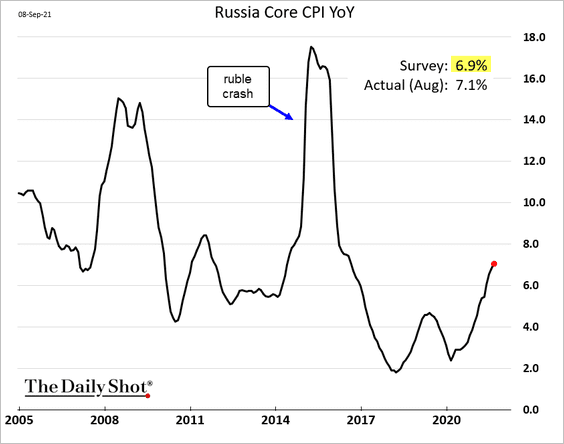 4. South East Asia's COVID spike has taken a toll on consumer confidence.

• Thailand:




• Indonesia: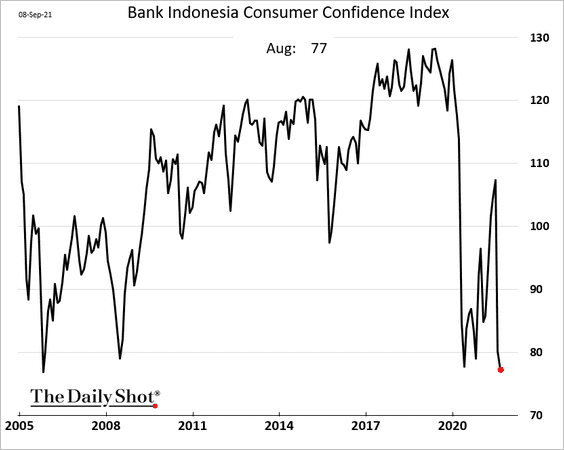 ——————–

5. A selloff in global equities could weigh on EM currencies.


Source: Gavekal Research
---
Back to Index
Cryptocurrencies
1. Cryptocurrencies are stabilizing from the Tuesday sell-off, although performance over the past week remains negative.


Source: FinViz

Bitcoin stabilized at $46k.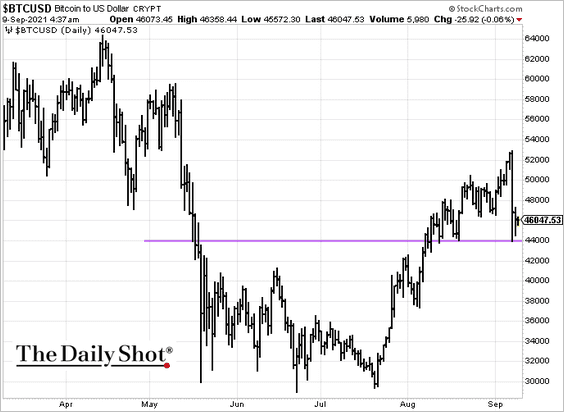 ——————–

2. Ether is holding short-term support relative to bitcoin.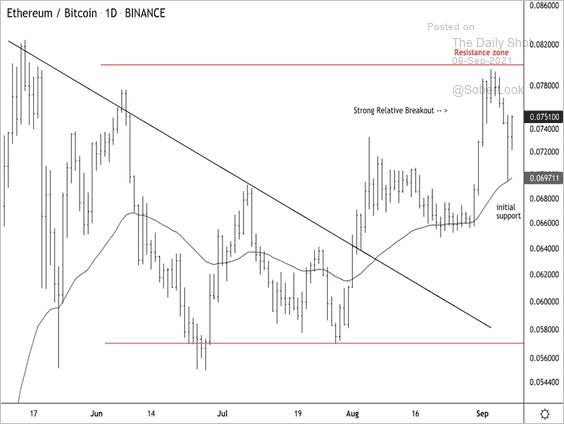 Source: Dantes Outlook

3. The proportion of long bitcoin liquidations rose to the highest level since May 19.


Source: Glassnode

4. Over $4 billion of bitcoin open interest has been cleared during the sell-off.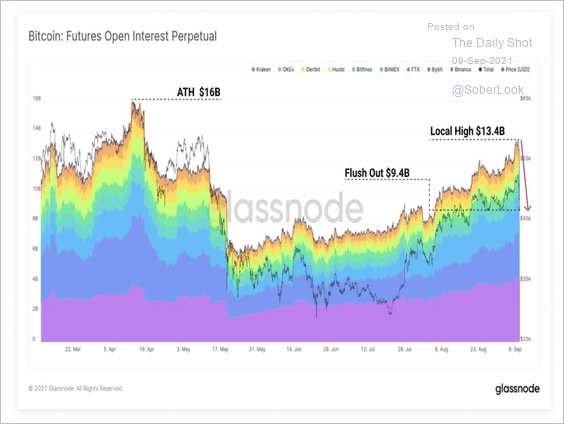 Source: Glassnode

5. Coinbase shares are under pressure amid regulatory concerns.


Source: @WSJ Read full article
---
Back to Index
Commodities
1. Aluminum prices continue to surge, boosted by the Guinea coup uncertainty.




2. European carbon contract keeps soaring amid increasing environmental restrictions.




3. US cattle futures are down sharply.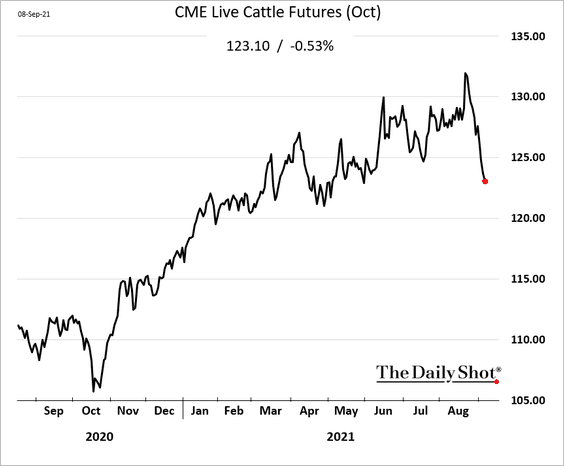 Source: Reuters Read full article
---
Back to Index
Energy
1. US natural gas futures hit the highest level since 2014.




2. US retail gasoline prices remain near multi-year highs.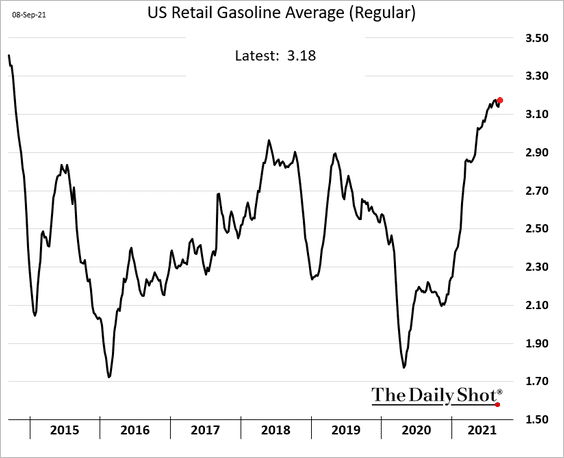 ---
Back to Index
Equities
1. Stock futures are a bit heavy this morning. The Nasdaq 100 index continues to outperform.




2. S&P 500 breadth has been moderating.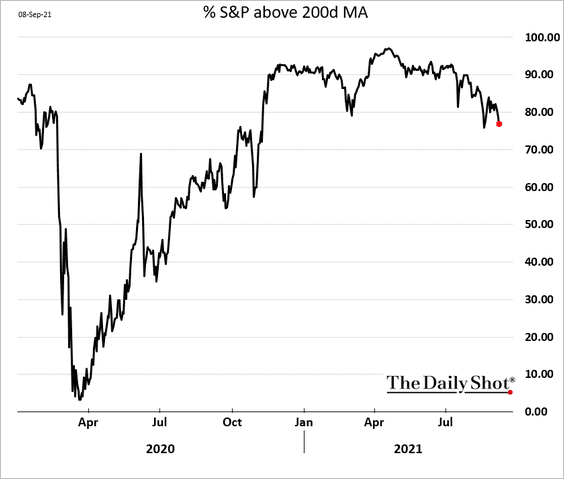 3. High-dividend stocks have given up their outperformance from earlier this year.




4. Global equity drawdowns have been getting smaller over the past year.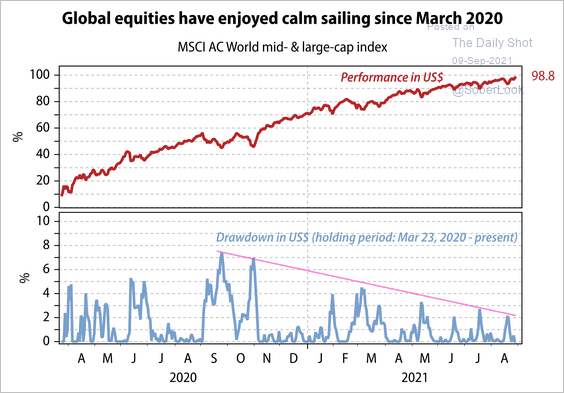 Source: Gavekal Research

5. The S&P 500 realized and implied volatility measures have diverged.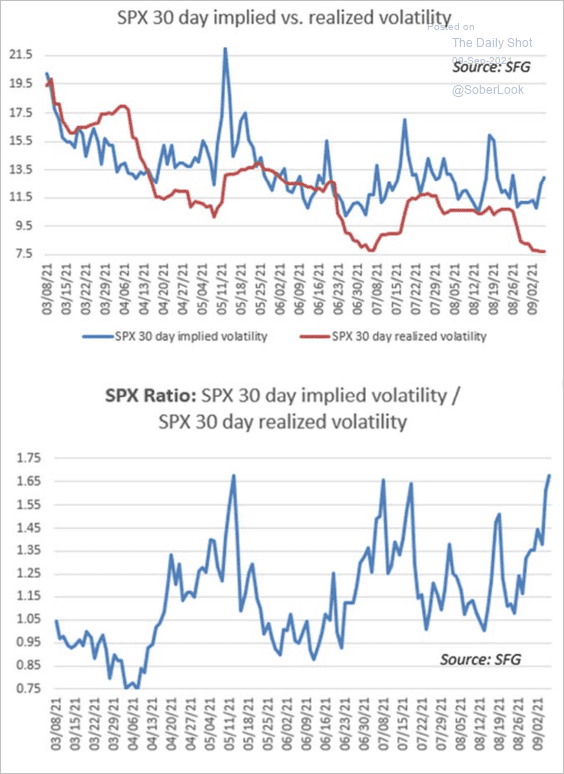 Source: Chris Murphy, Susquehanna

6. The decline in "true" money supply relative to GDP points to higher equity volatility.


Source: Gavekal Research

7. Small-cap discount vs. large caps keeps widening.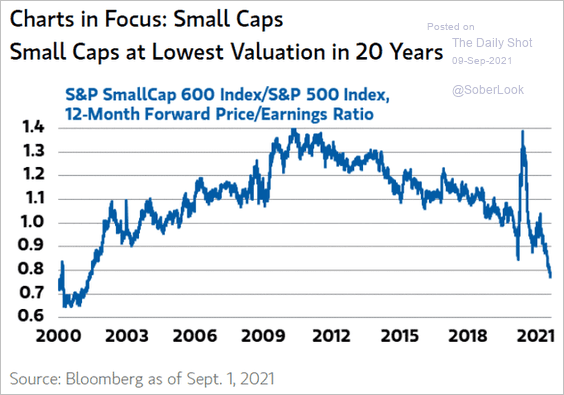 Source: @ISABELNET_SA, @MorganStanley

8. Investor allocations to stocks remain elevated.


Source: Hugo Ste-Marie, Portfolio & Quantitative Strategy Global Equity Research, Scotia Capital
---
Back to Index
Global Developments
1. M&A activity has been surging.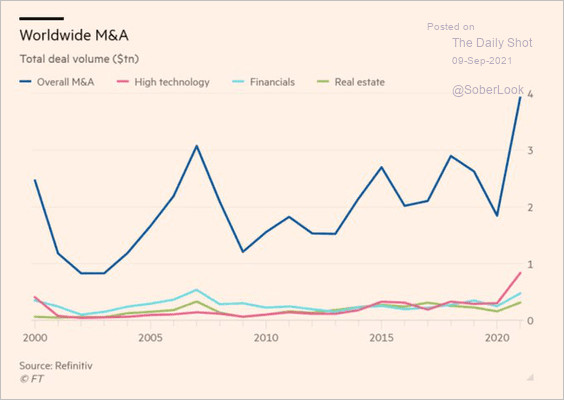 Source: @adam_tooze, @FT Read full article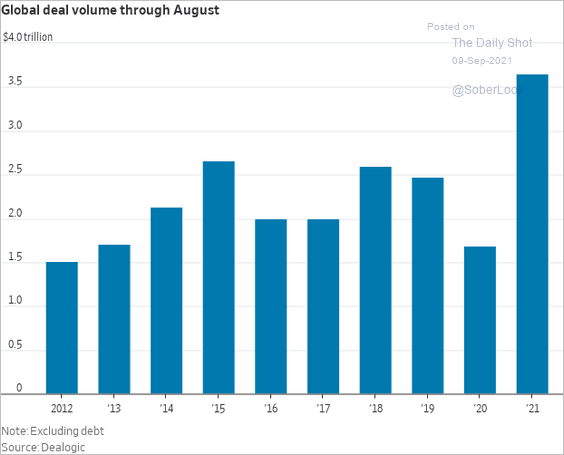 Source: @WSJ Read full article
——————–

2. The growth in US money supply versus the rest of the world points to a stronger dollar.


Source: Variant Perception

The previous surge in US PMIs versus other advanced economies has yet to translate into a dollar rally.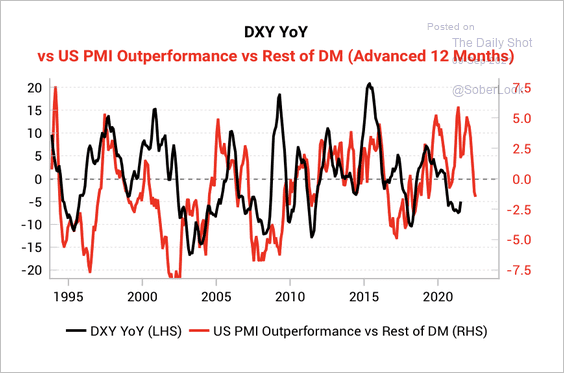 Source: Variant Perception
——————–

3. Chip design costs (and complexity) have been surging.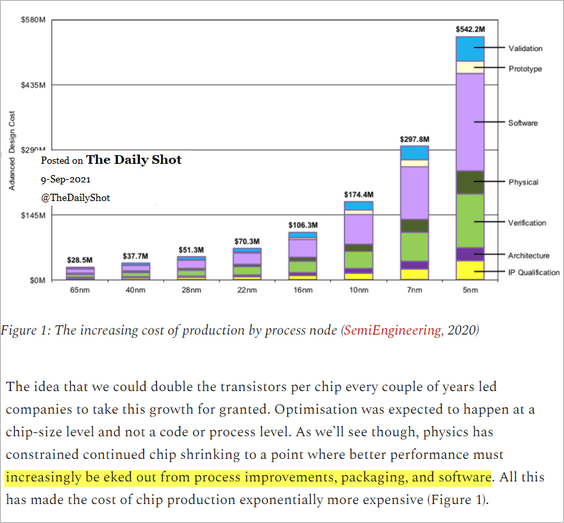 Source: @JordsNel Read full article
---
——————–
Food for Thought
1. Movie theater visits: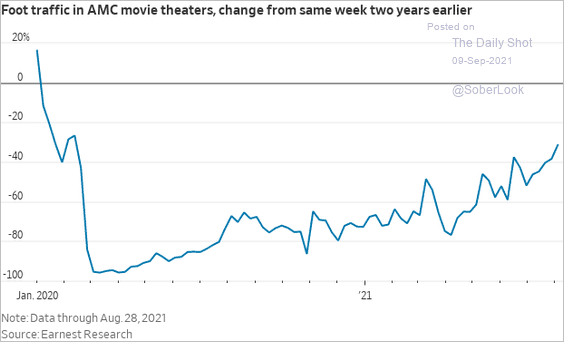 Source: @WSJ Read full article

2. Office occupancy rates: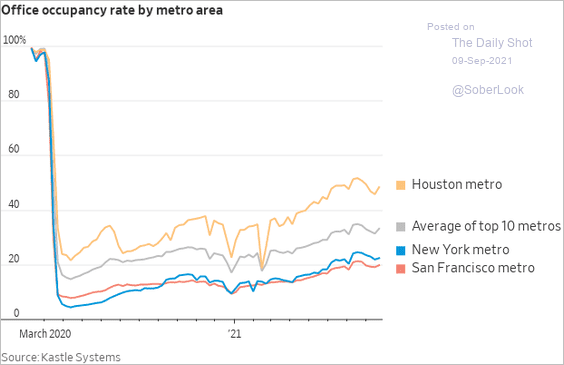 Source: @WSJ Read full article

3. US power generation capacity additions: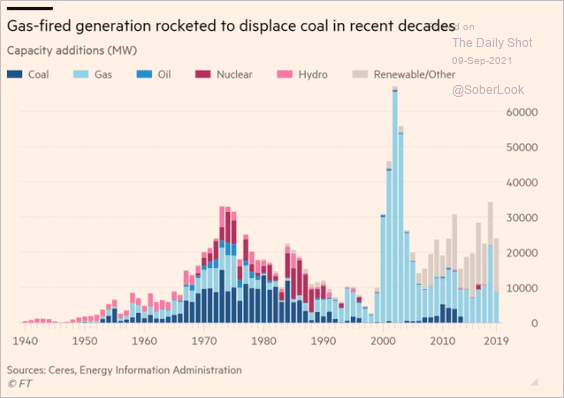 Source: @financialtimes Read full article

4. US payments, by type: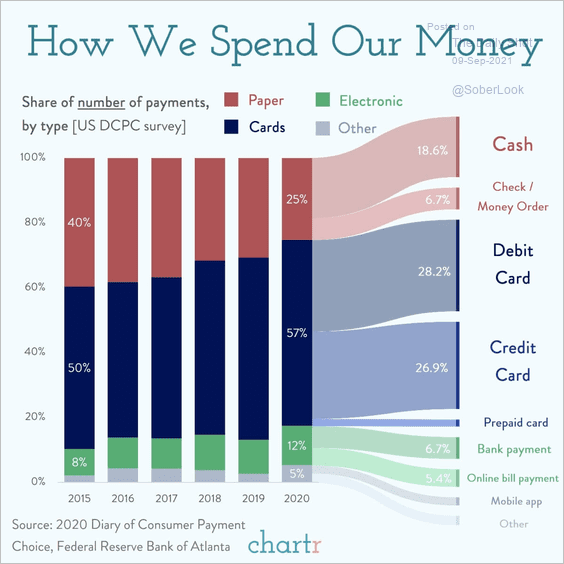 Source: @chartrdaily

5. American households with at least one retirement account: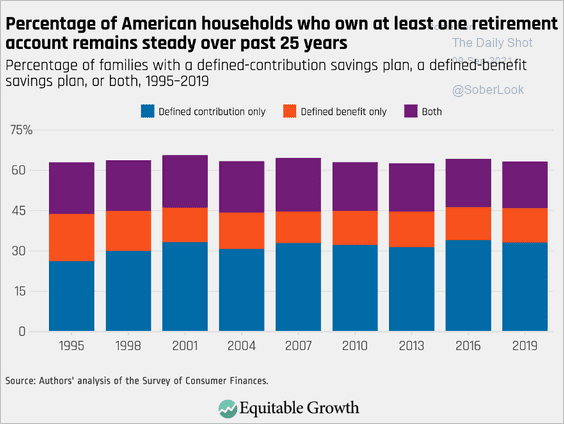 Source: Equitable Growth Read full article

6. Animal protein availability in advanced economies:


Source: FAO Read full article

7. US Child Tax Credit funds use: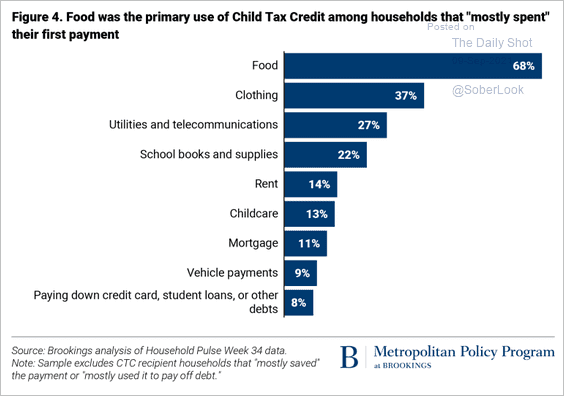 Source: Brookings Read full article

8. COVID cases among US children:


Source: CDC Read full article

9. Demand for travel nurses:


Source: BloombergQuint Read full article

10. Abortion bans: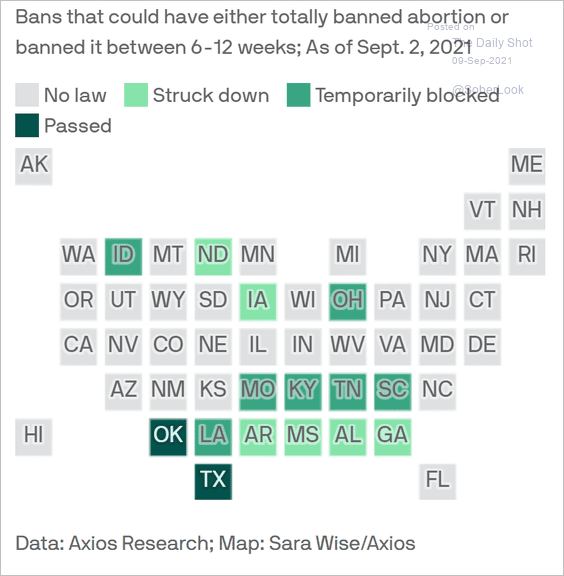 Source: @axios Read full article

11. Marshall Plan disbursements: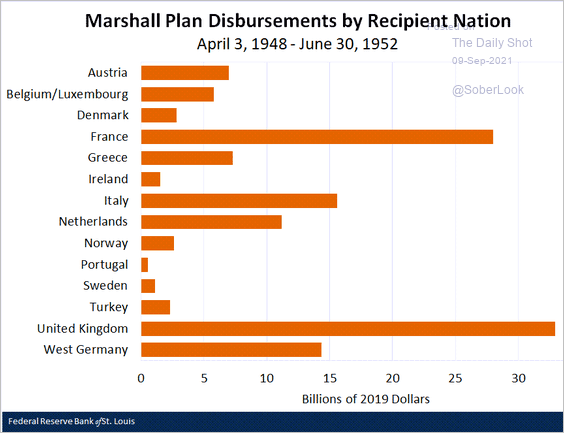 Source: @stlouisfed Read full article
——————–
---
Back to Index
---