The Daily Shot: 27-Jan-22
• The United States
• Canada
• Europe
• Asia – Pacific
• China
• Emerging Markets
• Commodities
• Energy
• Equities
• Credit
• Global Developments
• Food for Thought
---
---
The United States
1. As expected, the Federal Reserve signaled a rate hike in March.
FOMC: – With inflation  well above 2 percent and a strong labor market, the Committee expects it will soon be appropriate to raise the target range for the federal funds rate. The Committee decided to continue to reduce the monthly pace of its net asset purchases, bringing them to an end in early March.
The market quickly boosted the odds of a 50 bps rate increase in March.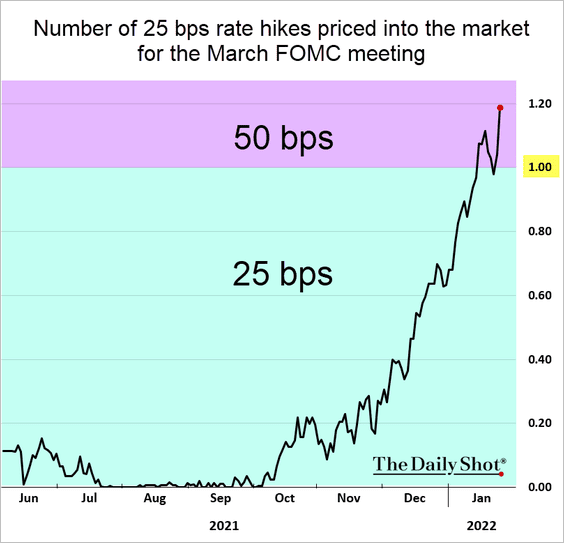 And rate hikes are expected to keep coming.



Source: Yahoo Finance Read full article

The probability of five 25 bps rate hikes this year is now above 90%.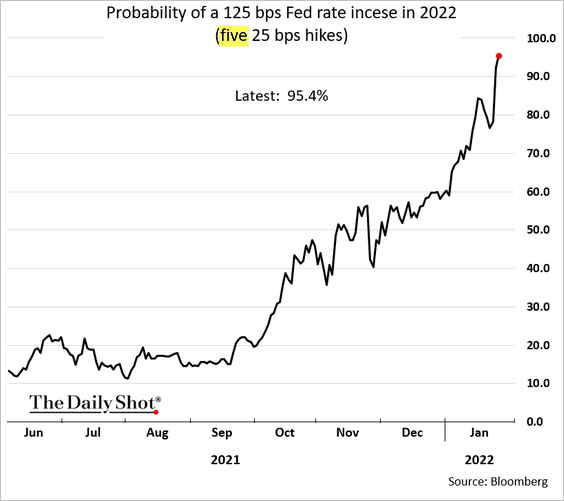 Here is what's fully priced into the market currently. Will the Fed's balance sheet runoff start this summer?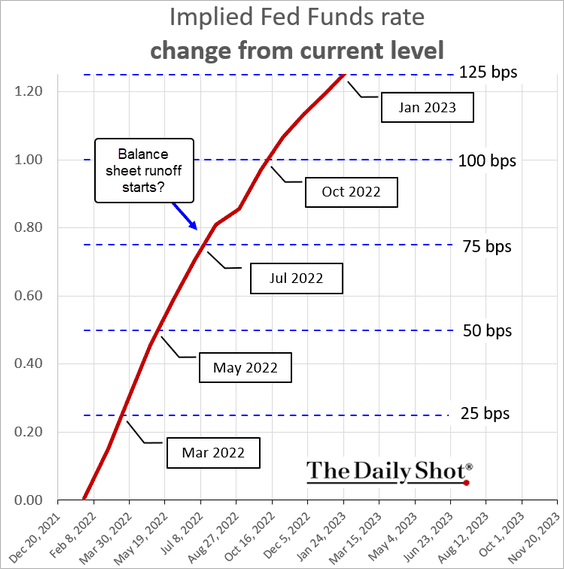 ——————–

2. The Fed's posture was more hawkish than expected. Some were hoping that tighter financial conditions (market selloff, higher bond yields, etc.) would prompt the central bank to be a bit more cautious. But it's full speed ahead.

• Equities tumbled, …




• … as real yields jumped.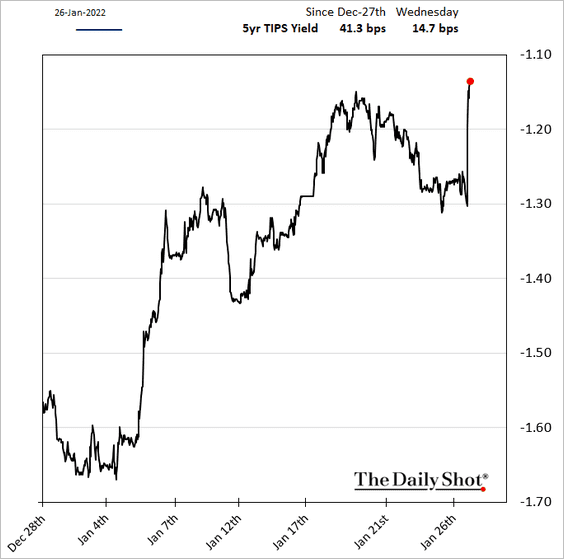 • The 2-year Treasury yield surged as more rate hikes get priced in.




The daily 2-year yield increase was the highest since early 2020.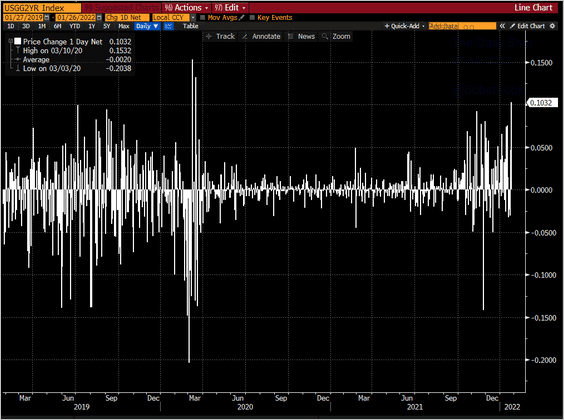 Source: @kgreifeld

• The Treasury curve flattened further as the market expects the Fed to slow economic growth.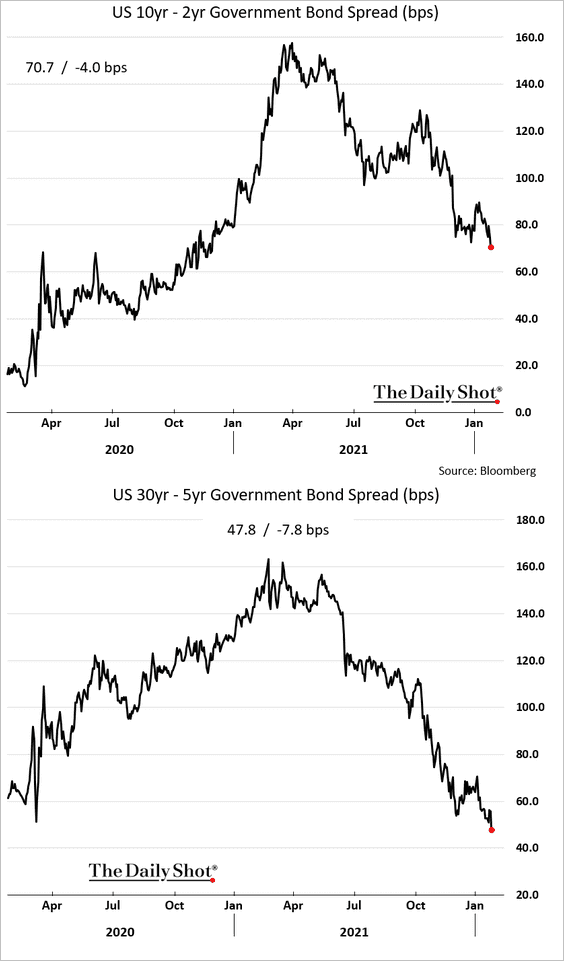 • The dollar surged.




• And gold declined.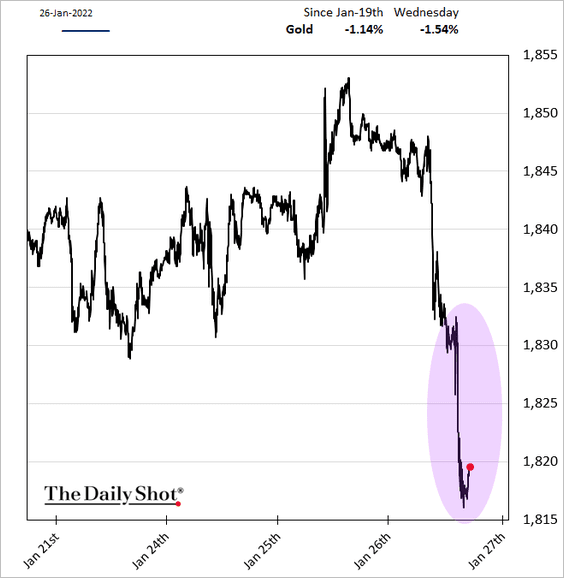 ——————–

3. Will the Fed's balance sheet runoff be passive (just maturing securities) or active (proactively selling bonds)? How long will it take to bring the balance sheet to "equilibrium" (2 charts)?


Source: Goldman Sachs; @themarketear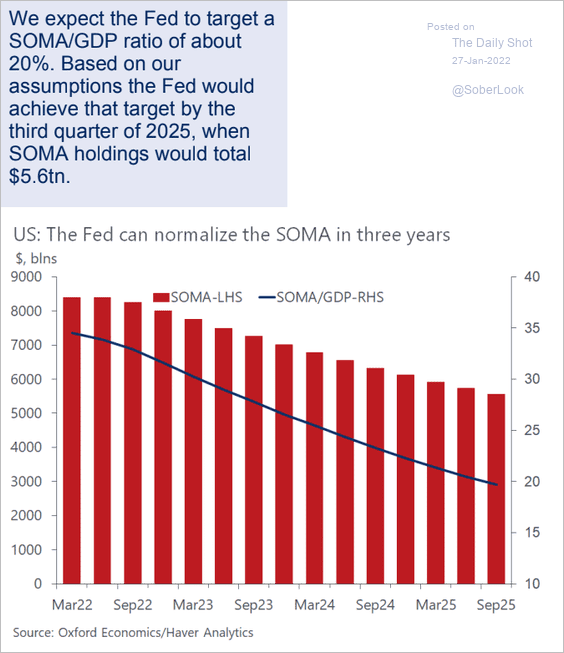 Source: Oxford Economics
——————–

4. Next, we have some updates on the housing market.

• Mortgage applications to purchase a home are running below last year's levels.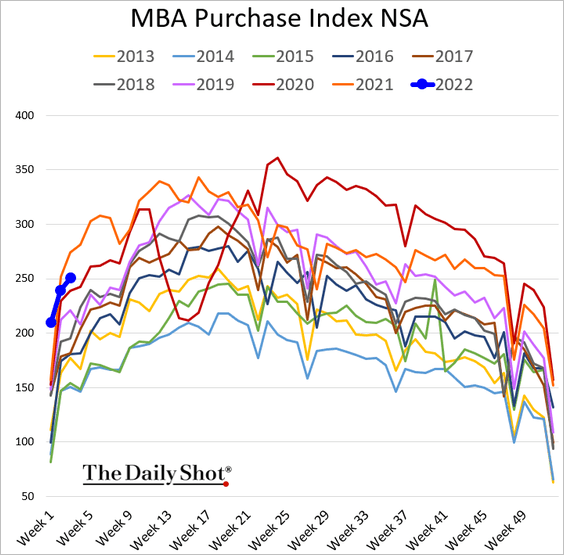 • Refi activity is tumbling as mortgage rates move higher.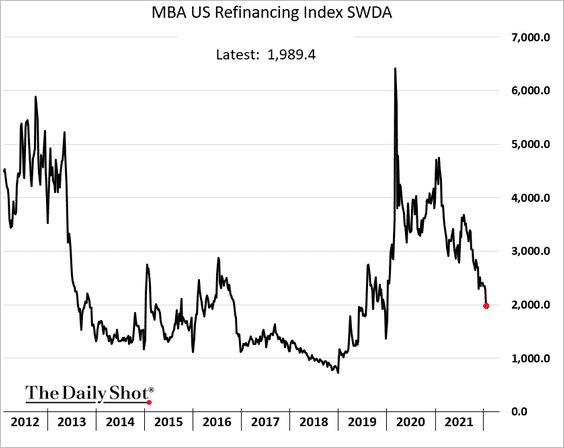 • New home sales increased sharply in December, topping expectations.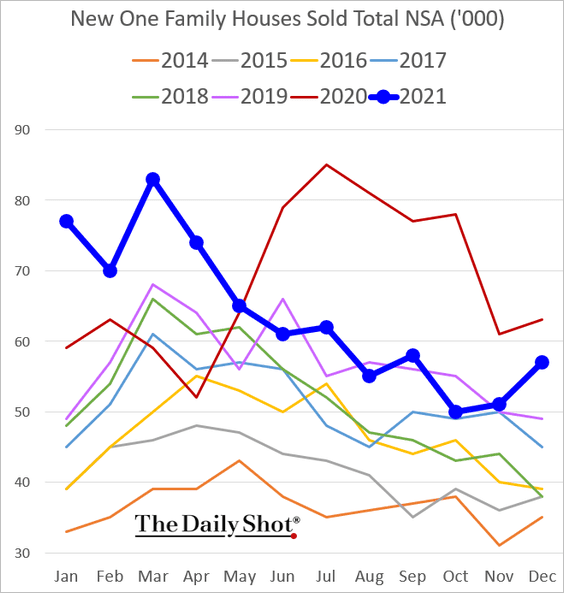 This chart shows new housing inventories in terms of months of supply.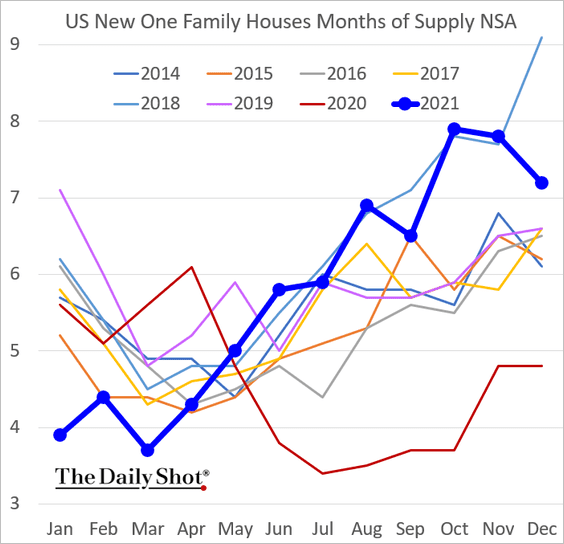 • Here is the ratio of new to existing home prices.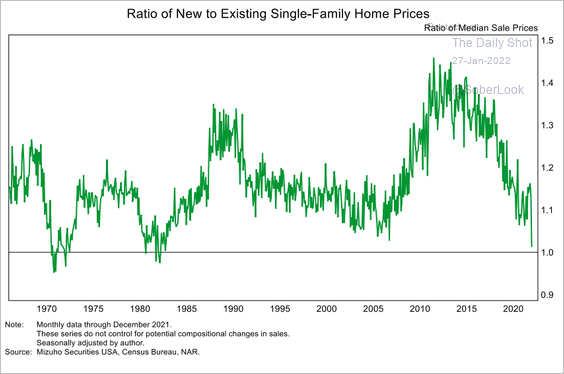 Source: Mizuho Securities USA
——————–

5. We now have more evidence that massive retail demand in the second half of last year was a significant driver of supply bottlenecks and inflationary pressures.

• Retail inventories increased last month by the highest percentage in decades.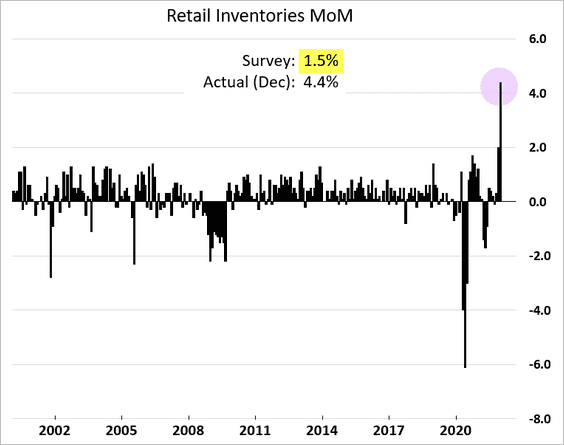 • A good portion of this inventory build was imported (clogging West Coast ports), …




… which resulted in a record-high trade deficit in goods.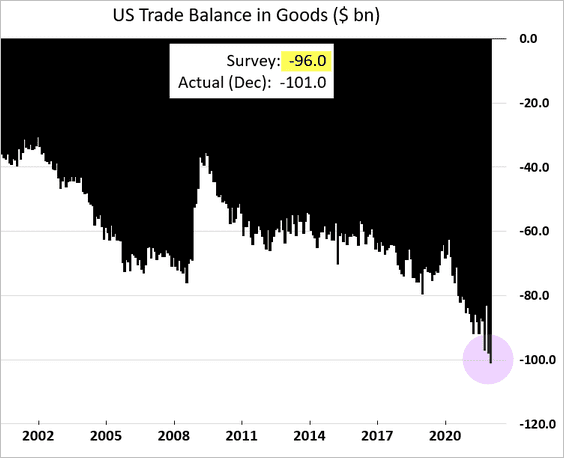 Source: MarketWatch Read full article

By the way, what happens if tighter financial conditions significantly reduce consumer demand later this year? Will we see an inventory overhang? What will happen to goods prices?
——————–

6. Many CEOs expect inflation to linger.


Source: @lisaabramowicz1 Read full article
---
Back to Index
Canada
1. The BoC left rates unchanged but signaled an increase at the next meeting. The central bank views economic slack as "essentially absorbed." Markets expected a hike at this week's meeting.



Source: Reuters Read full article

• With the Fed now perceived as more hawkish, the loonie took a hit.




Is Canada's currency undervalued?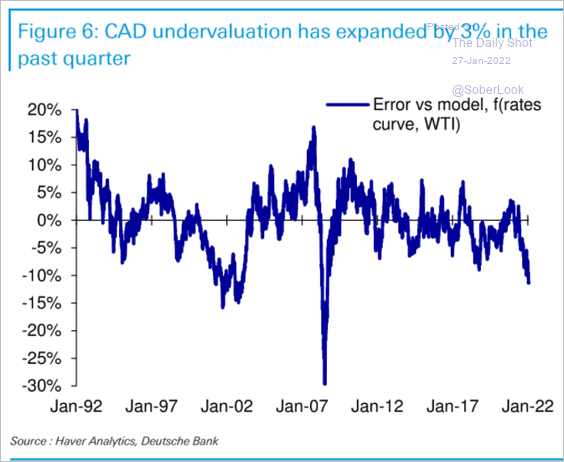 Source: Deutsche Bank Research

• Here is the 2yr yield differential with the US.


——————–

2. Mortgage credit levels look frothy.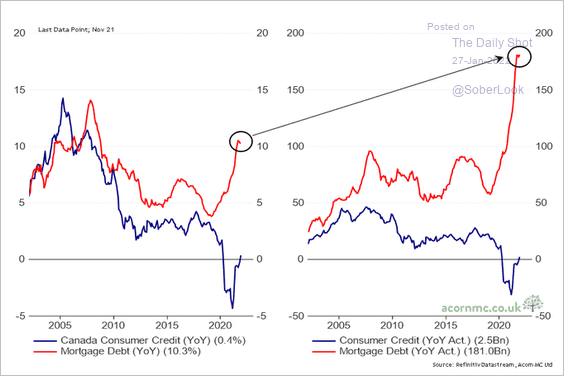 Source: @RichardDias_CFA
---
Back to Index
Europe
1. Germany's COVID cases have been surging, but hospitalizations remain subdued.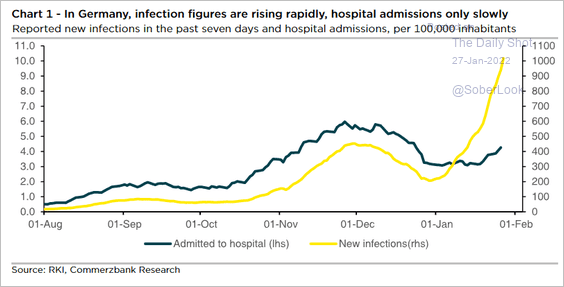 Source: Commerzbank Research

2. The ECB's taper will leave some bonds without a home next year.


Source: Pantheon Macroeconomics

3. The euro-area Phillips Curve has flattened over the past decade.


Source: ING

4. This chart shows debt-to-GDP ratios across the EU as well as Q3 changes.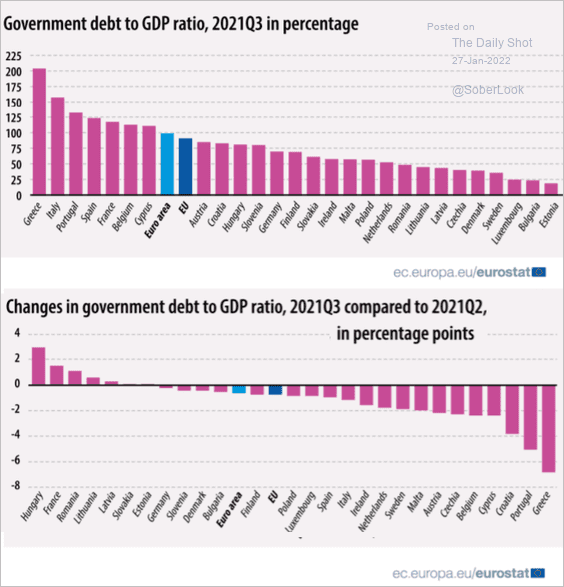 Source: Eurostat Read full article

5. This map illustrates Europe's use of nuclear energy, by country.


Source: Oxford Economics
---
Back to Index
Asia – Pacific
1. The KOSPI index is in bear-market territory.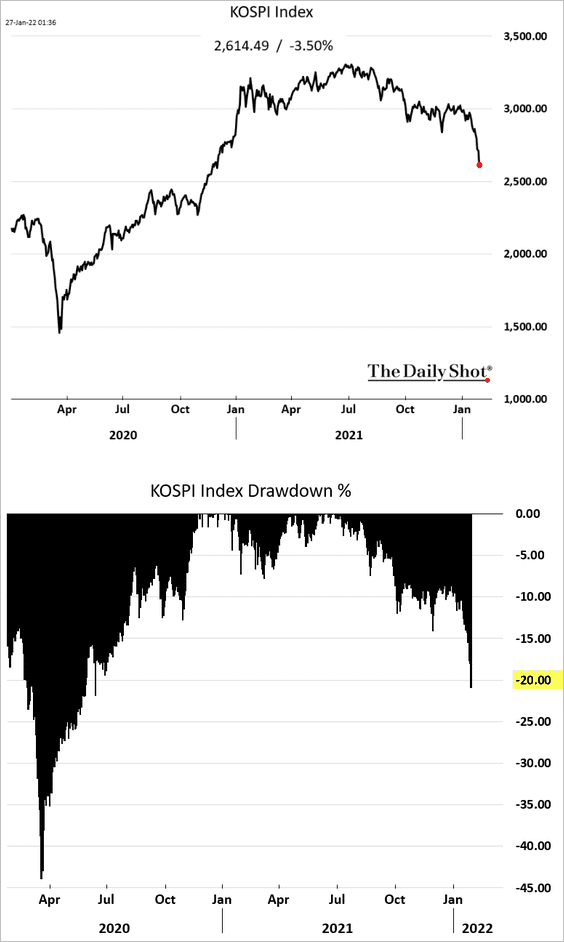 Separately, South Korea's retail sales ended the year on a strong note.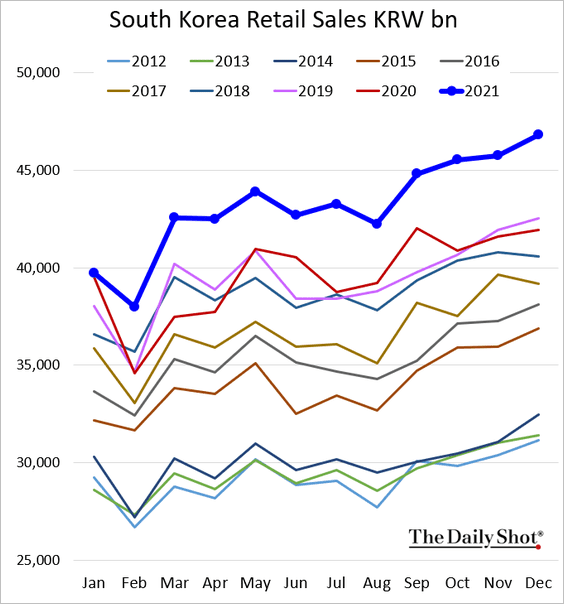 ——————–

2. New Zealand's CPI surprised to the upside.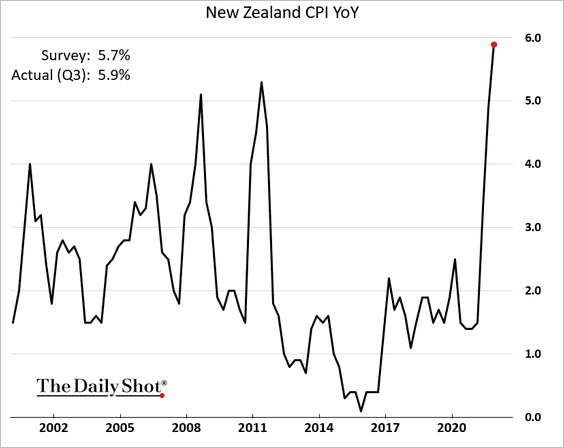 Source: Reuters Read full article

Bond yields continue to climb.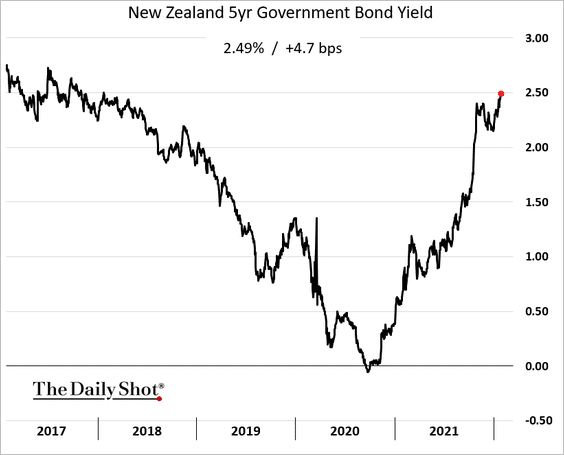 But the Kiwi dollar has rolled over vs. USD as the Fed turns increasingly hawkish.


——————–

3. Australia's stock market entered into correction territory.


Source: @business Read full article

Separately, economists continue to boost their forecasts for Australia's CPI this year.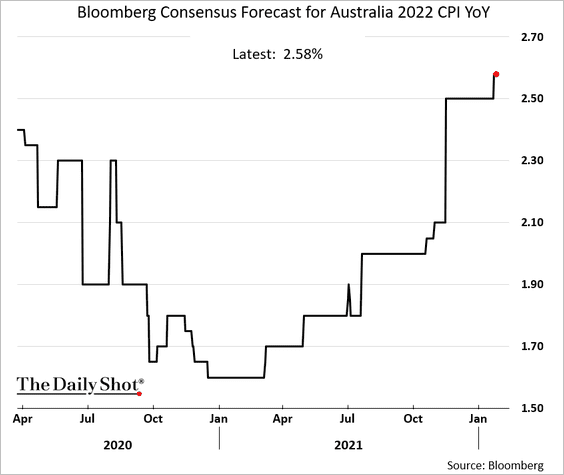 ---
Back to Index
China
1. China's stocks are in bear-market land.




2. Property stock valuations are near the lowest level on record.


Source: @SofiaHCBBG Read full article

3. Education shares tumbled as Beijing overhauls the sector.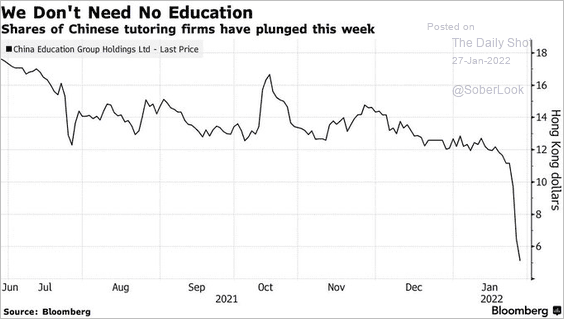 Source: @markets Read full article

4. Industrial profits slumped in December.




6. According to Natixis, …
The still fast but braking corporate income trend hides a very important feature, namely the sizable gap between the mean and the median of the growth rates. This means there is a growing divergence in better performance in large firms versus lagged improvement in small firms.
Source: Natixis

7. Here are the contributions to China's GDP growth by decade.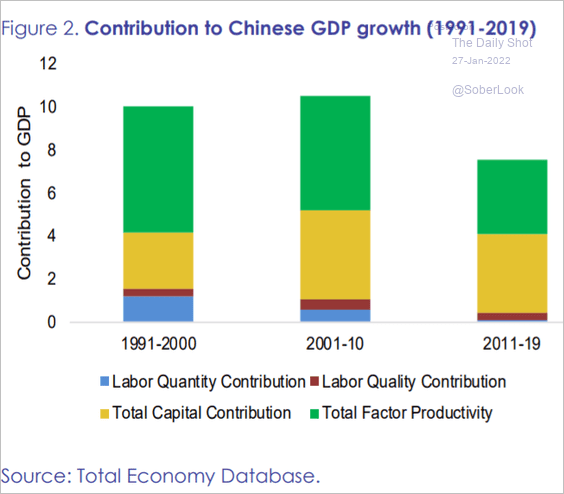 Source: EC Read full article
---
Back to Index
Emerging Markets
1. Chile's central bank announced an aggressive rate hike as inflation surges.



Source: Reuters Read full article
——————–

2. Mexican retail sales surprised to the upside in November.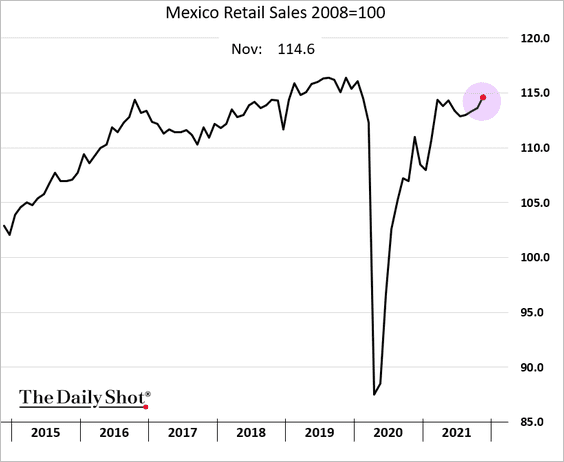 3. The Philippine economy is rebounding quickly.




The trade deficit hit a new record.


——————–

4. Foreign holdings of India's debt are much lower than what we see in other EM economies.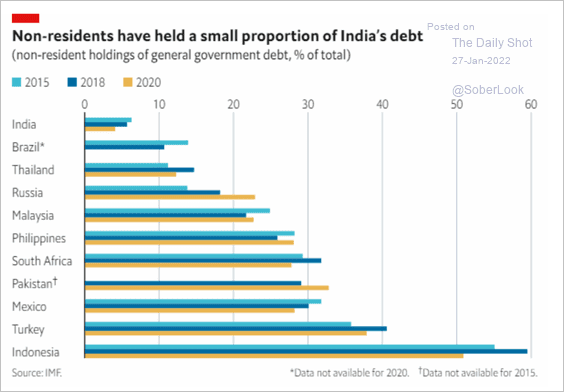 Source: The Economist Read full article

5. This chart illustrates foreign direct investment in Eastern Europe.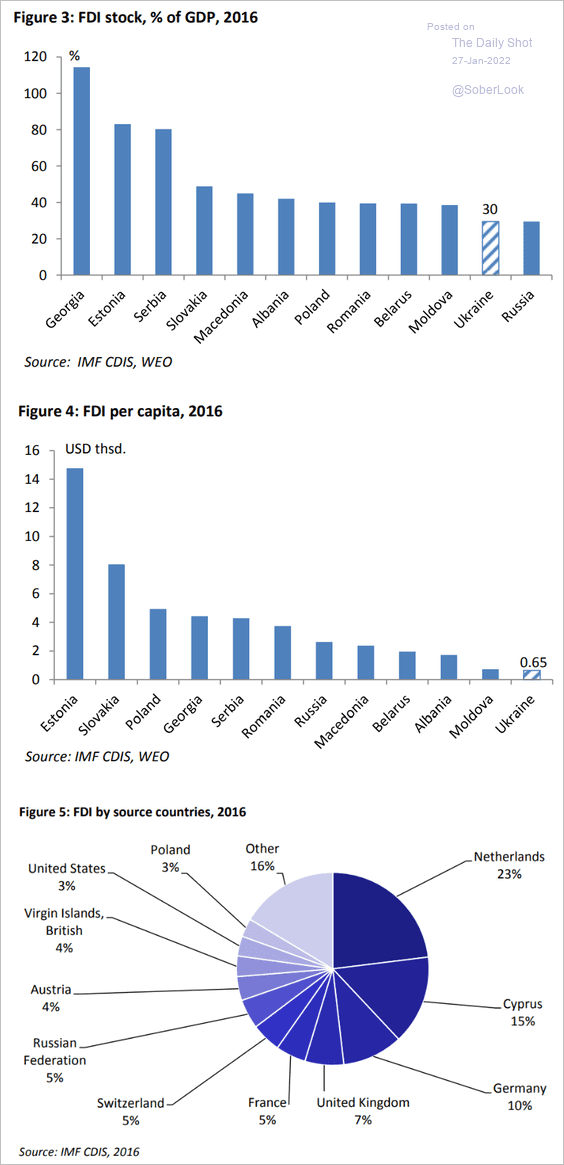 Source: German Advisory Group Read full article
---
Back to Index
Commodities
Bloomberg's broad commodity index hit a record high. Is this trend sustainable given a much more hawkish Fed and a strong dollar?


---
Back to Index
Energy
1. Brent crude is testing resistance at $90/bbl.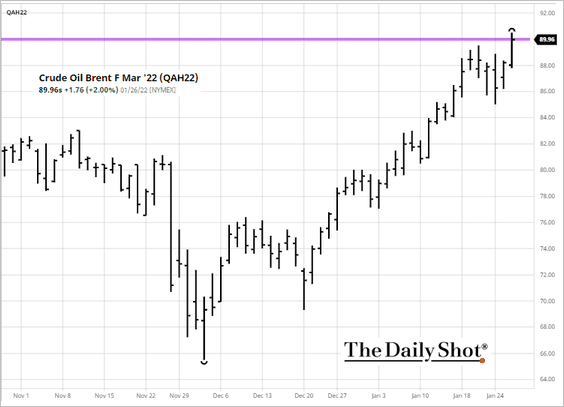 Source: barchart.com

2. US crude oil inventories are back within the five-year range (just barely).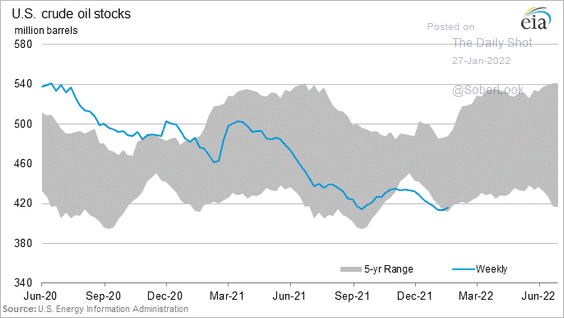 3. US gasoline demand has been soft amid the omicron spike.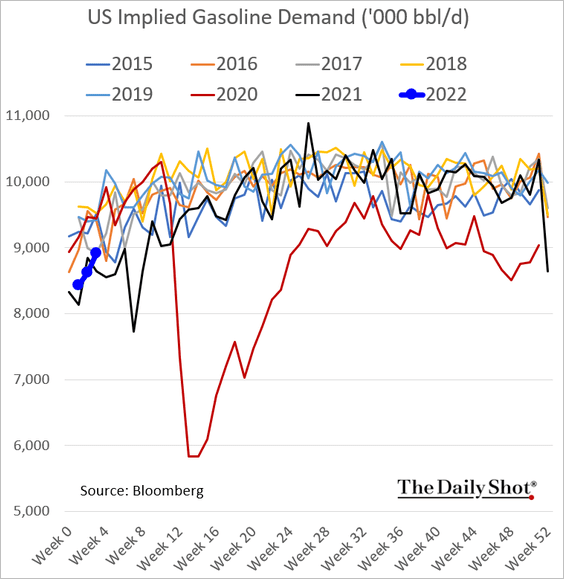 4. US ethanol inventories have been surging,


Source: @kannbwx

5. The inventory of US drilled wells is rapidly falling.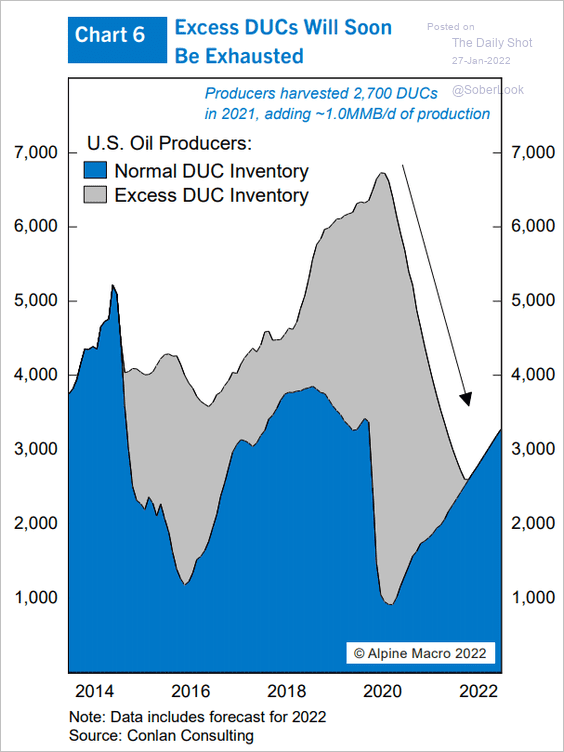 Source: Alpine Macro
---
Back to Index
Equities
1. Investor sentiment has collapsed, with the AAII bull-bear spread hitting the lowest level since the taper tantrum in 2013.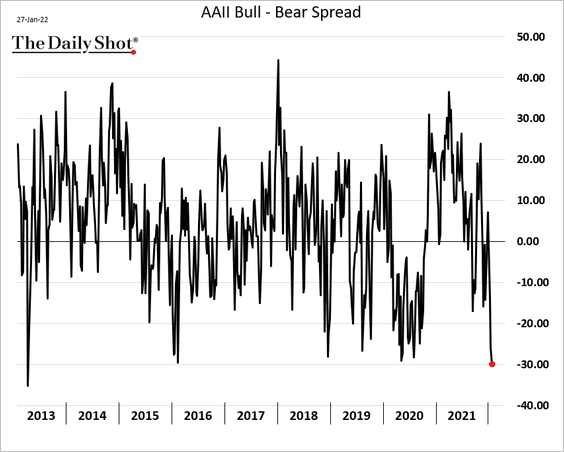 2. Intraday volatility remains very high.




3. This chart shows the trading volume of S&P 500-linked products.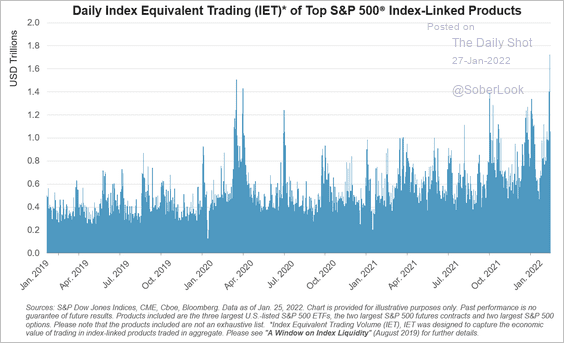 Source: S&P Global Market Intelligence

4. The selloff has been more severe than the US indices would suggest.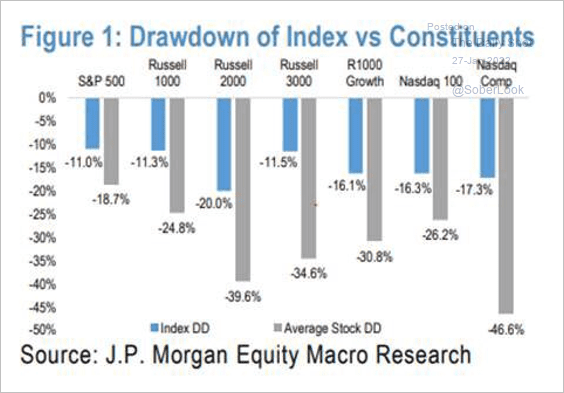 Source: JP Morgan Research; @carlquintanilla

5. Next, we have a couple of technical charts.

• How far below its 50-day moving average is the S&P 500 now?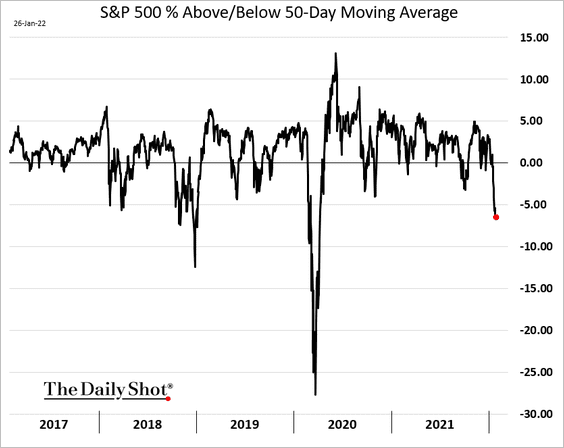 • What percentage of the S&P 500 members are above their 200-day moving averages?


——————–

6. Are earnings forecasts too optimistic?


Source: PGM Global

7. Next, we have some updates on retail investors.

• Options positioning has been reversing.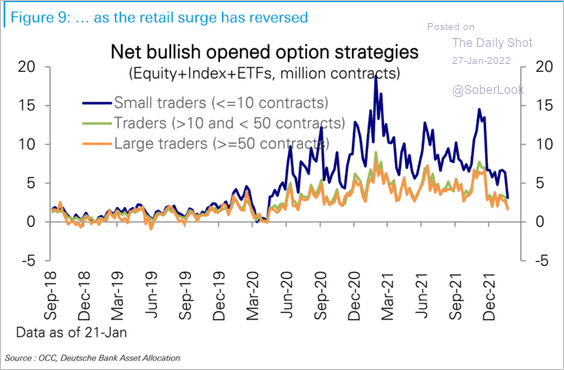 Source: Deutsche Bank Research

• Retail investors trade mostly options with 1-week to expiry.


Source: JP Morgan Research

• Interest in Reddit's WallStreetBets has declined.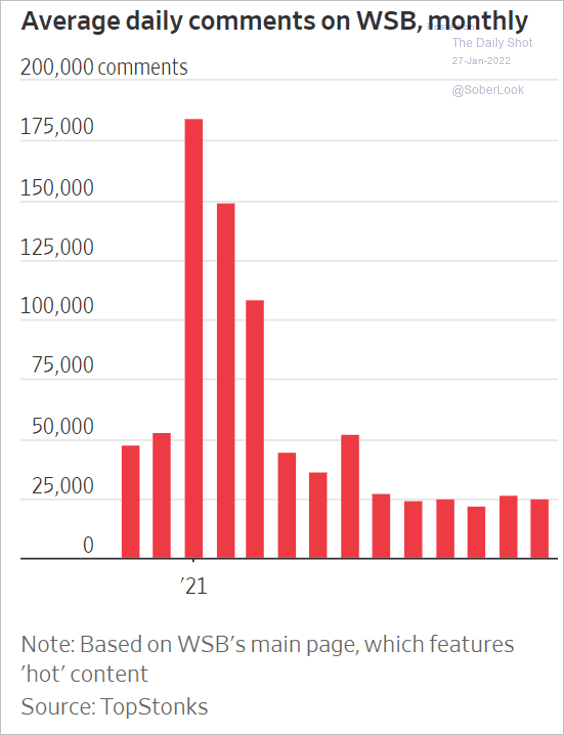 Source: @WSJ Read full article

• Will retail brokerage accounts peak this year as the market stumbles?


Source: @WSJ Read full article
——————–

8. It's been a rough 12 months for biotech stocks.


h/t @TeddyVallee

9. Let's put the Dow's current 7% decline into perspective.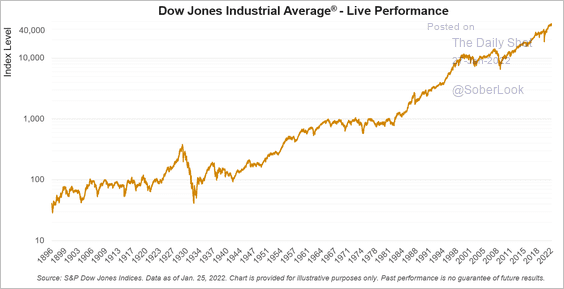 Source: S&P Global Market Intelligence
---
Back to Index
Credit
1. Leveraged loans are holding up well vs. HY bonds (outperformance boosted by increased rate hike expectations).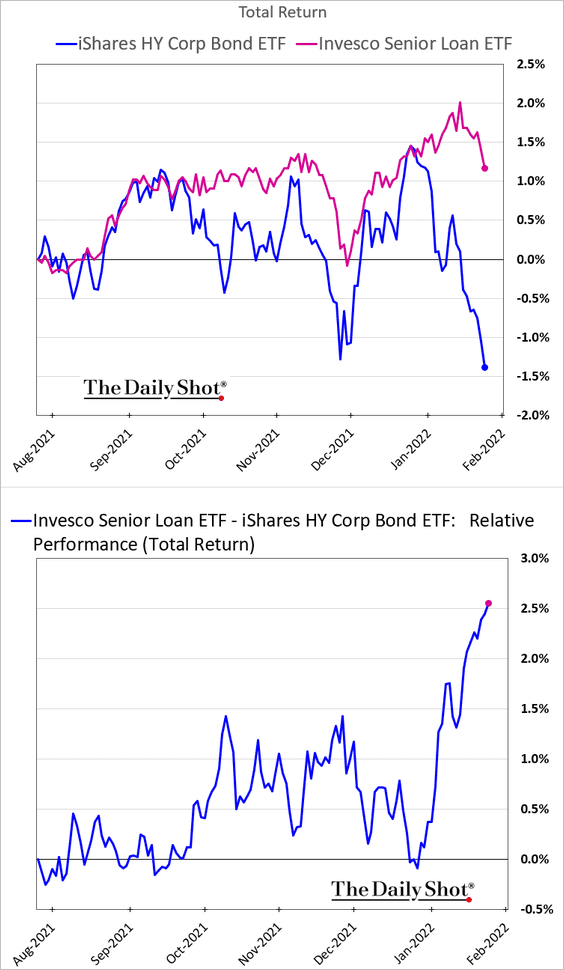 2. Corporate investment-grade credit default swap spreads have been widening.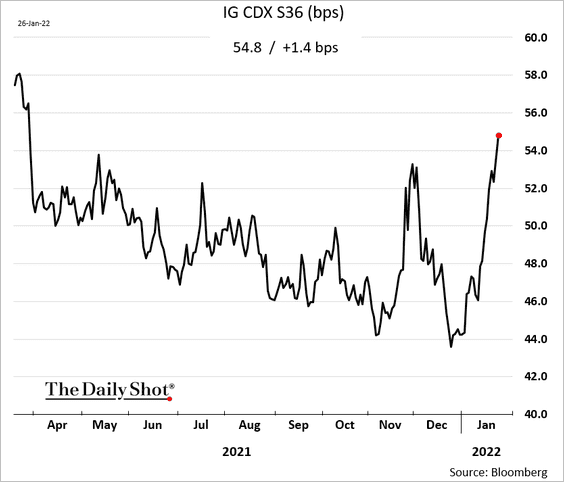 ---
Back to Index
Global Developments
1. Investors are increasingly bearish on both stocks and bonds, according to a Deutsche Bank survey.


Source: Deutsche Bank Research

2. Inflation trends have been similar across advanced economies.


Source: MRB Partners
---
——————–
Food for Thought
1. Availability of milk in the US:


Source: @USDA_ERS Read full article

2. Sports betting by state:


Source: @axios Read full article

3. The video game industry: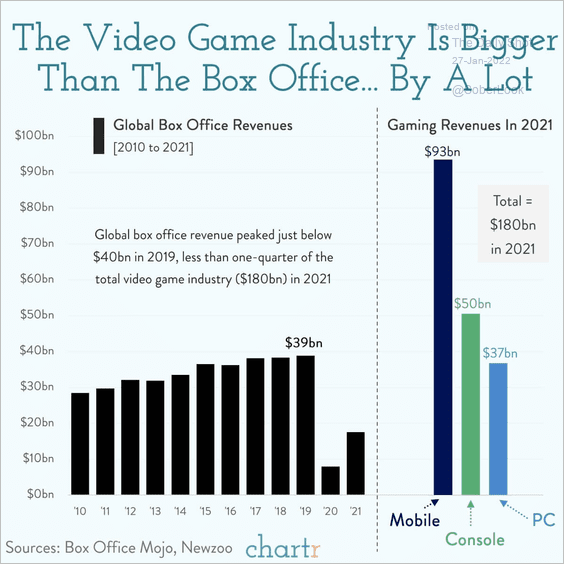 Source: @chartrdaily

4. Top entertainment studios:


Source: @axios

5. Credit card delinquency rate: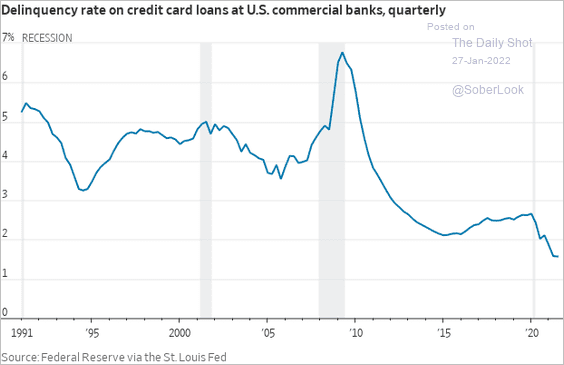 Source: @WSJ Read full article

6. College undergraduate enrollment in the US (2 charts):


Source: @WSJ Read full article


Source: @axios Read full article
——————–

7. More data on the Russia-Ukraine military imbalance:


Source: Statista

8. Out-party support for supreme court nominees:


Source: @BLaw Read full article

9. Demand for anime content: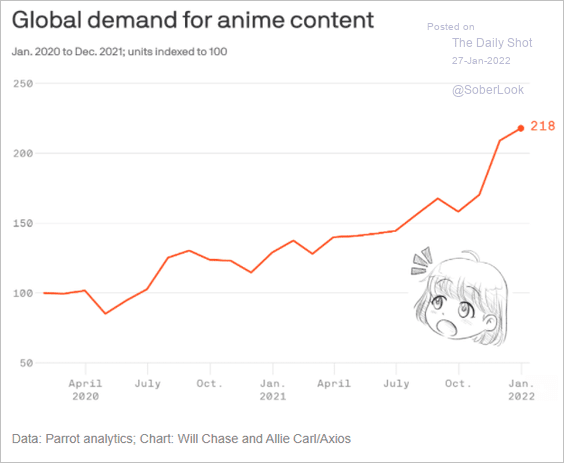 Source: @axios
——————–
---
Back to Index
---