The Daily Shot: 10-Aug-22
• The United States
• Europe
• Japan
• Asia – Pacific
• China
• Emerging Markets
• Cryptocurrency
• Commodities
• Energy
• Equities
• Global Developments
• Food for Thought
---
---
The United States
1. The NFIB small business sentiment index edged higher in July.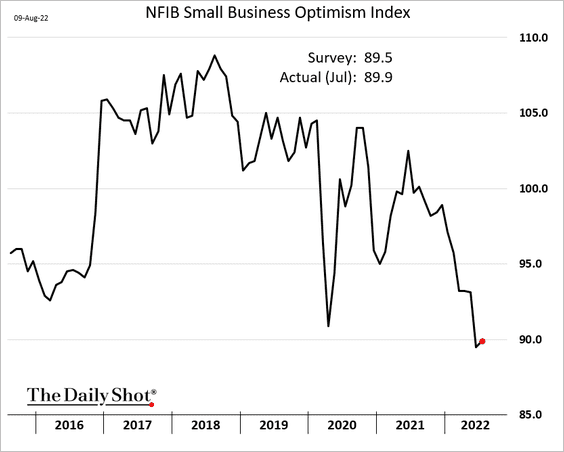 • But businesses are reporting deteriorating earnings.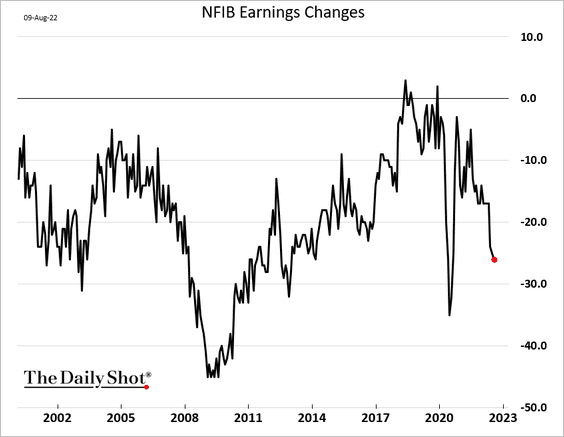 And sales expectations look recessionary.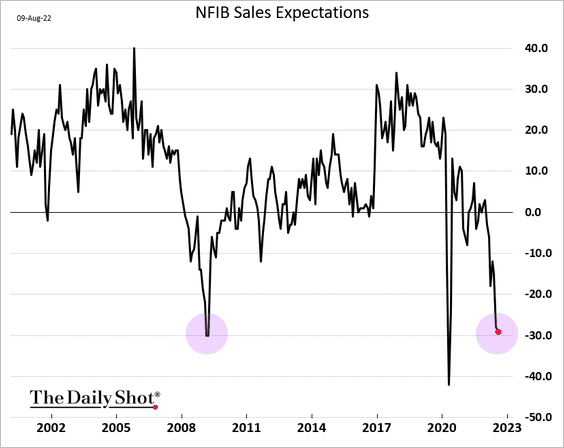 • CapEx expectations continue to move lower.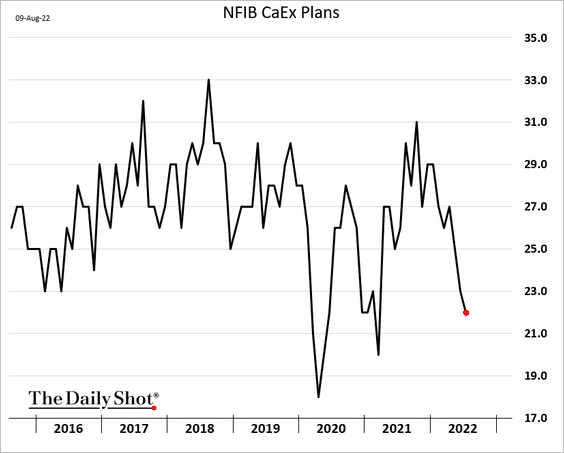 • Hiring remains a challenge.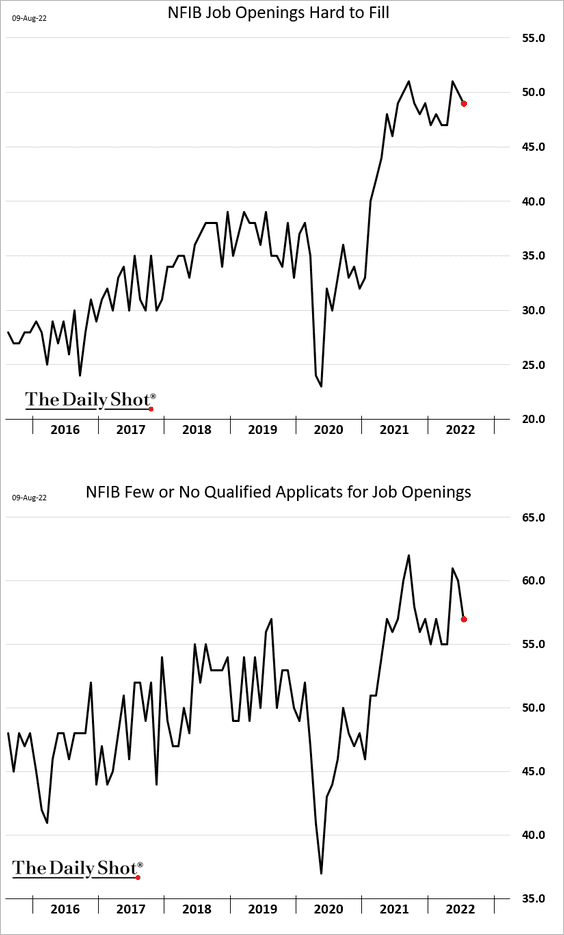 • Companies have been boosting wages but are now becoming more conservative with their compensation plans.


Source: Wells Fargo Securities

• Fewer firms are raising (or expect to be raising) prices, …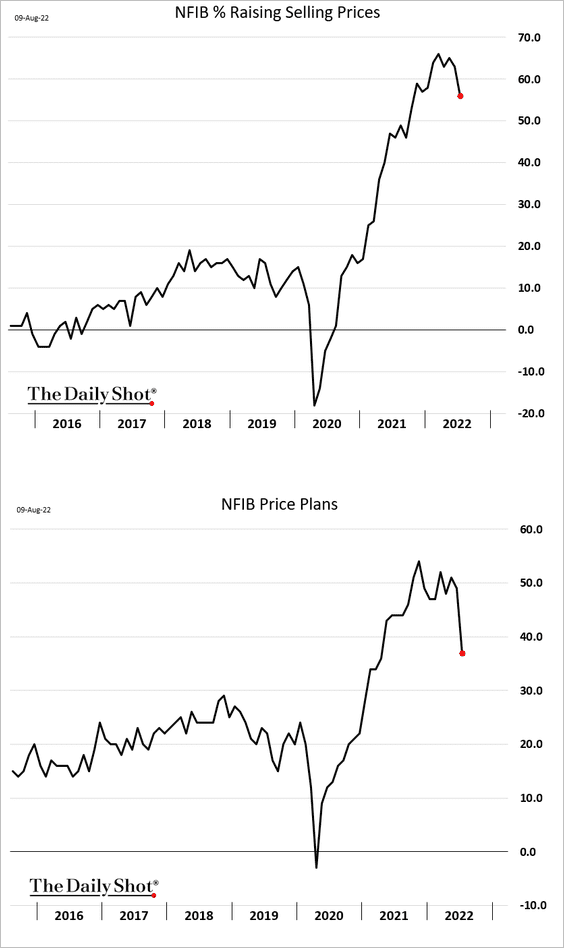 … which points to slower consumer price gains ahead.


Source: Piper Sandler 
——————–

2. Unit labor costs are surging, …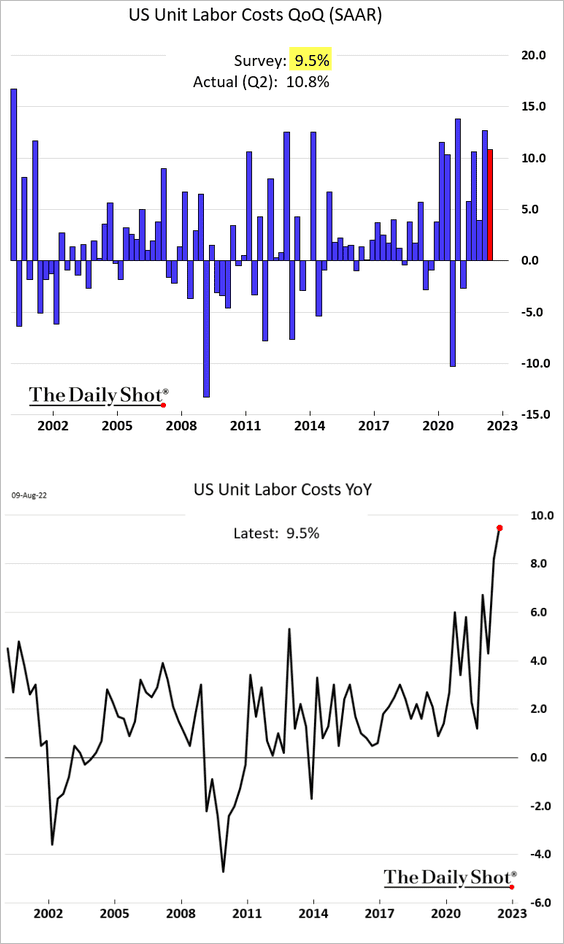 … which could signal faster inflation.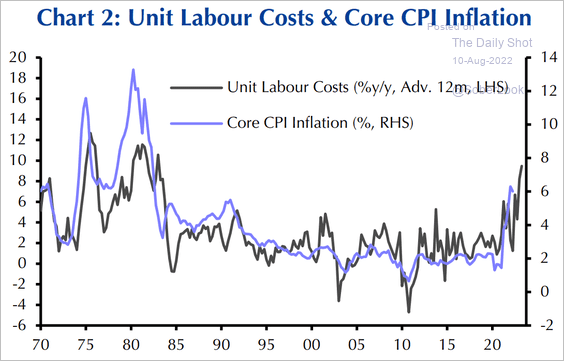 Source: Capital Economics

• Labor productivity tumbled this year. Some economists suspect that these productivity figures will be revised higher.


Source: MarketWatch Read full article
——————–

3. US consumers have shifted spending from goods to experiences.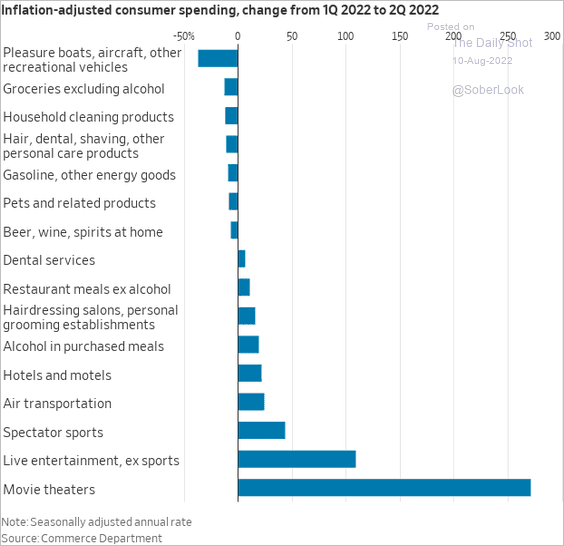 Source: @WSJ Read full article

4. Related to the trend above, packaging supplies are surging as shipping demand slows.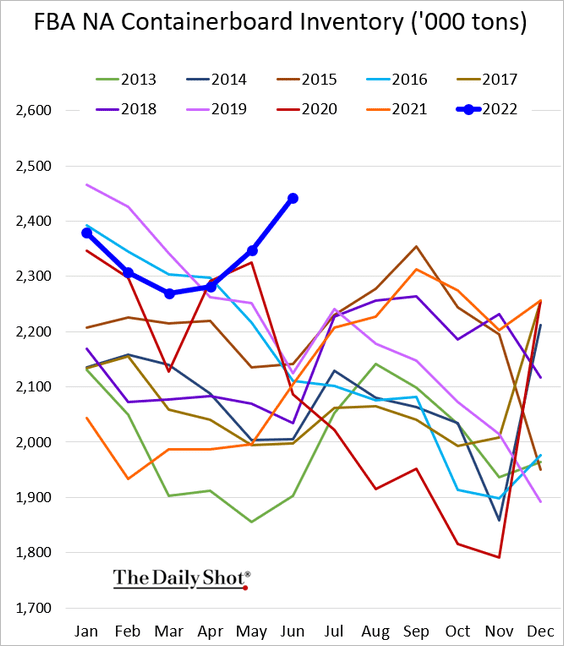 Source: Richard Bourke, Ryan Fox, BI

5. Except for the highest income bracket, households' credit card spending is still below pre-COVID levels.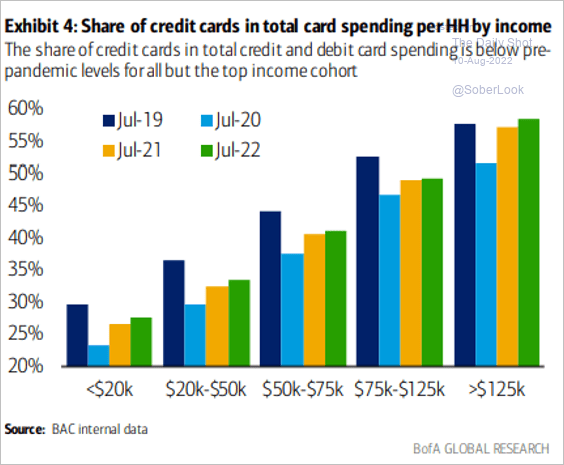 Source: BofA Global Research

6. More than half of student loan borrowers made no progress in paying down their student debt since 2019.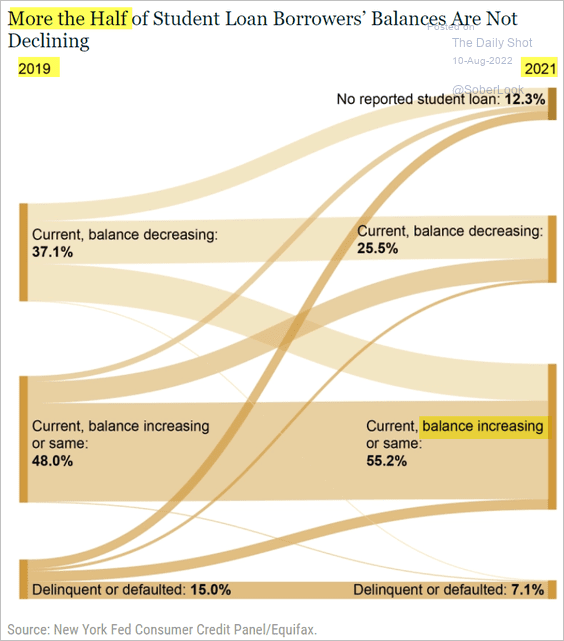 Source: Federal Reserve Bank of New York Read full article

7. The Oxford Economics Supply Chain Stress Index eased modestly last month.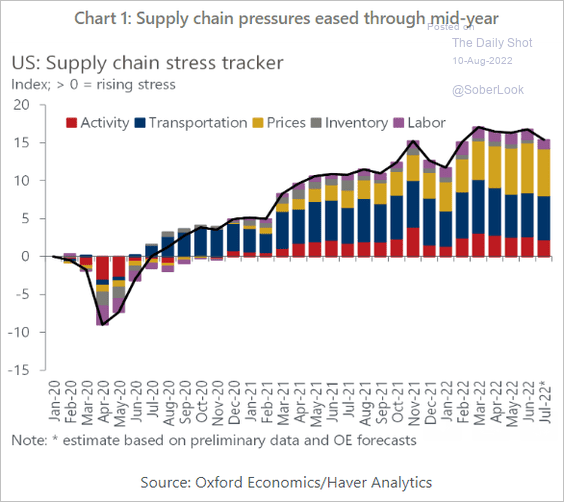 Source: Oxford Economics
---
Back to Index
Europe
1. The ECB's rate trajectory is expected to outpace the Fed next year.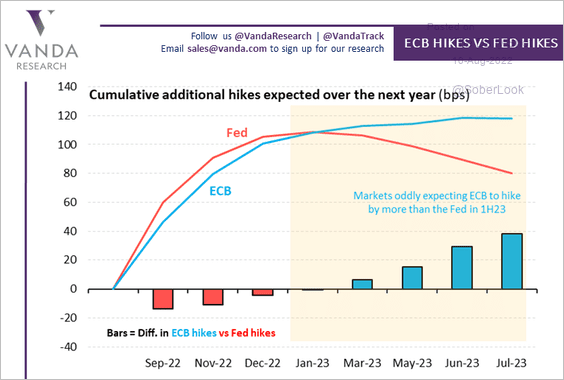 Source: Vanda Research

2. This scatterplot shows natural gas storage vs. storage capacity in the EU.


Source: Gavekal Research
---
Back to Index
Japan
1. Machine tool orders are slowing.




2. Producer price gains eased as subsidies cap energy prices.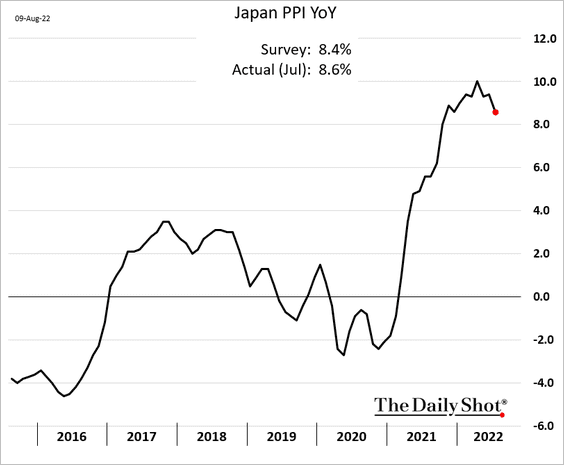 ---
Back to Index
Asia – Pacific
1. Taiwan's stocks could come under further pressure as semiconductor demand slumps.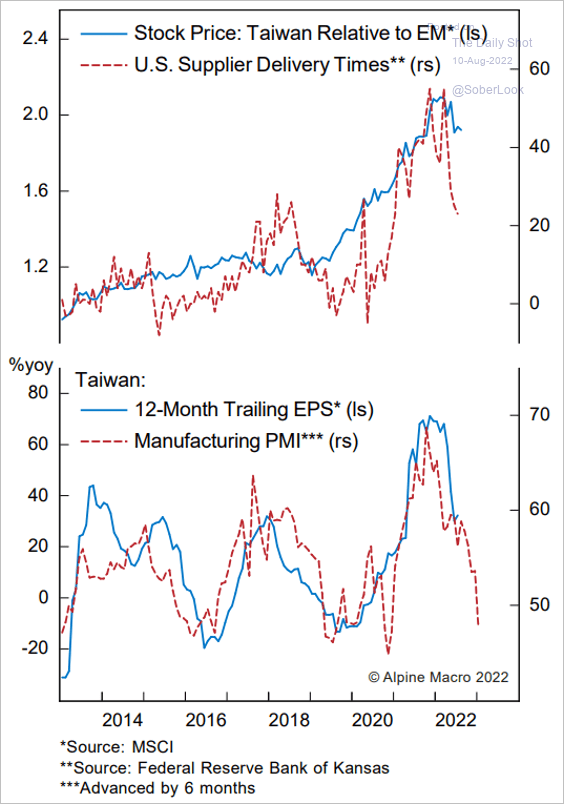 Source: Alpine Macro

2. Australia's capacity utilization hit a record high.


Source: @ANZ_Research
---
Back to Index
China
1. The CPI increase was softer than expected, …




… with gains driven by food prices.




The core inflation continues to moderate.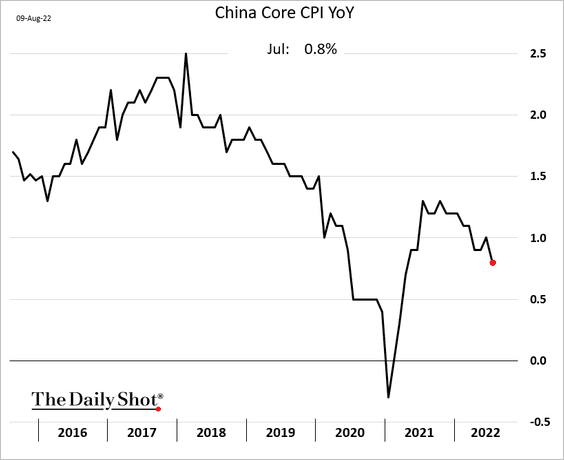 ——————–

2. The PPI also surprised to the downside.




What's going on with the ferrous metals sector (2nd chart above)? Here is the answer.


Source: BCA Research

We know that building construction has been depressed. Machinery demand is also under pressure.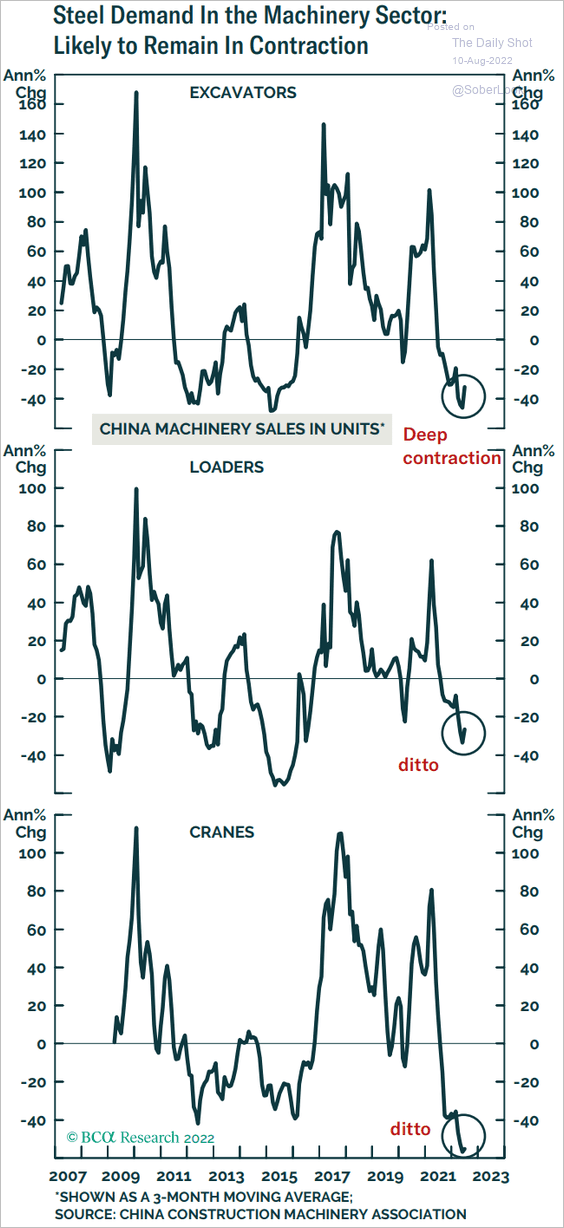 Source: BCA Research
——————–

3. Earnings have dropped considerably, on par with some of the worst profit contractions in history.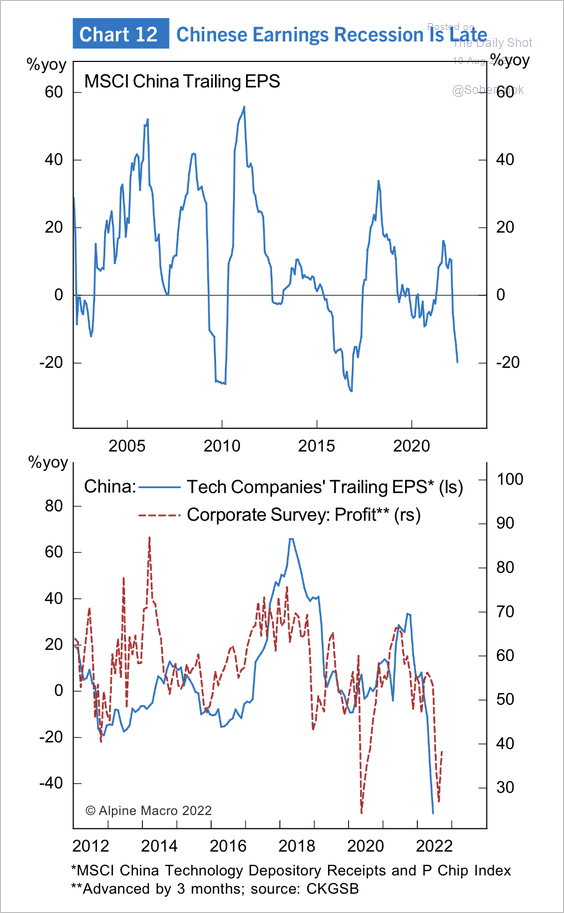 Source: Alpine Macro

• Multinationals took a hit in China this year.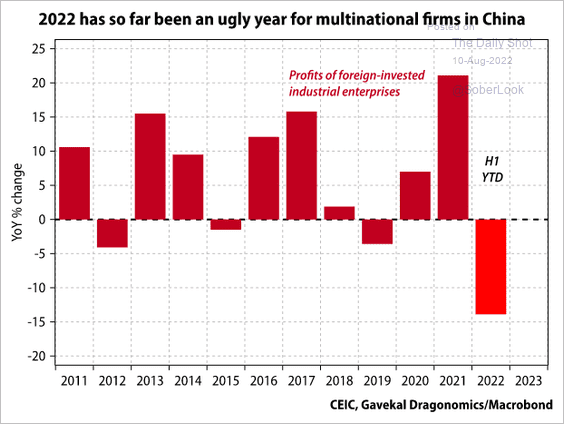 Source: Gavekal Research
——————–

4. Stock prices are tumbling in Hong Kong.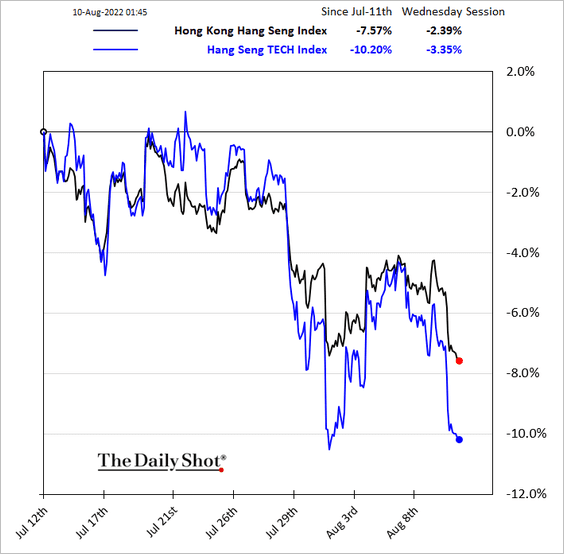 The property developer stock index hit the lowest level since early 2016.


---
Back to Index
Emerging Markets
1. Hungarian inflation is surging.


Source: ING
——————–

2. The Turkish lira continues to trade near 18 to the dollar.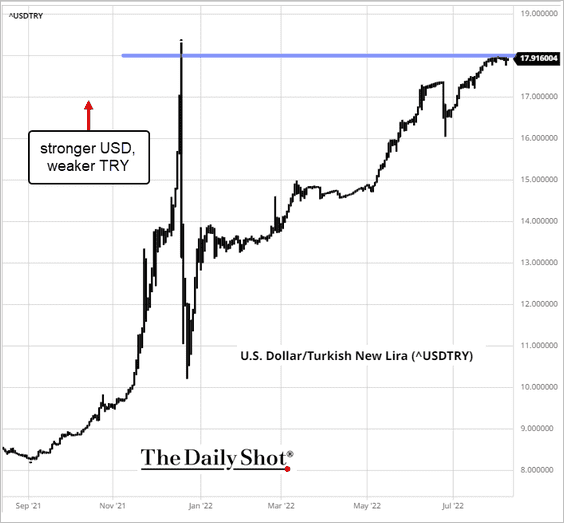 Source: barchart.com

3. Mexican inflation keeps climbing.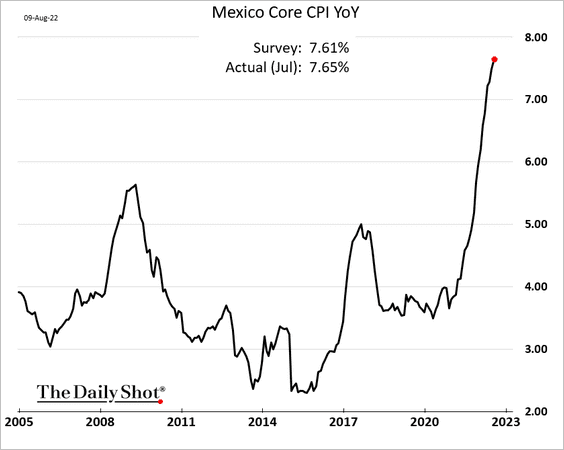 ---
Back to Index
Cryptocurrency
1. Ether continues to outperform, but it hit resistance (2nd chart).


——————–

2. NFT trading volumes have slowed.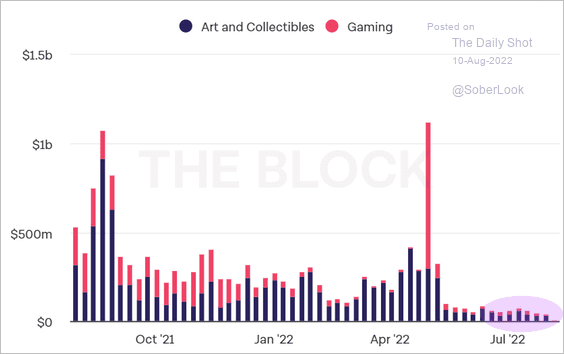 Source: The Block

3. Despite the selloff, crypto remains popular.


Source: Statista
---
Back to Index
Commodities
US feeder cattle futures rallied in recent weeks.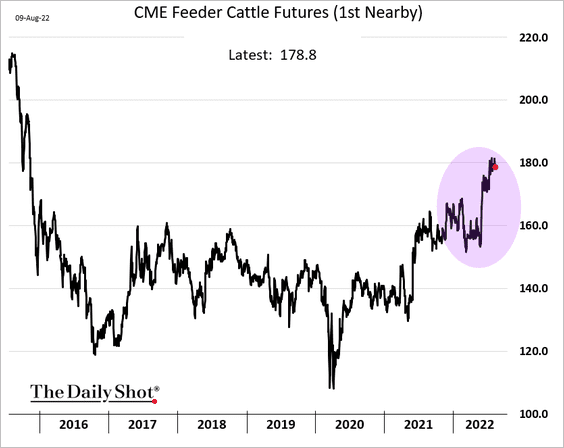 Source: Reuters Read full article
---
Back to Index
Energy
1. Crude oil backwardation has been easing.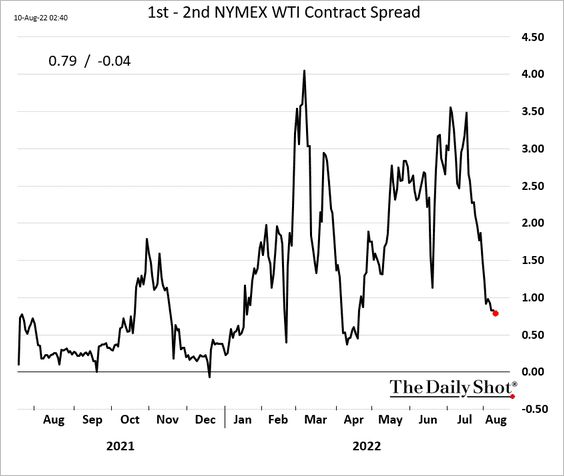 2. Here is the attribution of the expected US retail gasoline price decline next year.


Source: @EIAgov, h/t @pav_chartbook

3. US wood-pellet exports have been rising quickly.


Source: @WSJ Read full article
---
Back to Index
Equities
1. BofA's clients jumped into tech last week.


Source: BofA Global Research

2. Semiconductor shares took a hit as demand wanes.


Source: IBD Read full article

Semiconductor inventories have been rebounding.


Source: Morgan Stanley Research
——————–

3. Will the S&P 500 hit resistance at the 18x P/E multiple?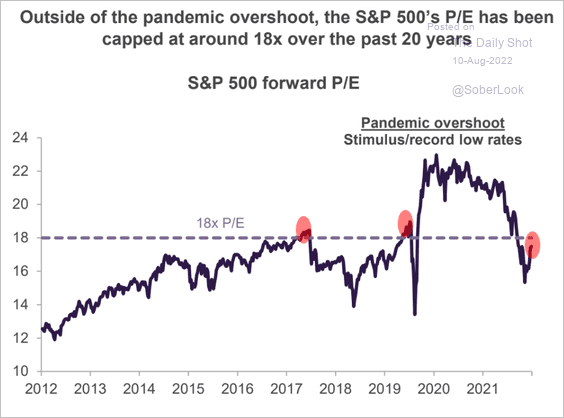 Source: Truist Advisory Services

4. The recent rebound has been fueled by short-covering.


Source: Goldman Sachs; @MikeZaccardi

5. Many "tactical" ETFs have a fairly strong correlation to the standard 60% equity/40% bond portfolio.


Source: FactorResearch Read full article

6. Only 18% of large-cap managers beat their benchmark over the past 12 months.


Source: BofA Global Research

7. US stocks don't look very attractive relative to corporate bonds.




8. Dividend yields vary significantly across key emerging and developed markets.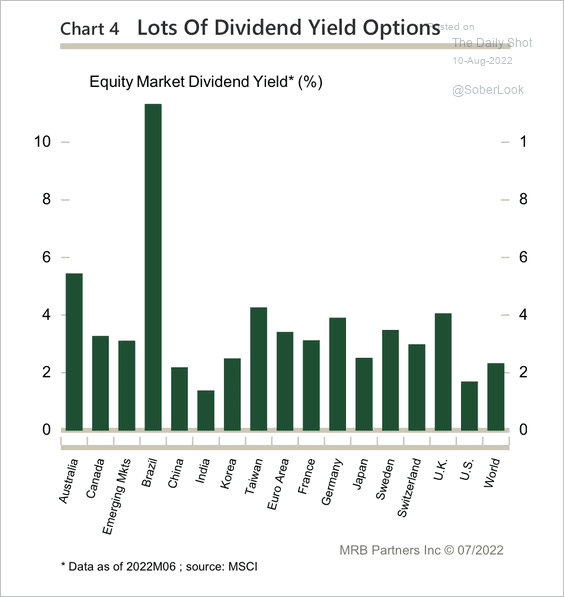 Source: MRB Partners

• Dividends are attractive relative to bonds in many markets (not the US).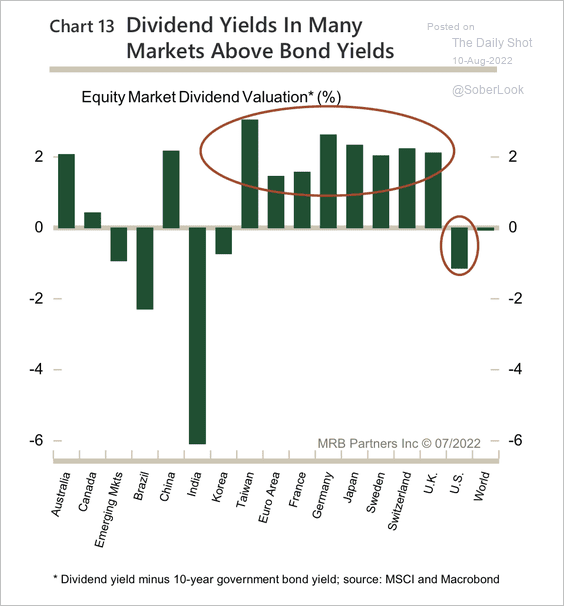 Source: MRB Partners

• Dividends have played an important role in the total return of equities. Global dividend yields, however, are still below the long-term norm, consistent with historically low bond yields.


Source: MRB Partners
---
Back to Index
Global Developments
1. Here is a look at unemployment rates in the largest advanced economies.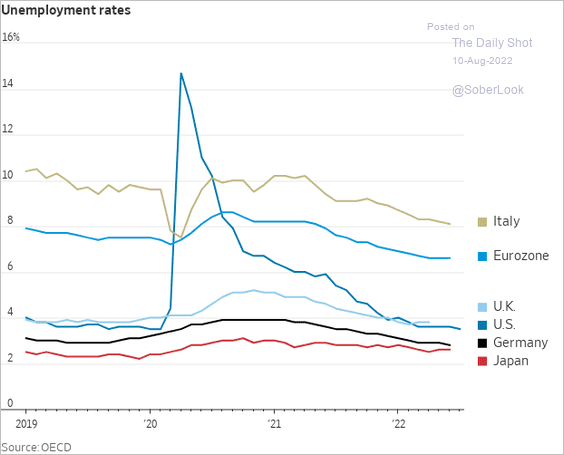 Source: @WSJ Read full article

2. The current monetary tightening cycle is the broadest in history.


Source: TS Lombard
---
——————–
Food for Thought
1. Condo prices in NYC and Tokyo (in USD terms):


Source: Alpine Macro

2. Credit card solicitations: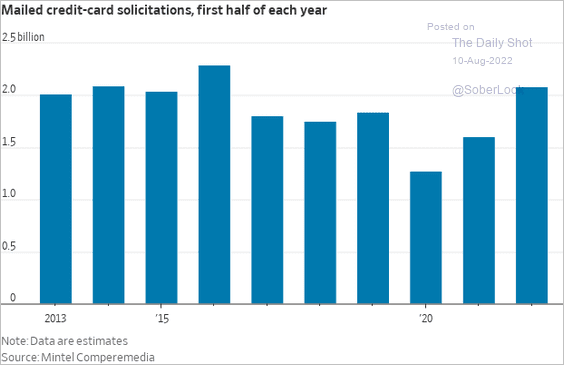 Source: @WSJ Read full article

3. Mortgage originations by age:


Source: Federal Reserve Bank of New York

4. Spending on groceries vs. dining out: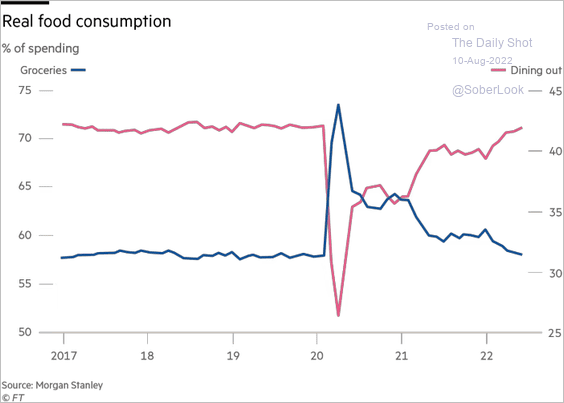 Source: @financialtimes Read full article

5. How households plan to maintain spending over the next 6 months:


Source: Morgan Stanley Research

6. Union vs. non-union pay in the US:


Source: Bloomberg Law Read full article

7. Congressional districts with the highest planned and operating renewables capacity:



Source: Bloomberg Read full article

8. Seasonality of time spent at work in select economies: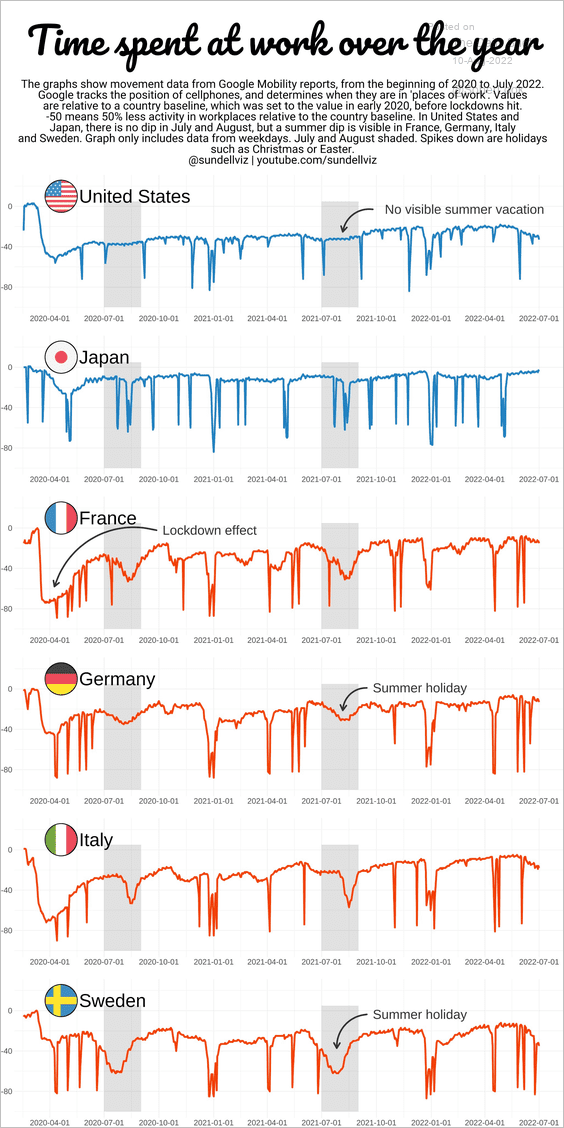 Source: @sundellviz
——————–
---
Back to Index
---